A series of papers written by or about people working in different areas of the IT industry recalling their past experiences and thoughts on others who should not be forgotten.
We welcome contributions to this collection so if you have a story to tell of your life in IT that you would like to submit please get in touch  via
enquiries@archivesit.org.uk
Steel Company of Wales - Geoff Henderson 2019
Geoff Henderson wrote the history of the world's first production system (shop-floor real-time transaction reporting system) for steel making at the Steel Company of Wales 1965-73. Geoff was the leader of the systems analysis and implementation team. His paper is a hugely important record of the endeavour – from a systems design and implementation viewpoint and with an eye to the social history of its developers and users. Geoff and the team pioneered in many ways: in specialist hardware, in software and even in labour relations.
Steel Company of Wales – British Steel Corporation production system computer projects 1965-1973
The Prince's Trust ICT40
The 5th October 2016 saw a glittering array of leaders in ICT from the past 40 years gathered together to celebrate their achievements and raise funds for the Prince's Trust.
Speeches were made by Peter Rigby, Steve Garnett, Stephen Kelly, Robin Saxby & Geoff Unwin on different periods in computing and by Duane Jackson on the important work done by the Prince's Trust.  You can watch all the evening's proceedings by following the link below.
Early Computing in the Aircraft Industry
Joan Smith started work for A V Roe, or Avro's as it was known, in the 1950's and has written about her time there and the introduction of its first computer, a Ferranti Mark 1.
The Real Time Club
The Real Time club was launched by a group of computer entrepreneurs in June 1967 to press the government to improve the telecommunications infrastructure to enable us to connect terminals to our mainframe computers, on-line in REAL TIME. They have regularly dined together ever since to debate the leading edge of computing with world leaders in science, industry and government.
Read the history of the RTC updated at their 45 year anniversary
The Worshipful Company of Information Technologists
In Memory of Len Taylor - MD of Logica
Len Taylor who died on 26th Sept 17 at the age of 82 is remembered by Richard Holway.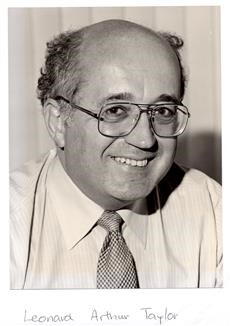 Len won a scholarship to study Mathematics at Hertford College Oxford in 1954, where he graduated with first class honours. He then got an MSC with distinction from Chelsea Polytechnic, now part of King's College London.
Len Taylor was one of the real pioneers of the UK IT services sector. He was the co-founder – with Philip Hughes and Pat Coen – of Logica in 1969. They had worked for SCICON and together had approached backers for their new venture. Planning Research Corporation came up trumps and provided the capital required to launch Logica. Logica became a giant in our sector. It undertook projects that really did move the boundaries. Eg in 1971 designing the control systems for the National Grid and, in 1973, the SWIFT network. Logica can lay claim to have introduced the concept of 'Turnkey' systems with the advent of mini computers. Logica's work on word processing systems might not have been a commercial success – but it was ground-breaking at the time.
I remember in the 1980s writing a critical report on Logica – which was going through a bad patch at the time – only to be rebuked with 'please remember we designed the guidance systems for the Trident missiles and the software that enabled the ESA Giotto satellite to track Halley's comet'. Unlike others who put commercial success above all else, Logica was a 'techie' company. Whenever I visited at that time, it seemed rather like a University campus.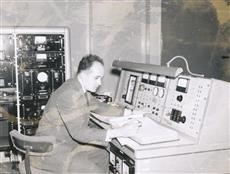 Logica was one of the first UK HQed company to float on the LSE in 1983 when Logica staff owned 40% of the company which at that stage was valued at £80m. Len Taylor stepped down from day-to-day operations in 1990 but stayed with Logica until 1995.
But Logica remarkably remained independent – and a leading SITS company – until 2012 when they were acquired by Canadian CGI for £1.7b. The very last of that cohort of major UK-owned SITS companies – like Hoskyns, CAP, SD-Scicon etal – to 'fall'.
Len Taylor's legacy and contribution to the UK tech scene is both unrivalled and – if I was honest – rather unappreciated/unsung. His passing gives an opportunity, at last, to recognise the huge impact that Len had on the whole UK tech scene and, indeed, on so many lives that he touched.
His son Neil Taylor told me "After building Logica from a pioneering idea in the 1960s to a publicly-listed global business, Dad stayed with the firm for long enough to ensure the new management was securely in place, and then he retired. He'd worked hard his whole life, and now he just wanted to relax and finally enjoy the fruits of his labour.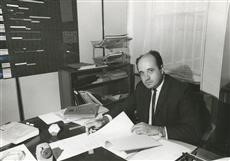 He could have hung around, played off his successes and become fantastically wealthy as the digital revolution took off (after all, that's exactly what his successors did), but he'd already accomplished all his professional ambitions. Dad didn't want to work his life away for wealth that he'd never enjoy. Instead, he chose to enjoy his life and spend time with the people he loved. For Dad, family was at the heart of everything he did. He'd always had a passion for travel, so he was happy to leave the corporate world to explore broader horizons"
I am pleased to pass on these other comments:
"Len was a brilliant leader . Logica could not have existed and prospered without him.
He first attracted to Logica a highly talented team.Then he inspired them and structured and organised the whole company .
At a personal level I am forever grateful for the partnership , the guidance and the support that he gave me over so many years .
What should be recognised is not just his leadership of Logica, but also his great contribution to the development of the whole industry in the 1970s and 1980s  .
My thoughts and commiserations are with Joan and her family ."
Philip Hughes – Co-founder of Logica in 1969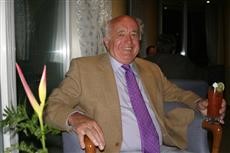 "I first met Len Taylor when I joined Logica in December 1973. In the thirteen years that followed, until I left to emulate him by striking out on my own, he was an outstanding, clever mentor, an unswerving supporter of those he believed were committed to the company and a true, generous colleague and friend. 
Len's defining characteristic was his honesty in his dealings with others, whether clients or employees. From that strong platform he commanded universal respect.
After we'd left Logica we continued close friends, meeting frequently to lunch and talk politics, business and our travels. 
It was a privilege to have worked for and with Len. I'm much saddened by his passing yet sustained by happy memories of Logica's many successes and the part he played  in them."
Gordon Olson – Formerly MD, Logica VTS Ltd, Director Logica Ltd.
"Very sorry to hear  that Len Taylor has passed away.  His part in the creation and leadership of Logica is well recognised both within and beyond  that organisation and we are very grateful for that contribution to the company that became Logica and later acquired by CGI. There will be many former Logica members who remember Len and his style and have taken inspiration in their own careers."
Steve Thorn – President CGI UK.
Len is survived by his wife Joan and his sons Geoff and Neil.
Mary Berners-Lee 1924 - 2017
Ailsa Land 1927 - 2021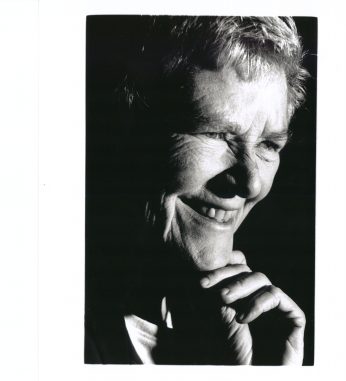 Just a month shy of her 94th birthday, Ailsa Land passed away peacefully on May 16 in Devon, England. She was one of the pioneers of postwar operations research (O.R.) in Europe.
In terms of her contributions to the academic programmes at LSE, Ailsa helped to institute an innovative two-year diploma in Operational Research for the graduate apprenticeship program set up by the British Iron and Steel Association. She established and successfully managed an active research group at LSE in operational research, providing a supportive environment for carrying out academic research. During her 25 years in the Operational Research Group, Ailsa mentored numerous MSc and PhD students, several of whom subsequently achieved international distinction. In recognition of her important contributions to education, the Ailsa Land Prize was instituted at LSE in 2017 to honour the best MSc student in Operations Research and Analytics in the Department of Mathematics.
In 1994 Ailsa received the Harold Larnder Prize from the Canadian Operational Research Society for her contributions to mathematical programming. Subsequently she was awarded the 2019 Beale Medal from the British Operational Research Society; in 2021, a panel discussion held to honour her Beale Medal prize highlighted the significance of optimization models in addressing important problems of society and the enduring legacy of Ailsa's work on branch-and-bound. She was posthumously awarded the 2021 EURO Gold Medal from the Association of European Operational Research Societies.
Ailsa is survived by her husband Frank Land, three children, seven grandchildren and two great grandchildren. Frank Land OBE is professor emeritus at LSE and a pioneer in information systems research, having the distinction of being the first professor of information systems in the UK. Together, Ailsa and Frank achieved notable firsts in their respective fields.
To read the full ORMS tribute to Ailsa, Click Here
A record of Ailsa's life with photos, tributes and extracts from her writings has also been compiled:
Home page                                 https://landdigitalmedia.co.uk/ailsa/
Tributes & Condolences          https://landdigitalmedia.co.uk/ailsa/tributes-to-ailsa/
Ailsa's writings                          https://landdigitalmedia.co.uk/ailsa/ailsas-writings/
Photos                                         https://www.icloud.com/sharedalbum/#B0dG6XBubGpCvL2
Video Interview                        https://www.informs.org/Explore/History-of-O.R.-Excellence/Biographical-Profiles/Land-Ailsa-H#oral_hist
George Felton 1921 - 2019
Peter Kirstein 1933 - 2020
Andrew Donald Booth 1918 - 2009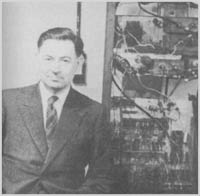 Donald Booth was a crystallographer, which involves a lot of arithmetical calculations, and he had been involved at the end of the Second World War with the crystalline structure of certain explosives.  He had had groups of assistants who used mechanical calculators to solve the required equations. And he felt that the future had to involve building, specialised devices, single-purpose devices to speed up the calculations, and he then became interested in very early calculators and automated calculators.  Booth had been appointed to Birkbeck by J D Bernal a very distinguished crystallographer who had been part of Churchill's wartime panel of scientists.  Towards the end of the war, Bernal wasplanning his return  to Birkbeck to the chair of crystallography and he was going to have four teams, to look at different aspects of crystallography.  One of those was going to be a team devoted to the automation of crystallography and Booth was appointed to head this group.  Booth spent time in 1946 & 1947 with John von Neumann and visiting other computing pioneers in the USA.
The result was that Booth moved very early from mechanical calculators to a computer, something that had a memory, and a processing unit, and the program stored in the memory and by 1949 was building a computer called SEC.  Booth then produced another machine, called APE(R)C, All Purpose Electronic Computer, whose design was provided by Booth to BTM, the British Tabulating Machines Company.
Two things came out of his work, and which are the main reasons why Booth deserves to be remembered:
He developed a quite simple, but nonetheless very efficient hardware multiplier. This was the original Booth multiplier, and with a minor adjustment proposed by a colleague,  the  modified Booth multiplier is what is in almost every chip that is being manufactured today.
The other thing he did was that he was the first man to successfully connect a rotating storage device to a computer. He attempted to build a disc but this proved too difficult so he built and was the first person to demonstrate the use of a rotating storage device connected to a computer.
Despite the innovations that Booth made and the huge difference they made to the computer industry he never really benefitted financially from what he had done.
This is an abstract from a fuller description of the work of Donald Booth made by Roger Johnson in his interview.  To read the full interview transcript go to Roger Johnson's profile page.
To view another article about Donald Booth click here
Eva Florence Nowill neé Brittain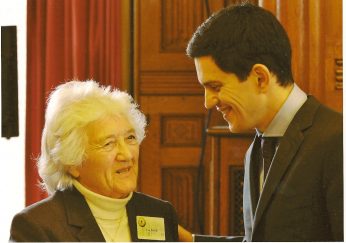 Eva Florence Nowill neé Brittain, b 17 Oct 1924 was a member of  the WRNS and worked as a Bombe and teleprinter operator at Bletchley Park during WWII.  You can see her entry on The Bletchley Park Roll of Honour here.  The photograph shows her receiving her Bletchley Badge from The Foreign Secretary (David Miliband) back in 2009, at the ceremony recorded here by the BBC: http://news.bbc.co.uk/1/hi/uk/8300099.stm.  In 2015 she did an interview on her Bletchley Park experiences to Jo Loosemore for BBC Radio Devon and you can listen to the recording, which went out on The Simon Bates show
MY WORKING LIFE - The Story of a 20th Century Computer Programmer
The Computer Conservation Society writes about this book: "David Pentecost has … written up the story of his career at length. The sheer variety of roles which he has undertaken cannot fail to impress. From using DEUCE at the NPL in 1959 to specialising in IT services to the legal profession in the 1990s and latterly as a contributor to the CCS Our Computer Heritage project."  Further information about the author can be seen in his Wikipedia article.