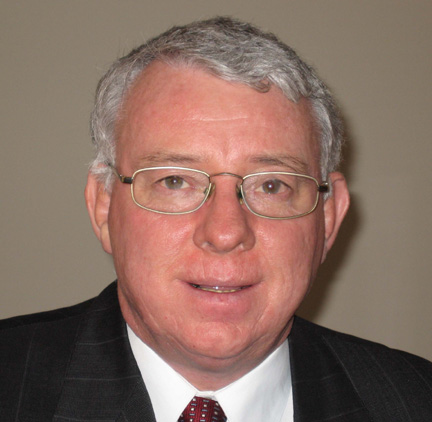 When it comes to a career in IT, Alistair says: "I would say, go for it.  I think there are tremendous opportunities.  It's not a single career.  I think there are, there are many career directions one can go within the whole brand of IT.  And, there are opportunities to carve out your own niche and make a name for yourself in our industry.  I think it's a wonderful place to be." 
Early Life
Alistair Fulton was born in Glasgow in 1949. He grew up in a council house in Glasgow where his father worked in the building trade as a salesman and then sales manager for a building supplies company.  His mother was a state registered nurse who worked as a district nurse, and later became a matron of a children's nursery in Glasgow, before running two of them before she retired.
Education
Alistair went to the local primary school, Carntyne, followed by Glasgow High School, which is a fee-paying school in Glasgow. He entered the school as one of the top 21 people in Scotland who sat its entrance exam.  His favourite subjects were science, particularly physics, however, he wasn't as keen on the accompanying maths needed it to do physics.
In schooling time, his main occupations were fishing and sailing, the Glasgow schools had a sailing club at a loch only about a mile from where he lived so he was able to go sailing in the evenings after school in the spring and autumn.
Having sat his Lowers, Alistair went on to achieve eleven Highers which gained him entry to Glasgow University.  He chose to study Physics at the University following a visit to the physics department in 1967 where he was impressed by the faculty's cyclotron. He explains: "A cyclotron is s a circular device which fires electrons round in a circle and, and gradually builds them up to greater speed,  and mass, and then they crash them into something to see what happens.  Which struck me as a wonderful thing to be doing."
Alistair loved studying for his physics degree. Alongside the compulsory physics and mathematics elements of his course, Alistair could choose an additional subject for each of the first two years.  In his first year he selected geology, based on the thought that it was an easy subject relative to physics and maths.  In his second year, he chose the newly introduced subject of computer science.
In this year, he learned about adding machines and how to punch cards or paper tape by hand. He explains: "You passed a deck of cards, having written a program,  through a hole in the wall, and, the following day, if you were very lucky, you got the results  of your program.  If, in the meantime, the operators had dropped your cards on the floor, you got a one-line printer page back saying, 'The program did not compile'." The department did have a computer, an English Electric KDF9, but Alistair never actually saw it in the year he studied computer science.
At the end of his second year (1968/69), Alistair found himself in a dilemma when he was invited to switch to a computer science degree. He sought advice from his physics tutor who advised him: "If I were you, I would stick to  the physics.  This computing stuff may not catch on."
He took the advice and graduated in 1971 with a BSc Hons in Physics.
Early Career
Greater Glasgow Health Board
Having completed his degree, and acknowledging that he had caught the computer science bug, Alistair decided to start looking for a job in the computer industry rather than in phsyics.
His first role was with the Greater Glasgow Health Board, which was the local NHS organisation running the West of Scotland NHS.  Alistair joined them just as they formed a computer unit with the purpose of applying computing to medical applications.  At the time the only computer the Health Board had was an ICL 1904, which ran the payroll for the nurses.  Alistair was the third employee in the department and as he explains: "Everything that we were asked to do had never been done before, and therefore, that made it all quite exciting."
The department was at the cutting edge of applying computers in healthcare applications such as the early application of laboratory data processing for biochemistry, blood results. Alistair developed a similar computer system for haematology results processing which connected to the automated blood monitoring and measuring systems that were just coming into force.
He also took great delight in developing an administrative system for an X-ray department in one of the hospitals in Glasgow, which took about eighteen months. He worked singlehandedly on the project together with the chief radiologist of the hospital who had been in the military radar department during the war and who was quite keen on using computers in his department.
Alistair says: "In those days we put some terminals in the main wards where the patients would get sent from to have X-rays, and, by the time I finished with the system the report on the X-ray was back in the ward before the patient got back in the ward."
ITT
In 1978, after four years at the Glasgow Health Board, Alistair decided to move south and started work for ITT; Standard Telephones and Cables as they are known, where he would witness the transition from telex  to email and become Software Product Manager. He says he was recruited mainly because of his PDP-8 knowledge to support a message switching product called  a 600 ADX, which was based on PDP-8 technology.
Alistair developed the software both for the new UK telex network and also for the German digital telex networks.  He recalls how he went to test the German software in Frankfurt where the Germans simultaneously were producing a brand-new computerised telex exchange, and he managed to break the German telex exchange by sending it too many messages.
Triad Computing Systems
Having enjoyed his time with ITT, Alistair was ready for another move. He joined Triad Computing Systems, a general-purpose consultancy and software development company in the similar mould to Logica, CAP, Scicon. Alistair joined as Senior Consultant and went on to become Principal Consultant, and then Director during the ten years he worked there.
Alistair worked out of Triad's Guildford office which concentrated its efforts on scientific and technical computing rather than the commercial work which was carried out in Triad's London offices.
As a Project Manager he worked on numerous projects including the development of software for a Saudi Arabian weather monitoring system, under subcontract to Plessey Radar, plus what he describes as a 'quite novel' project for the America Institute of Scientific Information which wanted to use PCs to process the abstracts it produced and send them to all of its customers. Alistair developed the database and free text searching software to search all these abstracts. He also produced communication software that allowed a search of the database from another PC over the telephone network.
Other projects included working with Hiram Walker, who make, amongst other things, Ballantyne's whisky. They were building a fully automated bottling plant just outside Glasgow and wanted to computerise the whole process.
Triad was also commissioned by the Royal Aircraft Establishment to produce a CODASYL database management system, which Alistair describes as "no mean feat". While Alistair wasn't involved in this project, the commission enabled the company to bid for a contract for £10,000 for British Aerospace which was based in Kingston, close to Guildford, to do a design study into a new flight trials instrumentation system for the GR5 version of the Harrier jet.
He says: "My job was basically to grow the business, grow that part of the business.  And so from the period '83 to '88 we, we grew it every year, making profit and, and increasing the number of staff.  So that at the time of 1988 it had 47 staff employed."
Unfortunately, despite the success of the Guildford branch of the business, Triad ran into difficulties when the commercial element of the business based in London hit financial problems. The financial difficulties meant that the liquidators were called in and employees in the London office and many in the Guildford office were made redundant. However, Alistair and 13 members of staff in Guildford were retained by the liquidators to finish the still profitable British Aerospace contract while the business was put up for sale.
Triad Special Systems Limited
The business was bought from the liquidators for £15,000 by Dill Faulkes, and John Rigg on the agreement that Alistair would run the new business and try and get all the staff and the customers back.  The new company, Triad Special Systems Limited, was launched in November 1988 with Alistair as Managing Director, 41 of the original 47 staff and a full order book.
As Alistair explains: "We and the senior staff ran around all the staff saying, 'You can have your old job back if you want it.'  And we ran around all the clients and said, 'Terribly sorry we went out of business.  We are now back in action again.  Can we have our contracts back please?'  And every single one of them gave us our contracts back."
The company worked in a number of sectors including: telecoms, utilities, MOD, Department of Environment, Department of Technology, DSS and other Government contracts.
One such contract, re-won from its days as Triad Computing Systems, was to computerise the whole of the rent officer service in England. The rent officer service, a statutory body that reports to Parliament which administers the Housing Benefits system, are responsible for valuations of house, housing stock, for Housing Benefits claimants, to make sure they get the appropriate amount of money.
Another high-profile contract saw Triad, under subcontract to Capita, produce the online booking system based on Forté technology for the new theory test for the driving examination.
As well as using technology that it understood and had experience of, Alistair was keen that the company should keep abreast of technology and used a wide range of systems including small UNIX-based systems. It also developed relationships with Informix, a database management company, Sequent, a larger system manufacturer, and a software company called Forté.
Triad was set up with a clear view to doing an IPO on the main London stock market which was achieved in March 1996, in the process it changed names to Triad Group Plc. The IPO share price was £1.35, which valued the business on that day at £35 million, market capital.  Alistair says: "For a business that was bought for £15,000 not so many years beforehand, was quite something. That was all before dotcom nonsense."
The secret of its success, according to Alistair, is that they employed good people, sold what it could deliver, and delivered what it sold.
Successes
Alistair is clear that one of his successes is resurrecting a business (Triad Computing Systems) out of liquidation. It was reborn as Triad Special Systems Ltd and changed names to Triad Group plc when it floated on the London stock market in 1996.
Alistair is also proud of achieving the Holway Boring Award which is awarded to an IT company that is a listed company that has at least ten years' unbroken profits growth. It was first awarded to one of Triad's major competitors; Admiral.
Alistair explains: "Admiral was slightly bigger than we were, and slightly ahead of the game because of their size. But we used to compete with them on a quite regular basis. So, once they got the award, I was quite desperate that we also got the award, so that we could compete with them quite evenly."
Other Roles & Voluntary Work
The Computing Software and Services Association
Alistair became involved with the Computing Software Services Association, (later renamed Intellect and today known as techUK) in 1995 when he was elected onto the board by the members of the association, which are member companies.  He remained on the board until 2007, firstly as an elected member and then by invite. Alistair was elected President in 2000/2001.
The Singapore-British Business Council
Alistair joined the Singapore-British Business Council as the UK IT Industry representative. The Council was a high-profile body of people made up of business and government people, having originally been set up by the two deputy prime ministers of the respective countries.  It was run in the UK by Sir Charles Powell, now Lord Powell.  They held annual meetings which alternated between the UK and Singapore.  Having been involved with the Singapore-British Council, Alistair was then invited to join the Council for the Philippines and become a member of the Council in Taiwan, helping to promote trade in both directions between the countries.
 IT World, Buy IT
Alistair was invited to be Chairman of IT World which specialised in publishing best practice in all sorts of areas of doing IT, including the BuyIT programme, in order to try and avoid all the disasters of fixed price contracts. IT World was a very successful company which ran awareness programmes for Government, not just in Buy IT but, but all sorts of other programmes  that weren't in IT.
Director at Site Confidence
In 2000, Alistair was invited by a former colleague to help with the start-up Site Confidence in which he became an investor and director. Site Confidence provided a monitoring service for company websites to constantly check a website to ensure it was still working correctly.  It was a completely new service at that time, it hadn't been thought of. The business was sold in 2012, to NCC, who used it as their portfolio company to monitor websites. It's now getting incorporated into NCC and is a very successful company.
WCIT
Alistair joined the Worshipful Company of Information Technologists in the mid-nineties. He has served on the Entrepreneurship Panel, the Accessibility Panel. He is Chairman of the Industry Committee and more recently is helping with the membership committee and in particular producing, with others, the membership recruitment strategy for the livery.  Alistair is a Court Assistant.
Mentoring
Alistair is a firm believer in mentoring and has mentored five or six companies through the WCIT.  One of the companies that he mentored and is now Chairman of is called Enabled City Limited (originally named Enabled London).
Enabled City Limited provides software products for people with learning and other disabilities, notably products for way finding if you can't read a map.  It has a pop-up dictionary which is part animated for websites with difficult words.  It produces easy-read documentation for people who have difficulty reading or understanding English, some of which is for the NHS having developed a database of easy-read documents describing all sorts of medical conditions and medical procedures.  It also produces films for the NHS, presenting very difficult concepts in very simple and easy to follow terms.
Advice
The lesson to all businesses really is, cash is king.  And, if you don't have the cash, you're in deep trouble.
They grew the business (Triad Group plc) by always developing what the customer was expecting, and if you choose your customers carefully, they'll always come back for more.  Do it, deliver a good service, and, and they'll come back for more.
People who have been there and done it and got the T-shirts are well worthwhile picking their brains. I would encourage people to come to the WICT and get involved with the mentoring scheme.
When it comes to a career in IT, Alistair says: "I would say, go for it.  I think there are tremendous opportunities.  It's not a single career.  I think  there are many career directions one can go within the whole brand of IT.  And, there are opportunities to carve out your own niche and make a name for yourself in our industry.  I think it's a wonderful place to be."
Future
Alistair believes that the opportunities are increasing with IT getting everywhere and the increasing presence of artificial intelligence.
He sees that entrepreneurship has changed since he was younger when nobody knew about entrepreneurs. He believes that nowadays, the IT industry offers an opportunity for, just about anybody, if they've got a phone and a computer, they can start a company.  However, he would like to see more awareness of business knowledge alongside technical know-how so that many more people will have the opportunity to succeed.
He concludes: "So…  Who knows where the technology is going.  It's almost impossible to predict.  I think the autonomous cars area is going to be an interesting challenge.  I think it's definitely going to come.  I think it's probably going to take longer than everyone thinks.  I think there are still many what I would call run-of-the-mill applications still yet to be developed.  But we're seeing that all the time with, you know, new businesses popping up.  There's clearly got to be a lot of consolidation, there are at least ten brand new companies all trying to do the same thing and they all can't be successful.  I don't know how the technologies will change, I wouldn't even hazard a guess. Interestingly, the structure of computers has hardly changed over the last 60 years.  And I guess that's going to continue for a while."
Interview Data
Interviewed by: Jonathan Sinfield on the 2nd July 2018 at WCIT Hall
Transcribed by: Susan Hutton
Abstracted by: Lynda Feeley
Register or login now to view a full transcript and access other associated audio and video files