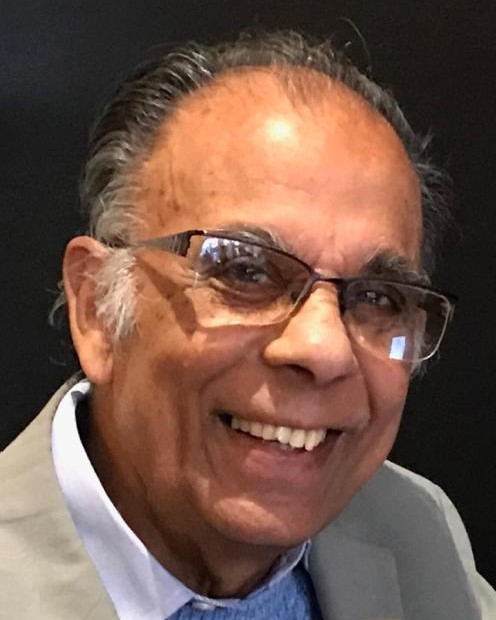 Ashish Dasgupta MBE spent 32 years working for Philips on its European operations, he therefore provides a unique view of this giant of European technology.
He has consolidated operations, spun off some, and turned others around. One of his greatest achievements was opening a new factory in West Bengal for the manufacture of telecommunications equipment. It was also a major mistake as the project was not successful for many reasons.
Early Life
Ashish Dasgupta, MBE was born in Calcutta, India, in March 1938. He is one of nine children, his paternal grandfather was a police inspector, and his father was a chartered accountant. His family belonged to a traditional Indian middle-class family.
Ashish explains the Indian society and the class structure: "Hindu society had mainly four classes – the Brahmins, the priest class and the keepers of religion. Vaishays – where most of the professionals like Doctors, Accountants and others commercial people belong to. Kshatriyas- generating most of the Administrative and Clerical functions and then the so called untouchables – who did almost all of the menial jobs. Our family came from the second strata of the class system."
Ashish talks about his childhood which was mostly spent in Lahore, now part of Pakistan. He says "Lahore was the best place I had ever stayed during my time in India. My father was well placed as the Chief Accountant for a British Insurance Company and we had a very good time until the partition came along in 1947. Life was disrupted rather badly."
Following Partition, the family had to return to Calcutta. Ashish explained that it would not have been possible for them to leave Lahore without the help of the Police Commissioner who was a personal friend of his father. The Commissioner arranged for his personal cars and guards to escort them to Amritsar, the nearest Indian border and the family was able to return to Calcutta from there. "I will remain grateful to Allauddin Khan Sahib for as long as I will live."
Return to Calcutta.
Ashish returned when he was about ten years old. Even at that young age and both historically and traditionally being part of a middle class family, disillusion started to set in his mind about the status of the middle class society. Ashish says "as the oldest member of his family, my father was meant to be responsible for all his siblings. No sooner we settled down in a house, most of my father's siblings descended on him. My father was a soft hearted person who found it difficult to say "NO". Finances became tight and we started to survive on bare necessities. This was not what I understood to mean as middle class and not experienced when we were in Lahore. The disruption of uprooting from there had already shaken my faith on middle class and I now began to lose all faith. Even at that early stage I vowed not to spend my future life like that."
Ashish described life in India in the mid-1950s when the country was shaping its own future. Ashish says "the remnants of British Empire was slowly disappearing and a sense of an Independent India was beginning to emerge. Life was taking a different shape. There was a lot of euphoria and hope and enthusiasm for life. Unfortunately, that didn't match with the scope which the young population wanted because the growth was very, very slow, and in my days, it was almost non-existent. As a consequence, to be able to get on, you had to do either extremely well in the educational field or have huge amounts of money to be able to get on, or as a last resort, have a huge network of very well-known people to help you to get on. We had none, so life was a bit grim from that point of view, but it was full of hope, scope and everything."
Education
Ashish describes how education was central to his family and the Indian middle-class: He says: "In my class of society in India, education is everything. If you don't have education, you have nothing. People spend the very last penny of their funds to educate their children. in the UK. The reasons for education are mainly to be able to get on in life. It is somewhat different in India. Pensions and social security were almost unheard of in India in those days. People spent large sums on education with the hope that in addition to being successful adults, the children will look after them in their old ages. Education was almost seen as an insurance policy in old age
Ashish attended the boys South Suburban School in 1948. He says of the experience: "I liked school because I was a good student, not brilliant, but good. I was always amongst the ones of whom the teacher said, "He will do well". I enjoyed my schooling because I not only, participated in the education, but I also played football and cricket with the school and as a consequence I had a pastime interest in the school communities as well."
Ashish studied English, Bengali, maths, history, geography, and Sanskrit at O Level, after which he went to Charuchandra College for two years to complete his A levels in English, Bengali, physics, chemistry, maths, and biology. English and Bengali were compulsory subjects up to graduation level. Ashish chose the remainder of his subjects amid expectation from his family that he would be a doctor. He says: "As soon as my A-Levels finished and I got my grades, I realised I would never be a doctor and that I made a mistake in selecting such subjects, so I transformed it into commercial subjects for my graduation."
Between 1956 and 59 Ashish continued his studies at the college and completed a Batchelor degree in Commerce. He says of the decision: "I was good at commerce, even in those days, I was good with money; my family circumstances made me good with money and my father was an accountant, so, all those separate things together, made me feel that maybe commerce would be a better direction for me. I think, I was right in taking the decisions."
Indian Railways
Having graduated Ashish found he could not see an opening for himself that would lead to a successful career and decided he would go abroad instead. With his family teasing him about his plans, thinking all along that it really was not possible for him to pull it off such a seemingly impossible project. Ashish decided to take any job that came along in India to earn some money and applied to the Indian Railways. He says: "There were 38 vacancies and 500,000 people sat the selection exam. I thought there was no harm in sitting for the exam, I knew I wouldn't get it, but it would be good fun to try. Funnily enough, I was one of the 38 who got the job."
He says of the size of the Indian Railways: "It is a huge, huge organisation, it is mindboggling, big and complex and a very time-consuming organisation to even begin to understand as to what it was like."
A job with the Railways was considered a job for life, providing security and pension and his family encouraged him to forget his ideas of going abroad. He adds: "Being a clerk in the Railways for the rest of my life, or even if I got a promotion to the superintendent in the office, I saw them and then said, I could not possibly visualise myself spending the rest of my life in roles such as a clerk or a superintendent even if I could get a promotion."
He continues: "I am ambitious, I have had this ambition from the very beginning. My father had the responsibility of his family and his sibling and so we were never rich, in fact, we were never even self- sufficient. I quite resented the fact that we were just barely getting by. I wasn't prepared to accept that for the rest of my life and that was the start of my ambition. Then, as I was getting along, I began to understand and see things and I realised that if I could get an opportunity I could work towards fulfilling my ambitions. The opportunities in India in those days were absolutely not available for my kind of people. Therefore I was determined that I would come abroad and look for opportunities."

Germany and UK
Having decided to leave to pursue a career in the UK, Ashish took admission as a student with the Chartered Institute of Management Accountants in London. But he was prevented from travelling directly to the UK because soon after the admission, the Indian government had banned the exchange clearance for accountancy studies overseas on the basis that students could study accountancy in India. Ashish says: "As a consequence, I could leave, but I could not have any money at all. I knew that coming straight to England without any money, and looking for a job, would be an extremely difficult proposition because at that time (1961), there was already rumbling around immigration."
Seeing no alternative, Ashish decided to look elsewhere and presented himself at the German Consul's Office in Calcutta to try to get a job in Germany. He continues: "I went to the reception and just boldly asked to see the Consul General. The receptionist was almost flabbergasted that this little Indian guy had walked in from the street, and wanted to see the Consul General; she was quite perplexed and rather interested. With the help of the receptionist, Ashish managed to see the Consul General and explained his plight. She asked him to sign some papers and to come back in two weeks.
Ashish continues: "Two weeks later, I received a telephone call telling me I had a job in Stuttgart as an unskilled labourer, paying 2DM 40 Pfennig per hour. I was asked to go back to the office to pick up all the papers. I realised when I went back that the papers I was asked to sign were visa papers which was duly endorsed on my passport. I left for Germany two weeks later"
In early 1962, when Ashish saw the UK immigration laws were changing which would have prevented him from entering the country after 4th April without a work permit. He cut short his stay in Germany and came to the UK just before 31st March 1962.
Having arrived in Dover, Ashish made his way to Belsize Park. He says: "I was told that most of the overseas students lived in Belsize Park, Swiss Cottage areas in those days and told to go to that area to look for accommodation. I went to Belsize Park and was very lucky to get a room at the second door I knocked."
Employment in England.

Having spent the first four years in various jobs in London getting himself established, and having had the intermediate part of the CIMA examination completed, Ashish gathered enough confidence to start applying for jobs in his professional field.
Philips Electronics
"I applied to both Philips and Standard Telephone Company, not knowing very much about either of them. I was offered jobs by both companies and decided to accept the offer from Philips. The simple reason for this choice was that it was much easier to travel from Belsize Park to Shaftesbury Avenue, the location of Philips. As it turned out, it was one of the best decision of my life and I spent my entire working life in Philips.
Of working for Philips, Ashish says: "Philips has always been an extremely good employer. They were not the best paid but they were not the worst either. Their terms and conditions of employment was very good, their pension rights were also very good, and so, everything was positive rather than negative. … Philips was a very enlightened employer and company. After retirement, I and some of my colleagues, have found ourselves in demand in the market place purely because of our background in Philips. There was nothing special about Ashish Dasgupta but what was special about Ashish Dasgupta was that he had 35 years of very good knowledge of a management system and working worldwide for a multinational company and a very enlightened company."
Asked about Philips identity as either a consumer goods company or a telecoms company, Ashish says: "That is the question which Philips asked themselves later in life. Philips started as a lighting company which is by and large consumer goods, it also supplied professional lighting. It expanded in to other consumer products like television and Radios and other domestic appliances. So it was a consumer product-orientated group at that time."
"Philips made an enormous amount of money, so it started to diversify in the professional field because telecommunications was coming up in the market place and was becoming a very lucrative market for new opportunities. As a consequence, Philips started to expand in telecom and after expansion in telecom, they started to go into the medical systems, the semiconductor and Data Systems businesses and so on. Before you knew it, Philips became a combination of both consumer electronics and the professional electronics businesses."
"It was an extremely technically-driven company. The research lab was a very interesting place to visit and the technology was very high class. Philips was always superior technologically, but the products were highly technical and it did not have the marketing tools to make the products always consumer friendly which Sony and the other competitors had to support the technology in terms of the mass appeal, and that is where the deficiency started to show up."
Asked where the power focus was, Ashish says that after 35 years with the company he could not give an easy answer. He adds: "In some cases, the product division played a big part and in some cases, the national organisation played a big part. The technology came from the product division and there was no compromise on that score, but the national organisation played a very big role in the marketing, selling, finances, strategy, and the taxation matters. Quite often, those two roles didn't quite go hand-in-hand, so, there was some conflict but by and large they lived happily side by side with all the consequences."
Speaking about the tensions in the company, Ashish says: "The tension was that the product division wanted to make their products successful and their technology successful, but unfortunately, the national organisation, were at the end of the day, responsible for the bottom line, and the bottom line didn't always coincide with the marketability of the product division's very high-tech, sometimes high-priced products."
Financial Director
In 1976, Ashish, along with the Managing Director, was asked to merge some of the small companies operating within Philips into one large uniform components manufacturing company. After successfully doing so, Ashish was made Financial Director of the combined companies. He says: "My job was to look after the finance, IT and the administration functions of this enlarged company. The aim was to make sure that the merger was working properly with a view to having an even bigger merger later. It was an extremely interesting assignment and I learned an awful lot, not only about the financial and the IT management of the company, but how to organise, how to man-manage and how to solve difficult problems, which stood me in very good stead professionally."
Asked if Philips took risks, Ashish says: "To a certain extent. Philips took big risks when their finances were in very good shape when they expanded into the professional field. Those were big risks and a leap of faith involving millions of pounds. In the 1990s when the times became tough, Philips became a lot more cautious."
Ashish found himself moving roles within Philips every three to four years. The moves were a combination of his own desire for a move and meeting the company's needs. He adds: "Whilst I was ready for a move at the time I moved, my move came almost always because I was the right person in the right place at the right time."
During his position at Group Financial Director of the Scientific and Industrial Division, Ashish was involved in a number of acquisitions and divestments in the US.
Management style
Asked about his management style, he says: "I like to think that I had been a good manager throughout my life. One of the accolades, if I can call that, although I moved fairly regularly to different jobs- my colleagues in the previous job always used to say in case of any problem – "bring back Dasgupta – all is forgiven".
Philips tended to send me to places as either Finance or Managing Director if there were specific tasks to perform. Ashish continues to speak about his management style "I had two major principles of management. I always started by trusting everybody because I needed their trusts as well. However, it was absolutely clear throughout the organisation that my trust could only be broken once and nobody will have a second chance. The second principle was that I tried never to throw my weight around unless it was absolutely necessary. I tried to treat people as equal and that made communication much easier. Managing a complex operation becomes easier when there exists a mutual trust and a clear lines of communication."

Proudest moment
In his role as Group Financial Director of Philips Telecommunications, Ashish lead a project overseeing the introduction of a Philips product factory in Calcutta. The company already had a 40% share of a factory in India producing some of its telecommunications products but it wanted to own its own production plant.
Ashish says: "With the new digital product coming in, Philips decided to introduce those products in India by a) opening up a new factory because these new products simply would not have been possible to manufacture in the old factory as it did not have the required clean rooms." To achieve the desire to establish a new factory, Philips set out to buy out the co-owner, the government of West Bengal, of its old factory, this was Ashish's first task.
Ashish says: "This was the West Bengal government. It was a complete regional government issue, and was nothing to do with the Central Government. I was very bold and I made it on condition with the chief minister. I said, 'Right, we will pay this amount of premium but in exchange, you have to give us a complete guarantee that there would be no import duties, no corruption in stopping imports and things of that nature. We will have a free hand in being able to bring in products to manufacture in a new factory because a new factory will cost us a lot of money and you have to give us the land to build the new factory.' So, we got the land free from the government of West Bengal and we got those assurances that we would have free access to the transportation facilities. It took us two years to build that factory. I had a very proud moment when I was on the same podium as the Chief Minister of West Bengal, jointly opening up the factory."
Mistakes
Ironically, as well as being one of his proudest moments, Ashish considers opening the factory in Calcutta as one of his biggest career mistakes. He says: "We opened the factory and the labour situation was such that getting things done in Calcutta, was an extremely difficult proposition. Maybe attaching the production line to an existing, more efficient plant in Pune or Bombay or somewhere else, would have been a better proposition, I don't know, nobody will ever know. But it didn't work the way I had expected it to work."
Asked about his experience and reputation for turning round loss making parts of Philips into profitable elements, he points to a specific incidence. Ashish says "I was asked to take up the position of Managing Director of Philips Car Systems which was making big losses for the previous few years. My brief was to take whatever actions I saw fit but the company must get back to profits. It did not take me long to find the root causes. The company was consistently failing to deliver just in time delivery contract to big names in Automotive Industry and incurring penalties in large numbers. The logistics were all wrong, the company responsible for delivery were not free to act due to interference from a substantial number of consultants, again costing huge sums of money. The management was not managing at all. I had a meeting with the logistic company who was a reputable one. We agreed that the company will have an exclusive contract from Philips to deliver without any interference from our staff as we were not experts on complex logistics management. The company in return, must take full responsibility of deliveries on time and should have a back to back guarantee which indemnified Philips from all losses arising from future fines due to delivery problems.
We signed the contact, fired all the consultants and got rid of all of the warehouses, sub leasing those to the Logistics Company. These actions also resulted in substantial cost savings. Philips Car Systems returned to profits within eighteen months without any job losses."
Retirement

Since retiring in 1998, Ashish has done a lot of work in the community and in the NHS for which he was awarded an MBE in 2010. He is currently writing a book to capture his own history and experience. He says: "Since I left India 60 years ago, even my siblings don't know what I have been through, and certainly, the grandchildren and their children would probably never know how hard I had to work to experience a modicum of success. So I thought that if I write a book then there is a family history somewhere which will tell them one day what I have done with my life."
Interview Data
Interviewed by Richard Sharpe
Transcribed by TP Transcription
Abstracted by Lynda Feeley

Register or login now to view a full transcript and access other associated audio and video files