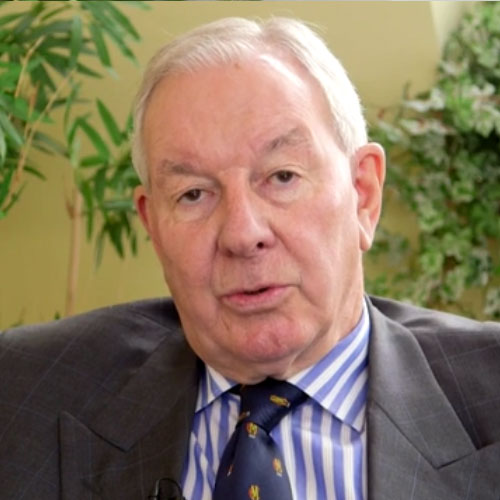 "I joined an industry right at infancy and had 38 years experience in the IT world starting with punch cards and calculators, very rudimentary systems and I've seen the whole thing grow  dramatically over the last five, ten years and I've been very lucky to be involved in that growth.  Frankly I think the growth will go on, we have computers now affecting  almost everybody in the world and I think we are going to go on for far more over the next few years."
Early Life
Bill Ellis was born in Ostend on the 4th of July 1937, his parents were both English and both worked in Brussels in the racehorse industry.  Bill's mother was the daughter of a racehorse trainer and his father was a jockey.  Unfortunately Bill's father was killed racing when Bill was two years old.  As his mother was British they fled when the Germans looked like coming and his mother joined the WAAF, where she met and married John Monckton.
Education
Bill had a varied school career firstly, as they lived in Pembridge Square, he went to St Vincent's, which was a little primary school in Holland Park Road; after which Bill went to Knoll, a prep school at Woburn Sands.  Later, Bill went to Sutton Valence, and did A Levels in Zoology, Botany and Chemistry. Bill still meets up with four or five of his contemporaries from Sutton Valence.
National Service came as an option, and Bill became an Airborne gunner, based in Aldershot, and had good fun flying and parachuting.
Early Career
Having finished National Service with a good commission, Bill started looking for work by writing directly companies and was given a trainee role at BTM.
BTM had a product called the Hollerith machine it was a punch card driven device, and primarily they did accounting systems. Bill's task was to support the client through maintenance reviews, maintenance reports, and introducing new products.  Bill enjoyed the variety of meeting different people and enjoyed every single day.
ICT (International Computers and Tabulators)
In 1961, BTM became ICT.  In those days, clients bought equipment which was good for purpose, very many were effectively early calculators, the only thing to worry about was did it work correctly?
ICL
ICT merged with English Electric and became ICL.  The ICL range was technically very clever, because of the Ferranti connections, which were hard to make work well as they were difficult to program and, being physically large, required air-conditioning etc.
Bill moved into the insurance area and looked after London and Manchester, United Friendly, and a lot of Lloyds companies, he found it an exciting time.  New ranges came out very quickly, the 1900 lasted 5-6 years, then the 2900 which changed things quite a lot in the mid '70s.
Bill enjoyed the challenge of moving into a sales organisation with high quality sales training, a commission structure account planning as, working out what could be offered to clients in the future; strictly hardware, as the software was usually created in-house amongst the ten or so major accounts he was responsible for.
IBM was dominant in the financial sector and produced very good equipment to support it. Even though they were competitors, they used to have drinks together from time to time.
Software Sciences
After a while ICL offer Bill a management role, which wasn't attractive.  At the same time, Software Sciences I was running the Lloyds market for ICL and they said we're going to put you into a staff role for a year, the salary was a good salary, but there was no commission arrangements.
Colin Southgate, who was the banking area manager of ICL, started Software Sciences and offered Bill the sales role.  This was a great new opportunity to start up something where software was the main theme. Bill joined and was made a director on his first day.  Software Sciences, grew to 100 people in that first year and beat their targets working with clients such as Minster Insurance, the Commercial Union, and several stockbroking companies.  A lot of business came in during the decimalisation process which put the company of a firm footing.
1971 was a very tough year, the market collapsed in the private sector.  Luckily Bill had made moves into the public sector which helped enormously and they grew successfully during 1972 and 1973.  Recruitment focused on the graduate intake, which included doing the university 'milk rounds' and that programme continued for 10-15 years; sometimes taking on 20 graduates a year as they were always the easiest to place with clients.
As the business got bigger, client relationships management became more important as they had large internal IT departments who needed to be involved in the relationship, often at a fixed price.
A string of mergers followed after an offer came from BOC to join with them and become British Oxygen and Computing Services.  Airco then bought BOC, and then rolled into Thorn EMI.
Colin pulled together a deal to keep Software Sciences slightly independent as the turnover was approx £100 million with a staff of 2,000 people spread across offices in Farnborough, Sunbury, and Holland as part of the deal.
Five years later, Andy Roberts came in as Chairman and Chief Exec and changed the format which created a pool of programming talent in the centre at different levels where the profit centres took them out and bought in, which turned into a very good model. That improved the business and it became very profitable creating a listing opportunity in '96/'97 IBM made an immediate offer as they liked the model for their global service business.
Bill was made redundant after about a year, and hired back the next day as a consultant.  A few other managers left and started a marketing sales operation of about 25 high level project managers, which Bill also joined part time and worked there until 2012 when he retired.
Mentors
Bill had several mentors including Colin Southgate who was a big influence, supporting, helping and molding Bill throughout his career. Other mentors included Chris Gent, Geoff Unwin and John Ockendon who all had skills and knowledge which they shared with Bill.
Achievements
Bill was always willing to take a few risks in terms of backing his judgement in the businesses, and several times put money into his beliefs, which luckily enough all paid off, even in some situations where he wasn't certain of the outcome.
Mistakes
Bill rates being a member of Lloyds, as probably his biggest mistake ever.
Another mistake was to sell Little Polveir six weeks before the National, which it went on to win. Having had the horse for seven years and having won the Scottish National….  Bill is still a member of a racing syndicate which has five fillies.
Industry Roles
Bill was on the CSA (Computing Services Association) council for six years; it became Intellect later on. They were doing a lot of work really trying to work with Government to get UK's industry accepted, trying to get them to understand all this was really quite difficult.  So the CSA spent a lot of time getting statistics, about how big the industry was (turning over several £billion annually), the sort of work it did, how many people were employed etc.
Interview Data
Interviewed by: Alan Cane on the 24th May 2016 at the WCIT Hall
Transcribed by: Susan Hutton
Abstracted by: Annabel Graham
Register or login now to view a full transcript and access other associated audio and video files