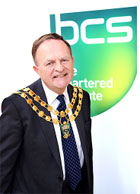 During Bob's time at Ferranti, he worked with Stan Gill, famous for his work at Cambridge in development of the EDSAC 1 programming system, & Conway Berners-Lee, who worked as a member of the team that developed the Ferranti Mark 1, the world's first commercial stored program electronic computer.
Early Life
Bob was born in Woodford in Essex in 1941.  His father was seconded down to a munitions factory in South Wales, so, in late 1941 he and his mother joined him there until the end of 1945, when they returned to London. His father's parents were both teachers and he used to stay with them often, whereas his mother's parents had a more traditional set-up wherein the woman stayed at home once she had children – as did his own mother
Education
Bob went to a local primary school, followed by a secondary school, St Dunstan's, Catford, which is one of the lesser public schools, with Kent County Council paying for his place.    Bob is dyslexic, something that wasn't recognised at the time, but still achieved A Levels in maths and higher maths.  He feels lucky to have been taught by Dr Geoffrey Matthews, who was one of the innovators in those days of how you taught mathematics, and he encouraged pupils to think spatially, outside the traditional way of doing things.  Whenever he could Bob would escape to the woodwork room.
Bob had hoped to go into the furniture industry, because of his interest in wood but the course was cancelled.  He ended up going to Chelsea College of Advanced Technology to study maths with statistics in the early days of sandwich courses.  He did two terms in university, third term and the summer holiday in placement, for each of the four years.  Bob's placements were with Ferranti where he met Stanley Gill and Conway Berners-Lee.   Stanley, he held in awe as somebody he would always look up to whereas it was Conway who guided him in how to do programming.
Early Career
Having obtained his degree Bob found that there were no permanent roles at Ferranti at that time as the company had been put up for sale.  He looked at local opportunities and was taken on as a team leader at Wellcome foundation in Dartford where he worked from 1963 through to 1967 on an ICT 1202 and later an ICL 1900.
Unilever
Both Bob's parents had worked for Unilever and he got a job in their Blackfriars Computer Services as a project manager in the middle of '67.    In '69/70, the decision was made to bring Blackfriars Computer Services into Unilever Computer Services (UCSL) as a group, wholly-own subsidiary service company.  They were servicing across the whole Unilever group but had to compete for work, and do it on a cost-effective basis.  Bob gained lots of very different experience with different types of companies such as perfumery and animal feed companies, doing all sorts of systems.
Whilst he was there Unilever sold UCSL to EDS, to form the core of a UK English company for EDS, and that was the end of Unilever's culture, and was the evolution into an America style culture.  Bob found it very different, very interesting, and he learnt a lot.  Unilever were very much a caring organisation, where EDS were in it to make the money.  The sort of differences he noticed were, with Unilever, they would think about how they were going to do something, think about the consequences at the end of that project, if this happened or that or the other happened, how they dealt with those situations.  With EDS, you just got on with a project, and you just kept course-correcting, put your foot in the water, change, change and change again.  Also, people were much more a commodity to be used by EDS, where Unilever was a caring, paternal organisation.
Diagonal
In 1989 Bob went to a small start-up consultancy group, Diagonal, where he knew the principal. He hadn't really sensed the effect of the recession and although he had a good time there it was only for just on two years.  The company developed well in that two years, despite the recession, and subsequently sold when it was about five, six years old.  His time there caused him again to reflect on, what's life about.  He was really looking for somewhere to work where the end product wasn't just the profit.
Barnado's
When Bob joined Barnardo's he inherited six IT staff and separate central systems for everything, none of which were "joined up" – it was a complete mishmash.  Children's services had bought a couple of PCs, nothing to do with a central IT function, and were piloting those.  After three years they had grown the IT department, and, there was no real restrictions; as long as he kept within budget constraints and they were delivering results.  They developed a major corporate approach to children's services, then tackled email and networking and developed the fundraising systems.  During his time there they went through the whole gambit.  They resourced IT up to 150 across the UK, brought that back down to just over 100 as they rationalised the servers and got rid of the need for support.  When Bob retired IT spend was running at about £9 million from nearly £2 million when he joined them.
Early Computing in the Charity Sector
When Bob joined in '91, there was very little computing going on and what was going on was of very poor standard.  One national charity had got a major fundraising system they were trying to put in which had to be totally scrapped.  He found that, the attitude of suppliers to charities was not healthy.  'Oh it's only a charity.  We don't need to bother to do that properly.'  Or companies would give charities a load of junk equipment, that they would have to pay for getting rid of as scrap, thinking the charities could use this.  Gradually they began to get a generation of competent IT managers in the charity sector and around the mid-Nineties formed a charity IT user group, which began to get cohesion.  By the time Bob retired, after fifteen years in the sector, it was beginning to become quite professional.
BCS
Bob joined BCS in 1963, thinking that having graduated and gone into the IT world; maybe BCS will mean something.  He went to a number of local branch meetings in Kent and then his interest waned, until he joined Barnardo's where the one problem he found was that he had no other senior IT colleagues around him.  So, after two or three years he joined BCS Elite, and then after several years on committees he was approached to become chair of the new Ethics Forum. This put him on to the BCS Advisory Council and after a few more years on committees he was approached to stand for Deputy President. From there he became President from 2012 to 2013 where his theme was very much trying to really get BCS to look forward.  Within that looking forward, one of the things particularly was continuing to support the development of professionalism in the IT industry. One of the key things that as President he was instrumental in making happen was the beginning of the programme that has led to the apprenticeships in IT.  Because that really is getting people able to come in to the profession, and develop themselves, without all having to go through degree course.
Bob thoroughly enjoyed his year as President and found it interesting, to be one of a whole series of presidents that he knows, preceding and succeeding, to see how they all in their different ways have endeavoured to move the institute forward.
Bob is now involved with the BCS at a lower level as Chair of the Sussex Branch, he believes, if they're going to grow the membership, they've got to make it relevant and engage with the grassroots of our profession at local level.
The Future
Bob thinks the biggest challenge in the IT industry, is to make it much more easily available to the individual person at home.
Advice
Bob's advice to someone thinking of a career in IT would be, first, go for it, it's a growth industry.  But then, if you're not happy in the company you're in, take your own time to find somebody else you can go and work for.  Make sure you're doing enough online learning to keep your technology up to date.  Don't get stuck in an old technology and become unsaleable in years to come.
Interview Data
Interviewed by: Jonathan Sinfield on the 28th November 2017 at BCS London Office
Transcribed by: Susan Hutton
Abstracted by: Helen Carter
Register or login now to view a full transcript and access other associated audio and video files