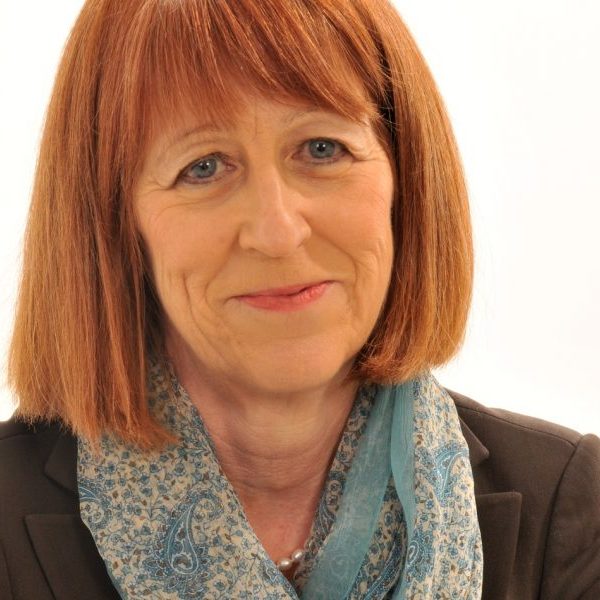 "I suppose I've got quite a bit of pride about some of the first footing  I've done; I was the first female president of the Birmingham Chamber of Commerce after about two hundred and something years, so I get some pleasure from that.  I was also the first female chairman of the City of Birmingham Symphony Orchestra which has been going for about  100 years as well, so I think that I have been honoured in a number of ways and I think that's all about starting as a programmer and ploughing  on really."
"I feel it's part of my duty is to promote to younger women that it's possible to do these senior roles and that they shouldn't allow anything to get in the way; they should have the confidence to go for it."
Early Life
Bridget Blow was born in Nottinghamshire, she has an older sister and both of her parents were civil servants. Her father's job involved managing electricity supplies to RAF camps, so the family moved regularly.
Education
Bridget went to a village primary school in Nottinghamshire until the family moved to live on the local RAF base when she then transferred to the primary school on the base. She passed her eleven plus and was ready to go to grammar school when her father was posted to Kenya. Not wanting to miss out on her grammar school education, Bridget chose to board at a local grammar school where her favourite subject was maths.
Early Career
Having enjoyed maths at school Bridget decided to investigate becoming a quantity surveyor and applied to the local authority. The chief architect advised Bridget to become a programmer based on the fact that they did not have many girls wanting to become quantity surveyors.
Bridget took his advice and was sent to learn COBOL at ICL. She was a quick learner and immediately started writing systems for the local authority's housing and pay roll. She explains: "You couldn't buy packages then, so I got involved in computerising each of the major systems in the local authority."  Her first computer was an ICL mainframe which belonged to the next local authority, 25 miles away, and which Bridget and her fellow programmers were allowed to use in the evening, when it was free.
F International 1979-1992
Having progressed as a systems analyst and project manager, Bridget decided to move to a software house. She moved to F International (FI) as a full-time project manager. She says: "They took me on in a full-time job.  Most of FI at the time, they were part-time ladies, but I was taken on as a project manager, and I used to travel all over the country as a systems analyst and project manager, and then get the system produced by the part-timers all home-based. I used to manage people mostly over the phone, although we did have team meetings when we got together at the client premises, usually during the testing phase.  And, I got to be very good at understanding whether someone was upset just from their voice tone on the phone." Bridget spent thirteen years at FI and progressed to board director.
ITNET 1994-2005
Bridget was then headhunted by ITNET, which was owned by Cadbury Schweppes, to join them as a systems director, managing the outsourcing and running customer's existing systems. The company also wanted to begin developing new systems for their clients.  Eighteen months after joining the company, the chief executive left, and Bridget was promoted to the role.
Not long after this, Cadbury Schweppes decided to sell ITNET. Backed by 3i and two other private equity companies, management and employees did a buyout. Bridget says: "We were expanding the IT outsourcing business as well as the systems development by that time. We, the company grew from about 450 people to two and a half thousand in the next ten years."
When the private equity investors decided to sell and no suitable buyers could be found, the board of directors floated the company in 1998 on the Main Market of the London Stock Exchange. Bridget describes this as one of the proudest moments in her career because "nobody I met had ever seen a woman be the chief executive of a company doing that". Bridget adds: "You have to promote the company and go to all these potential investor meetings in the City of London, which is obviously something I hadn't done before. It was quite clear while I was doing it that they hadn't met anybody like me before. It was a novel experience, unforgettable really."
During this time, Bridget's role shifted a bit from IT and management to focus more on external reputation management, managing the investors and "worrying about the share price".
 As the dotcom bubble burst, ITNET, by this time a medium sized outsourcing business with a turnover of just over 200 million, saw the market tighten with the likes of IBM coming into its space. The directors made the decision to sell and Serco bought it with the proviso that Bridget stayed for a year as director of technology.
She explains: "So, I go back then into more IT mode. Some of their contracts, which were worldwide, had IT in them, and I was basically troubleshooting and flying round the world sorting that out most of the time, which was interesting, but not really what I wanted to make a career of."
Non-executive Directorships
After a year with Serco, Bridget left to pursue a non-executive director career, something she had enjoyed while at ITNET when she was invited to be a non-executive director of the Bank of England (2000-2005).  At one point she held six non-executive directorships. She says: "Actually, I felt I was better at it probably than I had expected to be, because I was pretty well known for knowing everything about everything, if you know what I mean.  As a part-time non-executive director, you're not there a lot of the time, so you can't know everything.  The executive team are running the business for you and it's more about strategy, supporting them and monitoring them, and I found I quite enjoyed that."
Trustmarque 2006-2013
In 2006 Bridget was invited by investors to be chairman of Trustmarque, a private equity backed IT business that sold mainly Microsoft software, when she went there. She held the role for six years. She says: "I went along to be chairman and basically, for a software vender, the margin for that sort of business is a lot smaller than if you run a people delivering software services and specialist skills.  So, we decided to leave it as a software seller but also to make it a software house that could build new software, put programs together to get people to buy more from us.  We switched the chief executive to somebody who had got those sorts of experiences and built up the company."
Coventry Building Society 2007-2016
Bridget joined the Coventry Building Society in 2007 soon becoming deputy chairman and senior independent director. She says: "I went there in 2007, when the building society sector you might say was quite quiet. I had only been there about six or seven months when Northern Rock went pear-shaped and the regulator started stepping up its activity, and, it was a completely different business to be a non-exec director of after I had been there about a year."
As the only person on the board with any knowledge and experience of IT Bridget also found acting as an interpreter between the board and the IT department. She explains some of the advice she gave the IT team: "All boards get asked to sign off quite a lot of money for new IT systems, and they're naturally nervous, because all the things they hear from the press and the media is that the larger the IT system, the more likely it is to go wrong….What I encourage the IT people to do is to phase their developments into bite-size chunks, so that the board can sign off less money and chunk it, view the results of that, and then move on to the next.  That actually has, I think, helped, because it gives the board then confidence in the project and the people."
GTP3 2016 to present
Since 2016 Bridget has been a non-executive chairman of GTP3 an entrepreneurial new company building and operating data centres in Birmingham.  Bridget explains: "It's a very high tech data centre, and, we have an anchor tenant, but I think, what we really need to do is develop a bit more, which, in due course, we will, and then we can service the City of Birmingham and the people who need data centre space there better than they're probably served now."
Pro Bono Activities
Bridget has a powerful drive to give something back to Birmingham, the area which she feels has been very good to her. To this end, she has taken on pro-bono work in the area as non-executive trustee and chairman of the audit committee for the Birmingham Hippodrome Theatre Trust (2006-2015), non-executive chairman of the City of Birmingham Symphony Orchestra (2012-2018) and in 2008, President of the Birmingham Chamber of Commerce. She explains: "I felt that it was important to give back to Birmingham because it had given me a hugely wonderful career. I think early on I took on the Hippodrome, which is actually a very large theatre and very, probably one of the most successful theatres outside of London.  I was on the audit committee, and did general business, but while I was there, we did revamp the IT systems."
Alongside this, Bridget is actively involved with a care centre based in the city where she cooks for a soup kitchen one evening a week helping to feed homeless people a three-course meal.
Since 2015, she has also been working pro-bono as a senior independent director with the All England Netball Association. She adds: "They have a very large membership base, but they're also needing to raise more funds because the Government grant that they get is diminishing, as it is for all sport organisations.  We want to build up more shopping on the website including buying tickets for internationals, the elite England team has just turned professional and is doing really well.  The Netball World Cup is next year and we have a lot to do. So, we're in the middle of commercialising the sport, and it's very interesting. I'm the board director with governance knowledge and often get asked if it's OK to sign things off."
Biggest challenges and issues related to IT for the next five years
Bridget is frustrated by the lack of progress made in using technology to help improve productivity. She cites the NHS as one example, she says: "I think society needs to get a grip on IT, to help it with productivity, better service.  The NHS springs to mind here, because, in my view, they haven't really grasped this."
Tackling the issue of privacy affecting the pace of change in the NHS, Bridget sums it up as: "I think there's a choice for society.  Do we want to be treated quickly and efficiently, or, do we want privacy at all costs?  But then that gets into the ethics of, not only IT but robotics."
On the potential and impact of robotics on society, Bridget says thinks that "the uptake will be slower than we expect, because it already is much slower than it needs to be". She continues: "Maybe society is holding itself back, either consciously or subconsciously, because it doesn't want to have massive unemployment, which is what might happen if we really got it going on the old robotics."
Advice
With the technology changing at a pace, Bridget advises to be prepared to switch roles and to "make sure that they acquire, not only the IT skills for different IT areas, or whatever interests them, but also that they get business sector exposure.  Because, you become a much more IT effective person if you understand your client's business."
For women, in particular, Bridget advises: "I think women should just, assume that they can do whatever they want to do, and get on and do it.  And only worry about being stopped if they are stopped. ….. I think women are particularly suited to understanding what their clients want.  I think we're quite good listeners, and, I think, we get it."
Bridget says: "I feel it's part of my duty is to promote to younger women that it's possible to do these senior roles and that they shouldn't allow anything to get in the way; they should have the confidence to go for it."
Honours and Awards
Between 1996 and 2001 Bridget won the NatWest Midlands Businesswoman of the Year, was a finalist in the Veuve Clicquot Business Woman Awards, and won the British Venture Capital Association Buyouts of the Year award which 3i encouraged her to enter.
 Following this, Bridget was awarded a CBE for services to business in the West Midlands in 2014, she says: "I found it quite nerve-racking, but it was wonderful as well. The recognition is really nice.  The most important thing here is that the people who put me forward in Birmingham thought that was the right thing to do, so that's a very warm feeling, that they feel that I've done something for them.  So that, I'm delighted about it."
In 2015 Bridget received an Honorary Doctor of Science from Aston University's Business School, which she describes as "the most connected university with business" that she knows.
Bridget is a member of the Worshipful Company of Information Technologists, the Chartered Management Institute, and the British Computer Society.
External Resources
Interview Data
Interviewed By: Elisabetta Mori on the 12th November 2018 at the BCS, London Office.
Transcribed By: Susan Hutton
Abstracted By: Lynda Feeley
Register or login now to view a full transcript and access other associated audio and video files