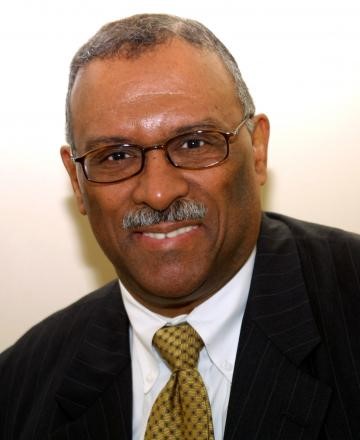 "The Internet has thousands of fathers and I have been privileged to be one of them.
I came to this country as a black American and I was accepted with open arms, and I think one of the reasons for that is I don't fit neatly in any of the traditional categories that are here.
I have a special gift in many ways I'm a man for all seasons, a person who really appreciates the business issues, the customer problems and also has a sophisticated understanding of the enabling technology."
Early Life
Bruce was born in the Oberlin, Lorain, Ohio area in the United States, near Cleveland, Ohio.  Lorain is part of the Western Reserve, area that the British gave to the people of Connecticut at the end  of the American Revolutionary War as war reparations. This area was a hot bed of anti-slavery during the American Civil War and remains one of the most progressive areas in the United States. Growing up in this part of United States had a major impact on Bruce's world view. His father worked as a driver and labourer for the United States Steel Corporation and his mother was a housewife. Bruce is the youngest (by twenty years) of five high achieving children. His sister Lucy was a colonel in the United States army and earned a doctorate in law.  His brother James was the President of the  University of California and was part of the Carter and Reagan administration, his brother Monroe studied electrical engineering at Oberlin College and was the postmaster in a number of the smaller towns in Ohio, and his brother Richard earned a Masters degree in Fine Arts at Columbia University, sang classical music, and taught music theory.
Education
Bruce studied psychology and played major college football on scholarship at Colorado State University. He later gained an MBA from the University of Dayton, studied computer science at the University of Colorado and attended a doctoral program in computer science and management information systems at Pace University. Bruce was awarded a Sloan Fellowship by MIT and graduated first in his class with a masters degree from the MIT Sloan School of Management. Bruce explains: "In our family, academics was a religion, and everybody was expected to get advanced degrees and make a contribution, not just to the community, but to try and make a contribution to the world. My brother and sister were the first people of colour in Lorain, Ohio in the 1930s to make the National Honour Society, which is quite a credit. As people of colour it was a source of affirmation in what could be a difficult environment"
Early Career
In 1968 while Bruce was working for Acro Tool & Die Company, a small machine shop. The company acquired an early version of a numerical control machine and had Bruce trained to program it, giving him a taste for computer programming. In 1969 Bruce had a number of friends killed in Vietnam, and he decided to join the military. Unfortunately, he was rejected due to American football injuries to his knee and shoulder.
He was then encouraged by his brother Jim, then vice-president of student affairs at Bowling Green State University, to move to Toledo, Ohio to work on a PhD in psychology. However, having a wife and child, Bruce decided that before continuing his academic career, he needed to have a job to pay the bills.
Ohio Bell Telephone Company
Having interviewed at a number of places, Bruce was offered a job at IBM for what he describes as "an exorbitant amount at that time, $15,000 a year", to be a computer programmer, and a job at the Ohio Bell Telephone Company, to be a salesman, initially selling payphones, key systems and then the early PBX systems. Bruce explains: "The IBM job was eons more interesting but looked like it was going to take a lot of energy, and I really wanted to go back to school, I wasn't looking for a career, I just wanted money.  I actually turned down the $15,000 a year IBM job and went to work for Ohio Bell Telephone Company for $8500 a year."
In 1969 Bruce started work at the Ohio Bell Telephone Company which was then part of the monopoly that was AT&T. A powerful, regulated service provider with over a million employees and  whose work ranged from research in the famous Bell Labs in New Jersey to a socket in the wall for a telephone connection for people.  AT&T was entirely integrated including its manufacturing arm, Western Electric which dominated the Unites States telephone equipment market. At this time the company was beginning to face occasional twinges from the political establishment about whether this was the right way to organise telecoms and should this monopoly be allowed to continue.
AT & T
At the age of twenty-three and after impressing his bosses by submitting 50 ideas for new products, Bruce was sent to the AT&T data school to learn to program in Fortran and COBOL. He was also sent to the network engineering and design school to learn how the networks and the switching systems worked. Bruce explains: "So then I did get some of this kind of technical background and interest, and that's why when I went to AT&T I was promoted, really just a few years later.  I spent around two years as a salesman in Toledo, and then they sent me down to Dayton, Ohio as a sales manager."
At the same time Bruce also attended the University of Dayton at night to work on his MBA. When he graduated, he was promoted to a third level manager, in charge of all of AT&T's business service and product strategy, running major projects with Bell Laboratories in Homedale, including the development of digital PBX systems.
Bruce says: "I got thrown into the fire at AT&T in trying to manage these technical groups.  And I had no idea what they were talking about, when they were talking about operating systems and these different programs and routines, different types of memory." At this point Bruce decided to study for a masters in computer science at the University of Colorado, to "learn the language on this stuff".
It was at Homedale, that Bruce met the team who were aiming to develop a competitive operating system to IBM's and were in the process of developing a new programming language as Bruce explains: "They told me that they had to develop a new language to make it work. They said, we're on the third version.  The first version we called A, the second version we called B, and the third version we called C." The operating system would end up being called Unix, which, as it was explained to Bruce "would treat everything the same, as a kind of a peer-to-peer operating system."
Bruce wanted to play around with this, so he taught himself to code in C in his spare time on his TI-1000, which he describes as a keyboard with an acoustic coupler which operated 300 baud. He explains: "I start playing with this and I realised it had this kind of UUCP, which was Unix-to-Unix Communications Protocol, which would allow all these different things to talk to each other." This prompted conversations with the lab team and Bruce found out that his gaming Atari was running on the same 8086 processor as the same CPU they were using in the new PBX system.  He explains: "Here's Unix, here's UUCP, here's a stupid Atari computer game, Space Invaders, here's this really sophisticated system I'm trying to build over here, and the thought that these two things are really the same thing.  They're just variation on the same thing.  And then the other thought was all these applications, they can be in this processor, but if I have a fast enough connection between them, they could be an adjunct processor, or they could be another computer. I started thinking about what is now thought of as client-server relationships, and clouds, and what today is the internet."
At the age of twenty-seven, Bruce found himself running a project with five of the top best young minds in the company from Bell Laboratories, AT&T Long Lines, and Western Electric. The group researched the technology which culminated in a presentation to the chairman of AT&T and the entire top 200 management of the companies. The demonstrated how this technology could transform AT&T and lead to the demise of IBM. The conclusion was that personal computers were going to dominate everything, mainframes were not the future of business.
Bruce says: "I finished this presentation and the room was stunned.  Stunned.  People just sat there.  Not a single question. We had a bunch of people we'd hired from IBM and one of the guys in the front row turns to the guy who was the executive vice-president and my mentor helping us run the programme, and says 'that is the dumbest effing thing I've ever heard in my life'."
Until this point IBM was in computing and data processing and AT&T was in telecommunications; they respected each other's area. Bruce says "that AT&T could not get past a world view of the way the telecommunications system worked.  They simply could not break mentally through a completely different model." They regarded the idea of personal computers as toys and not suitably reliable for business purposes. A company can survive business missteps, but it cannot overcome having the wrong world view. It would take another 20 years, but AT&T's rejection of the vision presented by the task force would prove to be a harbinger on the future of the company.
Bruce next moved on to champion the concept of the packet switching technologies as more efficient and resilient than circuit switching. X.25 competed with and later gave way to TCP/IP the core of which was Bruce's old friend UUCP. In 1980 Bruce was promoted and sent back to Denver to be in charge of the Advance Premises Switching Systems group, which later became part of Lucent where he pursued his ideas and promoted the concept of client-server networks.
In 1982, Bruce was sent to the MIT Sloan School to the Sloan Fellows programme.  The programme was designed to identify 40 young people in their thirties who had the potential to become chief executive officers. Bruce explains: "I'd finished my MBA at the University of Dayton, on a 4.0 average, I was working on this computer science masters degree, maintaining a 4.0 average and of course, was over-qualified at that point to go do another MBA.  But they called me up, and said the chairman wants you to go and destroy this programme." At first Bruce refused as he was working on numerous projects including one that would become distributed computing. However, he finally accepted the position and was a star performer, so much so that MIT wanted to keep Bruce in the school and asked AT&T's chairman to pay Bruce's salary for a further five years to allow him to do a PhD and become a professor. However, Bruce had other ideas and refused the offer, returning instead to 'building things' as branch manager for AT&T for eighteen months.
In 1982 through government legislation AT&T was broken up into seven RBOCs of which US West was one of them. The legislation also saw US West be prohibited from having long distance. It had provided AT&T's long-distance services in several states however the switching capability had to be turned off.  At the same time, AT&T saw its entire cellular business given to the RBOCs.
US West - VP Strategic Planning
In 1985, after the breakup of the Bell System Bruce was recruited by US West be the Vice President of Strategic Planning at Mountain Bell. A year later he was promoted to Executive Vice President of Strategic Planning at US West corporate headquarters, reporting to Jack McCallister, who was the chairman of US West.
While at AT&T Bruce had been part of the Advance Mobile Services project, which became cellular radio. This came in useful when he moved to US West that then had the cellular business along with all the RBOCs, but who didn't know anything about it having had no prior involvement. As a result a project team of twenty of the 'smartest people in the country on cellular radio' was compiled to focus on the major commercial, technical, societal issues and create a list of the ten things they thought were the key things for cellular radio. He says: "I don't remember them all, we made an unbelievably aggressive and fantastic forecast, that we thought someday that as many as perhaps two per cent of the population would be using cell phones. I mean it was totally stupid. What that has taught me is that if you take twenty of the smartest people in the world and you multiply it by zero, guess what you get.  Twenty times zero is zero, every time.  A hundred times zero, a million times zero."
British Telecom (BT)
Frustrated with the lack of progress he was making in convincing US West to listen to his ideas on networking, which eventually evolved into the internet, and the whole idea of adjunct processors, strategy and Unix, Bruce decided to talk to Iain Vallance. The two had met when Iain had toured several US telecommunications companies.
In 1989 Bruce was appointed as a director of strategy at BT and moved to the UK. Bruce says: "I was in my early forties and here I am on the management board. I talked earlier (in the interview) about people who are willing to give you a chance to express yourself and listen to you when you're very different.  And I could not have been a more different duck, coming into this environment. I came in and had these really radical pushing ideas that was challenging."
In the UK, like in the US, government legislation had changed the way in which BT was now operating. Bruce explains: "Keep in mind that AT&T had just gone through their own break-up and had been a monopoly and it was very similar, many of the same issues. The primary challenge for monopolies is not really technology, innovation, or resources.  It is learning to treat people like customers and not subscribers.  The idea of really trying to understand what customers need and what they value and trying to provide service and capabilities that meet those needs."
Bruce applied his learning from US West where he had introduced market segmentation strategies and ways to market and sell which increased the growth of residential sales by almost four times, to BT.  Bruce also admired the research teams working at Martlesham putting them on a par with the people at Bell Laboratories.
He explains: "Martlesham, they were masters.  And the things they were doing, at that early time, natural language processing, artificial intelligence, virtual reality, the things they were working on with streaming technologies and analogue to digital conversation, fibre work was absolutely top drawer."  With Iain's encouragement Dr. Alan Rudge (who ran the Labs) and Bruce gave the world class engineers at Martlesham a remit to develop the technologies that would give BT and the UK a lead in the emerging digital revolution.
Five years into his role, Bruce presented to a group of people, including Oftel of what BT looked like, which included its position among the top telecommunications companies in the world. Bruce compared around ten measurements included the prices they charged for the services, the quality of the service measurements, and the profitability of the company; BT was first or second across every single measurement. He says: "At that point, in 1994, arguably, British Telecom was the finest telecommunications company in the world.  The introduction of competition had challenged and invigorated the company. We had risen to the challenge and were becoming the best on the planet. We had a great team. We had turned them they were able to run, and they were running."
At that time, many of the big technology companies, including the IBMs, the Apples, were struggling, however, the Ciscos wanted to work with BT to help participate in projects and become partners.  This ultimately led to a strategic partnership between IBM and British Telecom to target international customers.
Digitisation and BT
Digitisation is also described as the third Industrial Revolution because there was a convergence of a whole series of technology.  With digitisation came the realisation that video, audio, text etc became zeros and ones. Bruce explains: "Once we digitise them and we can start to think about the whole thing about merging, combining, transmitting, moving, presenting, in very different sorts of ways."  At this point, Bruce built a "marriage" between the BT labs and the Media Lab at MIT run by Negroponte.  Bruce says: "A lot of the things you see today, even with things like high definition television, came from that collaboration. The facial recognition software and video security system that is prevalent in London, came from a project that myself and the chairman at Salisbury did working with the BT Labs and the MIT Media Lab."
At the same time, Media Labs and BT were developing the idea of things that could think which IBM also wanted to take part in by offering to provide the computing power and add some of their scientists to it.
Bruce wanted to turn the UK into "a digital island and make it the absolute world leader".  He recognised the potential that digitalisation offered and would eventually make to the world. He explains: "I naively thought, the UK is very different from United States, this is a country where if we could get maybe 50 people in a room and get them to agree, they could do anything.  We can make an enormous difference to what's going on in the world and the entire future of this country…..  The UK started the Industrial Revolution, they were the ones that led the world.  Why not do it again?"
Bruce had Martlesham working on digitalisation and he started a project to deliver videos and movies and educational material into homes with the help of Rupert Murdoch. His vision was a digital to analogue converter similar to the Apple box that could be put in a set top box for TVs. He asked Bell labs to innovate to a set size and a price of less than £100 each. Once Bell Labs had developed the prototype, Bruce persuaded Mitsubishi, Matsui and Panasonic to produce the box and talked to the BBC about the potential. Bruce explains: "They (BBC) said, now we can see it because I also said, you know, maybe in another year or two we'll put a small keyboard on it and basically every house in the country will have a dumb terminal that will be able to type in instructions, going back to a server giving them access to entertainment, education, and any number of other services. This would have been absolutely transformational and of course this is what the internet is today."
However, the move was stopped by Oftel (now Ofcom) that believed it would kill the cable TV companies. Iain Vallance and Bruce started a major publicity programme and hosted opinion forums with the top people from different sectors in the UK to describe the "revolution that was coming". Unfortunately, none of it, helped to change Oftel's mind to allow BT to deliver video and entertainment over their network, due to their commitment to support the burgeoning cable companies.
Bruce says: "Oftel was sitting over here, and much of the British government, not having that view of how important information technology was to the whole future of the country; they were focussed on how we can introduce competition into this game and do whatever it takes to introduce it. Competition is a good thing, you just have to be careful that in attempting to level the playing field you do not end up with the lowest common denominator. I also think there was this view that somehow the US cable companies were superior to a hide bound old British monopoly. A concept that was totally wrong"
Bruce adds: "I know that there are radically different kind of world views here. My world view, and Iain's world view, incidentally, was that this telecommunications was the key to this coming third revolution and that BT was a national champion that had the potential to put the UK at the forefront of this revolution. Rather than supporting and building up what should have been a national champion, it felt like the focus was to hamstring us and hindering our attempts at progress. I appreciate all that we were able to accomplish, I just feel there was so much more there for the taking"
AOL
Bruce moved to AOL working for Steve Case, as president and chairman running Advanced Network Services, (ANS) which built the National Science Foundation network that became the internet.  ANS was acquired by WorldCom after Bernie Ebbers acquired MCI. As a result of WorldCom's false financial reporting, Bernie Ebbers is currently in prison for 25 years having been convicted of fraud and conspiracy. Not so surprising, Bruce and Bernie had very different styles and Bruce moved on to become President and CEO of the PictureTel Corporation from1998 to 1999.
Disappointments and Successes
Bruce's biggest disappointments comes from a sense of wasted opportunity. So many talented people committed some of the most productive years of their lives to a vision they were not able to get over the goal. From the distance of twenty years he can see the hubris, naivete, and conceit that leads to believing that if you get 50 people in a room you can do anything, and if you are sufficiently persuasive, you can take them all on. He says: "It's not really understanding that people have very legitimate different narratives and different views and so it leads to enormous disappointment, because you can very easily become seduced in thinking, I know what's best, I know what's happening here and who are all these stupid people around me, and the question becomes, why don't they get it?"
 However he recognises that success and progress are still made despite his own frustration as he explains: "I mean you're really disappointed that it didn't go as fast or exactly where you wanted it to go, or we're in a different place than we would have been, and I need to understand that, and get it past the clenched teeth and not say, oh, but we coulda… yeah, but…  Okay.  We did what we did and it's better than it was."
Opportunities/Mentoring
Bruce counts himself as being enormously blessed and privileged to be present at so many of the major junctures in the development of the IT industry and to meet so many interesting people.  He is modest about his "small contribution" to the industry. He believes that it takes people and mentors who are willing to take a chance on you and give you the opportunity, as well as value what you say.  He says: "I've been privileged to have been around people who were open and interested and given me the opportunity to try and make a difference.  And I can't tell you how much I feel privileged about that."
Interview Data
Interviewed By: Richard Sharpe at the WCIT Hall on the 4th October 2018
Transcribed By: Susan Nicholls
Abstracted By: Lynda Feeley
Register or login now to view a full transcript and access other associated audio and video files