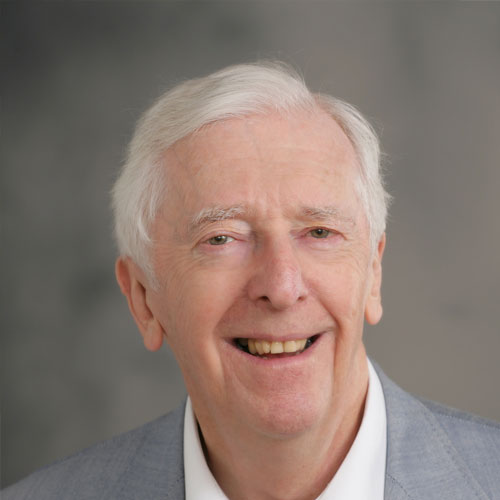 "I got involved in computing in 1958 right at the very beginning of computing in the business world.  I spent my entire career in computing,  half in entrepreneurial endeavours, trying to start companies and make things happen and the other half in pushing out the frontiers of technology and I have been lucky enough to be involved in four of the 'world firsts' in computing."
Early Life
Charlie Ross was born in London February 1936.  His mother had been a teacher in Birmingham and a suffragette.  His father was a banker.   There was a large extended family in London, Scotland, Shropshire and the USA.   He had a sister who was 7 years older than him so he was effectively an only child.  He was very close to his parents.  He never heard them say anything nasty about anybody not did they ever fall out.
Education
Charlie was taught to read and write and number by his mother.  He then went on to "Dame School" at six.  At nine he went to Highgate School.  He was good at maths and found it easy, as did and do his grandfather, father, son and grandson. – all Charles Ross's.  After the first two years of the senior school he no longer felt challenged and spent a lot of time daydreaming in the School Library designing gardens, houses, monorail systems and the like.    Charlie would have liked to have been an architect.
In the VIth form he read JS Mill's On Liberty and that, he says, taught him to think.  He left Highgate School with A levels in English literature, politics, economics and philosophy.  He had decided to go straight into banking and chose not to go to University: he had seen his sister work too hard for her degree. In 1957, together with some other officers he had met in the Army, he started an Investment Trust Limited Liability Company
Early Career
Charlie's first job in 1953 was for Coutts & Co, Bankers.  The family had been in banking. In 1957, while at Coutts he went to a conference given by the Institute of Bankers (which his grandfather had helped organise) about the Bank of America which was using an electronic digital computer to keep its clients' balances.  He was a 22-year old clerk but wrote off on behalf of Coutts to get more information about computers and their uses in banking.  He wrote a paper for the bank based on his research and circulated it.  The chairman replied saying there was a committee of all the London Clearing banks looking into it.  He gave the paper to the committee but it seemed as if they were looking into accounting machines rather than computers.  He carried on his interest in computers and saw an advertisement for a programmer.  In his 30s Charlie realised that he found it easy to learn, but was not good at being taught.
During his time at Coutts & Co. he did his two years national service as a 2Lt in the Royal Artillery.  When he returned to work he did evening classes at the Regent Street Polytechnic (now part of Westminster University) for three years studying economics, law, commercial law and banking law, and accounting.
In 1958 for Charlie moved to Colgate-Palmolive as a programmer using an NCR bureau computer in London.  He did not know what a programmer was when he applied for the job.  The first program he wrote was to input a character, change it by a formula and output another.  There was no real manual for programming, just some notes in mathematical notation.   Colgate had been sold the service so as to develop an order fulfilment system to be run every day so that the levels of stock were topped up.  Colgate did get a version of the programme running but it took 36 hours to run which was no good for a system which was to be run overnight so that the right products could be dispatched in the day.  He decided to leave.
Charlie then got a job as a systems analyst at BEA.  BEA had chosen the most difficult job BEA did to try to computerise it.  They thought a computer would help them to deal with the many travel agents who sold seats for them.  It was a complex accounting and reconciliation job.  They had bought a Univac mainframe on which to run the job because BOAC had bought an IBM.  It eventually took them 20 years to get such a system going.  Charlie says they should have picked something easy.  After a year at BEA he left.
National Cash Register
In 1960 Charlie moved to the NCR bureau operation on the Marylebone Road in London.  He suggested that they set up a bureau in the City of London for financial customers as he knew about stockbroking and banking.  They set up the bureau with an Elliot 803, a transistorised computer which NCR had the marketing rights for.  The first application was for The Financial Times, a programme to calculate the share index from the London Stock Exchange closing prices.  There were only 35 shares in the index when done manually because there was only time to calculate that number.  The computer application had over 1,000 shares in it: it could therefore have subdivisions for different types of companies on the Exchange.  That ran from about 1960.  Charlie helped develop an application to value the share portfolios for the customers of merchant banks.
International Investment Computers INTINCO
Charlie left NCR and started his own company: International Investment Computers in 1963.   It focused on financial applications.   He went round the banks in the City and realised he could use the share price information from the Financial Times share index application to generate the value of portfolios held by bank customers.  There were two in the company to start with – Charlie and Michael Gassman — but Charlie chose a big important title for the company. The company wrote programmes for stockbrokers who could then boast to their clients that they used computers.  Stockbrokers traded a lot in Government bonds and they wanted to calculate the financial effect of redeeming the bonds.  The brokers wanted to publish the figures to their clients and used typewriters to write up the details.  The company plunged into typesetting in order to create the reports.  Charlie further branched out and set up a second company with International Publishing Corporation (IPC) to computer typeset a publication, World Airways Guide, in two days which had taken them two months to do by hand.  The company also branched out into consultancy.  It opened a US office.   They developed a central system with attached terminals, the Stock Market Computer Answering Network (SCAN).
In 1967 IPC wanted to buy the group of companies which Charlie and Michael had built.  It published the Daily Mirror and some thousand magazines, and had an ambitious chairman, Cecil King.  IPC bought the group of companies and Charlie had to stay on as part of the deal.  About a year after the takeover IPC was broken up.  The publications went one way, and the paper business another.  The computer side was sold, to Reuters.
After INTINCO
Miles Roman: Charlie helped set up Miles Roman.  The idea was to have a central computer, a Modular One, and have terminals linked to it which screens made by Ferranti.  Ferranti was able to fix a point on a screen to put a character there so that operators could fill up forms.  (nowadays like 'windows') The company aimed at general business applications.  But the Heath crash meant that sources of funds in the private and public sector dried up.  The company was sold to Slater Walker.
In 1968 Charlie offered to donate a mini computer to Highgate School. The new Headmaster said he would prefer a violin for the orchestra.
CLUE: Charlie's wife was an antiquarian bookseller.  This involved having many a catalogues.  In 1979 Microcomputers were coming onto the market: you bought a circuit board, a keyboard, a monitor etc and wired it all up.  Charlie developed a database with fields of variable size so that the descriptions of the books and other fields could be of various sizes.  Charlie developed a programming language – Commands and Layouts for the User made Easy (CLUE) which received a silver award from the BCS.  He then sold the system to others including the Home Office, the Regional Crime Squads, and the Criminal Intelligence Service.  Charlie was asked to develop methods of typesetting in other alphabets than English: this involved designing typefaces in both Cyrillic and Arabic for the Hewlett Packard laser printers and later inkjets.
In the nineteen nineties he started studying cognitive neuroscience, a long time hobby; and quantum physics.
Real Time Club
Companies who bought SCAN needed teleprinter circuits from the GPO in order to connect up the customers.  It took about six months to get one.  In 1967 a group of people, including Charlie, who were running real time systems, as they were then called, clubbed together to lobby for faster delivery of lines.  The real-time club ran demonstrations of real-time systems for potential users and politicians.  The telephone network was geared to short sessions, but real-time applications ran for long sessions, causing problems in the telephone network.
In the early 1970's together with Club colleagues Charlie gave various presentations to the Select Committee of Science and Technology of the House of Commons. One, with Donald Davis, then at NPL, to set up a UK version of the Internet – this was eventually set up as JANET in the 1980's. Another was for the NHS to start a national database for medical records – still not implemented. Another to introduce Programming into the School curriculum – achieved in 2015.
The Real-Time Club celebrated its fiftieth anniversary in June 2017 and continues today.
Achievements
Charlie wrote one of the first trace routines to find errors in programs. Charlie helped to develop one of the world's first online systems.  He contributed to the development of computer typesetting and the development of the use of personal computers as word processors, and in speech recognition.
In 1973 he negotiated the contract to launch 'Computing' between the BCS and Haymarket Publishing company.
He helped negotiate the publishing contract between the British Computer Society and the Oxford University Press.
In 1999 together with Real Time Colleagues he successfully lobbied the Treasury to include the 'Sophisticated Investor' clause into the Financial Services and Markets Act 2000.  An essential component of crowd funding.
In 1998 he helped propose and was the secretary of the Quantum Computing in Europe Pathfinder Project for the European Commission. As a result, the commission included 34m Ecu in the Vth Framework research budget.
In 2002 he led the SCALE 21 project with the BCS 'Computer Weekly' and the Royal Institution for the then Department of Trade and Industry.
In 2004 he helped launch the Brain Mind Forum and in 2008 with Shirley Redpath published 'Biological Systems of the brain, Unlocking the secrets of consciousness'.
Following a presentation by Professor Daniel Dennett organised by the Real Time Club at the Royal Institution in 2015 Charlie has published a series of articles on 'the Convergence of cognitive neuroscience, biotechnology and computing' with Max Jamilley, a PhD student in synthetic biology at Oxford. The Brain Mind Forum of the Real Time Club is setting up a joint research venture with The New College of the Humanities.
He is currently working on a second book for 'World Scientific' on Understanding Intelligence in both computers and the brain.
Mistakes
Charlie claims to have made more mistakes in computing than anybody he has ever met.  He learned as he went along and when he started his first business at 22 he knew little about business.
Advice
He always uses the word "we"; it makes the operation seem bigger than it is.  He advises anybody setting up an operation now in the industry to learn the basics of accounting, law and economics.   
Interview Data
Interviewed by: Richard Sharpe on the 24th May 2016 at the WCIT Hall
Transcribed by: Susan Hutton
Abstracted by: Annabel Davies
Register or login now to view a full transcript and access other associated audio and video files