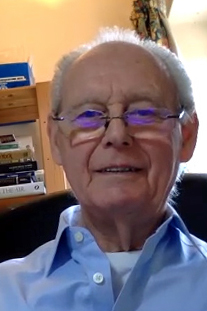 Colin Knight learned the value of failsafe technology early in his career, developing algorithms for the release of munitions from RAF "V Bombers". This focus on non-stop reliability has remained his priority through a wide-ranging career spanning financial trading in the City post Big Bang, the revolution in mobile communications, predictive modelling of networks and risk management.
Colin has worked extensively across Europe, Asia Pacific and the US, including a spell in Moscow during the height of the Cold War. Given his time again, he says he would favour roles at US-based companies because they are more innovative, entrepreneurial and financially rewarding.
Colin is a past Master of the Information Technologists Livery Company. But his proudest achievement has been his charitable activities deploying IT to improve the lives of sick and disabled children and their families. Work must be fun, he insists — you will never get a successful team with unhappy members.
Early Life
Colin Knight was born in Perivale, Middlesex, in August, 1941. Colin lived with his mother in Chiswick, London and did not meet his father, a serving officer in the army, until he was repatriated from Singapore when Colin was aged four. Colin has a younger brother.

Colin says that in civilian life his parents were workaholics. His father, along with his six brothers worked in Job's Better Milk. He says: "My father was quite industrious and ambitious, and it was his goal to get the biggest branch. … But that meant that every time dad got promotion, we moved house." As a result, Colin attended several primary schools. However, this didn't hold him back and having passed his Eleven Plus, entrance exam he entered Dormers Wells, Secondary Modern School in Southall, Middlesex, on its technical stream and was selected to go straight into the second year, he adds: "I was straight into the second year and then we were put in the very first technical stream of this college." He credits this jump of a year as the reason he ended up joining the air force when he was "technically fifteen rather than sixteen." Colin's favourite subjects were maths and physics and anything engineering related.
RAF
Colin's initial aim was to become a toolmaker draughtsman and get an apprentice at one of the large local companies such as British Overseas Airways Corporation (BOAC), Hoover, or Aladdin Paraffin Heaters He was offered two apprenticeships but realised that his passion was for aeroplanes and decided to opt for the RAF instead, joining in 1957.  He explains: "I ended up being offered two apprenticeships and then I thought well, I'm going to go with the one with the aeroplanes, but why do I want to   join an airline, why don't I go into the air force because then I can travel. That is really why I joined the air force; to follow a career as an apprentice, that was the proper training that you did in those days."

Colin signed up for nine years and developed his electromechanical career in airborne munitions working on Victor Bombers (V-Bombers), he adds: "What I hadn't realised at the time and didn't realise until a few years later is that the nine years that I was going to serve only started from my eighteenth birthday when I was classified as an adult So, the time I joined at fifteen/sixteen didn't count and I ended up serving eleven years."

As part of his role on V-Bombers, Colin had his first encounter with 'programming' using binary logic He explains: "When the pilot releases bombs, he doesn't just press a button and they all fall out because they're packed and stacked in tiers So, you have to interlock the release mechanisms of the bomb-carriers.  The aircraft could carry 35- one thousand-pound bombs in the bomb bay and they would all be stacked in certain positions and you wrote a programme that, depending on the flight details, would keep the aircraft steady when it's dropping bombs. For example, you can't let all the tail ones go before the nose ones, you can't let the port before the starboard. You actually interlock, and interlocking was saying is this a yes or a no, can it go, can it not, and that is the start of binary logic It was called relay logic at the time, as you were programming the bomb drop by electromechanical devices,
Business Computers Ltd
After leaving the RAF in 1968, Colin decided that he wanted to be a service engineer, to give him the independence he enjoyed and to be able to travel around the country. He subsequently accepted a role with Business Computers Ltd (BCL) as Hardware and Software Support Engineer. He stayed with the company for eleven years progressing through the management structure. He says: "I decided that a service engineer would be a good place to be because I'm my own boss, I'm out on the road in the day, I am fixing things and that's good. … I had options with IBM, DEC, and one other.  They quite like ex-service people if they're qualified and so it wasn't difficult at all to get myself on board with those. Initially to IBM, as they were setting new standards in service account management. However, I said no and went with another company (BCL) because they gave me the company car straight away."

As part of his training he undertook a software programming course. He says: "I joined this programming course and during the very first week I was completely bamboozled, I just didn't get the jargon.  … At the end of the first week, I went to see the lecturer and said, 'look, I'm an engineer not a programmer , I just can't get a grip of this and I would be wasting your time'."  The lecturer invited him to stay behind and explained things to him in a way that Colin related to. He adds: "He just took me through it, dropped this thought or dream in my head and I said, "oh, so, this and this and this and this?" and he said, "Yes, that's right, you can do it." I said, "Yeah, I think I can. Give me my homework back."  I sat on the tube going out on the central line and up to Greenford and I did my whole week's homework writing a small application; my first bit of machine code programming.  From there on in, understanding how the computer worked and how you drove it gave me a real insight. I started programming diagnostic programmes to continuously run the machine in a particular function or a particular way for a period of time so that I could actually track and find the faults. Everybody thought I was a whizz-kid; I was fixing all these things."

After a rapid career acceleration, in just eighteen months Colin had his own branch and was managing a team of six engineers. As the company continued to expand, Colin was asked to be the Hardware and Software Support Engineer for the company's Eastern European expansion, based in Vienna. Colin's role involved building bespoke systems for businesses, installing them and training employees. He spent the last six months of his time abroad in Moscow before moving back to the UK in 1972 to take on the role of Deputy Technical Head for the company. The company was sold and Colin made the decision to move on.
Unitech Group (including Data Recognition and APT Electronics Ltd)
In 1975 Colin joined Unitech Group where his initial role as a Service Manager was with Data Recognition which made mark-sense readers. Colin explains: "They're mainly for reading, completed multi-questionnaire documents you just mark a box, feed them through the machine and the computer reads it." One major company who used them was Spar supermarkets who operated on a 'just in time basis. Colin adds: "They had a fleet of motorcyclists who every afternoon would go around all the Spar shops in an area, picking up their order forms, which were marked on mark-sense documents, and take them back to their Blackfriars headquarters and feed them through computers overnight. The trucks would go and deliver to the Spar shops the following day."

Colin then moved across to APT Electronics Ltd as General Manager. APT was a major reseller of electronic components and sub contract manufacturer of switch mode power supplies for BT System X digital telephone exchanges via GEC, Plessey and STC.

One of Colin's early projects introduced programmers to develop and write programmes to test power supplies automatically. He says: "We made a machine that  was easily loaded with the unit to test and it would connect up to it, test itself and highlight any faults or give the pass rate, and the date and the time.  It guaranteed the serviceability of that particular product and saved an enormous amount of money on using test engineers who were very expensive to do that."

Having built the machine, Colin then turned his attention to what else his programming team could do and set up a development team for third parties. He adds: "Having completed the new test the machine in the factory, I'd now got these very expensive programmers with nothing to do. We looked at what else we could do in that space and I decided I could create a business of sub -contract manufacturing for third parties that didn't have the skills or capabilities. We did things like speak yourself weighing machines, electronic guitars, navigational aids, commercial knitting machine controllers and a whole raft of other different kinds of products in that space." One in particular was a crucial Telecoms matrix line switching circuit board. In order to ensure that this important product was produced to a very high standard, Colin invested heavily in a thorough testing process which put the product through a more rigorous environmental testing process than it would ever experience in real-life and was therefore stronger and more economic in the long-term with exceptionally long meantime between failure, which outsold competitive products.
BT
In 1987, Colin went to discuss the telecoms circuit board (mentioned above) with the client, BT, who were so impressed by his quality approach to manufacturing that they offered him a role as Manufacturing and Operations Director at its BT City Business Products (CBP), which was a new start-up company in their new international product division. Colin streamlined production, significantly reduced the number of vendors, and stopped carrying inventory in- house. Instead, he set out a deal where vendors would carry a month's worth of supply of  products and three months of high value or long lead-time items . He says:  "There was whole wave of new type of logistics and a different way of vendor partner thinking. Other initiatives were the setting up of quality teams and product managers who oversaw the vendor companies. But, at the end of the day, it all boiled down to shared gain, shared risk, transparency of costs, an understanding of mutual profit margins and supported by end to end quality management

In 1993, when BT merged its 60 plus computer companies into Syntegra Solutions, Colin moved across as Deputy Managing Director, Financial Trading Systems, BT Syntegra. He was responsible for all aspects of their global financial services trading systems business; which included two years, based in New York as SVP – General Manager of Syntegra Financial Services, North America where he supported a restructuring of the business from BT North America to Syntegra.
O2 Ltd, formerly Genie Internet
In 2001, after compulsory retirement from BT at the age of 60 Colin received a call from Genie Internet, one of the first IT internet companies to sell phones and sim cards which later became O2 Ltd.

As Vice President of Operations, Colin ensured due process and good practice into two outsourced Data centres housing the network and systems supporting around a million smart-phones with a client base which included phone voting for the TV programme "Big Brother".

Colin joined the young team as one of the company's oldest employees; a role that required some adjustment to new ways of working from hot-desking, open plan office layouts to a more relaxed dress code – in his second week, he had his tie cut off by his team. He says: "That was a change. … I was quite pleased with myself at the end; I felt that I'd broken my own mould and I can work like this."
IPC Europe
With his mobile experience at O2 Ltd, Colin was head-hunted by IPC trading systems who were, and still are, the Global Leader in Voice Financial Trading systems . He was flown out to the US and subsequently offered the role of President of their European operation. He spent 6 years with IPC running Europe including 2 years covering the US function of Product management.

In 2007 Colin, following the successful completion of his work in Europe, (Revenues had increased from £30M to £150M) he was  appointed as a joint advisory board member (NED) to IPC Information Systems,
Knight Associates Ltd
In 2008, Colin started his own business as an IT consultant to work with entrepreneurial start-up companies in the field of new technologies.
Tribune Business Systems
In 2010, Colin joined Tribune Business Systems as their Chief Information Officer. Tribune were early market entrants to establish cloud-based delivery of virtual ICT infrastructure platforms and application sets which provided "anytime, anywhere, any access device capability." The company also had an education division and Colin's role was to act as primary lead on School SEN opportunities which played a strong sales support activity for compliance with new "reasonable adjustment" legislation being introduced in 2014. Tribune launched its SENDpack solutions at BETT 2013, the first all inclusive assistive technology service.
enepath
In 2014, Colin became Senior Vice President for enepath, Europe, ( a Start-up company for the development and manufacture of a pure IP Dealer Board for Global Investment Banks) which delivered on-site managed service customer support for trading floors, relocation/upgrade projects in addition to its own product suite. Colin's role was to define the strategic direction for Europe and engaging in the ambassadorial and business development activities to help the company establish a foothold in London.
Charitable work
In 2006, Colin became Master of the Worshipful Company of Information Technologists (WCIT) of London. His charitable work has centred around bringing IT to children in difficult situations. This has included helping a head teacher to set up five schools in hospitals across the Kensington, Chelsea and Westminster area to enable sick children to continue their education whilst undergoing therapy .

He has also been forefront in "LifeLites", a project to help disadvantaged children's hospices develop their facilities for children through IT.  He says: " I engaged with the WCIT,  a number companies to donate pro-bono products and services to help install a network for the whole of the hospice to host our information systems. And together we put in five Sky boxes, so, they could have Multi channels of TV in every room, we built five mobile computers on trollies and designed a computer room with three themes – Ultra-High speed computer games, Education and Hobbies. It was opened by the Archbishop of Canterbury, George Carey, and Lady Mountbatten of Burma, who was a patron at the time. The initial funding for the project and subsequent endowment came from The Royal Masonic Trust for Girls and Boys who in the year 2000 raised a millennium fund which they put into the project. The project is still running today in 60 Children's Hospices, "which is every hospice in the whole of the UK, and baby wards as well." and each Hospice is upgraded with new products every four years.

He cites "Eye Gaze" as a lifechanging example, allowing a child without speech and whose only muscular control is the movement of an eye to communicate through a speech synthesiser.
Mistakes
Colin says: "I've made a few but just as long I've learnt something and don't repeat them then I try not to dwell too much on them.

I do believe that you make your own luck and if you don't want to make a mistake you won't try to do anything . I've had good experiences in different cultures and I think that has made me a much more rounded and thinking individual."

Colin believes he has been able to bring this cultural experience to his management style. He adds: "I grow teams, and we get success through the team, it's no use being clever on your own because celebrating success with just by yourself is not a good thing.  It has given me a greater insight into people and how to work with people.  I think teams and quality are what makes any business. I think that there's got to be some fun in your day."
Proudest Achievements
"In hindsight, though I didn't know it at the time, my proudest achievement was when we opened Demelza (hospice). All of the technology of the day was there, and it was working and it was our idea. We took the planned resilience and sophistication of a trading floor and put it into another environment and the concept is still there twenty years later."  Colin derives huge satisfaction from what technology can do for disadvantaged children and their families.
Advice
Colin believes technology careers are a good way forward and says: "Just make sure that work you're doing is what you really want to do. I was fortunate in that the RAF gave me an opportunity to change my skills fairly rapidly over nine or eleven years.  I was also lucky when we went with start-ups, and promotion was the reward. So, do a good job, and do it as best as you can, don't worry about failing, you'll do it better next time."
Interview Data
Interviewed by Jane Bird on the
Transcribed by TP Transcription Services
Abstracted by Lynda Feeley
Register or login now to view a full transcript and access other associated audio and video files