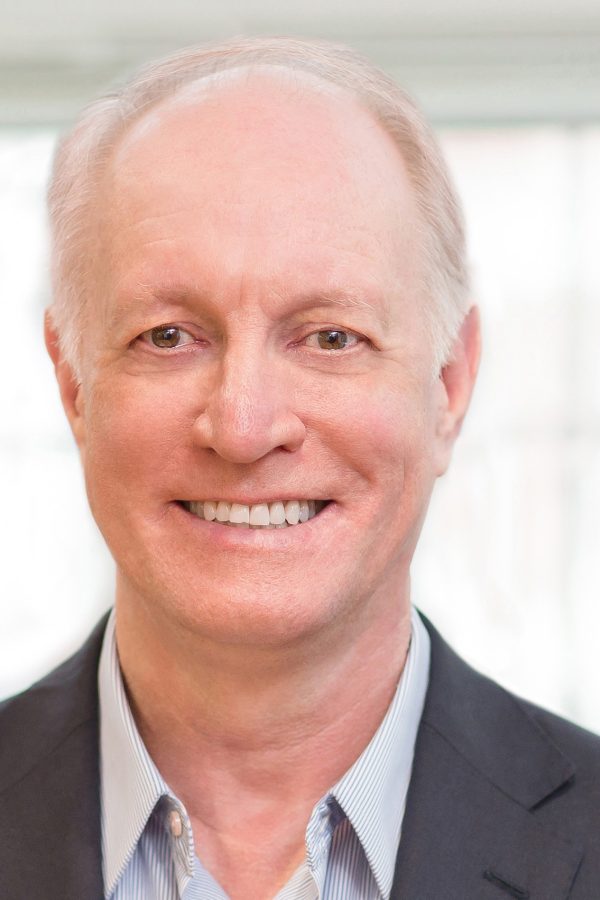 As Director of Safety Policy at Meta (formerly Facebook) for Europe, Middle East and Africa, Dave Miles has more than thirty years of executive management experience in the technology, regulatory and charitable sectors.
Among Dave's significant career moments was his participation in the Child Dignity in the Digital World Congress and 2017 Declaration of Rome, returning to the Vatican in 2019 to respond on Facebook's behalf to the Pope's call to action.
He is optimistic that technology can now provide safer solutions for young people, and says the industry is highly motivated to keep its platforms safe, so that people will continue to use them.
"The challenge will be about balancing privacy and safety for young people. The UK's draft Online Safety Bill is very exciting and Meta looks forward to its publication," he says. "If we get it right here in the UK, other countries will follow. In 10 years, the internet will be a more mature, regulated environment and we will stop perhaps calling it the "Wild West."
Early Life
Dave Miles was born in Cheltenham in 1957. The family moved around for his father's job as a design engineer and draughtsman. As a result Dave and his younger brother spent their early life growing up in Wales, where his parents originally came from, before a move to Essex.
Dave describes his childhood as very stable, saying: "I had a very happy childhood along with my brother, it was very enjoyable indeed. We returned to Wales quite regularly.  My parents were very supportive of my education and went on to the University at Canterbury, where I studied history. I was probably the first member of my family to go to university, so that was significant. I am deeply grateful to my parents in terms of their support and encouragement. During that time I was a very keen sportsman and did archery. Ultimately, I became a Master Bowman and trained in the United States. After completing university, I moved to the US for a short while to be coached and worked with some pre-Olympic archery teams out there. It was a fascinating and very balanced childhood."
Education
Dave attended his local schools in Essex. He says: "It is interesting because I really struggled at school with the educational system.  I was predicted to get a very limited number of grades and I came out with a lot more than they anticipated. In a peculiar way as a teenager, I felt a bit let down by the system and that my academic abilities were not appreciated. He recalls that one of his teachers was surprised by the fact that he achieved double the number of grades predicted, adding: "In some ways, it made me a little bit defiant and even more committed. So when I studied for my A levels and degree, I worked very, very hard; I was driven by that and I felt that I had a capability that wasn't being acknowledged by the system." It made him become very self-reliant and self-motivated. Alongside his interest in archery, Dave was, and is, a keen artist. When it came to choosing his degree subject he opted for history as a potential route into a career, although he says: "I had no view of what kind of career I wanted to follow."
The journey to Master Bowman
Dave's love of archery was an outlet for the lack of support he felt in his school. He was introduced to archery in Wales at the age of thirteen by his uncle, who was involved with hosting the 1973 World Field Archery Championships. Dave says: "He invited me along to watch all the top archers in the world going into the mountains to do archery.  It was called field archery, as the target were accessible through woodland and over rough terrain.. I thought it was fascinating and that was the inspiration. I then took up target archery, given the Essex terrain was flatter."
Dave went on to compete as a county-level archer through university and established an archery club at the University of Canterbury. A year after graduating he travelled to the World Archery Camp in Pennsylvania, where he was the first British person to train with some of the top archers in the world. The following year Dave became a Master Bowman. He explains: "There are twenty men and women that become a Master Bowman, subject to achieving a certain score, in a given calendar year. My training in the United States helped a lot. I think it also influenced many of the coaches here in UK, because the coaches had not seen some of the techniques that were being used in the United States. The US team had won Gold in the 1972 Olympics and they were the leading team in the world. I trained alongside some of the world's best coaches. It spoke to my innate competitiveness which I felt was emerging at that time."
Dixons Stores Group
After completing his degree, Dave joined Currys, now known as Dixons Stores Group, on a graduate programme. His first eighteen months were spent on an induction programme that saw him working with other graduates to develop, fit up and open the electronics chain's first out of town stores. He says: "That was a tremendous experience in the early stages, learning how to manage profit and loss sheets, how to merchandise, how to stocktake, how to open stores, how to sell.  It was a really fantastic grounding." After his induction, Dave then went on to manage a number of stores and won runner-up store of year in 1984. He adds: "I was very proud of that because it's a very competitive business and the responsibility is quite significant and it was my sort of first real success career-wise, working in that space."
At this time, computing was entering the mainstream consciousness with emerging brands such as BBC, Sinclair and Amstrad. Dave adds: "I saw computing technology enter the consumer electoinc retail space and I found that really very interesting."
MBS Microtex
In 1995, Dave was approached by a customer who worked in the technology industry with a job offer. The offer came because Dave had sold and configured all of the computers for the customer and his grandparents. Dave says: "I remember going round to configure the computer for his grandparents who were most dismayed by this technology but were keen to understand it. So in a very formative way I saw some of the challenges around the consumerisation of technologies and what would ultimately computers would become much more appliance-like and easy to use. My transition into a career in computing happened that way."
Dave initially found that as an arts graduate he was mostly working with colleagues that were technically strong. He found his own niche after talking to the managing director of Motorola. He explains: "The managing director in Motorola needed some brochures which talked about the benefits of a Unix system, rather than "speeds and feeds." So I found myself doing the marketing and the sales. That came very naturally to me and I worked with both Motorola and MBS Microtex who were really big into Altos Unix systems, which were very successful in the eighties.
"We had a big distribution channel with resellers and I had to learn quickly about the technology, but my role was very much converting the technicalities into the relationship side. In the eighties and early nineties, the increased growth in Unix-based systems was rapid and the opportunities were tremendous. I had a terrific career into the early nineties in an area which is relatively technical, but I seem to have thrived."
Having started his technology career with MBS Microtex, Dave went on to join Motorola, Packard Bell, Compaq and IBM. Dave explains his move to Packard Bell, saying: "I was at Motorola and Jamie Muir who had been to the United States and seen Packard Bell selling computers through Costco and other retailers. In the UK, at that time, if you wanted to buy a PC other than a consumer PC, you would have to go to an Apple or IBM dealer. Jamie set up an office in Windsor and started to bring Packard Bell products to Europe with a free phone number for consumer support. Jamie offered me a role to lead on the UK retail side for him. I was involved with the negotiations and sales with leading retailers like Currys, Dixons and John Lewis Partnership. There was an absolute connection between my retail experience and Packad Bell needed somebody that understood computing and retail. As life does sometimes, it just fell into place very naturally." Packard Bell grew quickly in Europe,  became one the largest PC suppliers to retail, manufacturing PCs from its factory in Nijmegen in Holland.


Compaq
After three years with Packard Bell, Dave was next approached by Compaq to be Consumer Director in 1993. He adds: "That's how I got across into the broader PC sector."
Dave highlights the shift he witnessed in usage of PCs from productivity tools to multimedia devices, he explains: "In '1993/94, multimedia CD-ROM technology was introduced. Compaq, for example, were the first PC company to do a distribution deal with Dorling Kindersley, the book publisher, to transfer all of their books on to CD-ROMs.  At that point, this is pre-internet, we transitioned from PCs being predominately productivity tools to richly visual multimedia devices. That was a very significant moment."
In 1995, Compaq started selling its Presario ranges of internet-enabled PCs. Dave adds: "But it really didn't have the impact with consumers that you'd think.  Most people were relatively disappointed by the experience, very concerned about the fact that they had to put a splitter on their phone to use the internet and it wasn't a great user experience. For me, multimedia in the mid-nineties was really where the boom happened in the technology."
Dave stayed with Compaq until 1998. During his time with the company, he traveled extensively to the US and spent time in Houston, Texas.
IBM
Having taken a diploma in marketing in 1989, and joined the Chartered Institute of Marketing, Dave was approached in 1998, by IBM who were looking for a marketing director.
He says: "To be honest, I'd had quite a few years in computing and I really wanted to explore something new. The role gave me the opportunity to broaden my skills, experience and work across Europe, Middle East and Africa. That was my first role where I had a regional responsibilities."
Family Online Safety Institute (FOSI)
In 2000, Dave left IBM after a couple of years to seek a better work/life balance for him and his family. His youngest son had been diagnosed with autism and was attending a special needs school. He explains: "I reached the point when I was at IBM and doing quite a lot of travel. When my youngest son was diagnosed with autism, I needed to reprioritise. For a few years it was very difficult time for the family. Although ultimately he went onto a special needs school, for a brief period, I needed to step away from executive-level work and decided to get more involved with technology start-ups and consulting."
In 2003, Dave met John Carr (CHIS), one of the world's foremost global child safety experts at a Home Office taskforce meeting.  He continues: "John Carr deeply impressed me. It was not only his passion about the issue but the realisation that children could be vulnerable online and needed protecting. The UK Government and a number of impressive child safety organisations were aligned in their approach and deeply committed to improving the situation."
John mentioned the Internet Content Rating Association (ICRA), run by its CEO, Stephen Balkam, which rated and labelled web sites with parents and children in mind. Dave continues: "I thought this was a really interesting idea and flew out to Washington DC to attend their annual board meeting. After a brief period of consulting, in 2007 Dave joined  the Family Online Safety Institute (formerly ICRA) as its policy director. The Institute was made up of industry members including AT&T, BT, Verizon, Yahoo and a number of other technology companies.
Dave adds: "That took me in a completely new direction and I became deeply immersed in child online safety policy. In the nearly eight years I was there, I had the privilege of chairing three UK Council for Child Internet Safety (UKCCIS) Working Groups and was the architect of FOSI's Global Resource and Information Directory (GRID). It remains the only online source of peer-reviewed online safety information on a global scale. All the way through that period, young people's prescence online grew and they are now more than third of the world's internet users."
"I went away from your classic IT-based executive management role to an NGO environment, and as a parent, I got it emotionally. I understood there was something really significant happening and that I needed to be part of that. Many of the technology companies I was dealing with, behind closed doors, were struggling with issues such as parental controls and content rating across different platforms, including mobile technology, which was stiil emerging.  Those kinds of issues were posing some quite serious problems, even in late 2009/2010."
 Having felt he had found his vocation, Dave travelled extensively and became known as an expert in the field of child safety online. He adds: "I was very fortunate inasmuch that the UK, in particular, has a disproportionately large amount of the world's leading academics and experts in this area, people such as Professor Sonia Livingstone, Professor Ethel Quayle, Annie Mullins and others. They and other experts from various disciplines were focused on exactly the same challenges and priorities. I learn't and continue to learn from them. We all sensed that this is an amazing opportunity in terms of improving children's digital lives, but there are also immense challenges too. The technology sector was growing rapidly, but it was against the backdrop of little or no regulation."
UNICEF and the WeProtect Global Alliance
Dave departed the Family Online Safety Institute in 2016 and began working with UNICEF's Fund to End Violence Against Children (EVAC), expert roster.
He explains: "The UK government had established a fund of £50 million, through Prime Minister David Cameron, to tackle child sexual exploitation and abuse, which was on the increase globally. Its illegal content and amongst the worst of crimes. Given its global nature, the fund was managed by UNICEF in New York and allocated, over a number of years to Global South countries. Sadly, much of the growth for the sharing and distribution of child sexual abuse material (CSAM) was happening in those regions. We essentially took in proposals, read them and as experts, allocated funding out on an annual basis to projects throughout the Global South to better tackle CSAM. Whether that was in The Philippines or Cambodia for example, training up law enforcement and building capacity."
Dave also worked with the WeProtect Global Alliance. He explains: "I was asked to do a project to engage with seventeen priority countries to  implement the Model National Response (MNR). This was a multi-staholder template that you could take to, for example, Paraguay, and the government could use that template to bring in stakeholders to establish the legislation and create a framework to support and better tackle child sexual exploitation and abuse.
"It's capacity building, training up law enforcement, making sure that they had the laws in place to prosecute groomers and paedophiles, that helplines and hotlines know how to take a report and this was routed via the National Centre for Missing and Exploited Children in the United States (NCMEC – the global clearinghouse for CSAM) and then sent onto law enforcement agencies around the world. It sounds complex, but because it's illegal you have to handle it in a certain way and through the correct reporting channels.  The outreach to seventeen countries was really very exciting, ground breaking stuff and hope we made a very substantial difference in helping to tackle what is a very heinous crime."
British Board of Film Classification
As well as his consultancy work with UNICEF, Dave was invited by the British Board of Film Classification (BBFC) to do some consultancy work for them. The work arose from Part 3 of the 2017 Digital Economy Act, which included the  age verification of pornography. Dave says: "Because they're a film classifier and have a statutory requirement under the 1984 Video Recordings Act to classify video works, their  designation as the regulator for the age verification of pornography in the UK made sense. It would have required UK adults to age verify themselves. This was an attempt to stop children accessing pornography.  Following a period of consulting, I became the policy director there at the BBFC.  So what was a fairly marginal consultancy role turned into something much more significant."
Dave stayed with the BBFC for two and a half years. The regulation has been deferred and will be reintroduced as part of the UK Online Safety Bill.
Facebook (Meta)
In 2019, having departed from the BBFC, Dave was approached by Facebook. He says of the move: "I knew Facebook, Google and others very well from my days at FOSI, so in some ways when Facebook  approached me I was very flattered. It's a very successful social media and messaging company at enormous scale." I knew Antigone Davis, who was my boss when I joined. So when Facebook approached me it seemed like a very logical step. The role includes responsibilities for child safety, women's safety, LGBTQ+, vulnerable communities and individuals. It brought together so much of my previous experience and played to my strengths. It was timely too, given there was going to be regulation at last; the UK Appropriate Design Code, that came into force in September 2021 and new Online Safety Bill which was published in March 2022.
"So all those things I'd been fighting for in the NGO space, acknowledging the need to address the potential vulnerability of children online through regulation and putting solutions in place, come together here at Facebook.  It just absolutely made sense. I'm just very grateful to Facebook for the opportunity to contribute to user safety across its family of apps."
 Dave says that the story of online safety has to be one of innovation and regulation, if it is to deliver a safer digital experience for young people. "For example, if you take age verification of pornography, the technology is now there at last, but it probably it wasn't there five years ago. Artificial intelligence, for example, is also getting ever more sophisticated and effective at mitigating risks like grooming and hate speech. There is always more to do but its going in the right direction..  I hear what politicians, the press and media are saying about the 'Wild West," but those days are largely over.  The reason why these technology companies voluntarily scan for the worst of content, whether that's harassment, sextortion, non-consensual sharing of intimate images or anything else, is because they want to keep the platform safe. They know that if that experience isn't safe, people won't want to use their platforms. It's no more complicated than that.
"The Facebook family of apps, has more than three billion people regular users across the global. I go to countries where more than 90% of the population use two or more apps and to me, this is a different order of magnitude than I experienced in my early career. The hardware operating system standards, chip and connectivity standards that wrestled for dominance in my early technology career, are now in place to create a truly global digital ecosystem. Now we are talking about a pervasiveness both in terms of software and appliances, which is a quite remarkable.
"Some of the public discourse hasn't caught up with that and inevitably when you've got tech companies of the scale of an Amazon, Meta or Microsoft, the public's understanding of technology and data driven businesses, particularly driven by advertising or artificial intelligence, is often quite limited. So there's a new global dynamic going on in technology which is profound and needs to be explained.
Regulation will be key. "The EU Digital Services Act and the raft of new regulations in many countries, if done properly, will I hope, create the legal basis on which these technology companies can operate for the first time, not just in the children's sector, but more broadly. Technology companies need clearer definitions for example, around legal but harmful content."
 Asked if he is confident that regulatory issues and the problems of dangers and risks on the internet will eventually become a thing of the past, Dave says: "Yes, I do. It always takes longer than you think, but if you take age verification, for example, which I've been deeply involved with, the technology is now there and there are new possibilities.
"Now we have this big debate, for example, around end-to-end encryption and/or age verification and how to get the balance right between safety and privacy.  Those are the kind of discussions we're now having and to me that is civil society making its mind up about what matters most. That's really important and that's what regulation should embrace.
"If you look at the Online Safety Bill, which is a hugely ambitious bill, it's very exciting. Within Meta we have a large team that will work with the new regulator (Ofcom) and there is a sense of optimism and that now we're coming into a more mature, new policy stage."
Ethics
Dave says that he is immensely optimistic about young people and their use of technology, adding: "What I see frequently is just how empowered young people feel around technology. They see the risks, are very smart and can learn quickly to stay safe, if given the right guidance, tools and parental support ."
He says that he is now interested to see the closer examination of the ethical questions around young people's rights in the digital world. He explains: "Academics are now looking at the issues like ethics, the rights of children and their agency.  Is it right for a parent to have parental controls on a fifteen year old's device?  How do we promote a healthy conversation between parents and the children? How do we provide the tools to make the right choices These are sort of ethical questions and issues that stakeholders are looking at."
He points to the Byron Review in 2008 and says: "What struck and impressed me was that Professor Tanya Bryron was a clinical psychologist coming from a child-centred perspective of technology.  She was not a technology person and in many ways, ahead of her time. Its about bringing other disciplines to what already is a rich and multifaceted digital life for many young people."
He also points to a significant proportion of young people in the UK and in the Global South that are disenfranchised from technology, either because they can't afford it or they don't have access. He says: "The youth demographic in North America and Europe are actually either flat or declining. Most young people in the next ten years will be born outside North America and Europe. What are we doing to make sure that in that part of the world we have the institutional robustness and use technology correctly to make sure that those young people are safe and have an empowered experience?"

Impact of his career
Asked about the impact of his career on society, Dave says: "I played my part, I hope.   I'm just so grateful to have been within a cohort of individuals when we were all making a difference to a degree."
Dave goes on to point to the Pope's words on the Child Dignity Alliance.  He says: "Something Pope Francis said in one of his opening remarks, always sticks in my mind, is that "society will be judged by the way it deals with its children".  I would take that a step further and say that technology companies too will be judged by the way they deal with children in coming years. Children are a very significant cohort, they're now major consumers of online content, but they also don't always have the cognitive or developmental skills to do so responsibly."
Dave adds that while there is often a lot fear-based rhetoric from governments and some safety organisations, he hopes that with good regulation, that behind the scenes, there will be more sensible conversations taking place. He adds: "Governments are going to need the technology companies to come up with the solutions for civil society, and this will require innovation and  long-term planning.  It may take several years to develop some of these new technologies, and so living in the moment sometimes around these issues is not always a healthy thing, I think, not only technology companies, but civil society has to be deeply committed to making sure that children's safety is a priority."
Doing things differently
Asked if he would do anything different, Dave says: "It's difficult to say, it's my life's experience. I'm grateful that there was a transition point that allowed me to reflect on what was important to me. I would honestly say, when people talk about getting a work/life balance, so much of is experiential and about the choices you make.  It's often about meeting the right people at a given moment in time."
He highlights the influence of Dame Steve Shirley who founded Prior's Court. My autistic son nearly attended and though he placed elsewhere, it made a lasting impression.  He says: "I got to know of Dame Steve Shirley's business success and philanthropy a bit better through the livery company and it really resonated with me. She's one of those individuals that made me realise that the impact you can potentially make in a technology career and how you can bring those skills to giving something back. I found that quite inspiring and it's the reason why I'm involved with the livery movement. Although I have not had as much time in the last year or two, I have just enjoyed immensely working on issues where there can be a business or a technology problem to solve, but it's never going to pay for itself.  It can be a social issue or a problem that can't be fixed on a balance sheet but needs funding, needs charity, needs fellowship and support.  Working in the NGO community, UNICEF and people like them, has made me realise that if you can tap into that, you can have a very fulfilling and long career, and you can get to the stage where I am, nearly in my sixties, where I don't feel I need to stop. It's that tapping into yourself and thinking what really matters to you, and that will be different for different people."
Working internationally
Asked if he would encourage people to get an international view of work in technology through travel, he says: "The UK has some wonderful technology, but the centre of gravity, certainly for me, has been predominantly in the United States. It's a combination of the way that they grow global businesses and the way they deploy and innovate technology.  You don't see it in Europe very much.  I'm not making a judgement on why that is, but the way that they deploy and scale their technologies, is impressive. I would encourage people of this generation to really look internationally."
He goes on to talk about child safety, adding: "Whether you're a child in Venezuela, Japan or the UK, the issues you will face in terms of safety or use of technology are very similar.  There's an opportunity there inasmuch that the way humans interact with technology is becoming relatively global, and so therefore there's a set of issues that if you can fix it in one country, you could fix it in lots of countries. If we get the Online Safety Bill right here around issues like age verification for example, other countries will follow.  There is an opportunity to take a global approach to certain types of harms or certain types of opportunities. I think that's very exciting but I make no judgement really on the UK-centric side, other than just to say that I would encourage young people to be as global as they can be, it's an exciting world out there."
On the future
Asked what might lie ahead in the next ten years, Dave highlights three things. He says: "We'll come to a degree of regulatory and technology maturity in the next decade.  I hope we'll stop calling the internet the so-called "Wild West."  Civil society will need to make its mind up about what privacy and safety both on and offline. We need to decide and define this more clearly, in an increasingly digital age.  Exciting too is the emergence of new immersive technologies and environments, like the metaverse. I'm already using immersive technologies and if there's one thing that Covid has taught us, is that remote working is going to be much more important. The quality of remote working and of immersive interaction will be key.  I think in the next ten years the metaverse is going to be very significant, both creatively in terms of entertainment, productivity and what we experience. I think that's a very exciting new frontier and it will change things considerably. The third element, is the emergence of the Global South in terms of the youth demographic, which has a huge, burgeoning youth demographic coming through that is digitally enabled and there I think there are both challenges and opportunities in the next ten years."
Advice
Asked about advice for anyone thinking of entering a tech career, Dave highlights the way in which technology companies today mirror more traditional company structures with many different roles open. He says: "I think that's a hugely exciting opportunity for young people because people can enter the technology sector in all sorts of different ways."
He considers the scepticism that surrounds the concept of immersive technology such as the metaverse, to be a failure of imagination and vision. Its very akin to the reservations around the emergence and importance of mobile technology in 2012. But acknowledges these innovation transitions need to be better explained. He adds: "There are hugely exciting career opportunities for graduates and non-graduates in all  disciplines. One of the challenges that I would point out to young people or those interested in the technology sector as a career, is that technology companies can be very demanding. My job is a 24/7 role, albeit at a leadership level, but even in our teams, because of the scale at which we operate and the global breadth of what we do, you have to be really very committed to your job. You do work long hours and you need quite a lot of experience and resilience, before you come into a business like ours, because the pace is very fast moving.  There's a lot of innovation and constant change going on. We're constantly innovating and evolving technology, doing research focus groups and listening to both policy makers, experts, safety organisations and our users.  That's a very fluid environment compared to, for example, my former IBM work, which was quite hierarchical and had structures and formal organisational charts.  It's very different in a US tech company on a scale that a Google or a Meta operates and they have found new ways to work. And it's not just in US companies, you see it in Chinese companies too (his eldest son lives and works in China), which is exciting for young people and presents enormous opportunities for them."
"I would counsel people that technology companies are in a highly competitive and fast changing digital marketplace. They need to be innovative and in my experience full of deeply committed people who have and share a vision.  When you come into these businesses, emerging as they do from nowhere, they achieve a scale and face complex issues that they don't always have the answer to. Many of these challenges and opportunities are at the intersection between technology and civil society. The friction and tension is very real but speaks to the need for a much more collaborative approach if we are to deliver a better internet for all."


Interview Data
Interviewed by Jane Bird
Transcribed by Susan Nicholls
Abstracted by Lynda Feeley
Register or login now to view a full transcript and access other associated audio and video files