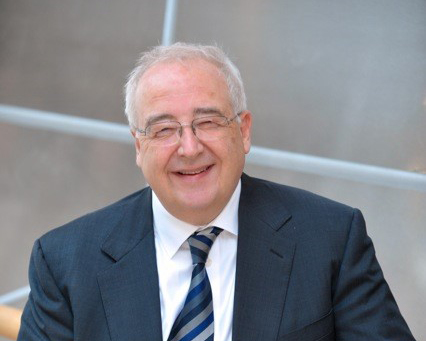 David is a telecoms and wireless expert, a serial entrepreneur, and adviser to Government on both a national and local level.  A businessman with strong links to academia, who vigorously promotes networking, collaboration and the City of Cambridge.  David is a Fellow of the Institution of Engineering and Technology, and a Fellow of the Royal Academy of Engineering.  In 2013 David was appointed Commander of the Order of the British Empire, CBE,  for his services to technology and innovation.
Early Life
David was born in 1953, in a little town called Rinteln, in Germany, where his father was stationed with the RAF.  He moved down to Mönchengladbach a bit later on, where his sister was born and then we returned to the UK when he was about two. His mother was a teacher, and, deputy head, at a primary school who went back to teaching when he was about, six or seven. David has very vague recollections of his grandparents.  His paternal grandparents owned a house, in Richmond, and when the family came back from Germany they stayed in the basement for a little bit before his parents managed to buy a house. This grandfather had served in Gallipoli, and his grandmother had been a waitress when, when they met.  His maternal grandparents lived up in Lytham St Anne's, and he was a journalist and a bit of a financier, and his grandmother ran the household.
Education
David went to East Sheen County Primary School, and then to the grammar school called Shene School.  He did all sorts of crazy things at school, fly cameras from kites, kept bees, directed plays and made rockets.  He made one rocket that was about, twelve foot tall, made out of carpet tubing.  As it took off, he remembers thinking, "I haven't thought this one through, if this succeeds, where is it going to come down?"
At school the person he thinks had the most influence was his English master, and house tutor, Brian Weedon.  Up until the point where he had to choose A Levels he wasn't clear whether he was going to do arts or sciences, butt, in the end went for the sciences.  He did maths, physics and chemistry at A Level along with the extra free A Level of general studies.
Whilst in the lower sixth, he went to a careers presentation by somebody from Post Office Telecommunications.  There was the opportunity to apply for sponsorship at university which he duly did.   Post Office were very generous, they paid for a year's training before university, which involved some very good stuff.  He learnt how to joint cables, and maintain telephone exchanges, and, rewire a coax and, climb up telegraph poles.  He even did a thing with a divining rod and discovered a 130 kVA cable that was buried.  The other he did was a whole load of maths and physics, and built computers, David built an analogue computer, and did whole loads of bits of electronics.  The downside of that was when, after having done all that he arrived at university, it was a bit of a let-down, because the stuff that he then did at university was nothing like the standard that he had been taken through in the previous year.
David was really interested in cybernetics, AI and robotics. He looked at two universities: Kent and Reading which offered relevant courses and a couple of other places. He chose to go to Reading University because it was most true to the, the kind of, "tinkering" that he really wanted to do.  He was there from 1973 to '76.  He thinks his course was "fine but was slightly frustrated that some of the content, particularly on the control side, was a bit too much spoon-feeding".
Being sponsored by Post Office Telecommunications, he had things prepared for him in the long vac and for one he went off and spent four weeks touring round France with a couple of others, looking at how they were re-engineering their telecommunications network.  The other long vac work he did was with the Long Range Studies Division where the main project he had was the future of video conferencing in which he planned the UK's network of video-conference studios.
David gained a First Class Honours degree from Reading, and, after spending a further 18 months with the Post Office Telecommunications Long Range Studies Division looking at the future of mobile phones, desktop computers and breaking the monopoly of telecommunications, chose to do a PhD which centred on telecoms in Africa.
The PhD was very straightforward.  It said, if you can identify settlement patterns, the different sizes of towns and how they relate to each other, you also know that there's trade between them so the settlement pattern will be reflected in the pattern of communications. The implication was that – whilst you couldn't necessarily prove it – in order to re-enforce or enable those settlements to work effectively, you had to have communications between all of them.
David thinks you need to be stretched to your limit with education but is very wary of the kind of formal handle-turning education.  Because, everybody is different, and in his case, nothing that was ever formal or handle-turning ever gave him tremendous benefit.  The benefits that he got were generally from doing stuff that was slightly off-piste.
Early Career
On finishing his PhD in 1982 he then decided he would go and work for the Economist Intelligence Unit Of the Post Office which was based down in St James's.  He spent almost 3 years there, learning the trade of being a consultant, and making lots and lots of mistakes, making some money for them, losing some money for them.  He became the Director of the Telecommunications Division, so was responsible for five or six staff and running a significant chunk of the consultancy.  He managed to go out and sell lots of work, write proposals, get money in, execute on the contract, quite often overrun, and learnt the tricks and trade of consulting.  Although he stayed for a relatively short period he says it felt like a lifetime. He then set up on his own.
Analysys
Looking back on it, David thinks it was completely bonkers.  He had established some relationships with people who seemed to trust him and like what he did.  Within about a year and a half of starting he had three children and had built up enough work to, to make it operational.  Getting the thing off the ground was a terribly difficult process, because, you must go and sell the work and you have to execute it; you also have to recruit.  You have all sorts of costs and so on.  He was in my early thirties and was inexperienced, making all sorts of terrible blunders and errors.  One year he didn't pay himself any money, to make the whole thing work.  He got through the depression at the end of the Eighties, largely based on "sticking to the knitting", which meant doing consulting that was founded on strong intellectual foundations, not doing stuff that was, wiffly-waffly.
David had help from a friend called Mike Gardner who had a company called Owl Communications, in a place up in the Science Park who let him stay there on favourable terms.  Mike also bought a computer and a printer for him, and David was able to repay him that money.  David remembers there was quite a high churn rate of employees at the beginning but gradually he began to get people who were right for the environment and stayed for a long period of time.  One of the most important of those was Nick Gray, who joined as a freelance editor, and then came in full-time, because David realised that quite a lot of consulting at that time was actually being able to craft decent prose, and if you had somebody who really knew how to write, they could do it much better than a consultant.  Nick went on to run the editorial department, and then became, later on, the chief operating officer looking after up to 150 people.
One of their first clients was the European Commission alongside BT and locally Cambridge City Council.  The transition was that the European Commission gave them a big modelling contract about the future of telecommunications over the next 20 years, and it was a huge risk for them.  The 1990s was a real boom time, mostly on the back of that one contract.
David had a feeling that the IT systems and the Web were going to be very important, so they made a transition.  He had their software department build internal systems to manage projects, because nobody was producing this kind of stuff.  When the Web came along they moved very quickly over to a Web-based interface, for their internal systems as well as everything external, to the extent that they were out-pacing anybody else.  Analysys we had offices in San Francisco and Washington and Kuala Lumpur and Auckland and Paris and Munich and Milan and had done all of that based on using the Web to get access to all our internal systems.  So, anybody in any of those locations was able to act as if they were in the office in Cambridge
Having founded Analysys, David was Managing Director and chaired for a period of nineteen years before it was sold on in 2004.  He feels he should have sold in 2000, 2001, when people were queuing at the door to buy the company.  In 2004 the company had about 130 people and roughly thirteen-million-pound turnover.
The systems he had built, the Web systems that underpinned the whole of the consultancy business, meant that when he sold the company, the systems were the company, not him so, he could walk away with cash.  That's not normal in the consultancy business.  Normally the founder is, is integral to the business.
The company was sold to Datatec, a South African group, for in the region of £12.8 million.
Abcam
Alongside Analysys, David started to look at things like the second-hand car market and selling houses on the Web.  He bumped into Jonathan Milner, who was a research assistant doing work on breast cancer with a chap called Tony Kouzarides, and Jonathan was very angry about the quality of antibodies that were being sold in particular by a company called Santa Cruz.  He wanted to make antibodies and make them better.  David quizzed him a little bit about this, and then started to talk to him about the economics of doing this across the Web.  All the technology was sitting at Analysys with all the Web stuff; Jonathan had the expertise on the antibodies.  David had a little bit of money at that point, because Analysys had been successful.  So they started Abcam together in 1998 and eventually took it through flotation in, 2006 .
3WayNetworks
Some guys came to David with the idea that you could put a 3G base station into something that looked about the size of a standard Wi-Fi router.  And, he thought that was a good idea, he thought it would be great to get coverage inside houses and offices by plugging this thing into a broadband system.  They spent some time developing it and went through some rough bits and pieces.  He learnt a lot about hardware and how unpopular it is generally with VCs, for some very good reasons.  And then, they flipped it.  There was an American company called Airvana,, whose main customer was Nortel, and they wanted to float on the Nasdaq, and they needed some baubles to stick on the side so that it would look attractive.  And they were one, they were a bauble.  And they bought them for a very respectable sum, and it was certainly one of the shortest, periods from starting a company to flipping it, and selling it, and the biggest multiple in that, given the space of time, that he's ever done in his life.
Raspberry Pi Foundation
In 2001 David helped start a group called Cambridge Angels, which are, basically people who have sold their businesses, or sold at least one business, made some money, and now want to invest in new businesses.  The Angels brought together a lot of people in Cambridge in contact with each other including Jack Lang.  Jack was at Computer Lab, looking at the falling numbers of applicants for computer science and he wanted to do something about that.  The thing that Eben Upton, Jack Laing and David Braben alighted on in about 2008 was the idea of doing a single-board computer that the kids could mess around with, and you could do all sorts of things with it.  It would also be cheap enough not to worry about it.
By the time they got to 2012, had some loans, set up the company and made the first Raspberry Pis.  They decided that they wanted to make it into a charitable foundation rather than a for-profit company, partly because they never thought they would sell very many, and it was an educational thing.  Raspberry Pi Foundation is a charity and a subsidiary called Raspberry Pi (Trading ) Limited, and as they got the thing off the ground, they decided, for the trading part of the company they needed some directors.  So, they invited Hermann Hauser, David and Sherry Coutu to join the board.  He joined the board and had a happy year or so there.  David Braben was delegated by the trustees to buy David lunch and ask if he would like to become chairman of both the foundation and the trading company.  He thought, this looks like a worthwhile cause, I'll see what I can do and became Chairman of both entities.
Raspberry Pi is now the third most successful computer platform ever, in terms of numbers of units sold, per quarter now, they're getting close to Apple.  As of March 2018, sales have reached, the region of 20 million units.
In 2017 the Foundation won the MacRobert Award which was set up to talk about engineering as technological advancement.  Doing something that was technically difficult, doing something that was commercially successful, and doing something that had an impact on society.  Raspberry Pi ticks all those boxes very well.
Raspberry Pi has been used in a huge variety of applications – for example the video screens on the escalators in the Underground have got Raspberry Pi's in them.  There are even a couple up in the International Space Station.
Ever since David did his PhD on Kenya he's been interested in developing countries.  He thinks Raspberry Pi actually does more for lower income, whether they're lower income within the UK or other advanced economies, or whether it's the low income countries such as those in sub-Saharan Africa.  It doesn't mean to say that everybody can afford one, but it does mean to say that you are going further than you would otherwise do if somebody had to buy a tablet or a computer.  In the developing world there are lots of examples now of people in those kinds of places using Raspberry Pi's, including backpacks fitted with Raspberry Pi's and disk drives that can go off to villages and enable people then to gain access to bits of the World Wide Web and education material, that otherwise they would never have access to.
Cambridge Science Centre
Cambridge Science Centre was a project that was started by Christopher Lennard and Katia Smith-Litiere, an engineer and a scientist who wanted to develop a new kind of science centre.  If you go to the Science Museum, or go to Bristol, or Cardiff or Newcastle or Glasgow, you'll see big science centres with lots of exhibits and, and big spaces.  That's not necessarily the only way to do it, particularly if you want to reach the maximum number of kid, for the lowest possible price. Then you might think about designing your science centre in a rather different way.  And that's what Cambridge Science Centre has done.
Doing it differently means they can get to kids for about £7.50, whereas the average for science and discovery centres in the UK is close to £16 or £17.  Dwell time at the Cambridge Science Centre is about an hour and 55 minutes, which compares to the Science Museum of just over two hours.  They are comparable in terms of, how much time people spend in the centre.  They also reach an awful lot of kids because they go on the road, and they've got the stats that show they reach proportionately more disadvantaged kids than there are in the population.  They have demonstrated that the small science centre way of doing things actually works.  With a big science centre it's probably only the more advantaged kids who can afford to go and do the travel to get to the big centres, small centres are more accessible and can go on the road more easily.
Cambridge University Centre for Science & Policy
Cambridge University had something called the Cambridge University Government Policy Programme, which got the permanent secretaries up to Cambridge twice a year to talk to them about scientific topics and their implication.  David got involved in one of those then thought no more of it.  He then got a call in about 2008 from an old friend, Frank Kelly, who's an eminent statistician, was Master of Christ's, and he said, 'We're thinking about doing this new Centre for Science and Policy as an inheritor to CUGPOP, and I wondered if you would like to do it?'  He looked at this thing, and said, 'Well yeah, I'll have a go.'  He was given about one and a half million pounds of funding and faffed around talking to lots of people for a good six months, before he finally worked out what the USP ought to be.  The USP was to create a thing called the Policy Fellowship.
The Policy Fellowship is designed for policymakers who want to have contact with what is going on in academia, in a specific subject area.  The policymakers provide a list of questions.  They then get five days where they talk to 30 people.  To give some idea of scale, they have about one and a half thousand academics and other experts on one side of this process; they've put 300, maybe more, policymakers through that process, and had over 8,500 meeting between them.  This means that the policymakers now have a network that they can draw on if they ever want advice.  They can talk to each other about their experiences; the academics also talk to each other but maybe not so much; but the academics are getting a chance to explain what they're doing and influence policy, they're also getting some interesting ideas that will influence their research.  And on the policymakers' side, they're getting access to a rich network, which means that, if they've got a problem, they know who to phone up, or to send an email to.
The Cambridge Network
In 1997 David co-founded the Cambridge Network, a now famous commercial business network organisation.  It came out of a discussion at thing called the Local Industry and Academic Links dinner.  From there came a dinner that Hermann Hauser organised at New College, at which a chap called Fred Hallsworth stood up and said, 'What we need is a marketing tsar for Cambridge.' David came out of that dinner saying, 'I can build the website.  Here's a way which we're going to do it.'  And then Hermann and David, Alec Broers, Fred Hallsworth, Nigel Brown and Anthony Ross all got together, and decided that they would put up £20,000 each as guarantee, and because of putting up £20,000 each as guarantee, everybody said, 'Well, they're clearly committing to this.  We'll join.'  They never had to use the £20,000 guarantee.  It transformed things.  Companies started collaborating rather than fighting.
In 2016 the turnover of Cambridge was about, 33 billion and its growing at around about seven per cent per year.  They are growing faster than Bradford ever did in the nineteenth century and that was supposed to be the fastest growing town.
David is passionate about Cambridge, and how rich it is in terms of networking.  Everybody knows everybody else.  Everybody is willing to collaborate.  Everybody wants to give their time.  There's a "how can we make this work" approach to things.
Ministry of Defence
From 2001 to 2008 David was a member of the Ministry of Defence Board overseeing information systems and services.  They were responsible for all the in-theatre and all the back-office systems for the Ministry of Defence, a budget of, at the time about £1.6 Bn a year.  He was brought in from the outside, clearly an outsider, and, was the man who asked the awkward questions.  He was trying to work towards how much it would cost to provide individual services, which is, is always a difficult thing to do.  When you are in procurement with Defence, some of the things you're having to do go out to 25 years, certainly telecoms, are at least fifteen years.  And the problem was that they were negotiating with contractors who would write contracts for now, rather than fifteen years' time, or even five years' time.  He thought long and hard about this, and  got his colleagues to ask the people who were bidding on telecommunications contracts, what happens if the demand for our bandwidth went up by a factor of ten, or even by a factor of 100, what would they do?  If you say, 'I'm going to need 100 times as much bandwidth as you are providing at the moment; how much is that going to cost?' they've had to share with you how they will future proof their networks.
Challenges
David thinks the biggest challenge is the emergence of these monopolies.  What we're seeing with Facebook, and will probably see with Google and others, is that they have occupied quasi monopoly positions in their areas.
Part of the problem that there is over this debate about free trade and where things are going to go is a fundamental misunderstanding about a modern economy.  A modern economy is the information; it isn't the goods.
He feels we are making a massive mistake now in our political relations with the rest of the world, and the direction of travel that we're going in, because, in the long run, we have looked back at the nineteenth century and physical goods; we have not looked forward into the twenty-first century, about where things are really going.
Another challenge is that IT is simply getting buried in everything else.   Someone picks up their iPhone or computer or iPad or, Galaxy or whatever it is; they're not thinking about these thing as actual bits of IT.  They're appliances and if IT is just an appliance, then, people don't really understand what it's about.
Finally, he thinks it's the challenge of, of AI.  AI is bigger and will go further than we think and will emerge in a different way.  Our relationship with machines is going to define the future.  But in the shorter run, the most important thing, for people over the next 20, 30, 40, 50 years, is that AI will make that transition from being something which is an interesting experiment, and you can play games with, to being something which is running our lives.  He thinks that that, the ethics of that and what we're allowing AI to do, and what systems we put it into, and how it, how it then interacts with us, is going to be an enormous challenge.
Advice
Mix with young people.  Pursue some crazy ideas.  Don't take what somebody in their fifties or sixties tells you.  Take all that kind of advice with a pinch of salt.  Because you are the guys who are going to make it.
People will tell you things are impossible, that they won't work, or they're useless, or whatever else it is.  Just think why they might be wrong and pursue what you want to do.
Selling your company: Timing is everything.  Don't think that the world is going to go on always in the same way.  If people are coming along offering you crazy money for your company, why don't you give it to them for crazy money?
For getting clients: Be nice to people.  Take an interest in them. Demonstrate stuff, and you must listen to people.  Talk to lots of people.  David has always had an innate urge to talk to people, note down their names, work out who they were, find out how they were connected.  It's something that's always driven him, and he thinks it's very important, because, whilst it appears that everybody sort of just comes along at random.  In fact there are lots of networks that tie everybody together.
Interview Data
Interviewed by: Jonathan Sinfield on the 24th April 2018 in Cambridge
Transcribed by: Susan Hutton
Abstracted by: Helen Carter
Register or login now to view a full transcript and access other associated audio and video files