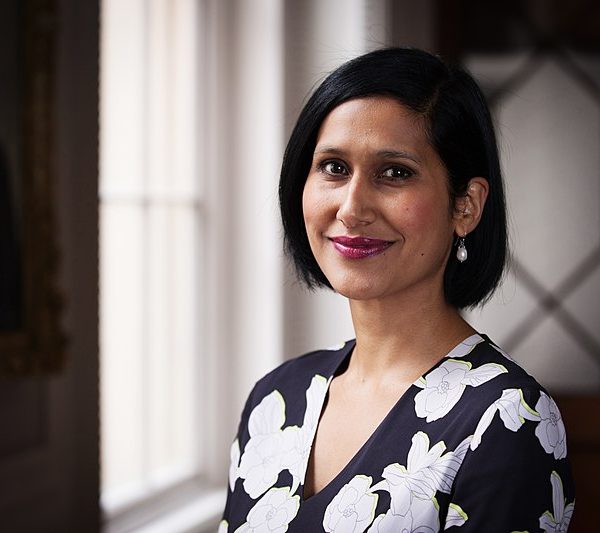 Dr Hayaatun Sillem says the value of education and the self-coaching mindset her parents instilled in her as she grew up in west London has been a guiding principle all her life. The desire to make a positive contribution to society has been another key goal.
 Both are values she is pursuing at the Royal Academy of Engineering, where she has been Chief Executive since 2018, leading a team of some 140 staff, and overseeing a budget of more than £50m.
In 2019, the Financial Times named Dr Sillem the 4th most influential woman in UK engineering, and this year Computer Weekly ranked her the 7th most influential woman in tech.
But with a mixed race background, and parents of modest means, her proudest achievement is having stuck with an internal voice of doubt and a sense of differentness. She is a leading voice on diversity and inclusion in and beyond engineering, and co-chaired the Hamilton Commission on improving representation of black people in UK motorsport with Sir Lewis Hamilton.
There is a "massive diversity deficit in engineering," she says "And this really matters because engineering and technology are everywhere in our lives. The people who develop deliver, maintain and upgrade the products and services we all rely on every day are currently way too unrepresentative of the society they serve. And that is not good for us as a profession." It is a balance she is striving to redress.
Early Life
Dr Hayaatun Sillem, CBE, was born in West London. Her father was a special needs teacher and her mother was a civil servant. She has an older brother.

Hayaatun says of her early life: "I come from a family from a very mixed ethnic background. My father is from South Africa, but his ancestors were probably from Indonesia. My mother is half-Indian, half-English. It was a very positive experience for me growing up in London, this is a wonderful place to be if you come from a mixed ethnic background. I grew up in a family where there was a very strong sense of values and the importance of who we had to be as people.  There was also a very strong emphasis on education because my father was the youngest of nine children in Cape Town and he was the first in his family to get a secondary education. Thanks to one of his sisters he was able to go on to study at college and train as a teacher, so in my home education was prized very highly. I never took that for granted.

"My parents really encouraged me to self-reflect, to be somebody who thought about my interaction with the world, my interaction with other people, and from quite a young age to take responsibility for my actions and for what I could do to improve a situation.  It was really a kind of growth mindset or a self-coaching mindset and that's been incredibly valuable to me throughout my life."
Education
Hayaatun went to her local state primary school which she describes as a "community-based primary school, with a very, very diverse intake." After her primary education, she attended Godolphin and Latymer, in Hammersmith, a private secondary school.

She says of the experience: It's back to valuing education as an agent for change in people's lives. I think it was quite a stretch for my parents financially to be able to send me and my brother to private schools, even if we had scholarships or bursaries.  However, there is no doubt that that struggle did lead me to have an excellent quality of education.

"That combined with being able to go on to do a PhD has undoubtedly helped to give me confidence in myself, my internal self-perception. I've seen I can thrive in groups that maybe don't reflect what my home life and the people I mixed with at home were like.

"There's also something about those quality indicators being taken, rightly or wrongly, by other people as a reason to believe in your abilities. As someone who's always gone through my life and my career feeling that I look different, that I feel different from many of the people around me in my career, I think that's been a very helpful point of assurance that I do deserve to be where I am. It signals that I should be taken seriously, it's ultimately been very important to my social mobility. I'm not saying that I necessarily believe that should be the case, but in my case it really has had a positive impact for me."

At A level Hayaatun chose to study chemistry, biology and Russian, as well as English at AS level. She chose a wide range of subjects because she found it

difficult to clarify what she wanted to do as a career. She describes herself as an all rounder at school with a balanced skillset and interests.  She adds: "I think it is a real weakness of our education system that you're forced to choose. If you want to have a career in science or engineering or medicine you effectively have to commit to that and sacrifice other subjects that might be really, really enriching.  I don't think it's healthy that it's so easy to drop science subjects and I don't think it's so healthy that it's so easy to drop arts and humanities either. I was one of those people that tried to squeeze through with a bit of both, and it served me well. By the time I'd chosen my A levels I had already realised that I could go on to study biochemistry at a university without that being a real blocker to my choices, but for most STEM subjects you're really quite constrained in what you have to do at A level and I think that's a massive pity.

"The idea that you pick a set of subjects when you're 14 and that effectively determines the parameters that you have to stay within for your career is ridiculous.  How many of us are well placed at the age of 14 to make those decisions?  Conservatively we're going to have 50-year long careers, you don't want to do the same thing for 50 years, you want to be able to transition between different pathways.  That's another reason why being able to retain a bit more breadth is a big advantage."

After leaving school Hayaatun went to the University of Oxford to study biochemistry and went on to complete a Masters in biochemistry before starting her PhD funded by Cancer Research UK.  Fully committed to a lifetime being a cancer researcher, Hayaatun's plans changed when she developed severe chemical sensitivities. She explains: "I was able to complete my PhD but it left me with this rather more discombobulating decision to make, which was what on earth do you do if you're not going to go and continue in cancer research. As a result, I stumbled into the world of science and engineering policy not really knowing anything about it. I had almost no visibility of careers beyond a lab-based research career, so, I literally fell into the world of engineering policy by happenstance. The next chapter of my career began which has been, in its own way, very enriching and very positive, but it certainly wasn't what I was planning when I started out in biochemistry."
First computer
Of her first experience of computers, Hayaatun says: "When I was at university search engines became something that were accessible, email was still quite new.  When I wrote my essays lots of them were still handwritten, I spent hours of my life queueing in libraries to photocopy journals and periodicals.  It was literally at that point that computing was becoming a much more visible part of our daily lives. By the time I was doing my PhD, computers were already very, very core to the research endeavour.  It was in that quite short window between going to university and finishing my PhD that it became a much more mainstream part of life, so we would have much more routinely used the online platforms to access periodicals, scientific papers and so forth when I was doing my PhD.  We used fairly basic software but still important software for imaging and managing the images that were core to how we analysed our research results and presented them to the world."

Royal Academy of Engineering
In 2002, having completed her PhD and unable to continue in her chosen field of cancer research due to chemical sensitivities, Hayaatun joined the Royal Academy of Engineering. She says: "I would never particularly recommend my career path to anybody, it somehow worked out very well for me, but it's a slightly odd sequence of events."

Hayaatun applied for three roles which she thought might be suitable;  science publishing, science communication, and engineering policy. She adds: "I just happened to get the engineering one first, so I ended up working in the Royal Academy of Engineering as an engineering policy adviser, still slightly scratching my head as to what engineering was and policy was. I was effectively learning the ropes of policy.  We did some interesting projects. I did one on the challenges of complex software projects, which is a subject that never leaves our lives. Some of the basic principles of that are around managing complexity, around never forgetting that these are business change projects. You can obsess about technical specifications, but if you don't understand the business change that you're trying to deliver, don't engage with the human dimension of how that change is going to happen and be accommodated and absorbed into the organisation then you're unlikely to get the outcome that you originally specified.

"We set up Policy Net, a network for policy practitioners, which was a fun experience for me, building a community of policy practitioners. At that stage, there was lots of dinners, events etc for very senior people, but very little for those people that did all the donkey work.  At that time science and technology policy was a niche area, there were very few of us working in it, it wasn't a visible career path in its own right.  Now it's a hugely important tranche of careers and much more widely known about."
Science and Technology Select Committee
The move away from cancer research proved to be a culture shock, particularly at the Academy, which at that time, Hayaatun describes as "quite a sleepy organisation". Having realised that she wanted to move on quite quickly, in 2004, Hayaatun got a role working as a Committee Specialist for the Science and Technology Select Committee at the House of Commons.  She adds: "Those early months and years in the Academy helped me get a grounding and I was able to take those core skills into my role in parliament. I left the Academy never ever thinking I would go back, which was a good life lesson for me – don't burn your bridges. I had a really interesting and stimulating experience in the House of Commons. It was a wonderful part of my education as a citizen and I'll always feel privileged to have worked in Parliament. It's very easy to be an armchair critic.  There's lots that you can sit there and complain about and roll your eyes at, particularly if you do have expertise in IT, technology, science. Working in parliament helped me understand much more deeply what the motivations and pressures were that influence the day-to-day behaviour and experience of MPs.

"Ultimately, it's not healthy for democracy if our technical community isn't willing to get more involved with our political community because those with technical skills and knowledge are absolutely crucial for supporting better decision making. We can help articulate and explain the choices and trade-offs that are being made when ostensibly political policy decisions are being made.  In the context of engineering technology, we can all help give really valuable advice about how to you convert a policy objective into reality.  If we, as technical people, aren't willing to insert ourselves into the debate, I don't think we should complain if the decisions that are taken then don't make sense to us.

"I enjoyed the first part of my career in the lab, I had that joy of the intellectual stretch, I enjoyed being able to be curiosity driven and feel I was making some difference through working on cancer research, but I was really surprised and excited at being able to take those skills that I'd gained, the research, the analytical thinking, also the self-sufficiency, the independence that you get when you do a PhD into that next chapter working in the world of policy."

Through the general election, when policy work ground to a halt, Hayaatun started working on inquiries in Parliament. One such inquiry looked into the use of science and technology in UK international development policy, as a result the first Chief Scientific Adviser post was created in Department for International Development (DFID). Hayaatun went on to work for Professor Sir Gordon Conway who was the first to hold the post.

She says: "I went to work for them because I thought it would be great experience to see what the world is like when you go to the other side of the fence. In Parliament you're critiquing, you're fulfilling a role of holding people to account and that's really fascinating, but I'm quite big on empathy, I want to understand how it feels to be on the receiving end of that kind of critique and advice. By working in the government department that was having to implement the recommendations in the report it gave me a really valuable opportunity to see the world from that complementary perspective."

Hayaatun and a small team supported Gordon in developing the embryonic science and innovation strategy for DFID, which included technology and IT. She explains: "It was both about how DFID used and consumed evidence in support of its own policies, but also how it supported capacity building in developing countries in areas that related to technical skills, scientific skills."

Royal Academy of Engineering
Working with Professor Sir Gordon Conway for the Department of International Development gave Hayaatun an aspiration to work in international aspects of science and engineering policy. She explains what happened next: "I didn't want to stay at DFID, I had learnt by then that it wasn't an organisation that I would thrive in. I prefer smaller organisations where you feel you can have more personal impact, more autonomy. As it happened, and to my great surprise, I found myself attracted to a job back at the Royal Academy of Engineering as Head of International activities. They wanted somebody who had experience of international development because they wanted to establish capacity building partnerships with the engineering community in sub-Saharan Africa."

Explaining the UK's role in technology at this time around the period of 2005/06, Hayaatun says: "Whilst it was undoubtedly true that the technological sophistication and maturity in the UK was extremely advanced and therefore we had a huge amount of expertise that could really be usefully deployed in support of the objectives and the priorities in developing countries, because of the age of our technological infrastructure in the UK, because we were early adopters and drivers of these technologies, there ended up being a strategic opportunity for countries where they didn't have existing infrastructure.

"The most widely cited example of that is mobile telephony, whereby the combination of the requirements in developing countries, necessity being the mother of invention, and the fact that there wasn't an existing incumbent infrastructure that you had to either upgrade or displace, meant that you could really innovate in quite a radical way.  Later on there developed a bit of traction around concepts that were variously called frugal innovation or reverse innovation.

"Innovation's just innovation. Most people now see that different contexts provide different opportunities to innovate in different ways. There are market opportunities where, for example, you have huge numbers of people that don't currently have access to a particular type of service that means there's a genuine business opportunity as well.  I think we were still maturing our understanding of how that dynamic would work, but it was already clear then that it was a gross over-simplification to imagine that capacity building would be a uni-directional activity.  There's always got to be mutuality in capacity building."

 By 2011, Hayaatun had progressed to become Director of Programmes and Fellowship at the Academy; a role that she secured while six months pregnant and of which she says: "I think we've all come a long way and I hope that Academy has come a long way too in terms of the flexibility that we see as being entirely compatible with your career.  But in those days it was still relatively unusual and I was still quite young to be appointed as a director in the context of the organisational experience in that era.  It's always good when organisations are willing to do something like that and that was somewhat of a break from tradition at the Academy that they did that and I benefited tremendously and hope I'll be able to give back as well."

In this role, Hayaatun covered a wide range of activities including all of the programmes, research and innovation activities. She adds: "We helped to create the first Enterprise Hub at the Academy. I worked with a fantastic engineering entrepreneur called Ian Shott, to set up our first accelerator at the Academy that enabled us to support both early stage entrepreneurs and also more established SMEs on both their start-up and scale-up journey. That was a very exciting time for us at the Academy. I also oversaw the Fellowship process; the way that we elect Fellows to the Academy and then engage with them.

"It gave me that experience of senior leadership, managing budgets and people and contributing to the overall organisational leadership that is a necessary step along the career progression pathway."

In 2016, Hayaatun became Deputy Chief Executive and Director of Strategy, before becoming CEO in 2018. She says of the step up: "A CEO job is always qualitatively different from any other role. The first CEO job anyone does is one of those demarcation points in your career, it's one of those milestone appointments. I was delighted of course to have the opportunity to do this. The beauty of being an internal appointment is that you have a really realistic view of what's going to be involved and you can think very hard about whether you want to do it and it's the right thing for the organisation. Ultimately, I was really delighted that the organisation placed its faith in me.

"It was a big stretch, it is a big stretch, but I always think that the frustration of doing a job that's too small for you or where you don't feel fulfilled is much, much worse than the stress of doing a job where there is the right kind of stress because it's challenging, because you're ambitious for the organisation, because you're progressing and learning. I think stress due to lack of control is a lot harder to manage than stress due to the fact that you have control or autonomy over a big portfolio. I remind myself of that all the time. I was also fortunate that I was given the chance to do a job when I was very different from the people who'd done it before."

Hayaatun was the first woman to be appointed to the job, as well as the first person who comes from a minority ethnic group. She adds: "For living memory at least, my predecessors all came from the armed forces, they were ex-services personnel, so it was a real break with tradition to have an internal appointment who just looked so different from anyone who'd gone before. I've tried to make the most of that to help to challenge perceptions in a world where unfortunately people do still have quite a narrow mental picture of who engineers and technology professionals are and what they do. That's a very important part of our work at the Academy."
Diversity and Inclusion
Statistics show that women make up just 14.5% of the UK engineering profession. Hayaatun says that it will take until 2085 to reach gender parity amongst those who are entering higher education in engineering at the current rate of progress.  She adds: "If you look at diversity statistics related to race and ethnicity you see that we have, if you like, an over-representation compared to the population at large, amongst those who are choosing engineering higher education, but then a real differential in their transition into engineering roles, which is really troubling.  We are seeing a huge drop-off between the people who study engineering and come from black and minority ethnic groups and those who end up in the workforce.  We have a massive, massive diversity deficit in engineering and this really matters because engineering and technology are everywhere in our lives.

"The people who develop, deliver, maintain, upgrade our physical, digital infrastructure, the products and services we all rely on every day, are currently way too unrepresentative in the society they serve and that is not good for us as a profession.

"We know that diverse teams and inclusive leadership have all sorts of business benefits from improvements in health and safety, to creativity and innovation, to talent retention, motivation, productivity, etc, so it's not good for our engineering technology community if we are not able to attract and utilise the best talent to deliver the best outcomes. Equally it's not good for society that we don't have people with true diversity of thought, diversity of backgrounds who are contributing to the designing of the infrastructure that underpins our world. It's an incredibly important task for us to tackle and I do believe that through my appointment and the work that the Academy has done, and it is of course a massive team effort, we are making progress on that.

"I would just say alongside that, that there is an internal part of this, and my proudest achievement is that I've stuck with it. Most of my career I've felt headwinds, I've felt that sense of differentness, isolation, I've had to do battle with that internal voice of doubt that so many of us have and I've never let go. I've always tried to go back to that mindset instilled in me as a child around taking responsibility, thinking what are the levers in my control that will help me solve or surmount or circumvent the problems I'm facing.

"I've definitely gone through the times where I've thought that it's just too hard, I can't do this, and then I've pick myself up and I've dusted myself down and I've thought, I'm not happy with giving up for that reason."
Changes from the past and challenges of the future
Asked to look at what has changed over her career, Hayaatun says: "In my personal career experience and interest, I would pick out the world of engineering biology. When I was working in the lab in cancer research, I had absolutely no idea that if we made a fantastic breakthrough in the lab there would be an army of people, not least engineers, who would have to work to convert that potential benefit that we had created into an actual benefit that people experienced. Whether it's a medical device or diagnostic test, or a drug, they make sure it can be manufactured consistently at scale, delivered safely, cost effectively, with an appropriate business model, to people where they need it, and so forth.  There's been a historical over-emphasis on the wonderful great minds that produce breakthroughs and an under-emphasis on the teams of people who then actually deliver the benefit, who do the innovation that builds out from that research which ultimately produces an improvement in people's lives.

"What I've been super-excited by is engineering biology as an emerging set of disciplines, where you draw upon the power of IT, but also the engineering system view, the engineering tools, the scalability, modularity to help us do incredibly novel things within biology.  Bringing those engineering tools, techniques and mindsets into biology and medicine which is positively disrupting both how we do biomedical research and how we develop biologically based molecules, parts, materials, processes at scale, and that in turn gives us loads of potential to produce new materials, to find new ways of manufacturing, new treatments for disease, new approaches to bioenergy, all sorts of different approaches."


Hayaatun points to the work done by Google DeepMind did on AlphaFold, as an example.   She adds: "We're almost changing the scientific method based on the tools that technology's now offering us.  Not the fundamentals of scientific method, but the way that we apply it in the context of research and the ability to get much faster, to, for example, candidates for drugs or vaccines. Those are areas where the impact of these new tools is so powerful that I suspect we'll look back ten years hence and understand exactly what the disruption means because it's not just about how quickly you publish a scientific paper, but what are the teams that are going to work on these problems.  I think we're on the brink of moving towards a much less siloed way of doing science and technology and research. We're still quite bound in these disciplines that have served us well historically but don't really reflect the multidisciplinary nature of all the challenges that we're facing."

Hayaatun points to climate crisis and sustainability as the biggest global challenge and says: "It's a massive systems challenge, we have to simultaneously transform a huge range of vital and interconnected systems. It's transport, housing, energy and manufacturing. We have to both mature technologies that exist, and develop the technologies that will then come into play later in the trajectory. We might already have the majority of the technologies that will get us to net zero in some form, but they're not mature, they are not ready to be deployed at scale, so there's that technological advancement. Alongside that, you've got the need to develop the business and economic models, the financing, we need to think about how we're going to effect these sweeping societal cultural behavioural changes, we probably need new institutions. We cannot tackle something like this in disciplinary siloes, it just makes no sense, this is an inherently multidisciplinary challenge. I think that we will start to see in the future new ways of working that combine the strength of the different disciplines, and we'll see a new appreciation of people who move laterally in their careers.  The idea of bringing your training and your perspectives from one set of disciplines into a different profession is very exciting; it's happening but not enough.

Compared to some industries, tech is good in welcoming people with different backgrounds, the rest of engineering is a bit slower."  In addition, Hayaatun is keen to see society think holistically about net zero and the sustainability challenge and consider the circular economy. She adds: "It isn't all about delivering net zero, it's also about living in a more sustainable way where we reduce and design out waste, where we also think about biodiversity, not just climate impacts, everything is interconnected, this systems mindset that engineering is so used to is so fundamental to tackling the kinds of challenges that we're now facing at a societal level."

Picking up on the diversity and inclusion challenge of climate change, Hayaatun adds: "It's vital that those of us working in engineering technology take more ownership of how inclusive the outcomes of the products and services that we're designing, delivering and deploying actually are. It's one thing to look and see who are the faces round the table, to be able to point to how inclusive the culture is in our organisations, but it's another thing to say are we designing and producing products, services, infrastructure that meets the needs of all groups in society, and today the answer is we aren't.

"So there's a huge challenge for us in making sure that we embed in standards of professional excellence much, much more commitment to empowering engineers and technologists to confidently approach societal challenges such as sustainability, to confidently navigate the ever more complex ethical landscape that we're facing, to be inclusive leaders and to bring that socio-technical systems approach that I've been talking about."
The future of careers
To meet the future challenges we face, Hayaatun's view is that we need a less siloed approach to careers and believes we have an outdated mindset around careers.  She explains: "We shouldn't really think about 'a career', I think we should go into our careers with an expectation that we will have discrete career chapters and we can consciously and deliberately prepare ourselves so that they build on each other but aren't necessarily in a continuous smooth progression. … Unless we have really mature systems to support people to navigate career transitions, we will be missing out on so much talent and we will not be able to meet the skills needs."

Before Covid and the EU exit, the engineering profession faced a skills shortfall of up 59,000 per annum. Hayaatun says: "We need to be more creative on how we're going to keep generating the skilled workforce we need, but at an individual level it's also fantastic to be able to not feel that you're straitjacketed in terms of the choices you have.  There's still a gap at the moment between that potential and the reality and there's a huge, huge challenge for careers advice in schools.  My ten and twelve year old children are being told at the moment that the jobs that they will do probably don't exist now, but that doesn't really help inform career choices.

"I would like to see tech and the tech community grip this career information deficit that exists and help people to better understand their choices at all career stages and parents and teachers as well."

Hayaatun points to the Academy's 'This Is Engineering campaign' which is attempting to help inspire future generations and challenging the stereotypes of engineering as a highly gendered career, involving a man wearing a hard hat and a hi-vis jacket, which she describes as "a gross distortion of the reality of modern engineering careers and doesn't convey this high social impact, creative, future facing career that those of us who are in this world know that it is and it can be."
Reflection
Asked if there is anything she would have done differently, Hayaatun says: "I'm not a big person for regrets.  I tend to think you do the best that you can and you try and learn from it and that's probably what matters most. If I look back at my younger self I worried a lot. I lived with a huge amount of anxiety. One of the lovely things about getting older is you just stop feeling you need to bring that level of anxiety into your life every day, so if I could persuade myself to have less anxiety about everything earlier, I would do that."
Non-Executive Roles
As well as her full time role, Hayaatun also has several non-executive roles. She co-chaired the Hamilton Commission on improving representation of black people in UK motorsport with Sir Lewis Hamilton.

Hayaatun says that her decision to take on non-executive roles allows her to learn from other organisations and ensure that she does not become too narrow in her outlook as well as being able to give back.

She says: "I am somebody who likes to keep on learning and growing, and so it's a way of making sure that I don't get stale, I don't plateau in my day job, that I can keep on drawing on insights and the different sorts of exposure that I have."
Honours
In 2020 Hayaatun was awarded a CBE and this year received honorary doctorates from Imperial College London and UCL, and an honorary fellowship from Queen's College, Oxford. She was also presented with the Science Suffrage award in 2020. The award is presented to women who are making a difference in different parts of the world of science and engineering. Hayaatun says: "The thing that really made it special for me was the fact that I was nominated by a fantastic, inspirational engineer called Karen Holford.  It meant a huge amount to me that Karen singled me out, because I have such respect and admiration for Karen. She has recently become the Vice-Chancellor at Cranfield University, and she is one of those people who is obviously an outstanding engineer and leader, but for whom her definition of excellence always has diversity and inclusion embedded within it."
Future Challenges
In looking at future challenges, Hayaatun points to the new strategy set out by the Academy with an overarching goal of harnessing the power of engineering to build a sustainable society and inclusive economy that works for everyone. Hayaatun adds: "We didn't lack ambition! Those twin pillars of sustainable society and inclusive economy pretty much summarise what our collective priorities are.

An inclusive economy is really making sure that we also contribute not just to an economy where everyone can participate and gain the benefits of the fruits of innovation in engineering and technology, but also an economy which is resilient, resilient to pandemics, to the impact of rapid automation, disruptive technology and global competition. It's quite a simple articulation of the challenges that we face and I suppose that within that the skills challenge is a vital strand."

The Academy has three areas of activities: talent and diversity, innovation, and policy and engagement. Hayaatun says: "Those three strands of activity really summarise how we're trying to contribute to those twin goals of sustainable society and inclusive economy.  As a national academy we have a leadership role within the engineering profession. I'm in an enormously privileged position of knowing that what we do at the Academy has the potential to really impact on society in a way that I don't think that many jobs give you the chance to.  So for me that's a great motivator each day."
Mentors
Hayaatun says her parents were the most influential people in her early life because of the values they instilled in her and the fact that they understood her. Later in her career she points to the many extraordinary people that she has had the opportunity to mix with and says: "I think you can learn from almost everybody, I've had all sorts of managers and directors who had very different styles, but if you have an open mind, you want to learn and you're thinking about self-improvement, you can always, always gain insights from seeing how other people operate. I've found amazing generosity amongst successful people all over the place.  I've pretty much universally found that if you ask for advice or feedback it's willingly given."

She says that ultimately the most influential group of mentors, apart from her parents, are her peer mentors. She adds: "I'm a big fan of finding other people on their journey, people who you have a shared experience and empathy with who you can connect with and build a circle of trust with, so that you can talk about what you're experiencing, so you can advise each other.  Sometimes we're too busy looking for role models sitting on pedestals instead of realising that they might be sitting in the seat next to you, if you're lucky."

She points to her experience of working with Gordon Conway and says: "He was someone who I think was a really inclusive leader and I learnt something very concrete from him, which was the power of storytelling. He was brilliant in using the power of storytelling to bring to life scientific and technical concepts. We probably still underrate this in the technical communities that we spend time in. It's a very human instinct to relate to the story as individuals and there's a huge opportunity for us to keep humanising technology and engineering.

"Sir John Parker was a very influential President of the Academy, a great captain of industry. I saw him operate in a way where when he greeted our receptionist he gave them that same feeling of having his full attention for the moment that he greeted them as anybody else around him. That sense of integrity and consistency in the way you conduct yourself as a leader was very powerful.

"Looking at the people who have, in a really practical sense, shaped my experience of the working world, I would call out my friend Elspeth Finch, she's a fantastic engineering entrepreneur. We do peer coaching sessions, we meet up regularly and we work through some of the challenges that we're experiencing.  … Elspeth is the kind of person who is really challenging, but in a totally supportive way, I never doubt that she has my best interests at heart. It's really great to have someone where there's mutuality, you can do that for each other.  There are many others who have been wonderfully inspiring in their own way."
Advice
For young people thinking about their future career, Hayaatun says: "Learn what makes you tick and where you thrive.  A good job has what I call lots to love and lots to do. In other words, it has things that make you feel motivated, make you feel satisfied, that make you feel 'I'm happy here', but also lots of things where you know you can make a difference, there's still that potential for positive impact.  Every single job will have its challenges, it will have its stresses.  There'll be the parts of your job that don't thrill you, so it's very important that the quotient of things that excite you is large enough to outweigh the quotient of things that won't necessarily enrich your daily life.  When your heart's in what you do for your work, then the difficult bits always feel worthwhile. It's also really important to think about what's the difference that you want to make in the world.

"One of my dad's great sayings was, 'It's results that count'.  If you include within that how did you make people feel, it's quite a powerful, almost like Pole Star for the sorts of decisions that you make and how you behave every day. If you start thinking about that from the very beginning of your career it will stand you in good stead. You already are better able to filter out some of the options that you'll be given.

"Every one of us is more powerful than we probably believe we are. Every single person is a leader or an influencer to someone, to your friends, to your family, to your community. Our collective experience in society or an organisation is a composite of how each and every one of us treats each other and behaves every day of our life.  … Engineering's an amazing career for making that positive difference in the world."

Hayaatun also highlights the financial benefit of a career in engineering, adding: "There is a clear salary premium for people who choose engineering technology degrees. Engineering is consistently one of the most highly paid professions and you can go on to use your engineering degree to enter all sorts of other highly paid professions."
Interview Data
Interviewed by Jane Bird
Transcribed by Susan Nicholls
Abstracted by Lynda Feeley
Register or login now to view a full transcript and access other associated audio and video files