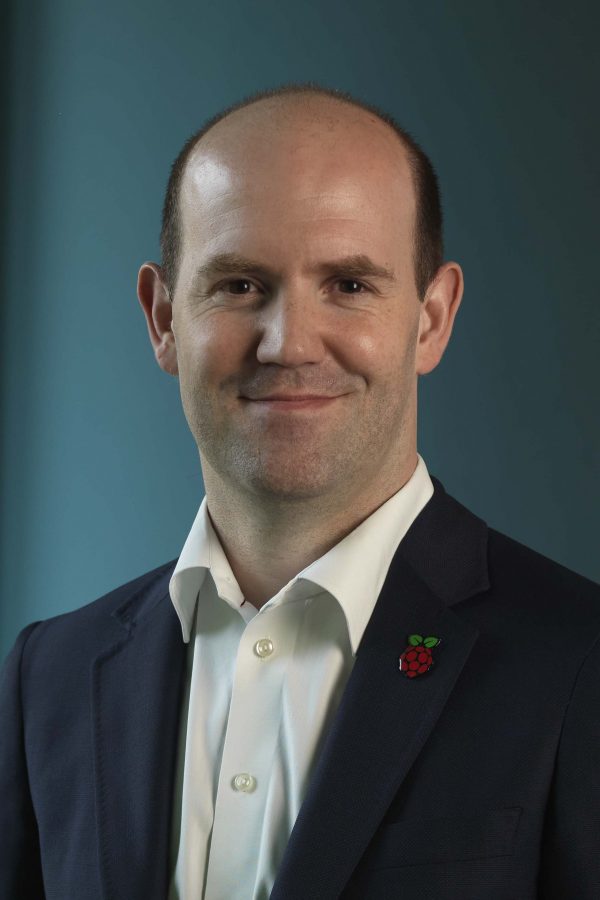 Early Life
Eben Upton was born in 1978 in Griffithstown, near Pontypool in South Wales but he spent only the first eight weeks of his life in Wales before moving to Lae in Papua New Guinea where he lived until he was two and a half years old. His parents were both English language teachers and his father obtained a post at the University of Technology in Lae. Returning to the UK Eben lived briefly in Leeds and then Birmingham for a couple of years before settling in Ilkley, Yorkshire.
Education
Eben attended St Edward's Roman Catholic school in Birmingham (the school was in Harborne at the time and has since moved). Following two terms at St Edwards he moved to Yorkshire where his schooling continued at Ashlands Primary School. Eben recalls that he learned as much in the rigorous environment of St Edwards as he did in the rest of his primary schooling. One of his earliest memories of computing was playing a game on a Mini-Computer at the University of Birmingham where his father worked. His childhood interests were more aligned with space exploration than computing and it wasn't until middle school that he made contact with computers again, initially through his cousin's ZX Spectrum and then in the schools' computing lab where he was introduced to the BBC Micro.
Eben was offered a place at Cambridge at the age of 16 although his choice of college was mostly influenced by what he learned of the quality of the food at St John's. During his interview at St John's he was presented with a car headlamp and asked what it was. At the time he had no idea and thought it was a piece of lab equipment. Never the less Eben was offered a place and left school at 17 but he wasn't allowed to enter university until he was 18 so he did an industrial placement year with IBM in Warwick. Despite his positive experiences at IBM he left the industrial placement after ten months. He struggled in his first year of Natural Sciences at Cambridge and got his act together in the second year and transitioned to the Electrical and Information Sciences Tripos in the third. He subsequently took the Cambridge Diploma in Computing Science before going on to his PhD where his advisor was Martin Richards of BCPL fame. Eben subsequently returned to Cambridge to complete an MBA at the Judge Business School while working in industry.
Early Career
During his third year at Cambridge Eben founded Ideaworks3D, a games development business based in London. Eben puts his success with Ideaworks3D largely down to the commercial experience he gained at IBM during his industrial placement year. Following his PhD he became Director of Studies at St John's College, responsible for admissions to the Computer Science Tripos.
Raspberry Pi
In 2006 Eben, then Director of Studies for Computing Science, realised that far too many of the potential students he and his colleagues were interviewing for course placements at St John's College, Cambridge, had little or no awareness and understanding of the inner workings of a computer. This was all down to the absence of a Computing Science curriculum in schools, where IT Literacy had displaced the scientific discipline previously taught at GCE Ordinary and Advance levels in the 1980s and 1990s.
Eben developed an early prototype on veroboard in 2006 based upon the Atmel ATmega644 AVR chip, although this was not the first Raspberry Pi. The Raspberry Pi Foundation was created in 2008, with Eben as one of the Trustees, to advance computer science education in schools with the goal of producing a bare bones, single-board, low-cost computer. The first 50 Raspberry Pi alpha boards were received by the Foundation and announced in August 2011, based upon the ARM processor. The name was chosen in keeping with the 1980s tradition of micro-computers being named after fruit in the 1980s; Apple, Apricot, Tangerine and perhaps more recently the Blackberry Smartphone.
The Raspberry Pi bare bones computer was first launched in February 2012 and released in two versions, titled Model A and Model B, by the Raspberry Pi Foundation.  The computer was priced at £25 and by 2014 it had sold 4.5 million units.
In July 2014 the Model B+ went on sale, boasting several enhancements over the Model B, and later in the year Model A+ was also release. Since then the Raspberry Pi2 has been released (2015) and the Raspberry Pi Zero later that year. The most recent Raspberry Pi to be release is the Model 3 in 2016. By the end of 2016 over 8 million Raspberry Pi's had been sold.
Eben currently serves as CEO of Raspberry Pi (Trading) Ltd, which is responsible for the Foundation's commercial and technical activities
Mentors
One of the most influential people in Eben's education was Dr Ian Nussey OBE who he met at IBM. Eben describes Ian as a 'grand old man of British Engineering' and an excellent line manager during his industrial placement year. Ian made sure that anyone in IBM who took on one of the industrial placement students gave them a real job and ensured they gained valuable experience – not fetching the coffee or doing filing.
Achievements
Eben counts Ideaworks as his proudest achievements, because it was his first start-up and, with Raspberry Pi the only other one that has been an on-going success. Ideaworks was founded when Eben was 20 and it has employed 50 people for twenty years, indeed it continues to employ many amazing people today. The happiest time of his professional life so far has been at Broadcom where he worked with a team that developed the VideoCore 3D graphics processor.
Recognition
Eben was awarded a CBE in the 2016 Birthday Honours list for services to business and education. He also received the Royal Academy of Engineering's Silver Medal in 2013. In 2012 he was recognised by MIT as one of the world's top 35 innovators under the age of 35.
Observations
Eben believes there is a way that good engineers are made. There must be a balance between the desire to tinker, to examine, to deconstruct, to build and the need for a solid theoretical foundation. These two elements must be combined to create a good engineer. It's no good having just a strong academic education crammed full of theory, neither is it sufficient to be a hobbyist with a keen desire to see how things work. The two elements must be combined.
Advice
Eben's advice to up coming engineers and technologists is 'stick with it'. He walked away from challenges earlier in his life when they became too tough and he wishes he hadn't done that. Raspberry Pi has been a tough journey but he hasn't walked away from it – he's been the most successful when he's stuck to something and that's what he hopes others will learn from his experience.
Eben also believes life is also too short to hang out with stupid or unpleasant people, we should all strive to enjoy life and get along, working with the very brightest people we can. This is advice he applies to hiring people at Raspberry Pi, they have to be bright but they also have to be nice people that can get along with others and make for an enjoyable working environment.
Register or login now to view a full transcript and access other associated audio and video files