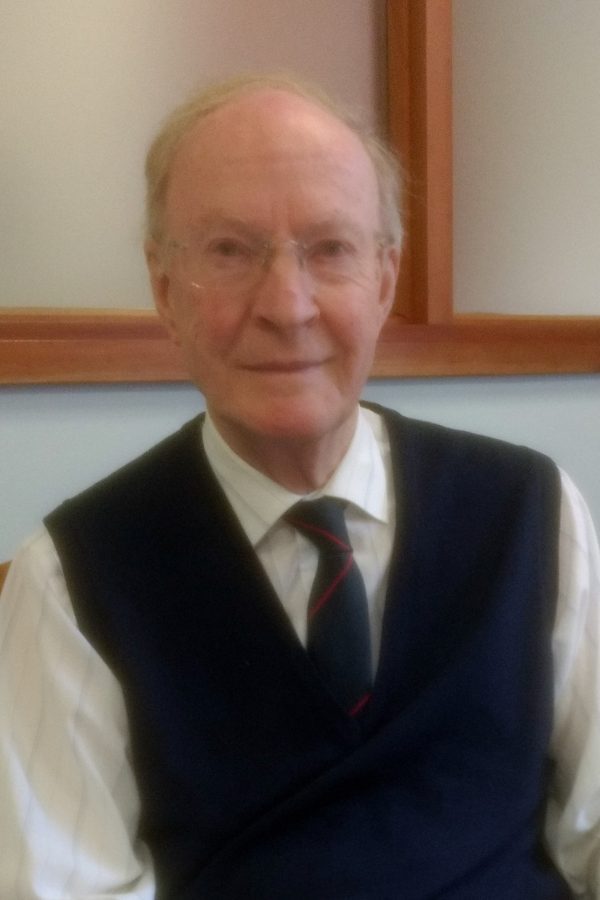 During Ernest's career he served a number of blue chip organisations based primarily in the City of London.  Companies such as the British Tabulating Machine Company, CT Bowring, Cooper Brothers, now part of PWC, and the Prudential Corporation.  In the mid-Seventies Ernest became the third President of the Computing Services Association, then known as CSA.  In 1987 Ernest was elected President of the BCS, the British Computer Society.  Ernest is a past Chairman of the Computer Conservation Society. 
Between 1993 and 1997 Ernest was Chairman of UKERNA, the body responsible for the academic and research network of JANET.  He is an Honorary Fellow of Swansea University, formerly the University of Wales, and is a recipient of the Territorial Decoration
Early Life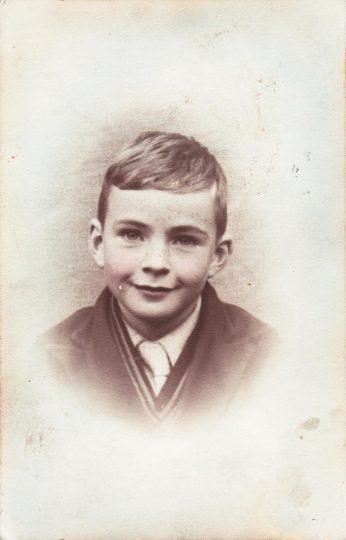 Ernest was born on the 7th of May 1932 in Porth, which is at the beginning of the Rhondda Valley in Glamorgan, South Wales.  His father was a railwayman and his grandparents, like most of the other people in the Rhondda Valley, worked at or down in the mines
Education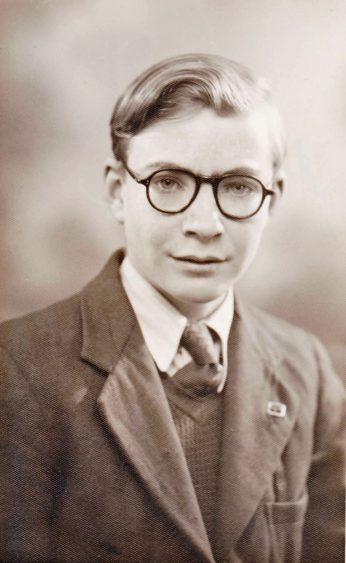 Ernest started off his schooling at the boys' junior or primary school in Maerdy, and then subsequently went to the county school for the whole of the Rhondda. There he did his School Certificate which had a core of subjects which related to the Oxford and Cambridge matriculation examination curriculum, plus a few options.  These were essentially English language and literature, Latin, another language, which was French, history, and then, mathematics plus physics and chemistry.  That was the core.  For "Higher" it was a question of taking either a scientific or an arts set.  Ernest could do maths and physics but not chemistry which he didn't like so he took history, English and French, which was his best and favourite subject.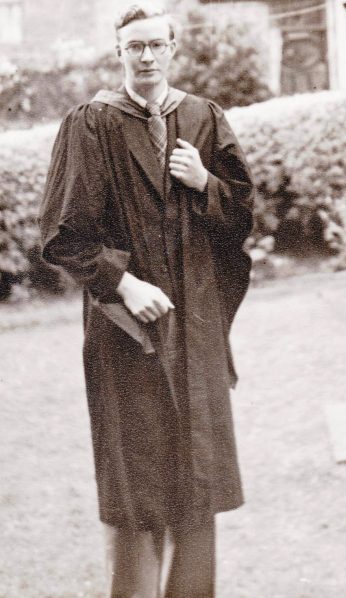 Ernest really wanted to go to Oxbridge, but he was only seventeen and a couple of months, and Oxbridge refused to accept him until he had done  National Service first. He didn't want to do that, so he ended up applying to two or three redbrick universities.  He was told that if the only language he spoke was French, it wasn't enough to follow an Honours degree course, because their Honours degree courses were in modern languages.  So instead of French, he took a history degree at the University of Wales which he found to be a wonderful means of training the mind.
National Service
Ernest went into the army in September 1952, and did two years with the Colours, which was full-time, and then three and a half years on the reserve, in the Territorial Army.  The main role of the British Army during the late Forties and early Fifties, was in Korea and had he gone into the Army a year before he did, he would probably have been sent to Korea.  After training Ernest started off as a clerk and then became an officer which he very much enjoyed.
After leaving full time service Ernest stayed in the TA as a volunteer officer for the next nine or ten years.  He found the experience of getting to know, and then having the responsibility of leading, people of all kinds of background and status a tremendous plus in terms of the development of a career and an individual.
Early Career
In 1954 Ernest saw an advertisement in the Daily Telegraph for people to become trainee technical servicemen with the British Tabulating Machine company (BTM).  It simply asked for graduates or people with some kind of advanced education.  His brother, who is four years older than him, already worked for that company.  He got the job and went into it not knowing anything at all about what he might be doing except that, if his brother was working for them, it couldn't have been all that bad.
The training period was almost a year.  This consisted of several periods of instruction in each one of the machines which British Tab produced, starting with classroom-based training and then four or six or so weeks out in 'the field'.   When Ernest joined BTM there were only two suppliers of that kind of punch card technology the British Tabulating Machine Company and the Powers Samas Machine Company. After training, the role that the technical serviceman had was to produce, with the aid of the company's machines, information systems.
The thing that Ernest did at BTM of which he is most proud was to advise, to build, to assist in putting in place and implementing the accounting systems for the Orion Insurance, right from scratch.  This was the first punch card installation which that company had, and it was his responsibility to make it work.
C T Bowring
Bowring's was a major Lloyd's insurance broking firm and they had had a punch card installation from 1950 onwards.  They started with one machine and had four or five by the end of the 1950s. Bowring's was the first commercial computer customer for the City branch of BTM.  Because Ernest was the only one to have been sent from that branch on a programming course he was allocated to Bowring's as their technical serviceman to start talking about the introduction of their computer, which was due in 1959.  He got so involved with them that they asked him to join the company.  At the same time British Tab announced a merger with Powers Samas, which didn't appeal to him at all, so he moved to Bowring's as the leader of a computer study team.  When the second computer came in he was given the title of EDP Manager ( electronic data processing manager), which was a common title throughout the industry.  At the same time, because of the text processing limitations  of computers, and the requirement among various of the departments within Bowring's to produce documents, he put forward several systems to produce whatever documents were required, using an organisation and methods set of studies and systems processes.  Thus, he became the EDP and O&M Manager.
In 1966 management changed things and Ernest was given the choice of either reporting to the deputy chairman as the O&M manager or reporting to the finance director as the EDP manager rather than staying as he was at the time EDP and O&M manager.  He was proud that he had introduced O&M-based systems as well as computer-based systems and couldn't accept that, because he thought it was the wrong decision for the company and for him.  So, he resigned.
Cooper Brothers (now PWC)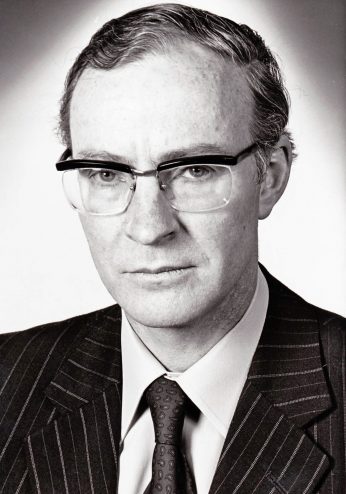 Ernest wrote to the two management consultancy firms of which he had some knowledge (Urwick Orr and PA).  He also wrote to Coopers because when he had been working with Orion Insurance, it was being advised by Coopers – and they hired him.
He worked for the management consultancy firm of the chartered accountancy practice which had consulting offshoots.   They didn't do 'assistance' in any hands-on kind of way.  They did studies, which resulted in recommendations.  The recommendations might have been to do something new, or to make improvements to what already existed.  But they were essentially studies with recommendations.  And then they helped with vendor selection; with systems design; with cost benefit decisions, and maybe with the management of the function, be that in terms of efficiency or recruitment or setting up an installation.
He worked at Coopers for a period of almost for fourteen years.  With hindsight he would have liked to try to make it more evident in the business marketplace generally that companies like Coopers, Price Waterhouse, Peat Marwick  were not simply chartered accountancy auditing businesses with a taxation capability as well, but were much more significant than that, because of their consultancy practice.  So he would have liked to have done something within the industry generally to have increased that profile.
Prudential
Ernest joined Prudential in April 1981 as Assistant General Manager, Management Services.  He found the move attractive as Prudential was the biggest insurance company in this country and it was a significant user of computing technology.  Because of past involvement with clients in the insurance world he had a good knowledge of computing systems within insurance.  The position offered by Prudential as one of the senior management team was more significant than the position he had within Coopers.   When he joined, the board was entirely non-executive.  After two years, the chief general manger retired and his replacement changed the organisation structure to put more emphasis on the Prudential Corporation and its subsidiaries, and at that point he was made a General Manager.  Two years later there was another change in the structure of the organisation which saw Ernest become Group General Manager reporting directly to the Chief Executive.  Ernest had a great influence on the expansion into business activities of what the computer technology was doing, which coincided with the gradual development of microcomputing technology, so that it went more and more out into the various departments or branches of the company than hitherto.
He also put emphasis on involving the senior managers in the business units in the design and implementation of business-oriented systems, whereas hitherto it had probably been very much an administrative kind of support service to the business, rather than entering the heart of the business operation.   Ernest stayed at the Prudential until he took early retirement in 1991.
BCS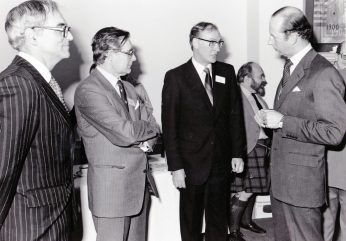 Ernest became a member of BCS in 1958 and became President in 1987.  His theme for that year was one that has been his permanent theme in the BCS and in any career position that he had, which was to increase the status of computer professionals. Ernest was also involved with the Computer Conservation Society which is a specialist group of BCS set up in the Eighties to preserve or rebuild computers that were current n years ago.  As per the tradition Ernest, as a past president, became Chairman for three years.  It was in that period that he began to have a knowledge of what was going on at Bletchley Park, because the Computer Conservation Society was responsible for the rebuilding of the Bombe and Colossus.  In a way it brought things full circle, because British Tab was involved with Bletchley Park in building the original Bombes
UKERNA
After his retirement, Ernest became chairman of UKERNA (United Kingdom Education and Research Networking Association) which is the body responsible for JANET, the research and educational network.  It was a group of 30-50 people who had been paid for and sponsored by the Higher Education Funding Council to provide the computing communication network for universities, and for research purposes.  The decision was taken to move it out from the Higher Education Funding Council, with a Civil Service kind of atmosphere, into a separate, still funded but sort of private, organisation.  Ernest was asked to be the chairman to set it up and take it out of the Civil Service into a separate existence.  He did that until he reached 65, after three years or so, and decided rather than carry on for another three years, he preferred just to retire into the background.
Vocational Training
In the 1980s Ernest was asked to be the chairman of the committee within BTEC that had very much an influencing, auditing, proving kind of role over courses held by polytechnics, and to some extent technical colleges, leading to the National Vocational Qualifications of one sort or another; including more than one sort that related to information technology.  The role that BTEC and the committee that he chaired had, was to identify the significant aspects of courses that should be carried out to produce the right kind of successful student, in gaining a National Vocational Qualification.  Then having set the standards, to go out into the country on auditing visits to various polytechnics, to see to what extent their courses gave them the facility satisfactorily to meet the standard for an NVQ.   Ernest thinks that the resurgence of interest in vocational courses is very good, because there has not been enough emphasis in this country for many years on the depth of technical training which industry needs.
Computing Services Association (CSA)
The Computing Services Association was formed in 1975 by the coming together of the Software Houses Association (SHA) and the Computer Services and Bureau Association (COSBA).  The three people who really put the whole thing together were Bryan Mills, Director of CMG, who was the Chairman of COSBA; Barney Gibbens, who was a director and part-owner of CAP, and Chairman of SHA; and Ernest who was a director of Coopers and the Vice-Chairman of COSBA.  He did the secretarial, legal kind of work to set up the company. He was the secretary at the beginning.  Barney was the President for six months; Bryan took over for a year; and Ernest took over from Bryan.  Ernest stayed involved until he left Coopers in 1981, and remembers that during that period there was a lot of cohesion-building within the whole of the service industry, both software and systems generally and computers.  The most significant aspect of that activity was the recognition a year or two after the CSA had been formed that it really needed a chief executive full-time and Alan Benjamin joined as its Director-General.
Future
Ernest thinks that there will continue to be the opportunity to continue to infiltrate every organisation and function with an increasingly useful, valuable type of equipment, IT facility, service, whatever you might like to use as the right word.  That opportunity will change enormously, as it has changed in the last decade at least. The challenge will be to make that happen in a valuable way and by value he means value to all the user communities of one kind or another as separate or conjoined together.  He feels that is a big challenge for technology and the organisation of technology, and at the moment, very evidently, also from a security point of view because information that should be private is not necessarily private in the way that the technology's opportunities are being used.
So, the challenges of the introduction of technology, the development of technology, the implementation of technology, the management of technology, are related not only to the technology itself but to the business and social environments in which it is used and the provision of professionally capable people. Those are both big opportunities and challenges.
Interview Data
Interviewed by: Jonathan Sinfield on the 9th November 2017 at the WCIT Hall
Transcribed by: Susan Hutton
Abstracted by: Helen Carter
Register or login now to view a full transcript and access other associated audio and video files