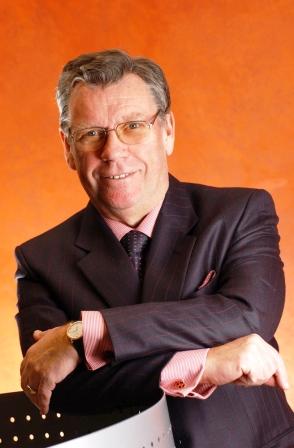 Frank is passionate about ensuring that people join organisations that match their values, and understand the culture they are walking into so that they can be successful.   He explains: "You've got to choose a company, a business, that fits your culture, your thinking.  When you're joining a business, the most important thing is to understand the culture of the business and what makes it tick and does that suit you."
Early Life
Frank Jones, named after his grandfather who was a director of the local Workington rugby league team, was born in Cumbria where he spent his early life. His parents ran a commercial hotel in Workington. He says that the experience of being brought up in that environment gave him "the ability to meet people and treat everybody very similarly, or without embarrassment, even though I was relatively introverted at that time and we didn't have any money."
Education
Frank went to Workington Grammar School having passed his eleven-plus. He went on to gain nine O levels and four A levels, including one in economics which he then went on to study at Liverpool university between 1964 and 1967.
Early Career
Following university, Frank joined the International Computers and Tabulators (ICT which became ICL) in September 1967 as part of their graduate intake. ICL was formed by the merger of ICT and English Electric Leo Marconi.  Frank says: "IBM had the dominant position in that time but ICL was home-grown support, because the merger was government sponsored." As part of the graduate intake Frank learned how to program in assembler (PLAN), but he admits that he was not a great programmer.
He was first posted to Sheffield sales office to look after the steel companies to sell the 1900 range of mainframe computers which ran the latest operating systems and introduced George 3. He says: "That was the fortunate part, because the steel companies and the National Coal Board, were at the large end of the ICL commercial range. So instead of working at the small end of the things I was at the large end and getting involved in what was then the forefront of technology. I can remember touring round the north of England, round the Coal Board, introducing exchangeable disk stores, who stored the magnificent amount of eight megabytes on these exchangeable disks.  And then they came in at the sixteen and 32 megabytes on the disk, which was fascinating."
 After spending eighteen months in Sheffield Frank was moved to Cannock in Staffordshire in 1970 to look after the Coal Board which was a big customer for ICL split 50/50 with IBM. The Coal Board insisted that its suppliers should have staff on site at their headquarters in Cannock. Frank says: "We did data processing, serial data processing and the payroll, but of course the payroll for the Coal Board in those days was very large. It was administration, nothing clever or anything compared to what people do now."
Duport
After two years, Frank decided that he did not want to be a salesman and left to join Duport as a group data processing adviser. Duport got its name by abbreviating a place called Dudley Port, a Midlands town near the Black Country.  As well as being famous for Vono and Slumberland beds, plusSwish curtain track, it was an engineering company which made steering gears and oil pumps for cars and Rolls-Royce, as well as kitchen cabinets.  Frank says: "So the big advantage of this was two things: I got to deal with lots of different industries, and after a couple of years, they all had small computers, about five or six of them dotted round the group, all of them wanted to grow, so I started the cycle that went on for the next twenty, thirty years of centralising, decentralising."
 Duport set up Duport Computer Services Limited, complete with its own board. It was expected to charge for its services and be competitive. Frank says: "It taught us to be customer-focussed and it taught me very early on about running a business and the key issues and the factors and the cash flow, cash management.  We were expected to make the same return as the other businesses, because that's the way conglomerates run."
Having started out as a group data processing adviser at Duport, Frank made rapid progression once Duport Computer Services Limited was formed. He was put in charge of computer operations which he says was because he was the only person who'd seen a computer operate as big as a 4A, at the steel companies and the Coal Board. He progressed to also be in charge of development and sales, before finally becoming managing director.
Duport, with plants in Llanelli, the Midlands and Sheffield, was the largest steel producer that didn't get nationalised.  The company used ICL products including the 1900 4A and the twenty 900 to run classic mainframe data processing application.  Frank says: "We got into interactive fairly early in the mid to late seventies, with VDUs. We developed systems to track the work from Wales to the Midlands and onwards. We brought in a tracking system, so we had a dispatching and stock control system in Llanelli and in transit to some which received the stuff.  Even though we were not in the forefront, it was quite advanced. We were probably one of the earliest people to put VDUs out in our factory that were 'ruggedised' and on weighbridges."
Frank made sure his team spent a lot of time working with the users while developing the systems to ensure they would deliver benefits and then spent a lot of time doing education and training, so they saw the benefits. He explains: "We used to have two huge gentlemen receive steel in London and they were our best reference, because we made their job easier. If you make people's job easier, they'll take to computers very quickly. I used to hammer my software development people and say, you can design the most beautiful software systems in the world, but if the users won't use it, it won't work.  You've got to get them on your side, and they've got to see the benefits of what we're doing."
 The company employed between 70 to 100 people and did well with a blip in 1981 when Thatcher put MacGregor in to sort the steel industry out. Frank explains: "He just dropped the prices, so that their losses went up from 600 million to 900 million and the taxpayer paid, and our profits went from 30 million to minus 30 and we had to give the company to British Steel, in the end.  As a centralised part, the group had two choices, either close, and they backed us to bring in business from outside, which is why actually we changed to having 85% outside the group and then we acquired a couple of other small companies, very small, to fill it out a bit."
The company started to operate as an online bureau using all ICL technology including 2900s and VME which Frank describes as being traumatic. He explains; "We got involved at the top of ICL with some of the problems and they said, look, what you're doing with these computers, which was really stretching them and the operating system, is much more than normal users do, because they normally are just doing one or two things, and you're doing the full multi-programming, stretching, sweating the assets and running it like 75-80% capacity, whereas most run at 30% capacity."
Data Networks
With Duport being taken over and the team already involved with London Transport, Frank and a colleague negotiated a deal that would seem them become Data Networks. He explains: "We created this thing which was a buy-out privatisation merger type thing in 1986, called Data Networks, which Duport and London Transport kept a shareholding in, but the directors and the staff had 40%."
All the staff had the opportunity to buy shares, up to two and a half thousand pounds' worth, and were then offered a loan to buy another two and a half thousand.  Frank adds: "They all made money.  Getting staff involvement, top to bottom, was very important from the beginning. I used to say to people, when I was running a very large company, I'm only as good as the staff that work for me because I personally can't do all this work that we're doing, and therefore I have to have a really good team. One of my other phrases was that A class people employ A class people, because they're not frightened of them and they know they need them, whereas B class people employ C class people because they're frightened of them. That was one of the reasons, I think, we grew the company so successfully, because you've got to have really good and motivated people."
The business grew from an original ten-million-pound turnover to £120 million. Frank and his team got into outsourcing early and realised that "people only outsource a business to you they know you can absorb." With this knowledge, they realised that no customer could be bigger than ten per cent of their turnover. This meant that in order to grow, they needed to have a bigger turnover. In 1987, just a year after the buyout and having sold Duport to Williams Holdings, Frank approached Barney Gibbens at Computer Analysts and Programmers (CAP) to see if they were interested in acquiring Data Networks. CAP was a quoted company on the London Stock Exchange, developed and built by Barney Gibbens, Mike Smith and John Chisholm and they took over the people from Scicon. Frank explains: "CAP was then turning over 120 million, so as we were part of that deal, we could then do much bigger deals than we could as a 12 million turnover business."
Having completed the deal, Frank quickly signed a £50 million deal (£10 million per year for five years) with Massey Ferguson, which was headquartered in Toronto but had two data centres in Birmingham and Peterborough
SEMA
CAP later merged with SEMA, a French company of a similar size with a big Spanish subsidiary. Meanwhile, CAP Gemini Sogeti conducted a hostile acquisition of 27% of the new company shares and CAP was dropped to avoid name confusion. Barney Gibbens and Mike Smith left and the French (Paribas and France Télécom) took over. SEMA, despite a low share price started to make progress and made its first acquisition of three companies from the Swedish government in 1992. Frank was Managing Director running the English-speaking part of SEMA which represented about 40% of the business and 60% of the profits.
 Frank says: "We had a very simple system in SEMA.  If you sponsored the business plan to the board, you delivered it.  Nobody else. I sponsored the business plan for the Swedish deal, put the thing through with the finance director and the chief exec said, okay Frank, go do it." He adds of his experience in Sweden: "I got to understand a very different culture."
The business continued to grow organically, as well as acquiring businesses they also won business such as an outsourcing deal with the German bank Bauboden, in Hamburg for £35 million, 250 staff. However, some of the biggest changes for SEMA came when it bought the Italian company from Olivetti.  Frank explains: "Olivetti needed cash, it was shrinking; it was one of our best acquisitions we ever made." With this acquisition, SEMA was able to improve its share price and do a rights issue. It was also at this point CAP Gemini sold its shares. Frank adds: "That's when the company changed quite dramatically. For two reasons: it freed the shareholding up, secondly, it was a great company because they were international people again, it was a bureau for Olivetti."
Having already established a small software business in Singapore, SEMA set out to expand its reach into Asia in 1996 through its outsourcing relationship with Standard Chartered Bank. Frank led the deal, as he explains: "It was done as a deliberate part of our geographic expansion. We treated it like an acquisition rather than an outsourcing deal.  Because they (Standard Chartered) were in Hong Kong, Singapore, Kuala Lumpur, we had three bases in which to grow other business in Asia…. Standard Chartered Bank gave us, and it was a long-term business, lots of outsourcing contracts there with companies that were declining.  Standard Chartered Bank was growing, and growing fast, and it grew phenomenally."
Initially SEMA was unable to move into the US because Paribas controlled more than 25% of its shares which meant it was classified as a bank in America and under the Glass-Steagall Act could not acquire any businesses. Eventually, a deal was arranged with France Télécom which changed the shareholding and enabled SEMA to acquire LHS, a German company quoted on Nasdaq in US. In 1997, they acquired British Rail Business Systems with over 1000 employees and a turnover of over E90 million.
As the company grew so too did Frank's responsibilities, he says: "I was given more and more responsibility to do everything, because all the things I put forward, I had to run.  So that's how I ended up running a huge part of the business.  But as a result of that, I wasn't in the UK very much, so I had a man running the UK, I had a man running seven countries.  I ended up being called Executive Vice-President, and we said, Executive Vice-President, in America that means you run four people, you know, and they said, who cares what it means, you know, you're not a managing director because you've got seven managing directors working for you!"
Throughout its growth, the business kept abreast of technology and systems, using multiple manufacturers including IBM, ICL and digital. Frank describes them as going through a cycle of centralisation, decentralisation, minis, micros, etc. He explains: "As far as we were concerned, as long as it's change, it's business for us.  I mean, if you're in the IT business supply, the one thing you don't want is stability, you want change.  As long as things are changing and the technology changing, then there's business…… We were doing all sorts of things by then, we were all things to all men; it was very difficult to describe what we did, because we did everything. We were a huge business."
In 1998 the company was listed on the FTSE 100 and Frank adds: "I believe we were the first IT company into the FTSE 100 in 1998, which enabled us to grow and raise money." However, the company would, like many others, see its share price collapse when the dot.com bubble burst.
In 2001 SEMA was acquired by Schlumberger. Frank says of Euan Baird, the chief exec of Schlumberger, "he was a fantastic guy and it was a fantastic company, but very different from SEMA." He adds: "It's one of these companies, it was quoted in New York, everybody thought it was a French company. It was run by a Brit and Euan was succeeded by another Brit, Andrew, and it was the first transnational company I ever met.  Of the top 50 people in the company, they had twenty-odd nationalities.  Euan used to say, I don't believe any country has got a monopoly on intelligence. They had links to all the best universities in every country in the world, picked the best people, paid them a lot of money, and then drove them hard, and it was up and out. You made it by you were thirty or you were out. They just focussed on youth to drive the business, intelligent youth.  Fascinating company."
Mr Outsourcing and how outsourcing got a bad name
Through his career, Frank became known as Mr Outsourcing, he explains: "I was always responsible for outsourcing globally. Because Pierre Bonelli, CEO of SEMA, being intelligent, spotted that outsourcing was an alternative to acquisitions.  Because you grew the business in big lumps with big deals and it used capital but not to the same extent as acquisitions, you didn't have to pay a PE.  I became the engine of growth."
 Frank goes on to explain some of the reasons why outsourcing changed and gained a poor reputation. He explains: "In the beginning outsourcing delivered everything it promised, which was to save people 25 to 30%.  ……… Where it got a bad name was when it got more difficult, was whenever they introduced the people who then made the money were the consultants. So, they paid a lot of consultants to come in, to tell them what to do, make all the savings they could, and then try to outsource it, and then micro-manage it.  So, in the end, there wasn't money to be made there.  I mean business is about making money, it's got to be a win-win.   You've got to save money here, you've got to win money there.  And because they'd made all the savings and spent all the money with the consultants, and then micro-manage it, the savings weren't achieved."
Hogg Robinson
At the age of 57, having taken early retirement from SEMA, Frank was invited to join Hogg Robinson, a corporate travel and pension business. He was brought in on a two-year basis to create a strategy for their pensions business with the view to selling it; he explains: "I put forward my strategy, which was to sell part of it and turn the other one round and make it more profitable before they sold it, but they wanted the money quicker to invest in corporate finance."  The business was sold to Duke Street Capital and Frank helped them find a new chief executive and then left, however, he returned to be chairman of their pension trustees which he did for a further ten years.
Non-executive director of Ovum
Frank joined Ovum, an industry analysis company for IT and telecommunications sector, at the invite of the chairman Stephen Dawson. The company was changing its business model from one-off to contracted revenue, something that Frank had expertise in. He explains: "I was brought on the board specifically because of my knowledge about how do you run a contracted revenue business, because to change, it's like a software house, to change from selling software at a big number every time to software as a service, there's a big hiccup in between, because you don't get the big software sales, but you get revenues for a number of years, but in the changeover there's a big issue."
In 2000, having just raised money to grow, the company suffered as part of the dot.com crash and Frank says: "I always remember having a meeting with the chief exec and we told him he had to reduce the numbers of people because the revenue had dropped dramatically.  He thought he was reducing the number of people from his budget, which was a growth budget.  I said, you're misunderstanding here, you're reducing the number of people absolutely, because your revenue's reducing absolutely. Very difficult, especially in a small, friendly company like that, but you run out of cash if you don't do it.  I sent him an email saying once, to continue to recruit into a declining market would, as Sir Humphrey said, be very courageous. He listened and he was a great guy and we turned it round and we got into contracted revenue, and then it was floated on AIM." Frank help them to support the acquisition of Holway, however, with no prospect of the company being able to grow in the US, the company was eventually sold.
Chairman of InforSense
Frank joined InforSense, a spinout from Imperial College, specialising in information and business analytics, with the aim of utilising his business expertise to help them grow dramatically. The business was successful but never grew as quickly as the private equity investors wanted it to. He explains: "When you've got a founder, they're very, very reluctant to delegate, and the reason they're reluctant to delegate is because the people who they're recruiting are not as good as them, right?  I used to explain this to Yi-Ke (the founder), there's nobody as good as you, Yi-Ke, but you're already working sixteen hours a day, how are you going to grow the business anymore?  You need more people who are nearly as good as you, and you're not as good at business development as some people and you're not as good at, this as other people.  And so, the people who were in charge, founders, become the reason for the initial growth and then the reason it stops growing."
Mistakes
When it comes to mistakes, Frank takes is very pragmatic saying: "I don't think you can get everything right, you've just to get more things right than you get wrong.  People who've never made any mistakes have never made any decisions, because really, especially when you're running a large business, you're going to make huge numbers of mistakes.  Obviously, they vary in degree, and you've got to get the big decisions right; it's not a numbers thing, you've got to get the big things right. I was fortunate in that I got most of the big decisions right."
However, Frank did learn along the way, for example he believes that one mistake he made was when he started running multinational part of the business, was to trust the people in the UK that were with him and had grown up with him more than he should have.  He says: "It was because I knew them and it was easy, I knew the strengths and weaknesses and when I wasn't there all the time, it was easy to do that.  And it worked, but it could have worked better, if I'd brought the right people in.  Equally, if I'd brought the wrong people in it would have been worse, so, you know, looking back on decisions you're never sure which are the right or wrong things because you can't freeze things at a point in time."
One thing that Frank is very clear on is the drive he has had for keeping businesses moving forward something that he learned at Duport, he explains: "When I was at Duport I met the group chief exec and he said, it's not an option in a business to stand still.  You're either growing or you're shrinking.  In fact, if you're standing still, you're shrinking.
Advice
Offering advice to young people considering a career in IT today or the future, Frank says: "I'd advise anybody to go into the IT industry for the simple reason that as I made the right decision back in 1967 to join it, it's not going to go away.  It's going to continue dominating and running our lives for ever and it's going to be the growth industry……. I don't know any other industry that's growing.  The rate of growth is just impossible, because it's taking over the way everybody lives and I don't think you'd call it an IT industry any more, it is industry, isn't it."
Frank is equally passionate about ensuring that people join organisations that match their values and understand the culture they are walking into so that they can be successful. He explains: "You've got to choose a company, a business, that fits your culture, your thinking.  When you're joining a business, the most important thing is to understand the culture of the business and what makes it tick and does that suit you."
Interview Data
Interviewed by: Richard Sharpe on the 11th October 2018 in Stourbridge.
Transcribed by: Susan Nicholls
Abstracted by: Lynda Feeley
Register or login now to view a full transcript and access other associated audio and video files