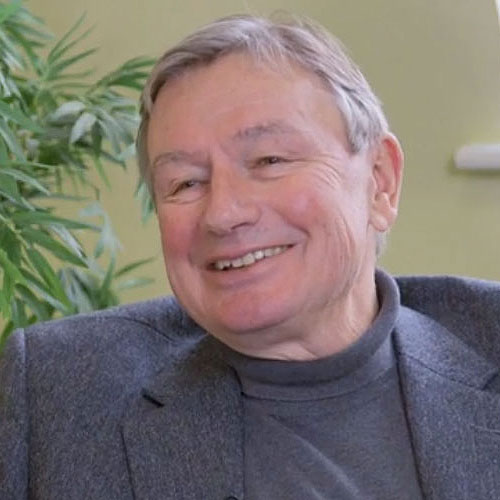 Geoff Unwin, formerly Chief Executive of Capgemini, one of the world's largest IT services and consulting companies, and a former Executive Chairman of Hoskyns, one of the most iconic of the early British computing services companies.
Early Life
Geoff was born in Radcliffe-on-Trent. His father was killed in World War II when Geoff was just one.  They moved around.  His mother worked as a waitress in Skegness to make ends meet.  She remarried when Geoff was around 4, and then settled in Newcastle.  Geoff's stepfather was a pharmacist with about 6 pharmacy shops in Newcastle.  He describes it as a comfortable, middle-class upbringing.
Education
Geoff has an August birthday, and says he "was extremely slow to mature" – always the youngest and smallest in the class. In spite of this he passed the 11+ and went to Heaton Grammar School.  He was more interested in Science than the arts and not particularly good at sport, although passionate about cricket.
He went to King's College, Durham, which is now Newcastle University to read Chemistry.  There had been talk that he might join his stepfather's pharmacy business.  He had helped in the shops during school holidays to earn a bit of pocket money.
Early Career
Geoff's first job was working for Cadbury's in 1963.  He joined a graduate intake of about 20. He was put into the quality control department.  He shared a flat with two graduates from the marketing department, so he learned about marketing through them.  He describes his training at Cadbury's as fantastic.  For the first 6 weeks he got to learn about the different functions of the firm. He spent a week on the night shift to give him a good understanding of how the company operated.  One of his first tasks was to administer the running of the tasting panels – tasting the product at different stages until it becomes inedible – this helps to determine the shelf life of it.  Shelf life is affected by altering packaging  and different temperature and humidity. His job involved much studying of statistics.  He joined the Operational Research department and wrote an algorithm for routing delivery vehicles, aiming to minimize the mileage and maximize vehicle load – management science.  In the 1960s, this had to be done by hand, a job that ten years later, was being done by computers.
Hoskyns
In 1968, Geoff saw adverts for John Hoskyns & Co, but didn't believe he was good enough so didn't apply. He was then approached by a headhunter who thought his experience would be relevant to Hoskyns.  He had a gruelling series of interviews and tasks and was offered a job in the management science division beginning in September 1968.  They were just beginning to use computers to solve some of the problems. His department used time-sharing computers.  Hoskyns had its own computers by around 1970.  They worked on interesting projects, for example, working out how many coins the country needed to have for the change to decimalization. At this stage there weren't any computer consultants, so there was a massive effort put into training analysts and programmers.  They were training themselves on the job and passing on what they had learned.  Hoskyns began its own education centre in Bournemouth and recruited from many backgrounds. He says the common thread was that they were looking for people with integrity who wouldn't be afraid to admit when they were wrong.  Because they were working in a brand new industry, there was no precedent for the work that was being done.  In 1969 they began developing standard applications that could be used for more than one company on ICL 1900 computers without having to recode it all.  They created modular systems to create a tailor-made solution for each company – around 80% of the code was standard.  Hoskyns was a pioneer of computer outsourcing, facilities management in the UK.
During the 1970s, they began to move their standard applications on to IBM computers. By the mid-seventies, minicomputers were emerging – DEC, PDP-11, PDP9 and VAX.  Migrating these application systems onto these mini computers was far more cost effective.  By 1978 Geoff was Managing Director of Hoskyns Systems Development, rising through the company in just 10 years.  He describes this success as being due to recognizing his own low boredom threshold, knowing he would be keen to move on to new things within the company.  This meant he was not afraid to recruit very good people around him who could fill his role.  He describes a conversation John Hoskyns had with a client where the client said, "there's something very peculiar, and unique, about your company, which is, the further down your company you go, the better it gets". Unwin believes it was easier for him to be moved to different areas of the company as he made himself available by recruiting capable successors behind him.
Flotation: in 1982, Geoff became a Director of the Hoskyns Group and in 1984, Managing Director. In mid-September 1986, the decision was made to float the company, which they did a few weeks weeks later on 18 December 1986.  One of the things Geoff is most proud of is that the company flotation prospectus had the names of every single employee on the inside covers – it was "the notion that this is who we are". This was hugely motivating for the employees.  It was a 25% float, as Martin Marietta held 75% of the company.  An allocation of shares was made for employee options.  There was a save-as-you-earn scheme available to everyone who worked at the company.  The P/E was 17.1 which was a decent rating. During the 80s Hoskyns increased its eps every year at a CAGR of 34% to become the leading computer services company in the UK.
They floated with a market cap of £46 million, and eighteen months later the new management at Martin Marietta decided they wanted to sell Hoskyns.  Geoff found Plessey, a large quoted UK electronics company to buy them.  In just two years the value had moved from £46 million to £178 million.  Shortly after the Plessey deal was struck, Plessey themselves were subject to a takeover bid by UK General Electric Company in 1991.  A few months later, Lord Weinstock, managing director of GEC decided to sell them. Unwin insisted on finding his own buyer as he said, "If the guys don't like it, they ain't coming" – the nature of a people-based company.
Capgemini
After discussions with various companies, they met Capgemini which had been buying up companies to become "the largest IT player in Europe". Geoff went onto the executive board of Capgemini and in 1992 was put in charge of all the operations of the company.  He retired from Capgemini in 2002 as CEO.
Running such a large company was very different from running Hoskyns.  The company was split into lots of self-sufficient profit centres. 31st July 1990 Capgemini agreed to buy Hoskyns buying the 69.5% stake from GEC-Siemens for 330p/share and finally bought the balance of shares in March 1993 for 469p/share.  Over the four years that Hoskyns was listed, it was the second highest performing stock on the entire London Stock Exchange.  Geoff continued to spend 60 – 70 percent of his time talent spotting within the company.  By the 1990s IT had become a hot market, so high calibre personnel were moving on or being poached all the time.  Capgemini had its own university which he visited frequently to talk to people who were on the courses there. During this time the technology revolution was continuing with the advent of the internet, although no one at this stage realized the huge impact it would have.  It was also the early days of seeing what might happen in India.
In 1992 at Geoff's first management conference with Capgemini, he spoke about trends in the industry, noting how important experience of having done a project in one country could be to another country in order to win business.  He said, "We face a very simple choice.  We can either remain as a conglomerate of companies, all very good companies in their own territory or their own specialization, and please just send your annual dividends to us in Paris, or we have to try and make the group a group. We have to have commonality of what we sell, how we sell it, and how we deliver it." Following this the company developed a global consistency to business.
Daimler-Benz was talking about taking a major stake in Capgemini and asked to see the five-year plan, broken down by sector. Geoff didn't have one. He said he wouldn't look further ahead than 3 years because the industry is always being disrupted by technological advances which are difficult to predict e.g. the impact of the minicomputer, then the PC, then the Internet.  He believes that in this industry there is always the need to be able to react quickly to changes, so you have to be flexible.
When Geoff joined Capgemini, they were largely selling professional services, skilled people and recruiting as many as possible.  By the early 1990s, the market had changed, as the industry suffered its first recession.  Rather than selling people, the market was making the transition towards services e.g. the notion of providing a turnkey solution where you would provide the hardware and the software, build systems for them and implement them.  By standardizing application systems, it drives efficiency and productivity – not writing the same code over, and over again.  Rather than build your own payroll system or email system, you take it off the shelf and use somebody else's, this was new in the Seventies and Eighties.
In 1988 the National Computing Centre highlighted a shortage of 20,000 skilled IT professionals which would rise, in three years, to 53,000.  So it was important to train and develop the workforce to meet the demands of the industry.   By 2016, this demand had shifted – Capgemini employed between 60,000 and 70,000 people in India.  In order to manage such a huge workforce, it needs to be organised in manageable parts with effective management.  During the 80s Geoff was quoted in an advert saying, "I've never touched a computer in my life".  In his era the managing directors or CEOs of the vast majority of companies would not have touched a computer – today it's the opposite.
Geoff planned to leave Capgemini in 1999, but stayed on to complete the acquisition of Ernst and Young.  He retired as CEO in 2002, remaining on the board for a few years as non-voting director.
After Capgemini
Geoff has number of chairmanships, predominately of technically based companies. He believes IT companies are crucial to the UK economy, not only in business and government, but also in our daily lives.  He describes this constant need to be in touch, people walking down the street looking on their devices, rather than where they are going.  He says you still can't predict where it's going.
Achievements
Geoff feels his most important career decisions were:
Floating Hoskyns Group
Making Capgemini a group.
Recognizing the capabilities being developed in India.
Mistakes
Geoff describes the tendency to regret not making changes sooner, particularly the difficult ones to do with people.
Mentors
Tom Pownall – CEO of Martin Marietta – he instilled in him a sense of trust and confidence which he never forgot.
Andrew Muir – manager at Hoskyns, gave him the opportunity to present his system for routing delivery vehicles to minimise costs, to boardrooms early on his career.
John Hoskyns – CEO of Hoskyns who went from building a business from scratch to sorting out the country as head of the Downing Street policy unit.
Reflections
Geoff considers himself extraordinarily lucky.  Joining the industry in the first place was chance, not planned.  He remains committed to staying involved with people, hence his motivation to remain on the board of various companies.  He enjoys mentoring and describes "advice as being for giving but not necessarily for taking". His advice to a young person setting out in IT today would be to first find something you believe in – that strikes you as interesting – but don't be afraid to consider changing.  Keep trying new things.
He considers organizations such as the Worshipful Company of Information Technologists and the Computer Services Association (of which he has been president) to be good forums for exchanging ideas.
Interview Data
Interviewed by: Alan Cane on the 3rd March 2016 at the WCIT Hall
Video by: Boardie
Transcribed by: Susan Hutton
Abstracted by: Annabel Davies
Register or login now to view a full transcript and access other associated audio and video files