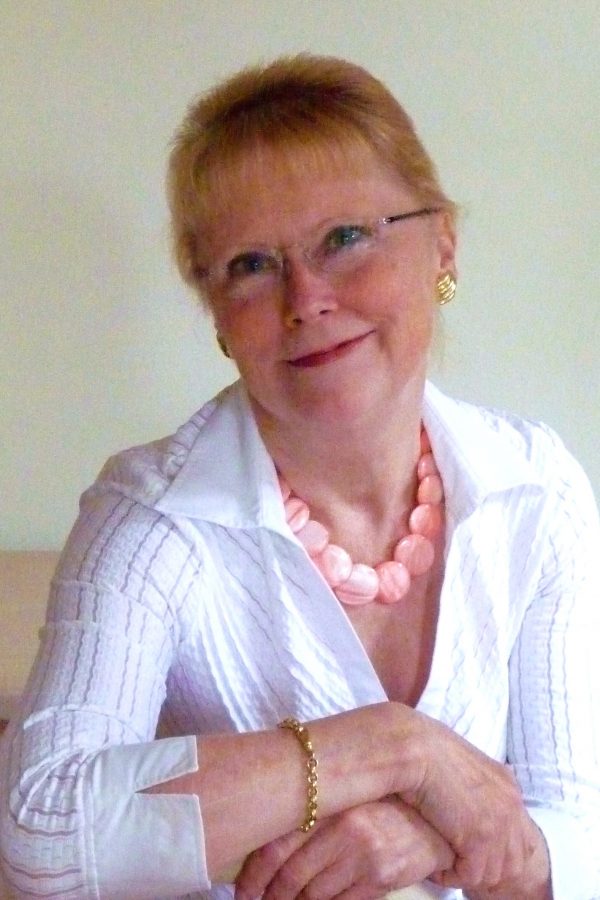 " I worked first with IBM.  This was a relentlessly optimistic company, we didn't see obstacles, we just saw opportunities, and I think that's been a very important influence as far as I am concerned.  When you have a problem that's a fact, but that doesn't mean you give up,  you work out how you turn that into a positive outcome.  What's the best course of action I can use to deal with that and move forwards?"

Early Life
Jane was born in Sale, Cheshire.  Her father was a successful quantity surveyor who started his own firm, and her mother was a hard-working housewife.  They moved to Knutsford where she started primary school.  She enjoyed school, always trying to catch up with her two older brothers.   Her father's business provided a comfortable middle-class existence for the family.  The most valuable lesson she learned from him was the need to be scrupulously fair and honest, supporting customers with integrity.  Her mother also set a good example.  Although her mother matriculated at 16, she did not have the opportunity to do a degree. [0:01:13]
Education
Jane passed her 11 plus a year early and went to Altrincham Grammar School for Girls for a couple of years, and then to the newly built Wilmslow Grammar School.  This started as a mixed school until a separate new school had been built for girls.  So she was one of the first and last girls at what became Wilmslow Grammar School for Boys.  She was happy there; in particular she was delighted that the mixed school taught much more science than Altrincham Grammar School for Girls, including physics and chemistry.  She'd been fascinated by learning how things work from the age of 7.  Maths was her favourite subject, which as pure logic she found easier than the applied maths of physics.  She took her O levels and A levels two years early, staying on for a third year in the sixth form to apply for places at Oxford and Cambridge. [0:04:54]
Jane studied Maths at Cambridge, the first in her family to go to university.  She enjoyed the independence but struggled in the first term with new mathematical terminology, discovering that the students from public schools had been prepared for this in their third year in the sixth form.  Feeling she couldn't handle the course, she reviewed her lecture notes during the Christmas holidays.  Her tenacity paid off, the notes gradually started to make sense.  She learned that persistence and application really can solve problems – an important life lesson.  Jane really enjoyed Maths as a subject, and when revising for her final year exams she suddenly saw how all the apparently separate mathematical topics linked together as a single subject.  She knew then, that in the final exams she would do well as she could, with no cause for regrets whatever her result.  [0:08:51]
Early Career - IBM
Jane describes herself as an introvert, and very focused.  At the end of her degree she had no idea what she wanted to do, but was advised that computing jobs paid well.  Although her experience of computing at Cambridge had been uninspiring, she and schoolmates had built a rudimentary computer as a sixth form project.  IBM was among the companies she applied to, for which she had to do an aptitude test.  When she arrived at interview the warmth and enthusiasm of the IBM interviewer won her over.  This was the company she wanted to work for.  She found the interviews for other companies stodgy, condescending, and patronising in comparison. [0:13:30]
So, in 1968 Jane became a trainee Systems Engineer at IBM's Data Processing Division (DPD),  and started on a two-year training programme alternating between theory and practice.  This provided an excellent grounding.   The Systems Engineer role included pre-sales technical support, presentations, demonstrations, installation and post-sales technical support for customers.   She started in IBM's Welwyn Garden City Branch, later moving to the Transport branch in Richmond.  After that she moved to the IBM education centre to train other IBM employees in data communications technology, followed by a move into UK Systems Marketing based in Chiswick. [0:15:20]
During her time in IBM she worked with 360 mainframes.  Typical jobs for customers included  supply chain and forecasting applications – these were bespoke applications, which nowadays would be standardised packages.  She became a telecommunications specialist, and country specialist for QTAM, the Queued Telecommunications Access Method, which linked mainframes to satellite terminals.  She also later worked with CICS, a US customer-developed  alternative to QTAM.  CICS won the technology battle because it had traction with US customers, but Jane thought it was technically inferior.  She taught QTAM to Sir Ken Olisa, among others, of which he still frequently reminds her.
The world changed when mini-computers came onto the market from Digital Equipment and others.  Jane was Product Manager for the IBM UK launch of the 8100 system, to compete in this market.  It was not very successful because it wasn't a very good product!
For her last year in IBM Jane moved on to Systems Marketing planning – an internal role to ensure that the company's various marketing programmes complemented rather than competed with each other. [0:22:59]
Jane's son was born in 1981 and, after returning from maternity leave, she felt she was spending too much time driving to work and not enough time with her son.   Just then an approach came from Alison Newall, Managing Director at F International.  It was the right time for a move, and she joined FI as Business Development Manager, to develop marketing strategy with the team of Regional Managers and run the central marketing and training departments.  Moving to a much smaller company was a big change, but her time in IBM proved invaluable.  A sales and marketing culture was endemic in IBM.  She applied this at FI, and was told she'd driven a culture change there. [0:28:27]
Softwright Systems
After two years at FI Jane accepted an offer to run a software development company from an old friend, who had developed an innovative and highly productive software development tool.  This was an irresistible opportunity to be involved in all aspects of a start-up business.  So in 1984 Jane started at Softwright Systems as Managing Director, later Chief Executive, where she stayed at the helm until 1997.
Softwright Systems used the innovative software development tool to build bespoke systems for large companies.  They pioneered the new development technique of prototyping, which dramatically shortened the time needed to build bespoke systems. Previously, specifications might take a year to develop using the established "waterfall" method, with no guarantee that the customer would actually like the final system.  Prototyping allowed customers to review systems as they were developed, and participate throughout the design and development process.   A great review in the Financial Times by Alan Cane provided superb publicity for the company, and helped Jane open doors to win development projects with major household name companies. [0:31:31]
When Jane joined Softwright Systems they had one main contract for a high street bank.  This lasted 6 months, so she soon had to find more customers and generate more business.  She set to work putting the lessons from IBM into practice, switching nearly all her efforts to selling, with a lot of cold-calling and pounding the streets.  She worked through a list familiar company names, large companies she'd known at IBM,  and this proved so successful she didn't need to seek out work with smaller companies.  The business grew, eventually employing around 120 people by the time it was acquired by a US quoted company in 1995.   Jane stayed on to see the transition through for both employees and the new owners, leaving in 1997.
Softwright Systems remained profitable throughout Jane's time, although the 1991 recession forced them to make some redundancies, which everyone found very painful.
Softwright Systems specialised in systems for three market sectors: retail, finance and IT.  They built software for distributed systems, PCs linked to mainframes.  This was a pioneering field at the time,  and customers in these sectors were early adopters of distributed computing.  [0:38:45]
CSSA and Beyond
Jane enrolled Softwright Systems into the CSSA (Computing Software and Services Association), and was soon elected to a seat on the Council.  As a result she had the great benefit of advice and support from CEOs of larger software development companies.  Despite being an introvert, she excelled at networking, regarding it as an important part of her job.  She became Vice President and then President of the CSSA, and suggested a survey of the members to find out which services the members really valued, rather than offering too many things with limited resources.
The CSSA needed to raise the technology industry's profile with Government.  Jane was one of three Council members who led the merger of CSSA with the FEI (Federation of the Electronics Industries), to form Intellect (now renamed TechUK).  This move united the UK's software and hardware industries, providing Government with what it wanted – a single voice speaking for the UK's technology sector.  [0:43:51]
After Softwright
Jane stayed on at Softwright Systems for 18 months after it was taken over by a US company, to see the transition through for both employees and the new owners.  She then moved to a portfolio career, seeking Non-Executive Directorships.  She deliberately sought roles in different types of organisation – public and private sector, large and small, quoted and unquoted, and in the technology and other sectors.  She did not want to be defined as a "medium-sized software company person". She sought variety in her roles so that she could keep learning.
The strategy worked, and she has held directorships in everything from technology start-ups, financial services, and many quoted companies all the way through to the John Lewis Partnership and roles in the public sector, including Central Government departments.  [0:50:28]
Industry Trends
Jane's career spanned many major developments in technology and the technology sector.  Softwright Systems played a leading role in the evolution of distributed IT, with serious corporate use of networked personal computers.  In the 1980s Jane trialled the use of email to improve her management team's communications across several office locations.  Within minutes she recognised its enormous value, and rolled it out to all employees without delay.
Recognition
Jane was awarded an MBE in 1991 in recognition of her work for the CSSA.
She has served on the Board of her local Citizens' Advice Bureau for over 35 years, and on the boards of several charities over the years.  In 2009 she was awarded an OBE in recognition of her work for the public sector and charities. [0:57:17]
Mistakes, Lessons Learned & Challenges
The first mistake Jane made as a CEO was thinking that now she was in charge.  She learnt very soon that the CEO is always answerable to the bank and the shareholders.  She also recalls once sending accounts that didn't balance to her major shareholder.  She eventually found the mistake, in the prior year's audited accounts – learning the Sherlock Holmes lesson that when all reasonable explanations fail, the unreasonable one must be the solution.
One of Jane's biggest challenges resulted from the attack on the World Trade Center in 2001.  In the recession that followed three of her portfolio companies were eventually sold or wound up.
As a working woman Jane found that, with the odd exception, she was treated fairly and on merit.  One instance stands out from her university days: a graduate recruitment leaflet from a major high street bank reassuring (male) applicants that they would not have to compete for promotion against women, because the women remain as tellers in the branches.  She did not apply, although she wishes she had kept the leaflet!
Her greatest regret is not getting her work-life balance right.  She wishes she had spent more time with her growing son.  [0:58:26]
Reflections
Jane shares concerns about some of the current technology sector trends, but sees the monopoly positions of companies like Google and Amazon as an inevitable result of achieving critical mass in a global market: they provide valuable services for the individual customer, and when everyone makes the same individual choice a monopoly can be created.
Similarly the sale of many high profile British technology companies (Autonomy, ARM, etc.) into foreign ownership is part of globalisation.  We must learn to compete within that framework, legislating and regulating for fair treatment, rather than resisting the inevitable.
A key priority is to ensure that children, girls and boys, see IT as an exciting career, and provide them with the right skills and a business environment that encourages entrepreneurship.
Jane is pragmatic about the threat that AI poses to jobs.  IT has always been seen as a potential job destroyer, usually the jobs have just changed.   Pretending that technology does not exist is not an option:  policies, laws and regulations need to be in place to ensure that people are treated fairly and are given career development opportunities, whatever the nature of their work.
Jane's advice to young people entering the industry is to work hard, be professional, and grasp opportunities with both hands. [1:01:10]
Register or login now to view a full transcript and access other associated audio and video files