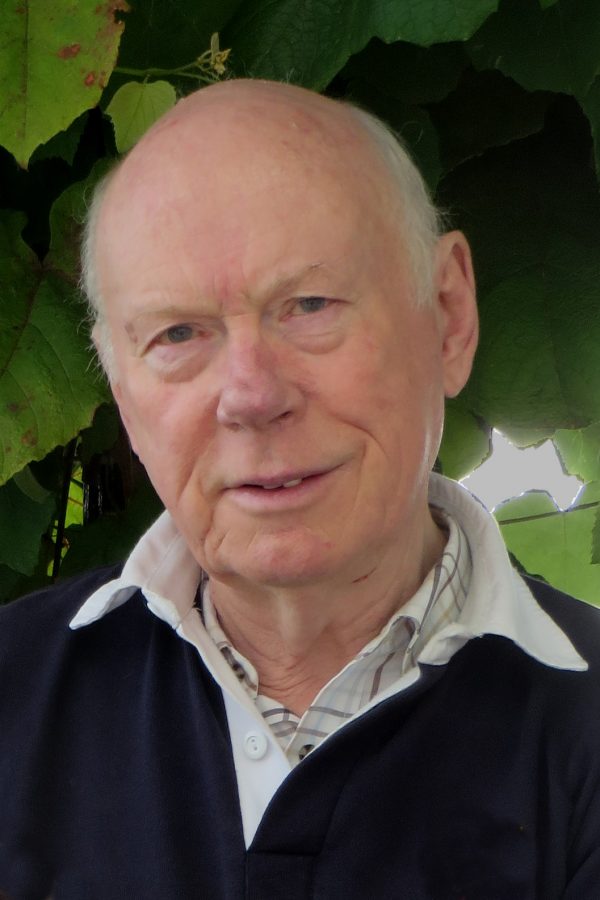 John Leighfield CBE was a pioneering IT user, applying the technology offered by vendors to the benefit of users, particularly in manufacturing. He started in IT with Ford in Dagenham in what would now be called systems analysis.
He joined Plessey in 1965 and was on the board of Plessey as the head of IT. John moved to British Leyland in 1972, working in BL Systems, later renamed as ISTEL. It was privatised and John and others succeeded in a management buyout.
Early Life
John was born on 5 April 1938 in Oxford, the eldest of 4 children – 2 boys and 2 girls. He was very close to his sister, being just two years apart.. His father was the eldest of thirteen children.  He describes his background as very humble.  His father won a scholarship, but because his family were poor, they weren't able to let him go.  Instead he became an apprentice in a railway workshop in Swindon.  In the early Thirties he moved to Cowley, Oxford and became a foreman in Pressed Steel where he remained a foreman until he retired.  He was highly skilled and very intelligent with an interest in mechanical things. John says that he spent a lot of time renovating old cars in his youth.  He learned to drive on a pre-war Jaguar, which they stripped down and rebuilt. His father stimulated an interest in mechanical and electrical things.  His mother was from Chipping Norton and went to the local grammar, gaining the School Certificate.  After moving to Oxford, she worked for the publishing part of Morris Motors before marrying his father.
John's early childhood was dominated by the Second World War. His father's job at Pressed Steel was part of the war effort. He worked incredibly hard.  There was no money to spare.  They lived in a rented house and getting the rent money was a challenge.  In spite of some deprivation – no holidays or sweets – John describes his family life as enjoyable.
Education
John's mother was determined that he would have a good education and chose East Oxford Primary School for him at the age of 7; he was interviewed by the headmaster, who decided he should be admitted to the school. It was not the nearest school to his home. John believes having this positive start to his education has been fundamental to everything he has done subsequently.  He won a scholarship, following the "evil" Eleven Plus, to Magdalen College School, a very good independent school, making him a "dead cert" for Oxford or Cambridge. During his teens, he was interested in Classics, but also in physics.  As a hobby he made radio sets, and worked on radio-controlled model aircraft. At University he used to rally cars.
John read Classics at Exeter College, Oxford.  It was assumed that if you were bright you could get to either Oxford or Cambridge as less than 5% of school leavers went to university. John was awarded a state scholarship.  He chose Classics, rather than physics because he had had an inspirational teacher at school, and he believed it would not narrow his options, which proved to be the case.  During his time at Oxford one of his fellow students said, "God, the most boring thing one can go and do would be a computer programmer".  At this stage he knew very little about what computers were.  The tutorial system taught him how to handle arguments with bright people and use logic to make his point – this proved useful later on.
Early Career
John did not plan his career; in the middle of his fourth year at Oxford, he realized he needed to think about getting a job!  As he was interested in cars, he thought the automotive industry would be a good place to start. He wrote to all the then-major car companies – Ford, Vauxhall, Rootes, BMC and Lucas, explaining that he was about to graduate from Oxford.  Ford gave him an interview and offered him a job as a graduate trainee.  BMC replied "we do not recruit graduates"!
In September 1962 he began work at Ford in Dagenham and on his first day, one of the other graduate intake said, "I wonder where the computers are that run this place".  He learned at Ford, that investing in good people pays off, which he believes Ford did well. The new graduates were given a "Cook's Tour", where they got to learn about the work of different departments of the company. Those who later came out of the graduate recruitment scheme at Ford went to many different roles in British industry.
John worked in the "Systems Office" at Ford.  His job was to look at how they could apply the computers of the 1960s to Ford's challenges. The first computer used at Ford was an LEO – the computer developed by Lyons to run its tea shops – the first business computer of its kind in the world.  The applications in use related to production statistics and financial systems.
At Ford's engine factory in Dagenham, they had an enormous problem with scrap. John had to develop an application to analyse what was going on, to help solve the problem.  He presented his "Scrap Report" to Bill Hayden, the Financial Controller – a much feared man – in Dagenham, and the typist had left off the "S" – so he presented "Crap Report"! John says, that taught him a lesson about attention to detail.  He had the job of analysing what was happening, synthesising a new system, persuading the management to adopt it, training the staff to run the new system and taking it through to implementation.
In 1963, the first set of databases for Ford was developed. John was part of a team of six who analysed and documented all the major processes of the Ford Motor Company.  This was called the EMS Study (Engineering, Manufacturing and Sales Study), an approach that was very much ahead of its time.  It was designed to show to the management the importance of the way information and data flowed, and how tortuous it was.  This illustrated to John that they could make major changes in the effectiveness of the company.   In those days computers were in great big rooms with no communications between them, but at Ford, they wanted to be able to connect Dagenham with their new factory in Liverpool.  This was done through punch card driven transceivers over telephone lines – a primitive form of data communication but, again, ahead of its time.  By the time John left Ford in 1965, he was a project leader with about a dozen people working for him.
Plessey Telecoms
John's boss at Ford, Jay Moore, was offered the job of running the computer activities for Plessey Telecommunications in Liverpool.  The company had 40% of the telecoms market in the UK, and a big export market.  Moore persuaded John to join him as his systems development manager.  Later, he became IT Director, equivalent to a CIO – Chief Information Officer today, controlling the IT budget.  He was responsible to the chief executive of Plessey Telecoms.  Plessey was a public company but was run by the family who had set it up    When John arrived at Plessey, the decision had been taken to buy an ICL 1904 computer, because ICL had convinced the board of directors that, as it could run 4 programs at once they could run one for finance, one for manufacturing, one for engineering, and the final one free to do anything else!
They recruited young people locally from Liverpool schools, and put the new staff through training programmes, and gradually built the software, both applications and system software.  John had to persuade the Company's staff, who had been used to working in completely different ways, that the new computer systems were a good idea.  The common cry was, "It will never work!" (in a Scouse accent). He used simple argument gently to draw the doubters around to his way of thinking.  There were always some people in denial, but largely, they wanted the business to succeed and they could see that the computer systems could help the business.
John wanted to move on but one of the sons of the founder persuaded him to stay by making him the head of IT systems for the Plessey Company with a responsibility for 600 or 700 people across the country.  He reported to Tom Hudson, a board member of the Plessey company but who had previously established up IBM in the UK. Hudson ultimately became Chairman of ICL.  Hudson helped take John's ideas to the board of directors; in those days it was unusual for an IT director to be on the board, as IT was not seen as a strategic issue by many companies.
British Leyland
In 1972 John left Plessey Telecoms to join British Leyland, having been headhunted by John Barber, the new managing director of British Leyland, for whom John had worked at Ford.  His new role was Systems Planning Manager with the remit to look at systems all across British Leyland to help bring about dramatic improvement that Barber was looking for.   He went from managing 700 people to one.  He was living in Buckhurst Hill in Essex with offices in Piccadilly, Cowley and Longbridge and a functional link to 20 locations across the UK from Scotland down to the south coast of England.  He was responsible to the systems director, Mike Nichols. John was there during tricky times (!).  There was a total upheaval in the industry, with continual strikes. British Leyland was propped up by the Government after the Ryder Report  that they had commissioned to look at how the company's future should be determined.  "Systems" were put right at the heart of the new organisation which split the company into Leyland Bus and Trucks and Leyland Cars, with each having its own systems office. John was forced to fire his own boss in the new company, and was offered the job of head of Systems for Leyland Cars, but effectively for the whole company.  He was given the weekend to come up with a plan of action, and in the space of a week went from a team of two to having around 1200 people on his team.
He decided the structure of computing and systems needed a total rethink and set up a services organisation within the company with a head of systems for each division: sales and marketing, engineering and manufacturing.  Each division had their own team of systems analysts and programmers. He compared Ford with British Leyland and believed the reason for the latter company's failure was due principally to a lack of skills at all levels. This conclusion resulted in him establishing very significant training and education facilities and plans for the Systems staff.
In the mid-Seventies, skilled systems people and programmers were in short supply, so he had to cope with an almost unmanageable turnover of around 30% p.a..  His solution was to recruit high-quality graduates and set up big training programmes to train systems people. John had come to the conclusion that he would only solve the recruitment and retention issues if the systems activity was set up as a separate company shielded from the difficult 'contamination' of the British Leyland name and the constraints the relationship between the company and the trade unions had forced upon his organisation.  In 1975 John became the IT Director of Leyland Cars and from 1976 began his campaign to set up the separate company.  In 1979 the board accepted the creation of BL Systems, a subsidiary of British Leyland.  The new Chairman, Michael Edwardes was supportive of his plans which had previously met much opposition.
ISTEL
Prime Minister, Margaret Thatcher wanted to privatise British Leyland, and John thought it would be a good idea to change the name of the company in preparation for this.  On 1st January 1980, BL Systems became ISTEL.  It was John's stated intention at that time that by the end of the Eighties 30 per cent of their business would come from outside British Leyland. The reality was that at the end of the decade, around 70 or 80 per cent was from non-British Leyland business.
As part of his organisation, John inherited a  microwave network that went from Birmingham to London via Oxford that a very bright engineer in BMC had set up in the early 1960s, having obtained an exemption from the Post Office monopoly act which gave the power to run telephone networks exclusively to the Post Office.  This extraordinary potential significant asset had never been properly realized but he persuaded the Company Board to let him invest £2 million improving it.  This network became a fantastic internal telephone service and enabled them to begin experimental work on electronic mail and other communications-based IT systems and services.  In parallel, to support the creation of the new major facilities to build the Metro car, John orchestrated the installation of a major high-bandwidth local area network – with 5 or 6 miles of broadband coaxial cable – to link all the mini-computers, major computer systems and onwards to the microwave network.
ISTEL became deeply involved in the liberalisation of telecommunications, including helping with the drafting of legislation for value added networks and working with the first Director General of Oftel.  In about 1982 they produced the first publicly-available email service, called Comet which they sold to a major bank and other companies. The company became involved in new markets. They were one of the two big players in the UK in  electronic data interchange (EDI), and showed that the benefits of this technology could be applied to many industries.  An early adopter, were the white goods manufacturers; ISTEL became the biggest provider of services to the package holiday business.  For the finance industry they became the biggest provider of endowment policy quotation systems, in the days when most mortgages were backed by endowment policies.
John continued to put lots of resource into management development and in the skills to enable them to tap into the new markets based on their manufacturing automation products and value-added networking opportunities.
Employee buyout: John was part of a group of eight, which he called the Octagon group, who planned the employee buyout of ISTEL.  This was always conceived of as an employee buy-out rather than a management buy-out for two reasons.  John and his fellow members of the Octagon group believed that employee ownership of the company would be highly motivating and particularly appropriate for the ISTEL's people. There were also tax benefits to all employees in keeping more than 50 per cent of the equity owned by the employees.  This was potentially difficult because the company was given a notional value of £20 million and it was going to be impossible for them to raise £10 million directly from the employees. John had a series of discussions and negotiations with the development capital departments of the then-key financial institutions including Lloyds, Citibank and Kleinwort Benson – altogether ten major institutions.  They achieved a way of getting the funds together through a mixture of equity and various forms of debt. They raised £2.2 million from the employees directly – an enormous amount of money from their own pockets. Employees funded this partly through mortgages. John himself took out a £90,000 second mortgage on his home which would have bankrupted him if ISTEL had subsequently failed.  He describes the Annual General Meetings of ISTEL as being quite unlike the many other AGMs he has chaired over the years.  They were more like parties, because with the employees owning the company, there was a tremendous sense of camaraderie and morale.  ISTEL continued to invest in very significantly in people and their training and development.
AT&T Acquisition: A couple of years later, ISTEL was acquired by AT&T.  John and his team believed that the state of the economy in the early Nineties was going to be very tough.  The IT industry was in the process of consolidation with many similar companies being sold to the French or Americans.  The resources needed to compete in the field were getting greater.  ISTEL was running nationwide networks, it was time to become part of a global network.  The decision was whether to get access to resources by floating the company, or by finding a partner. John believed that if they floated they would be vulnerable and would then subsequently find themselves – through the operation of the market – owned by a partner not of their choosing. They enlisted Broadview – an American IT M&A organisation to help them find a partner to whom they could offer partnership with the company. Eventually, they were given a shortlist of four companies, including AT&T who were interested in ISTEL because of the computer systems and value added services activities and because, strategically, they wanted to get into Europe.  During the negotiations on the sale to AT&T, Bob Allen, Chairman of AT&T said to John, "If AT&T acquire ISTEL, you must change AT&T, you mustn't let AT&T change you" (!).  They bought the whole equity of ISTEL for £180 million.
Not surprisingly John found it a difficult transition going from "running his own show" as he had since 1980 (and, in many ways, since 1965), to becoming (the only non-American) officer of a $100 billion operation.  He had a budget that had to be approved by AT&T  but they understood much of what was needed to develop ISTEL. John was on Bob Alolen's strategy group that was looking at the future direction of the company. He attended discussions about mergers and acquisitions with major European telecommunications organisations.  He met people running AT&T across the world.  Much of the corporate AT&T to ISTEL communication was done through video conferencing when this technology was very new.  After about a year the company name was changed from ISTEL to AT&T ISTEL.
Times were tough in the telecoms industry as competition was getting greater.  The network control centre established for ISTEL's computer and communications centre is still the AT&T centre for Europe in Redditch. John believes, AT&T were in a stronger position through having acquired ISTEL.  One of John's early ideas was to turn ISTEL into a perpetual buyout machine, allowing young people to build their businesses and help them float them.  This didn't happen at the time, but later some people left the company, taking their business with them, as there were certain parts of ISTEL that did not fit with AT&T.
Every three years or so, there is a get-together of ISTEL people where around 100 or so people will meet up and talk about the old days.  The constant theme in those get-togethers is the level of people development that ISTEL invested in – and that people, even in the 2010s still feel the effect of that.
After ISTEL
John retired as Chairman of ISTEL in 1992 to focus on other things.  He became a director, and then chairman, of Birmingham Midshires building society and Research Machines, the leading provider of computing to education.  RM focused exclusively on education. He took RM through flotation on the main market. He has been involved with quite a few companies (usually as Chairman) since then, including Synstar, Minerva, Infinity and Getmapping.
Mistakes
Occasionally choosing the wrong people.
Achievements
John believes has made a contribution to the development of IT and the way it developed, both in the innovatory use of manufacturing systems in the late 1970s and in communications-based services in the early 1980s.
He also played a part at senior levels in the national IT bodies.  As President of the British Computer Society,  as President of the CSSA (then CSA, now TechUK) and as one of the founder members (and a Past Master) of the Information Technologists Livery Company.
Advice
John believes the vital skills which enabled him to create growing and successful businesses, were the qualities gained from a good education.  It is necessary to be able to absorb issues, communicate clearly, to choose the best path from a range of alternatives and have a real interest in people – recruiting the best and developing them to their maximum.  These characteristics need to be combined with the ability to work well with a vast range of different levels and types of people and should be cultivated by anyone wanting to get ahead in the industry.
Interview Data
Interviewed by: Alan Cane on the 15th January 2016 at the WCIT Hall
Video by: Boardie
Transcribed by: Susan Hutton
Abstracted by: Annabel Davies
Register or login now to view a full transcript and access other associated audio and video files