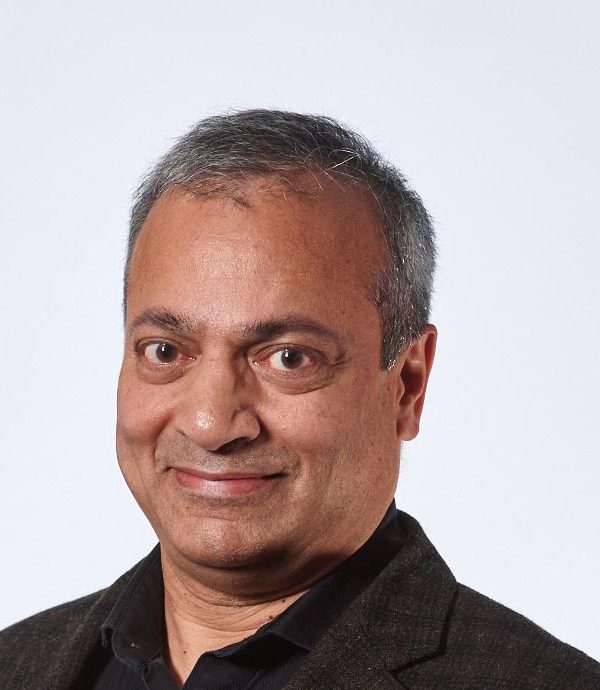 "I've been very lucky that for most of my life people have paid me to do things that I would have done for free if I didn't have to earn money"
Early Life
JP Rangaswami was born in 1957 in a journalistic family in Calcutta. one of his grandfathers was the professor of chemistry at Madras Christian College, and, so there was an academic streak in the family.  JP was brought up in a house with thousands of books and learning became a very natural part of his life because of the culture he was in.  With the family business being journalism, information and printing and publishing, the house he was born in had a very large printing press in the basement
Education
JP went to school and to university with the Jesuits.  He spent fifteen years with the Jesuits which he found a fascinating experience.  He used to get caught climbing into school. He has kept in touch with many of the people he joined primary school with in 1966 and they still meet today
Early Career
JP came to the UK and in 1981 found that there was an American computer company looking for literate and numerate journalists to write international banking systems manuals and reference journals.  At that time, the personal computer hadn't quite turned up so WYSIWYG was not part of publishing.  He had to type into a dumb terminal, with a classic 80-character screen.  This was then coded onto Hollerith cards, and sent for processing.  He had to take the raw text and format it using a generalised text mark-up language.  So, before he learnt anything about coding, he had to learn about markup languages.  He had some basic training, learning ALGOL 68 and FORTRAN 77.  But a lot of the people were using COBOL for their business architectures, and, the ones who were more agile were using Pascal, and he learnt Pascal.
Writing the manuals meant JP was qualified to be someone who would test new systems. This involved writing the test scripts and sometimes salespeople wanted the stuff to work faster so he suddenly found he was not just testing, but fixing things.  That led to building demos and in turn to sales support which meant he was the person who walked around actually demonstrating the system while somebody else did the talking.  From here he found himself in around 1986 becoming a project manager,
implementing systems during Big Bang, when Broadgate was being built. Things were a bit different then, because they had no mobile phones.  He found project management taught him about having to influence, convince or sometimes cajole people into doing what needed to be done. From here he was persuaded that since he had good relationships with, customers, he should go into sales.  Next designing systems became important, because he knew something about the market in-depth.  And suddenly after a fifteen-year journey of going from writing manuals to designing systems for banks, JP found himself working for one.
Banking
JP started as a consultant brought in to prepare for things like the euro and Y2K.  Then he joined Kleinwort Benson as a program director and started running what they call death mount projects – because nobody wanted to do them. They were big, grinding compliance programs.  But they meant he got to know everybody, knew the systems estate, knew every single piece of kit in the bank. He knew something about the contracts that underpinned those services, the licensing, the architecture, the dataflows.  He spent ten years there.
BT
JP left banking for a time because he wanted to understand more about cloud services, understand the Web in its depth, more so than he had learnt in the previous fifteen years.  He joined BT, staying for four and a half years and becoming Chief Scientist there before he left.  He could see that whereas communications and telephony had been separate from computing in the Sixties they were now coming back together.  And that convergence was at the heart of what he was coming to see as the Web and he wanted to understand more about that.
Deutsche Bank
JP is currently Chief Data Officer at Deutsche Bank and explains that the lifeblood of what happens in a bank is data.  All transactions are basically a transfer of data – account number, sort code, amount etc. – from a source to a destination or object.  He must make sure that the journey of data from the source to the object is protected, is pure.  If there are privacy issues or confidentiality issues, making sure that only the people who have the entitlement to touch this or see this are the ones who can.  If encryption is requited, making sure that it's done to the right level.
There are regulators who want to know that things are being reported accurately.  Where did this come from?  How do I know you didn't change it?  Where is it going?  How do I know that you've added this up right?  If you imagine what a bank does, it doesn't make anything in physical terms; it has customers, and it has some capabilities, and it provides things to those customers using those capabilities. And all of it is reflected in data.
JP thinks that although the chief data officer role may sound new, the reality is that as more and more people get connected, as we live in a hyper-connected world, the amount of data that we are generating is huge and it requires new disciplines to be able to manage it, to archive it, to make sure data protection is carried out, to make sure that financial crime, fraud, are correctly prevented, to make sure cyber security is right, etc.
Academia
JP is an Adjunct Professor of Electronics and Computer Science at Southampton University.  He has met some of the doctoral candidates, and been able to see the projects and get the chance to be able to speak to them at scale.  He has a deep belief in Web science.  He feels we have real challenges to do with energy, with water, with nutrition.  And, all that's happening at a time when, for whatever reason we are seeing some pushback against globalisation, and, these problems are global and need collaboration. He thinks that the Web and Web science and taking the emotion out of it, learning how to study data, to have dispassionate scientific evidence for being able to do things, to base decisions on evidence, becomes very important.  And we are having to do that with much larger quantitative data than we have ever done, spanning cultures and time zones, with very different political overtones and undertones.  A data scientist now has to become a Web scientist in many ways, learning about privacy, about confidentiality, data protection, about law, about usage and so much more.  He feels that when you want to study what humanity is doing, as the social sciences become capable of generating data that are worth studying, we can start applying scientific methods to a much wider array of data and that's what Web science is set up to do.  So, JP's interest in Web science led him to start getting involved with the University of Southampton.
Mentors
JP feels his mentors have been almost entirely informal.  His first mentor was his prefect of discipline at school, Father Camille Bouche.  He taught him how to lose.  And it was important because there was a sense of his being the blue-eyed boy up until then.  He would have tears in his eyes in just coming second or being challenged about anything.  And, accepting that it's OK not to win, and that it's OK not to be right, to be wrong and to accept you are wrong, and to learn is a great thing.
One of his other mentors, although she may not even always know she's been a mentor, is a woman, named Esther Dyson.  She had this lovely typed line in her emails, 'Always make new mistakes.'  So, moving from learning to lose, to accepting making mistakes is OK.  It's repeating mistakes that's not.
He took away three lessons from the collection of great bosses he has had.  One is, understand your own limitations, you don't have to excel at everything.  Working in a team, if you understand your strengths and your limitations, then you start getting people who complement you, rather than compete with you.
The second is learning from that, that good people meant that they had to be better than you at what you did, and this idea that you learn from the people you hire, made the whole idea of coaching and mentoring and leading very different
And, the third element, which was a harder lesson to learn, was prioritisation and focus.  Because he was energetic, enthusiastic and optimistic it was very easy for him to get lost.  He could be very, very busy achieving not much.  He had to learn to be simple about prioritisation and focus, to not try to do too many things.
Advice
JP has three main pieces of advice.  First, come in as a learner, knowing that change is a constant in the industry, and that you are going to have to keep learning.
The second is, when you do anything, think about whom you are empowering, which disenfranchised community you are releasing into franchise.  Because, if through acknowledging information technology we are not empowering people, then, we shouldn't be doing it.
And the third is, believe in the power of community in doing it.  The greatest inventions and innovations have happened because people have collaborated.  Sometimes they've competed, but they have done that in community.
Interview Data
Interviewed by: Kerri Mansfield on the 5th July 2017 at the WCIT Hall
Transcribed by: Susan Hutton
Abstracted by: Helen Carter
Register or login now to view a full transcript and access other associated audio and video files