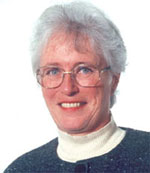 Judith's advice to someone entering the IT industry today would be "Enjoy it".  She feels she "was very lucky to be at the beginning of this where everything was to be done.  But I think there are still a lot of areas of computing."
Early Life
Judith Scott was born in 1942 in Altrincham, Cheshire.  Her mother was a dietician but worked as a schoolteacher and her father was a doctor, coming from a family of medics.  Although he wanted her to have a career, he did not pressurise her to do medicine which was at the time a difficult choice for women.  After qualification in 1939 he joined RAMC for the duration of the war.  At the end of the war he took a post in Malawi, where part of Judith's early life was spent, including her first three years of schooling.  She remembers Malawi as a beautiful and relatively undeveloped place.  Her two younger brothers were born there.
Education
In 1949 the family returned to the UK when she was seven so that she could continue her schooling without having to be sent away from home.  They settled in Braintree in Essex and her father practised as a GP, the surgery occupying part of their house.  She attended a rather primitive primary school of two large classes run back to back in the village hall, but nevertheless managed to pass her 11 plus.  Due to under-provision by the County Council she took up a part funded place at a private school in Clacton instead of travelling to a grammar school in Colchester.  She took both O and A levels there, choosing maths, physics and chemistry over classics on the basis that she could always study classics independently.  She had a very good maths teacher although, being the only one doing A level maths, she felt a little isolated at times.
In 1961 she took up a place at the University of St Andrews to study Pure Maths.  She had struggled to get into University:  there were fewer science places than arts at the time, maths was heavily oversubscribed, and she was turned down by Nottingham on the basis that they needed to give the places to those most likely to use their degrees.  She thoroughly enjoyed St Andrews: its relatively small size worked well both academically and socially.  While there she got her first taste of computing and although this was not part of her formal degree the experience definitely shaped her thoughts about her career.
Judith got a good degree from St Andrews and went on to do a postgraduate computing diploma at Cambridge where she came into contact with pioneers like Roger Needham and Maurice Wilkes.  At the time EDSAC, the first Cambridge computer (which had serviced the university since the mid-50s) was due to be replaced.  The replacement was delayed and there was no software.  So, people like David Hartley and David Baron in the Maths lab had to write it.  As a result, she was there for the swansong of EDSAC and the introduction of the new computing system, which was a fascinating process to be involved in. She knew by this time that she wanted to be a software engineer.
From Cambridge to Canada
Although the Cambridge computing diploma course was egalitarian, with equal numbers of men and women, when it came to applying for jobs, British companies offered women half the salary of the men, so Judith went abroad, accepting a much better paid post in Canada. Others also took foreign posts, forming part of the sixties brain drain.  She thinks that it is disappointing that even a new industry inherited all the workplace prejudices of its predecessors.   Although Harold Wilson talked about the "white hot heat of technology", she feels that he could have done more to develop the underpinning infrastructure.  Instead they allowed the Americans to take it over.
Judith's first job was as a software engineer for Computing Devices of Canada in defence electronics systems.  She particularly enjoyed working at the interface of electronics and software.   At the time they were working on a NORAD (joint US-Canada defence) project.  However, the US government changed the rules part way and it became evident that non-Canadian citizens would never be engaged in the core development work.  Defence work then moved into a more fallow period and she decided to leave.
From Computel to Gandalf
Judith joined a group of people setting up what would become a service bureau, to provide access to large computing facilities for customers who could not afford to develop their own.  They were financed by a pension company: in North America the financing model spread the investment base widely.  She felt this was superior to the UK where there is misplaced emphasis on backing winners.  The work involved developing algorithms and protocols for remote communications. She worked on designing things like data communication software, multiplexers and routers, which were all new.  Telecommunications systems were relatively primitive at the time and the companies were also highly protective of their infrastructure.   As the first country to put up domestic communications satellites Canada was also an ideal environment for high tech start-ups.  The company serviced a wide range of customers, from clearing services for banks to computations for satellite launches, including the complex calculations for orbits.  She became Research Director after a couple of years there, eventually leading a team of about 20.  She regrets that none of them were women: sadly, no women applied.  She considers that the things she learned at Cambridge about project planning and coordinating different elements helped her in this role.
As time went on it became apparent that general purpose computer service bureaus could not survive the increasing availability of computing power, so the next stage was to shift the business to a specialised one.  She helped merge the organisation with a company specialising in seismic data for oil and gas exploration, a high value industry.
She was married with children by this point and observes that combining full time employment and childcare, while never easy, had been feasible, perhaps because start up can be more flexible than a large corporate, and because the company needed her to stay, they had helped make it work for her.
Gandalf Data Ltd
Judith moved to Gandalf in 1979 as Market Research Director.  She brought an understanding of how communications devices were actually used.  The company developed data communications equipment for digital networks, supplying devices from modems to multiplexers.  They dealt with the people developing things like ISDN and ARPA networks. She retained a close interest in technology throughout her time there. She observes that Canada was a real hub for data communications at the time, with both government and Bell Northern Research having labs in Ottawa. There were about 200 high tech companies in the city at the time and she was involved in developing industry standards for document exchange. She worked closely with the CEO, developing long range corporate planning strategies which gave her an insight into the dynamics of business growth.
She applied for, and somewhat to her surprise was appointed, Managing Director of Gandalf's UK subsidiary.  The family migrated back to the UK, something that she found very challenging at the time.   She had to handle resentment in the UK company due to a perceived loss of autonomy, she had to build her networks again from scratch and to adapt to a less egalitarian culture.  Over time her area expanded as the business grew and eventually she was looking after the global operation outside North America.
She remained on the Executive Board in Canada.  The company also had a US subsidiary that was performing badly, consuming the profits that were being made in Europe, but the Canadians were reluctant to deal with the US operation.  She knew that the capital being squandered in the US was needed to enable the company to change its direction and move into new growth areas like web development.  Instead they remained focused on manufacturing, meeting immediate customer demands.  It would have taken courage and capital to move out of that comfort zone.   So in 1995 she decided to move on.
British Computer Society
Judith had been a long-term member of the BCS.  She became Chief Executive in 1995, when the organisation was recovering from some financial difficulties.  Her first actions were to renegotiate a publishing arrangement with the OUP that was not working for either party and to think strategically about the future role of professional bodies, in particular how the BCS would best fit alongside fellow organisations like the IET (then the IEE).   She focused on improving the support for degrees and upgraded post professional qualifications.  Although there were staff to deliver the activities she ensured that the members were fully engaged in content development because the knowledge and expertise was held within the membership.  She professionalised the delivery mechanisms across the board and also delivered some short term but high-profile successes like the European Computer Driving Licence.  In seven years, revenues grew from £4m to £14M, without any capital injection.   She is particularly proud of professionalising those post professional qualifications, a move that was financially successful and raised the Society's academic standing and also clearly met the test of providing public good.
Life After Work
Judith retired from the BCS in 2002 but has remained active, for instance serving for several years on the Council of  the Particle Physics and Astronomy Research Council (PPARC) which amongst a number of major projects funded UK contributions to CERN and university research  in particle physics. She spent 10 years on the Council for Reading University  of which four years were as vice chair, where she helped to inform and direct their research strategy.
Women in IT
In terms of her views on encouraging women into IT, she is not in favour of positive discrimination, and has tended to get on with her job without thinking about being a woman. However, there were some memorable moments: once on her return to the UK she was the only women at a dinner at the IoD where 120 leaders of industry were hosted by the Canadian High Commission.  Another time in Japan visiting the Matsushita research labs her hosts kept asking the interpreter why they should be answering questions from women.
Reflections
When questioned about the things that have contributed to her success, she thinks that a general willingness to be flexible, to think about direction of travel and be proactive about it have been useful.  Recognising (and acting on) the implications of technological change is important too – for example when storage became plentiful and cheap it there was no longer any point in investing in optimisation.  In terms of her achievements she is particularly proud of the role she played in the development of data communications technology and standards, which provided the basis for those that are still used today.   The one thing she probably would not do again is emigrate twice.
The Future
In terms of the future, she feels that the biggest challenges and opportunities are likely to be on the ethics around new technology developments like Artificial Intelligence.  How AI is used will drive the next big societal change, and few of the pioneers like Tim Berners Lee will have foreseen the ubiquity of the web or the ways in which it is, and will be, used.  She fears that people will always find ways to corrupt and misuse technologies like AI, and that as a result it poses more fundamental risks than other developments.    Her advice to those entering the industry today is to enjoy it, but to remain mindful of those wider ethical issue that are inevitably associated with technology.
Interview Data
Interviewed by: Ian Symonds on the 11th December 2018 at the WCIT Hall
Transcribed by: Susan Nicholls
Abstracted by: Emma Fryer
Register or login now to view a full transcript and access other associated audio and video files