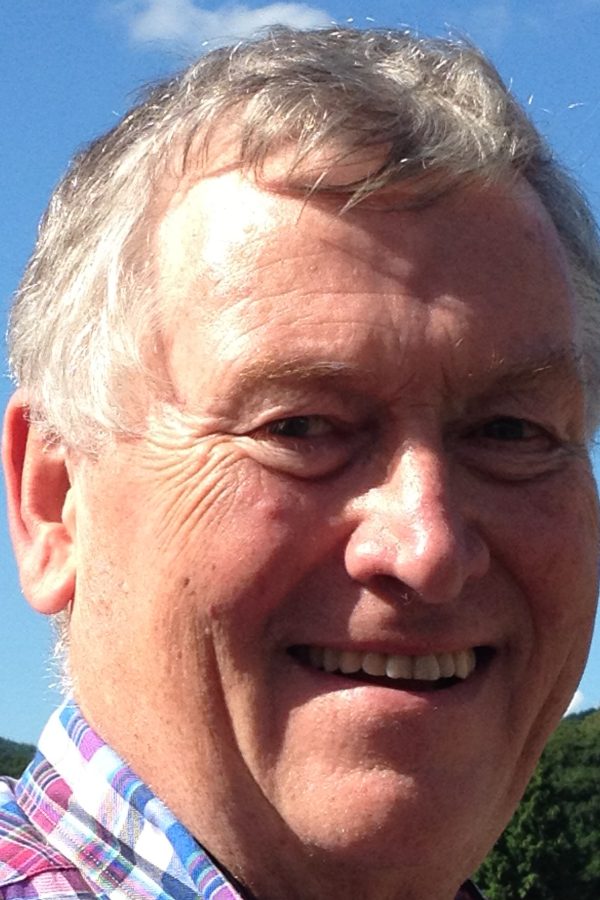 Dr Keith Burgess OBE was born in Merthyr Tydfil, where education was the way to escape the waiting shovel and the route out of the valleys. 
Arthur Andersen, and their subsequent brands, revolutionised the industry approach to IT-based change and, in 30 years with the consultants Keith developed their approach to "business integration."  He became responsible for Andersen's outsourcing and other offerings worldwide and observes that a key to a successful consultancy business is the culture.
He helped to implement public-and private-sector IT systems and has clear views about what drives success and failure.  He is concerned that the UK may not have the IT integration skills it needs for the future. 
Early Life
Keith Burgess was born in Merthyr Tydfil and grew up in Bargoed, a Welsh valley mining town. His parents kept a public house. His grandfather was a baker in the early 1900s, then took over as steward of a local working man's club and after WW1 running of a local pub.

Keith's father left school at twelve in 1916 to "earn a living" working underground while his father was in the trenches. Keith says: "Somehow between the age of twelve and his early twenties my father qualified as an electrical engineer, doing night school/day release, and was then responsible for all the power plant on a colliery. He came up with a remarkable phrase that 'he fell out with the powers that be', which must have been the Power Duffryn company which owned the mines in South Wales. He never expanded on what falling out entailed, but he couldn't get a job in the early thirties which is why he followed his father and kept a pub in Bargoed.

Keith's mother was a qualified nurse. "Her father died of pneumoconiosis, miner's lung, in the early forties, a few months later after her mother had passed away.  My maternal grandfather didn't work after the General Strike in 1926, and the household was kept together by my maternal grandmother, who did dressmaking.  It is amazing was that my mother was sent to the local grammar school despite their undoubted poverty. She left school to train to be a nurse, qualified as a State Registered Nurse (SRN), and a State Certified Midwife. At the time of marrying my father she was a theatre sister in a major hospital. She gave up her career when I was born and helped my father run the pub."

Growing up in the atmosphere of the family pub meant that Keith, although an only child, never felt isolated, being exposed to all sorts of people from the surrounding area from miners to local MPs and councillors.
Education
Keith says of his education: "The thing that I was told by my father from a very early age was, 'You had better pass your exams because there's a shovel waiting for you to go underground if you don't.'  Being a big bloke, I realised there was no room for me underground, so I had better pass the exams, which I did. My parents were very concerned to keep on pushing in that regard, and if I fell behind in any particular subject my father used to go rushing around to find somebody who could give me tuition so I could catch up. Education in the Valleys of South Wales was seen as the way out."

Having passed his eleven-plus, in 1957 Keith went to Lewis School, in Pengam, a boys only school which was founded in 1729 when money was left by Lewis to educate ten poor boys. The school thrived and grew in stature to become one of the premier Welsh grammar schools. Keith says: "It had quite a large geographical reach and it peeled off the top Eleven Plus passers from across the Valleys. Ninety of us started each year in the school."

 Keith elected to study Latin, physics, chemistry and biology alongside the compulsory subjects of English Language and Literature, French and maths, at O level. He went on to study applied maths, pure maths, physics and chemistry at A level.  He says of his choice to study two types of maths: "It just came with the package; physics, chemistry and the maths. You had to do it if you wanted to do physics which I was good. A large part of my life has been to take the next obvious step; I was good at physics, I enjoyed doing it, and so, the next step was to go to university and study it.  The decision was as simple as that."

Despite being offered a place at St John's Cambridge for the following year, Keith decided to go to the University of Bristol in 1964 rather than wait a year. He says: "My school were very keen Oxbridge as the success of grammar schools was measured by the number of Oxbridge entrants you had, but I was keen on getting on with life, I wasn't going to turn down going to Bristol to go to an Oxbridge college twelve months later"

Keith says he was a typical student, enjoying his friends, the bar and doing 'a bit of work,' Having completed his physic degree, Keith remained in Bristol to study for his PhD, also in physics.

During his PhD, Keith, despite his love of rugby, joined an anti-apartheid demonstration against the South African Springboks in '68.  He also demonstrated when the University of Bristol wanted to make the Duke of Beaufort Chancellor. He explains: "It didn't seem to me that in the white heat of Harold Wilson' s technological revolution we were supposedly having at the back end of the sixties that the right thing for a university was to take a duke with his inherited titles." He continues: "The Senate House was of course occupied by some group, that's what many student groups did at that stage, but I wasn't part of it; I spent my time in the physics lab.  The University decide to have a review of its communications and I ended up on that committee as a representative of the postgraduates. It certainly gave me something to talk about when I was looking for my next job which would have been better than the little I had to talk about at the end of my undergraduate years."

While studying for his PhD Keith says he learned something that would become the guiding principle of his career, he explains: "I learned that what you don't understand would eventually come back and bite you on the backside. It would therefore be a good idea to sit down and try and understand things. You may not instantly understand it, it may take you six months or twelve months to understand it, but you ought to try to make sure you understood it or at least had a good working hypothesis. That was quite an important principle and something which guided me through all my career."

The only computer Keith had used during his education was during his PhD, it was a Hewlett-Packard desktop machine restricted I think to 196 steps. This he used to do some calculations.
Arthur Andersen
In 1970, having completed his PhD, Keith joined Arthur Andersen a move that came after going on a week's course at the end of his penultimate PhD year to learn about business and potential careers. He says: "The sessions were led by Charles Handy, there couldn't have been a better man than that to do it, and a number of the tutors were Harvard MBAs.  From the discussions, I realised that a life spent doing physics and in physics labs wasn't exactly going to turn me on, whereas this funny thing called management consultancy might. I thought problem-solving, explaining ideas and communicating them would be more in my line.  I applied to a few of the firms that I had heard about from the tutors on the course and ended up in the Administrative Services Division of Arthur Andersen and Co. based in London."

He joined when the company comprised just sixty to seventy people.  He says: "On my second day I was told I was in the Operations Research Group. The partner in charge of that group told me that I was surplus to his requirements, which I thought wasn't a particularly fine welcome, but nevertheless, one had to get on with it. Business was hard to acquire, and I was hanging around for about nine months before I got on my first client assignment: thereafter, I never stopped."

Keith says of the culture at that time had developed over the years, A lot of heavy training to get us up to the mark; thoroughness, proper documentation, structure, planning, all very much inherited from the accounting side of the business."

Andersen's competition was mainly but not exclusively other accounting firms. None of them had a focus on IT in the same way that Andersen did. He adds: "Andersen believed it had built the first business computer system in 1953, it was an accounting system for the General Dynamics company.  So, the culture in the Administrative Services Division, had an underpinning of information technology. We were supported by the knowledge and experience that people had accumulated in what they called the EDP binders (electronic data processing).  The main thing I remember was a checklist you had which featured the question: 'Are you pioneering?', with the implication that if you were pioneering, you were wrong. That was something that I never followed.  My guiding light to myself, and to the people who worked with me, is that if you are doing the same as you have done previously then you're out of date. You need to keep pushing the boundaries as much as you could."

During the nine months of waiting to get his first client, Keith learned to write programs in PLAN, the assembler language for the ICL1900 range and FORTRAN. He says of the experience: "It was all punch card systems, and that was good. I learnt a few things like be careful what you write, one mistake can take a long time to sort out. After a few months I was sent to Chicago for a basic systems school in a newly acquired training centre. This was essentially a three-week boot camp intended to see if you could take the pressure.  These days that's not the way people approach it, but in then you worked late, overnight if necessary to get the presentations done by the next morning.  I'm still somewhat sympathetic to that approach, particularly since I survived it. It equipped me with a basic knowledge of systems and planning and equipped me for my first job."

Keith found himself at the Department of Health which was setting up an operations research unit and needed someone to write a simulation program to explore running community outpatients' facilities.  Keith says: "I actually found that the simulation was not the way to go.  It was much easier to focus on the questions and to do some sums to work out the answer."

His second job was for the Home Office. He says: "It was documenting a criminal intelligence system written in PLAN.  Somebody had written this thing, and nobody knew what was in the program. I was given piles of PLAN programs to try and work out what was happening.  It was difficult, but I did it."

After working for the Home Office, Keith did some more health operations research, including a study into the consequences of a new policy for treating the mentally ill and a project on the viability of community hospitals.

After this, as Keith was progressing from staff to senior manager through the regimented corporate structure, he was given the job of leading a project for the Department of Industry. The project was concerned with helping them keep budgetary control. He says: "that was the first significant large IT project in which I was involved." This was followed by a similar project at the Treasury though the complexity was much greater because of the multiplicity of control systems in use there.

A critical lesson Keith learned working at Andersen was that "if you didn't do good work for a client you didn't get hired again. The better the work you did, the more work you had."

In 1975, Keith was promoted to a manager, he says of his management style: "It's changed over the years.  I'm quite comfortable debating points with people.  That doesn't mean it's always been well-accepted. but if some piece of work came to me to be reviewed, if I found weaknesses, flaws or errors I would be like water going into the foundations of a dam. I would follow through aggressively. At times people think I'm being a control freak; that isn't the case. I'm quite prepared to let people get on with it, but if they're getting it wrong, then I'm going to dive in to get it right.

"Later on in my career, I had a mentor who said 'Keith, you don't need to be the brightest kid on the block anymore, you've proved that.  Your job is to bring on the next generation.' I took that very much to heart. People thought I had mellowed as a result of my wife having a brain haemorrhage and the 24×7 caring duties this brought but he adds: "That wasn't the case. It was much more a responsibility to keep building the company, to bring on the next generation.  Partners had a sense of stewardship. The company was there for the long term, we were just passing through. Our job was to make it bigger and better as we passed through."
Managing Partner
After successfully leading a project to install control systems for British Gas' major endeavour building a national gas grid and for a private sector construction and housebuilding company in 1980, he was made a partner, and then elected as Managing Partner of the UK business in 1988. He explains: "As managing partner I took over the leadership of the UK, which I did until 1994 when I took worldwide responsibilities for developing our skills and our training. I did that until 1997 when I took over the running of outsourcing worldwide and a number of the start-up businesses."
Between 1988 – 1994 Andersen was accelerating in growth and power. Keith talks about the work he did during this time and the changes he saw. He says: "For most of the eighties I lead the work supporting the Department of Social Security's Operational Strategy rebuilding the social security benefit systems. This was considered to be the largest civil IT project up to that time. At its peak there were several hundred Andersen personnel gathered from around the world working on the projects. Something that would not have been efficient or effective if we had not shared the same training and methodologies.
In the early nineties we established an outsourcing practice which spread to Andersen practices worldwide. I was given oversight of our practices in India and Saudi Arabis and asked to lay the foundations for a Russian practice. In Russia our first project conducted with the support of the UK government was improving the supply of bread to Russian shops with a view to eliminating the queues which regularly built up. A number of friendships between Andersen Staff and our Russian support staff were made on this project. One staff member moved to Moscow and set up business there and a 15th anniversary party was held in Moscow with some team members and the Russians with whom we worked.
When I became managing partner, I had to focus over a wide range of projects and to give support to the partners. Highly motivated alpha performers can get very stressed if their projects run into difficulties. An important part of my job was to let them know that "no one dies" and that I, and the resources of the organisation, were behind them. In my view problems rose to the top and management vengeance was not taken for making mistakes.
We were a very profitable business and while there was a recession about, we never fired anybody as a result of the recession.  At that time, we felt that our capabilities and achievements were a big secret, so I focused more time on a public relations programme than hitherto. It was also the time we brought in advertising in the UK and later connected with a worldwide programme."
Keith goes on to describe the organic growth of the company while he was there, saying: "We started off by only recruiting people at the junior level and bringing them through the organisation. In the latter part of the eighties, we considered whether we would bring in experienced hires being concerned about what it would do to the culture. A few were hired: one or two were successes and others were failures.  But we needed to broaden our hiring to feed the growth of new service lines, for example outsourcing, and in technologies where we were light. We did one small takeover, a specialist engineering consultant company, in the early nineties, but generally we felt we could do better by just growing ourselves, rather than bringing in some 'alien' culture which would take management time and effort to assimilate. "
"Experience subsequently has shown that it takes a hell of a long time to change the culture of another organisation, particularly if you are trying to turn it around operationally. It's not an overnight job and can take three, four, five years., and some may argue it's never done. If you sling together companies with remarkably different cultures, ways of working and different views of disciplines it's a big challenge. Incompatible cultures have been the cause of a number of the major business crashes over the past years"
Despite competition from the likes of IBM and Fujitsu among others during the nineties, Keith says that Andersen Consulting as it had then become, prospered. Having started out in the seventies thinking of single assignments in the eighties the culture turned to building lasting client relationships. Additionally, I and others realised at the time that just doing IT, albeit called systems integration, was not producing business success at the end of the day. In a strategy session around 1989 I proposed that we were looking not only for systems integration, but for "business integration", and that meant getting the strategy, the people side of the organisation, the processes it followed, and the technology, aligned with each other.
The business integration view changed the shape and direction of the business. It became our core business model.  I was, perhaps kindly, given a lot of the credit for coming up with that view. It certainly ensured that the business stayed relevant in the business world. As a consequence, in the middle nineties I was given the overall responsibility for leading the development of the skills and knowledge in each of the service lines and for creating a methodology for the whole practice that integrated them all.
Keith says that he never felt the urge to set up his own consultancy because of his strong sense of partnership. He adds: "I think as a collective we were stronger than we would have been as individuals.  We had an approach that worked for training and developing our people, and a methodology for business integration both of which required scale to achieve.  I recognised that the structure around me made me bigger and better than I would otherwise have been. Those who didn't quite recognise that and thought it was solely them, weren't quite so successful. I think it was recognising in the partnership we were joined together to achieve success. It was a worldwide partnership. Legally we were partnerships in each of the separate countries in which we did business but collectively we believed and operated as an integrated worldwide operation."
In 2000, Arthur Andersen (the accountants) and Andersen Consulting split with Andersen Consulting changing its name to Accenture. The move came after independent arbitration. Keith explains: "During the latter part of the nineties, about a third of my time was spent as part of a very small team negotiating with Arthur Andersen to explore whether we could go forward together. We were very profitable; the auditing and tax side weren't as profitable. Profits were shared worldwide.  The accountants had a natural franchise, but it wasn't quite as profitable as the consulting business and that made them very uneasy. We became uncomfortable bedfellows, so the latter half of the nineties was spent attempting to negotiate an arrangement for staying together. That proved impossible and binding arbitration led to the split."
Asked why Accenture became a public company, Keith adds: "I don't think most of us who were senior management during the end of nineties would have gone down the public company route. We certainly did not need capital as we were very cash generative. The IT boom of the late nineties put stars into people's eyes. I certainly didn't think going public was a great idea."
"Once the arbitration was well under way the worldwide CEO resigned. Potentially I could have been his successor, but I never played my politics well enough for that. When the king changes the courtiers change. So, in 2000 after 30 years with the Andersen organisation, I resigned"
Life after Andersen
After leaving Accenture, Keith went on to be CEO at a small IT training consultancy where he stayed for six years trying to make it profitable. That did not prove possible, so it was sold in a way that kept most of the employment. While doing this he took on two non-executive position and was vice chairman of a Public Sector Productivity Panel set up by the government and operating out of the Treasury. He was awarded an OBE in 2005 for public services. When making the award the Queen asked for what it was being given. Keith replied "Giving management wisdom to Treasury officials"  "That must be very difficult" replied the Queen.

He then joined the executive board of BearingPoint, an offshoot of the US KPMG firm.  It had been floated off from the accounting firm and then brought in parts of the French and Scandinavian practices of the then defunct Arthur Andersen and put them with the former KPMG German consulting practice to form its European business.

Keith joined as European chairman and worked with the German CEO to bring together different European cultures from different organisations together.  He says: "We made some progress.  The challenges were to get the Germans to be innovative and to think beyond installing SAP: the French to think about profitability not only market position while the Scandinavians did not want to be part of the European business at all. It was a foretaste of Brexit." Keith worked with them until illness forced him to stop. Once recovered, he continued with some non-executive work with them until 2009.

After a few years hiatus when he did Open University courses that interested him Keith returned to non-executive activity as a Crown Representative where he provided advice to a major Government outsourcing supplier to improve their operations and to government departments on obtaining value for money. This episode closed with him serving as a non-executive on the DWP's Digital Advisory Committee.
Public Sector IT projects
Asked why the UK appears to have difficulty creating successful public sector IT projects, he says there is no simple or single answer, but he points to two contributors.

Firstly, is complexity. Government systems are inevitably complex and new policies or political initiatives tend to add to the complexity. IT is generally kept far distant from policy makers and operations and usually does not feel positioned or qualified to argue for simplicity. Secondly is overstaffing with individuals who have had experience of maintaining the old rather than writing the new. Approaching projects with much smaller groups of high-powered individuals would lead to much greater success.

"Although my view these days is a distant view, I am concerned as to whether our systems integration capabilities in the UK which should be a strategic asset are good enough.  Our capabilities seem not to be getting better and the private sector suppliers are moving towards making the mistakes that I identify in government."
On Y2K
Asked if Y2K was a money-making exercise by consultants, Keith says: "I don't think there was any particularly large sum of money made out of these Y2K issues. Not by Accenture/Andersen Consulting.  At the time, that work was best done by low-cost suppliers including many offshore."
Mistakes
Have there been errors?  Have there been problems on the way?  Yes.  Have some projects been more successful than others?  Certainly. Some projects have been grim, but we dug our way out of most of those. As a partnership, this was easier to do than a public company. If we were in trouble, we could throw money and resources at the problem to fix it. It would never occur to us to walk away. We may have got it wrong but were going to see it through.  So, what business mistakes did I make?  Thankfully, not many.  Personal mistakes?  A whole pile of them but that's a different issue."
Interview Data
Interviewed by: Richard Sharpe
Transcribed by: Susan Hutton
Abstracted by: Lynda Feeley
Register or login now to view a full transcript and access other associated audio and video files