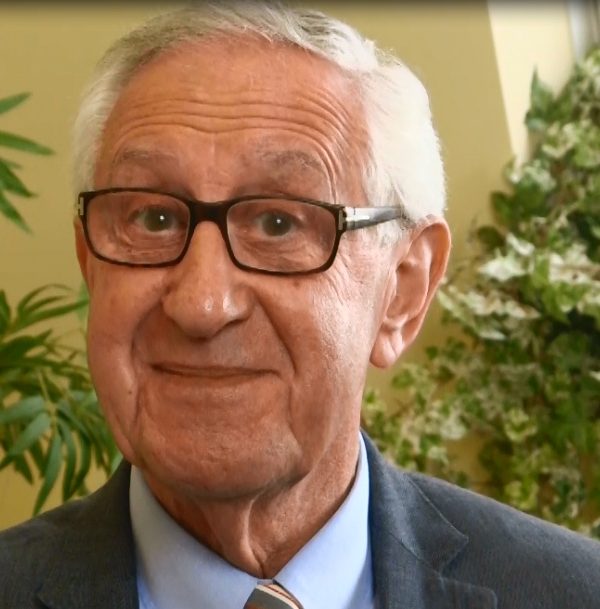 "I am very proud of having formed one of the very first software companies in this country and indeed seeing it become become one of the largest software companies in Europe with offices throughout the whole of the European continent and Scandinavia"
Early Life
Kenneth was born in 1933, in Oxford, the son of a hard boiled sweet maker and a housewife.  He was the youngest of four boys. His father was wounded in the First World War, during the Battle of the Somme. After returning home to recover, he was commissioned and ended the war as a lieutenant or captain, returning to sugar boiling. Ken says his father taught him to be self-reliant, but he also wanted to achieve more than his parents had done. His eldest brother shared his entrepreneurial spirit. Ken believes his mother taught him the fundamental skills need for computer programming through encouraging him to learn to solve jigsaw puzzles.
Education
Ken attended East Oxford Primary school between 1938 and 1945. He says the war had little impact on him as Oxford was not bombed. After passing the 11 Plus examination he went to Magdalen College School in Oxford which at that time was a direct grant school. Ken was one of the top twelve Eleven Plus scholarship boys in his year group from Oxford. He studied physics, pure maths and applied maths for A' Level – he loved problem solving – leaving in 1952.
He was not able to go to university since it was beyond his parents financial means. He enrolled with the University of London on an external degree course, studying physics and mathematics. This required attending night classes most days of the week and one day a week at college. But Ken was already married with one child and he found that after working every day, trying to study was a great strain and as a result, failed his finals. However, he does not believe the lack of a degree has had any negative impact on his subsequent career.
Ken had hoped to join the RAF for his National Service, as they were offering scholarships to Cambridge, provided you rejoined them for several years after university. He passed the Selection Board, but was found to be deaf in his left ear, so they rejected him.  He was sent to an artillery battery in Germany and whilst there, worked out a more efficient solution to calculating the location of enemy guns.
Early Career
Kenneth began his career in 1954 working for EMI Electronics in Hayes, Middlesex, following National Service in the Army.  A short training programme led him to their fledgling computer department in 1955.  His job was to develop the wire-wound delay lines for the quick access registers of the EMI pilot model computer. The pilot model was developed by Ron Clayden.  It was a copy of the ACE (Automatic Computing Engine) pilot model machine that both Ron and his brother, Tubby Clayden had worked on at the National Physical Laboratory.  Alan Turing was involved in the original design of ACE. At EMI were a group of engineers who were trying to turn Boolean logic into reality through electronics. There was no plan for applications for the machine and only one was built. Ken quickly learned how to write programs for the machine. He describes sitting at the machine with two rows of 36-bit switches and entering programs in binary. In the 1950s the machines often only had functions for add and subtract, so he had to write programs for multiplication and division.
ICT
In 1959 Ken moved to ICT in Stevenage as a software programmer. He worked with a small team writing programs for the ICT 1301. ICT needed a high level language for this machine and Ken became team leader of a group writing a compiler for the language called the 1301 Assembly System. It was an English language type program, written on paper with punch card input and output. The ICT 1301 was sold throughout Europe to banks and many other commercial and government organisations.
 In 1962 ICT made a deal with the American company RCA to sell one of their machines, which was re-designated under the ICT brand for the UK market. Ken was sent in to work near Philadelphia in the USA on a 3 month secondment with the software team developing a COBOL compiler. On his return he was placed in charge of a small commercial group at the now ICL head office in Putney, writing commercial programs. ICL normally sold or leased a computer to a user and Ken's team would be engaged in writing applications for the end user. The programs were normally written in machine code.
SPL
Whilst still at ICL, Ken was invited to write a program that would determine the levy of toll to be charged for travelling over the Forth Road Bridge in Edinburgh. He did this as a private contract. Alan Benjamin and Jim Holding, who had both worked for ICL but who were now both working for a company called ISIS, asked him if he would leave and set up a company.  Ken knew he had nothing to lose as "if it failed I could get a job anywhere".
Systems Programming Limited began as a result.  The company's first client was the University of London and the initial contract the new company had was to solve a problem the University was having in processing 'O' and 'A' Level examination results on their ICL 1301.  They quickly solved their difficulties and SPL grew rapidly through word of mouth.  Ken had started the company with 3 programmers from ICL but within 6 months the company had grown to 19 people. They wrote generalised software in machine code for various utility and other commercial companies using ICL computers. With the rapid growth of SPL, Alan Benjamin left ISIS and joined as finance director.  Ken's role was building the company, winning new business and getting the right people to do the work.
SPL was started with £400 from Alan Benjamin and Jim Holding.  After 6 months, Ken bought them out paying some £6000 for their shares. The business was growing rapidly and they soon needed  additional capital. A private Manchester based bank, Knowsley and Company, took an equity stake of around £25,000 and gave them access to loan capital.  They were now writing software for other manufacturers machines, from mainframes down to small computers.  Within two years SPL had 150 people on the payroll and offices in many European countries.  As well as providing software solutions, expertise was hired out under contract.  The overseas regional offices were largely self-funding.
In 1970, SPL was approached for a buyout. There was interest from four or five companies and eventually they were sold for £1 Million to Simon Engineering, a Manchester based company that produced equipment for making cardboard boxes. They wanted a software company to help them control the machinery.  However, in the event, Simon Engineering did not get involved with the the company, apart from appointing a chairman to the board. By this time SPL had a grown to become divisionalised and had a medical division, an engineering division and a banking division.
Often work was subcontracted to smaller software companies, who became integrated into the business. SPL became a market leader because they delivered really good software, on time, to budget. At the time, they became the largest software company in Europe with more offices throughout Europe than anybody else. Logica, Computer Sciences Corporation and SDL amongst others were their biggest competitors. In 1975, Ken left SPL. Simon Engineering had given him a five year contract when they had taken over the company, and the time was up.
After SPL
PA Management Consultants 1976:  Ken was approached by Derek MacLaren who invited him to become a director of their IT group. He helped them with their operations in Scandinavia. He also had the opportunity to learn about how PA Developments helped pension funds manage and make investments on their behalf.
Diebold c.1978: Ken joined the US consulting company, John Diebold, as the director of consulting in the UK.  The main activity of Diebold was running conferences on technology throughout Europe. Ken's role was to manage a small consulting group doing "proper consulting for real clients". They provided advice on technology and how to use it in their own businesses. After a couple of years, Ken decided it was not for him, so he left to form his own company.
Royce Cook Associates Limited: Ken's new company, named after his father, was a technology management consulting company.  One of his first clients was C&A, who had previously been a client of Diebold. As well as consulting work, he also carried out mergers and acquisition work for companies wanting to acquire, sell or merge businesses in the technology field.
Barnes Thomson Management Limited: In 1983, he was approached by CIN (Coal Industry Nominees), part of the British Coal Pension Fund. CIN undertook specialist investment in small businesses rather than general investment. They were thinking of setting up a technology investment fund. Ken realised that although he had good understanding of starting and growing small technology based businesses, he lacked financial skills. He approached David Thomson, who at this time was Managing Director of his old company, SPL. David was a qualified accountant with extensive financial expertise. Together, in around 1984, they launched a venture capital fund, largely funded by CIN and the NatWest Bank.  The fund was called Syntech Information Technology Fund and ran for seven or eight years. They made investments in twenty or thirty small computer companies, taking seats on their boards in order to manage the investments. There were around a dozen investors all of whom did well financially from the scheme. After Syntech, Ken and David worked as consultants for NatWest on their own IT venture capital fund for a further six or seven years before retiring.
Information Technology Year 1982
Whilst Ken was establishing Royce Cook, he was approached by the newly appointed Minister for Information Technology, Kenneth Baker, to run a campaign promoting IT in Britain. He created a central committee from people of all walks of life and established regional committees throughout the UK to oversee the campaign. The programme received funding from the Department of Trade and Industry and many commercial businesses.  A major campaign was set up that enabled the general public to see computing in action in shopping malls, in travelling demonstrations and other venues all around the country. It received widespread publicity. The year ended with a conference at the newly-opened Barbican Centre in London, with Margaret Thatcher as the keynote speaker.  The success of the campaign was measured by MORI polls, questioning people's knowledge and understanding of the technology. It had increased enormously over the year – a big success.
Achievements
Kenneth feels both SPL and the venture capital funds were his biggest successes.
Mistakes
Ken describes his biggest mistake as not living in America. He believes that if his family had gone with him, when he worked there for ICL in 1962, they would have stayed.  He would probably have done the same things but there would have been more opportunity than there was in this country at the time. He believes he would have enjoyed it more there. His one regret was that he would also have liked to have been an architect.
Interview Data
Interviewed By: Richard Sharpe at the WCIT on the 19th of October 2016
Transcribed By: Susan Hutton
Abstracted By: Annabel Davies
Register or login now to view a full transcript and access other associated audio and video files