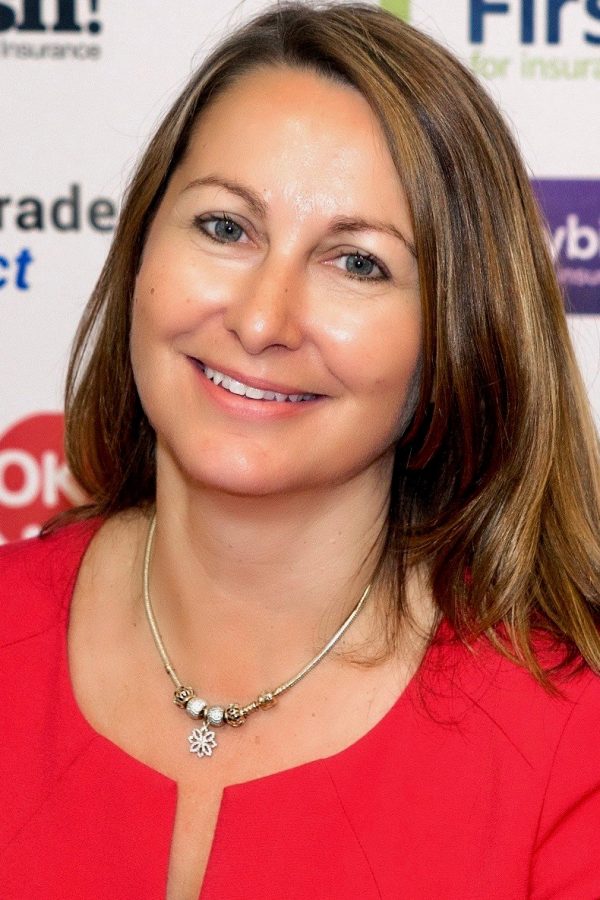 "My Dad was one of the first people to use a computer in the business area of insurance in the late '70s.  At the age of 11 I was fascinated by this large box in the corner of the room and this has led me to my life long love of technology."
"I am a passionate believer that technology can enhance every aspect of a business especially in the customer experience."
"We will be launching a crowd funding insure tech platform in 2020, this will give financial and management support in startups, it's called Insure Angels."
Early Life
Lisa Powis was born in Bognor Regis, West Sussex in 1967. She is one of six children, one of whom is her twin brother. Both of her parents ran the family's insurance business, Computer Car Insurance, started by her father.
Education
In 1974, Lisa went to the local primary school; Michael Ayres Junior School, before moving on to Bognor Regis comprehensive school where she sat 5 O levels, although she says she failed mathematics.

Chichester Polytechnic

In 1986 to '87 whilst still working, Lisa attended Chichester Polytechnic to study for a Certificate in Management Studies which included learning to code in Basic on a BBC Micro. Lisa describes herself not as a technologist but a 'technology enthusiast'.
Early Career
In 1983, Lisa left school at sixteen. She wanted to be a nurse, however, she ended up working for her father's business, Computer Car Insurance. She says: "I didn't plan that at all. I wanted to be a nurse. I remember leaving school at sixteen, I couldn't wait to leave school, and my dad said, 'What are you going to do? Come and work for me.'  I said, 'All right then, why not?'  He paid me and I got a bit of money and was happy to do it. It wasn't really my intention, but I just sort of fell into it."

Many of Lisa's siblings worked for the family firm along with her grandmother and auntie.

 Lisa started using the company's computer, she says: "When I first started at sixteen, we used a microfiche system and within about a year of me working there, we had a much more advanced system so that we actually were tapping the information into the computer and getting prices out." The company used North Park computer system before swapping to a company called Misys which later became Open GI.  She adds: "As an insurance broker you were using a system that was provided for you, but that system did everything; CRM, quoting system, payments, it would control everything.  You needed to have a very close relationships with your computer and software provider."

Both Lisa and her older brother Mark were very interested in technology at a young age. They both learned to code using at college on a BBC Basic. Lisa adds: "It's funny to think back about what that was like. I can remember doing very basic coding when it was, 10, go to, run, 20.  Really simple programming, but I found it fascinating." Lisa says she was an early adopter of a Mac and many Apple products such as an iPod finding them very intuitive to use, slick and stylish to look at as well as straightforward and seamless across all devices.

As a large family, each of the siblings, supported by their parents pushed each other to work hard and achieve. Lisa explains: "I had quite clever brothers.  I think we all pushed each other. I would say that I come from an entrepreneurial family and with my dad having his own business, I think that encouraged us all to see their work more than just having a job.  I think I was encouraged to do more, and I probably always knew I would have my own business."
Allen & Allen Group
After college and returning to work for her father, Lisa moved to a role as an insurance adviser for Allen & Allen Group in 1990, based at Hampton Hill in Middlesex. She was offered the position of hyper-performance manager which was a new division to cover sports and fast cars. Lisa took over the relatively new division which had around just twenty employees and built it into a department of around ninety people. Lisa threw herself into ensuring that she understood every aspect of the technology used by the team, down to the cabling when they moved office, she says: "I looked after our suppliers and I got involved in the detail, for example understanding about Cat 5 cabling as we grew and planned a move to new offices. I thought it would be helpful to know for spec-ing out what cabling was required for the phone system.  I tended to get involved in everything, not as an expert but I just wanted to understand it."
The company used a combination of equipment supplied by Cheshire Data Systems and Open GI, later known as Misys.
In 1994, Lisa was promoted to Group Operations Director of Allen & Allen and became a shareholder. She launched Autofirst, the company's French operation which was initially underwritten by Lloyds of London and received sizable grant from French government.
Fresh insurance Services Group Ltd
In 2001, having seen the potential of the internet, Lisa decided to set up her own business selling insurance online to women, Fresh Insurance Services Group.

Lisa explains: "I could see such a big opportunity and that insurance was going to go online and decided that I was going to do it for myself.  I wanted to specialise in female insurance, something that you can't do now because we have to have gender neutral rates, but that really is what gave me the push."

In the early days, the company provided an online service to find quotes and then speak to a team member to run through their information and buy their insurance. Having started off selling just female insurance, the company expanded and provided insurance for young drivers, van drivers and home insurance; each with its own brand identity under the company name Fresh.

Lisa says that as a business, they were always trying to come up with new ideas to innovate. However, not all of the ideas were possible, she adds: "I'm sure that my IT team groan when they see me sometimes.  You can imagine me having a meeting with them and they probably think 'oh my God, what does she want now?'  There'll be loads of times that's happened but the Fresh team I worked with were a really good management team and we worked very well together, so we could have open conversations and there would have been lots of situations where they'd say, 'No, that's not going to work.' I would take that because what I would want in a business sense doesn't always equate to what the IT would be capable of or would be even be workable.  I've got this big vision, and it doesn't always work but while it's frustrating at times, I know there's always another idea that will come."

 Lisa describes the process by which the insurance sector receives its information and the control that many software suppliers have, she says: "In an ideal world, you want to build your own program but that is not possible in insurance.  You always have to rely on a software provider as a broker, we work with a panel of insurers and they supply their rates to the software company.  They do a lot of jiggery-pokery to get those rates through to us because we work with numerous schemes, for example there could be up to 100 different types of rates coming through on our quote system. Therefore, we're very reliant on that which gives the software provider a lot of power."

As a manager, Lisa says she's quite demanding in what she wants to achieve but works well with people. She says: "Somebody once said I was like a helicopter landing, spraying out all my different thoughts and processes. Sometimes people might find that hard. I'd like to think that I'm inclusive."

Lisa has mentors from the ScaleUp Group, a group of 29 people, mostly men, who help companies looking for finance in Series A, they also invest in the companies themselves and offer mentoring.

 Lisa believes that technology in insurance, what she calls 'insure tech' is ready to change to improve the customer journey and improve the process of claims settlement.  She points to the use of telematics projects already in use where technology is used to monitor driving habits and rewards good habits with lower insurance premiums. Lisa says: "We were one of the first to market with a telematics project for young drivers about ten years ago." Lisa's son was a guinea pig for the project, she continues: "Telematics is big for all ages, but predominantly for young drivers because you don't know what they're doing when they get in the car. Our product was all about parents having access to how that child drives. Telematics has been a great thing because it's statistically proven that young drivers, having telematics in the car improves their driving which means they are going to have fewer accidents and our roads are safer. "

Having built Fresh Insurance from scratch to 250 employees and an turnover of £70 million, Lisa sold the company in 2018 to the Vantage Group, who are owned by an American company.
Insure Angels
Having sold the company, Lisa is now working with Nick Crannigan and David Sweet to set up an insure tech crowdfunding platform.  She explains: "What we're trying to do is give people the opportunity to put their start-up onto our crowdfunding platform and we connect them with investors, help them, set out on their journey. On top of that, we'll offer them a lot of other value-added services.  … We're also bringing all these investors together to say, 'Right, these are the opportunities in insurance. If you want to invest, why don't you come and do it on this platform, because it's all about insure tech.'  We hope to launch at some point in 2020."

Lisa adds: "I am passionate about insure tech.  I believe it's such a good ecosystem.  People can make money, but also you want people to develop. London is known for insurance.  We are known for it and I want to make the UK great.  I want us all to promote that industry and the only way we can do that is encouraging, but also financing, these insure tech start-ups.  We've got to do that."
Iotatech Limited
Lisa is on the advisory council of Iotatech Limited, an insurance software provider. Lisa says: "They're very innovative, and this is why I wanted to get involved in them, because they're offering a fantastic solution to anybody that really wants a new and dynamic system. I sit on their advisory council and as well as provide contacts, I'm also able to give feedback on their system on what works and what doesn't work. I'm really impressed with what they do because it's a very dynamic and flexible system, it's very bespoke."

Having judged the 2019 Technology Industry Enterprise Awards, Lisa is passionate about supporting women in both the insurance and technology sectors; both of which are male dominated. She says: "I've got more involved in technology recently and I've just literally jumped from one male-dominated industry to another male-dominated industry.  I've always wanted to fight the cause for women so I will always promote women in insurance. If I can do anything to help women do whatever they can achieve, I will always be behind them."
Interview Data
Interviewed by: Richard Sharpe on the 30th January 2020 at the WCIT Hall
Transcribed by: Susan Hutton
Abstracted by: Lynda Feeley
Register or login now to view a full transcript and access other associated audio and video files