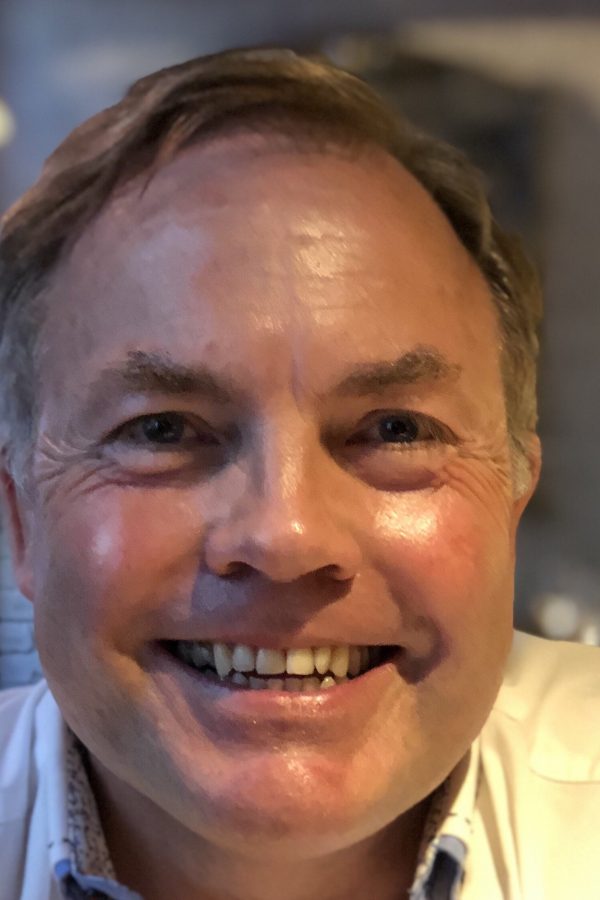 Paul Excell's first job was working in his family's village shop; he has gone on to become an entrepreneur, investor, NED, executive coach and eminent figure in the telecommunications industry. His father taught him crucial business lessons, such as having empathy with customers, being curious about their needs and understanding how you can help them rather than focusing on selling.
State educated, Paul gained much of his drive and inspiration from "fantastic" teachers in topics ranging from maths, physics and computer science to history. People who bridge the science / arts divide will be increasingly important as technology develops, he says.
Following BT sponsorship through university, Paul became an apprentice technician and rose steadily eventually to become a pioneering Chief Customer Innovation Officer, Group Technology Officer and SVP Global Services. While at BT he fulfilled his passion for innovation, launching internet, broadband, mobile and media services and serving on several of the group's global boards. "If you don't innovate, you die," he says.
After leaving BT in 2012, Paul founded Excelerate, which provides agile executive services focused on transforming leadership and team performance. In 2016 he established ScaleUp Group, which aims to support the many smaller UK companies which he says have potential for "massive impact" and growth. So far it has raised more than £30m and generated some £4bn in enterprise value.
Early Life and Education
Paul Excell was born in Ipswich and grew up in the small village of Bramfield in north Suffolk where his grandfather and then his father owned and ran the village shop, as well as the bakery and fish and chip shop.  His mother was the daughter of a tenant farmer.  Paul says his childhood was extremely happy, adding: "I have two brothers, lots of great friends, and the opportunity to live and work in a village environment where there was and still is a real sense of community.  You felt part of something, not only the family but also the family of the village itself.  So it was a wonderful place to grow up and be formed."

Paul went to local state schools beginning with his primary, through to middle and then on to high school at Bungay on the Norfolk-Suffolk border.

Paul's love of engineering was inspired by his teachers at school; in particular Dr Dave Williams with whom he still speaks to on a regular basis.  Paul says: "He identified that these things called computers were going to be important and he arranged the very first computer science course to come to the school and give us an opportunity to find out and learn about computers.  In order to do some coding in those days, we had to drive nearly 30 miles north to Norwich City College which had one of the only computers in the area."

Paul also says his maths teachers, Mr May and Mr Jenner, gave him his "fascination of how you could use maths, and you started to see maths as beautiful patterns and shapes." Paul also had a remarkable physics teacher called Mr Rayner. He adds: "He just brought physics to life and what you could do with it, and knowledge of understanding fundamental physics laws, how you could use that for engineering to build things, construct things for the common good."  Alongside his passion for science, Paul developed a real interest in history too.

Having completed his O levels, Paul was encouraged by his parents to leave school and get a job. He says: "I always had a desire and want to go to university.  At sixteen my teachers were very keen that I did A Levels and go on to university.  Unlike today where perhaps a fair majority of people go on to university, in those days it was a much smaller percentage.  But my parents were keen for me to get out and get a job and start earning. I never lost the desire and want to go and read engineering at university, so, I looked to do that in a different route, which is indeed what I achieved by taking an apprenticeship."
General Post Office (GPO)
In 1978, Paul left school and took a three year apprenticeship with the General Post Office (GPO), the government owned postal and telecoms organisation (now the Post Office and BT), which had relocated its research centre from Dollis Hill in London to Suffolk. He says: "I was very fortunate to get an apprenticeship there.  I was very fortunate to  gain at apprenticeship at a world renown research centre which included the opportunity to go Suffolk College to do technical training to supplement what I was learning on the job."

Upon completing his apprenticeship, Paul became a fully-qualified technician and went on to be part of the team leading pioneering workon new digital optical fibre submarine cables. He explains: "We were working on cutting edge, ultra fast, ultra high-speed logic circuits for the new optical fibre cable systems that were just coming around.  Previously cables had been metallic coaxial.  There was also some research going on metallic waveguide options at the time. Quickly surpassed by the Optical Fibre (waveguide) option.  Working on world leading research development was   another thing that gave me this amazing passion around the possibilities of engineering. At the research centre at the time, Dr John Midwinter and Dr Peter Cochrane were fundamentally doing the fundamental research into optical fibres, or optical waveguides, which underpin the internet, TV/Entertainment etc. services we enjoy today.   Again as we know now, the Internet wouldn't have happened without the research that these people were performing, and to be a small part of that, in this case as an apprentice and then a technician, helping build the test grids, doing the testing in a lab, was just incredible – what an opportunity.  I felt blessed every day to go and work with these people. We really knew that we were fundamentally changing the face of telecommunications and so on."
York University
In 1982, Paul went to York university to study for a degree in  Electronic Engineering. During his summer holidays, he worked back at BT including developments of new Token Ring Local Area Network (LAN) technology, he also worked in the Satellite and Lines Directorate at BT International.  He says: "I created the software which would plot between any two points the terrain using OS data, Ordnance Survey data. … That's really how I got into working on satellites and the possibilities they provided in that early part of my management career."
BT
In 1985 after graduating and spending his summer holidays working on projects at BT, Paul rejoined the company full time as an Executive Engineer. He would stay with the company for many years and rise through the management hierarchy to Group Technology Officer and Chief Customer Innovation Officer.

Initially Paul returned to the satellite division working as an executive engineer on the SatStream projects. He says: "We were doing what was considered very high bit rate services, particularly globally, between 2 and 8 megabits up to 34 megabits for large customers; Texas Instruments was one of our customers.  I also did a project for the American Embassy." The project timeline was considerably shortened when it was announced that Nancy Reagan was coming to the UK to attend a royal wedding, Paul continues: "We had to pull it forward because the ambassador wanted The First Lady to be the first person to use the communications link. It was quite a challenge to bring all this forward, but I am happy to say we did it. It worked perfectly , but we did have several back-up options in case the system wasn't working on the day. We had to do all sorts of things on coding and, even in those days, cyber security that we had to go through on a US State Department link. It worked perfectly and she was able to tell the then President Reagan all about her day in Westminster Abbey."

After his time working in the satellite department, Paul moved into the standards department where he was setting the standards for satellite and submarine cable systems.  He led the UK team as part of the first transatlantic optical fibre cable.; a three way project involving BT, KDD from Japan, and AT&T from the United States. He adds: "I was  responsible, and led the UK, on behalf of both the UK and BT, from an industry point of view, setting up the standards for all these new digital circuits and voice circuits work."

Paul was promoted to work in specialised networks where he worked on a project involving Bellcore to launch a service called Switched Multi-Megabit Data Service; the UK's first broadband service. Paul explains: "Delighted to say we trialled it with UCL pioneering the use of  DQDB (Dual Queue Dual Bus)  Metropolitan Area Network (MAN) technology.  We were the first, I think in Europe, certainly in the UK, to pilot it.  We hit all our timescales and launched on time.  A number of very, very high-profile government and other public customers went on to that network."

In 1997, BT launched CellStream, a Asynchronous Transfer Mode (ATM) packet-based technology. Its success led Paul to create a proposal for an investment programme to shift the company's focus from being telephony to the internet; a proposal that Paul presented to BT's board and gained the green light by the then CEO of BT, Sir Peter Bonfield. Paul says: "He had also seen from his travels the possibilities of the Internet phenomenon, and he agreed that we should get on with it."

He continues: "The next few years was very much leading the efforts in transforming from a telephone network. For 100 years BT or, Post Office Telecommunications, had been based on our fixed line telephone and now we were moving away from that and towards using packet-based technologies to deliver all services and all that meant for a fundamental rearchitecting of the network and delivering at breakneck speeds."

The target was to get ten to fifteen million people accessing the internet through the platform within eighteen months.  Paul adds: "Recognising how the Internet (IP) traffic was growing, we put a massive UK backbone in which we named Colossus.  This was as a tribute to my forebears, the GPO engineers at Dollis Hill, Tommy Flowers for example, and his team, and all those brilliant engineers, men and women there, who had essentially built the first computer and been very much instrumental in shortening the war by shortening the time that it took to decode some of the Nazi crypts in Bletchley."

 Paul's career continued to progress at BT and he became Chief Customer Innovation Officer where central to his work was the customer experience, something he says he learned from his family's own businesses. He adds: "As Dad would always say, 'Look after the customer, they're the ones paying your salary'. … He never saw it as selling; I've never seen sales as sales; I see sales as helping. Dad said, 'Never sell anything to somebody if they don't need it.  Find out if they really need it.  Be curious, be empathetic, understand, and then, make sure you meet their needs, and if you can exceed their needs. Constantly think about how you can innovate to go forward.' I took that throughout my career."

As BT's innovation continued at pace, Paul says he was "Constantly thinking about the customer experience, constantly thinking about how that worked, how it all integrated together. …. I was very much part of the BT Global Services Leadership team which looked after our major corporate clients, the top FTSE 500 companies were pretty much all one way or the other on our list, so I was working with the CXOs of very large corporate customers and government bodies in order to find things that that could work for them, whether they be a bank, a government department, an energy exploration company, and so on and so forth."

Paul was part of BTI, BT International, which gave him a world view and passion for the challenges and opportunities of international communications, something he had first experienced early on in his career working on submarine cables. He says: "I worked for a lot of my executive career for BT Global Services, and I had a period of time as Senior Vice-President, running a large global organisation with customers in 170 countries." This work would see Paul travel the globe and also work on the early days of video conferencing technology.  He adds; "I worked on some very early video codecs when I was an apprentice technician as part of my training rotations.  So, I very much saw the need to help save time, money, and more to the point, greenhouse gases these days, in working on the precursors to the technology we're using now in order to enable people to get together without having to jump on an aeroplane."

Working and travelling internationally allowed Paul to learn to appreciate the diverse natures of different cultures and how that impacted innovation.
Excelerate
In 2012, Paul left BT to follow his interest in working with entrepreneurs and start his own company, Excelerate. He explains: "I was very much wanting to move into working directly with entrepreneurs and do some more coaching with entrepreneurs and people with an entrepreneurial mindset. … All that drives to my vision of life, wanting to give back and helping people grow themselves, grow teams, and grow more opportunity.  When you come from a rural background, the opportunities can become smaller and smaller and I want to give men and women from all backgrounds, absolutely everybody, the opportunity to be part of this great tech revolution that is going on.  Excelerate was all about helping customer, clients, whether they're leaders or teams, grow sustainably."

Through his work with entrepreneurs, Paul has developed his 7C model of success which he is currently writing a book about. He says: "When I look at successful teams they all seem to have seven type of principles. …  First of all, great teams of great people seem to have a cause. They are looking to change the world, make money, drive positive change. … That's what gets them up in the morning; that's what drives them; that's what keeps them going and they are Curious about how they can do it. They are courageous.  You get knocked down in life.  I have been many, many times, and, as the cliché goes, it's about are you willing to get up, but it's also about courage to stand up and say, this is right, this is wrong, whatever it might be. They're very committed, this comes back to this idea of energy, execution and a commitment to the cause every working day . …  Summing up it's cause, courage, commitment; communication, curiosity, customer, and collaboration.  Collaboration is essential; no one person, no one team can do anything, however big you are these days. So be Curious and Empathetic to people you work with and meet"
ScaleUp Group
In 2016, Paul was part of the team that founded ScaleUp Group led by John O'Connell, who is the Executive Chair of the group. It was established following the annual reports produced by the Scale Up Institute which demonstrated the importance of scale-ups to the UK economy.

Paul explains: "The report looked at what barriers do scale-ups have to growing fast. They found five or six barriers, but the top three were always, and still continue to be today; access to patient capital and growth funding on terms and conditions that are fair and make sense for everyone in that ecosystem, access to skills, and particularly leadership skills. Finally, access to new markets both in the UK and globally. We set up ScaleUp Group to help ScaleUps successfully scaleup using the unique knowledge and connections of ScaleUp Group members – entrepreneurs and global executive leaders who have successfully grown companies to an Enterprise Values of over £4billion. The primary Mission statement of ScaleUp Group is to "Grow Global Champions".  Back in 2016, when we set it up, we wanted to give UK entrepreneurs the opportunity to become a global champion should they wish,by offering our services and networks and connections to enable that to happen."

ScaleUp Group, which consists of experienced entrepreneurs, offers clients guidance, support and advice on how to grow. Paul adds: "The final thing we offer is that all the members are given the opportunity to invest in the companies themselves to show commitment.  We don't give any financial advice, but members have the opportunity to personally invest and show commitment to clients."
Advice
In offering advice to young people considering a career in tech or as an entrepreneur, Paul says: "The fundamental thing is being interested and curious about the topic. … It really is all about your attitude.  If you think that's what you want to do, or even if you're not sure, but if you stay curious and passionate about learning stuff, then you've got every opportunity.  I'm always amazed in the IT industry how many colleagues are from arts backgrounds but have learned coding and are making significant difference in tech."

Paul encourages everyone from any background to consider a career in tech or as an entrepreneur. He believes that communication is a vital skills and adds: "Constantly work on your 'softer' skills; empathy, leadership, communication, they are just so important, because having a great idea is easy, executing it is hard. Even though technology, AI and machine learning are wonderful, IT remains, and our society will remain, about people.  So put people and customers at the centre of everything you do."
Lifelong learning
Paul has a philosophy of lifelong learning. He says: "I haven't stopped learning, curiosity and staying curious is one of the most important traits and characteristics people can have. I'm just generally curious, seeing what I can learn, how it works, and all of that."
Interview Data
Interviewed by Jane Bird
Transcribed by Susan Hutton
Abstracted by Lynda Feeley
Register or login now to view a full transcript and access other associated audio and video files