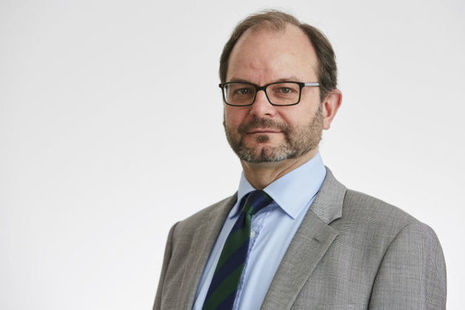 Paul Mason is Director of Innovation Policy at Innovate UK, the UK's innovation agency. The role gives him a key role in determining the future of technology across the nation.
It could have been different. An enthusiastic jazz player in his teens, he almost became a professional musician. But decided instead to study chemistry. The income prospects for a scientist were more reliable than for a freelance jazz player, he says. "Career choice has to be a compromise between what you love, what you do well and what people are prepared to pay for."
During 25 years in the chemical industry, Paul worked on a wide range of technologies and markets at Courtaulds, Akzo Nobel and CVC/Acordis.
In 2007, Paul became Head of Development at the newly-formed Technology Strategy Board, which later morphed into Innovate UK. He is responsible for corporate strategy and the programmes that support its development and implementation.
Early Life & Education
Paul Mason was born in London in the early sixties. His parents were both teachers and the family moved around as their work took them to different schools, before finally settling in Plymouth, Devon. Paul has one younger brother.

Paul went to Plymstock Comprehensive School, in Plymouth, he says: "It was a huge school, 2,400 kids in it when I was there. It was a magnificent school and I couldn't have wished for a better education.  Any deficiencies are entirely my own fault, not those of my teachers!"

Paul studied maths, physics and chemistry at A level. He says: "It was a dilemma. I think science is great, but I also think music is great and I played in the city jazz orchestra and in the county jazz orchestra. I was the only person, I think, in the county jazz orchestra who was one of the section leads who didn't become a professional musician. Becoming a professional musician was on my radar but I made a pragmatic choice; a balance of heart and head, in that life as a musician is quite unpredictable, really, and I was less adventurous.  I thought that income is more reliable if you do science and although you don't generally get really rich as a scientist, that's okay as you don't normally have to worry about where the next meal is coming from. This isn't always the case if you're a freelancing musician."

After completing his A levels, Paul chose to study chemistry at Balliol College, Oxford. He says the experience was a privilege in terms of the quality of the teaching on offer and the time invested in each student. He adds: "It's a fantastic place to get a Chemistry degree and I think the tutorial system is a brilliant way of training brains. It's very labour intensive and therefore it's quite expensive, but I do think that was a privilege, absolutely a privilege."

First Computer
The first time that Paul used a computer was to type up his dissertation at University. He had friends who were interested in computers and experimented with synthesisers but they did not hold the fascination for Paul in the same way. He explains: "Moog was the big computer electronic keyboard synthesiser brand.  But I never did anything with it, I really wasn't very interested in it.  In fact it would be true to say I'm not really very interested in computers now.  … Although I'm a huge user and I think what they do for you is fantastic.  The world is a better place because of them."

 It was in 1984 whilst working in the corporate labs at Courtaulds that Paul first came across a networked computer. He adds: "My boss installed a network of computers and a shared storage system for files and reports. There were about fifty of us in his team, and we all had a user name and could send each other emails and he wanted our monthly reports in a standard form. We were the first group, as far as I know, within the centre of Courtaulds corporate R&D that used a computer network and that used a electronic file sharing system. In principle, all of us could see anybody else's work on the network. Although, interestingly, we were still handwriting telexes on telex pads. I can remember using a Dictaphone for my reports to hand into the typing pool if I went on business trips overseas.  A lot of things were still handwritten and we had an air conveying system for messages, so if you wanted to get a message, like a telex, from one building to another building on the site, you'd write it on a bit of paper and then take it to the typing pool and they'd pop it in a little tube and it would be blown with pressure up onto the third floor and then across the main road and then drop down and somebody would get it."
Courtaulds
Paul was sponsored by Courtaulds through his university course. In return he worked for them in the summer months. He says: "They paid for all my books and gave me quite a generous weekly living allowance, plus a guaranteed job every summer, so I left university with money in the bank and having made National Insurance contributions."

 His summer work was usually a job in the lab. He says: "In 1980 I was working on liquid crystal polymers. It was in the early days of liquid crystal polymers and we were interested in two types; smectic and nematic liquid crystals. I spent the summer trying to find solvation environments for a few different polymers that were of interest to the company to see if I could make liquid crystalline fibres or films or something out of them. I did lots of experiments to try and find different solvent/co-solvent combinations that created smectic or nematic liquid crystals in solution, and then tried to get them out of solution to get the advanced material properties. I also worked on carbon fibres in the very early eighties, I spent time trying to optimise carbon fibre production methodologies. I had a lot of different, really interesting experiences in between being at university and studying."

Following his degree, having been offered a job in the City, Paul decided instead to fulfil his sponsorship deal obligation of working for Courtaulds for a year. He adds: "I joined the chemical industry thinking that I'd fulfil my obligation, and then think about investment banking in the City. However, I was given a succession of such interesting jobs by Courtaulds, with really nice people, that I never left really. From a technical point of view it was just brilliant because they made all sorts of things."

During his time at Courtaulds, Paul worked in several divisions. He adds: "I saw lots of different technologies and one of the great things about being in the chemical industry is that you're in the supply chain for nearly all the other industries." Paul's experience gave him insight into several industries, among the many that he experienced was the aerospace, films, packaging, food additives, fibres and fashion, advanced materials and healthcare industries. He says: "By the time you've done twenty years of that, you've got a pretty broad view of how you turn technology into money and how supply chains work.  … So, when I ended up in my job at Innovate UK, which was then called the Technology Strategy Board, whose scope is all technologies in all sectors, I'd actually seen quite a lot of our important industries already."

Paul also worked as a market analyst for a few years, based in the US. His role involved helping to work out what the future markets might be. He explains: "We had a number of different industrial products, each with sales of around a million dollars. The question was which of these had the potential to grow into tens or hundreds of million dollar businesses, and which might simply disappear. It was my job to try and predict that.  I also looked after our technology transfer operation in Japan."

All of this added to the experience Paul brought to Innovate UK as Head of Development. He says: "Making money out of technology is all about fitting what technology can do to what customers need.  They're not necessarily the same thing. I'd spent quite a few years in exactly that world, that iterative process of what can this technology do versus who really cares about it, that was quite a good training for Technology Strategy Board."

Courtaulds was eventually bought by Akzo Nobel, and his part of the business was subsequently sold-on to the private equity business, CVC. A few years later Paul left to join Technology Strategy Board, which was in the process of starting up.
Innovate UK (Technology Strategy Board)
In 2007, at the point at which Paul left CVC, the Technology Strategy Board, now renamed Innovate UK, was founded. Paul says: "I was there on the first day, and then I went back to continue working my notice, and then I joined fulltime in the August."  The role had been flagged to him by one of his colleagues who knew that he was considering moving on. Having joined Innovate UK as Head of Development, Paul has now worked for Innovate UK for fourteen and a half years and is now Director of Innovation Policy.

In his role as Head of Development, Paul was responsible for developing the organisation's strategies and programmes. He worked alongside a Head of Operations and a Head of Comms of whom he says: "They explained it to everybody else and helped us listen to industry so we could make better programmes. We were very keen not to sit in an ivory tower, but to actually engage with people who were doing real things. That's instinctive for me, nearly all the new products I ever developed were all in conjunction with our customers."

Paul says of his work and team: "I inherited a team of really, really smart people and was asked to manage it and it was very daunting because they were much cleverer than I was. They were specialists in topics, from biosciences, IT, electronics, sensors, photonics, advanced materials, and green economy, to life sciences and manufacturing. They were very nice to me and I was in awe of them, frankly, and with good reason because they were very, very smart and good people. Between us we managed to get along. They did a brilliant job for us, I tried not to get in the way, and we produced a set of strategies that I think are good. They have stood the test of time and some of the things that we've invested in on the back of those strategies have turned out to be good technologies.

Paul gives several examples of successful programmes from regenerative medicines moving into cell therapies, the CubeSat industry in space and satellites, work in big data, AI and metadata, particularly in the creative industries, to wind energy including offshore wind.

He says: "In regenerative medicine, which is in early-stage patient trials for the most part, we've got the third largest cluster of regenerative medicines / cell therapies companies, in the world in the UK. 12% of all trials globally in that technology area are being done in the UK, and we're 1% of the population, that's a pretty disproportionate level of impact."

Paul adds: "We didn't do any of this on our own. We work with partners, including government departments, in fact, mostly industry did it, we just helped them. Most of this stuff's being delivered by companies."
Innovate UK's influence and impact on technology
Asked how he thinks Innovate UK has influenced the evolution of the IT industry in the UK and met the challenges of society over the last decade, Paul says: "In 2008/9 we helped raise the profile of cloud computing among a lot of industries who had not heard about it. We demonstrated the opportunities that come from the cloud and the idea that you don't necessarily need to build and install your own large data centres, you can benefit from the economies of scale that you get by sharing computer resource.  We showed that, in the case of software you don't necessarily have to own the software and pay your licence just for that, but that you can use software as a service and that there's a whole infrastructure of people who provide that. Then connecting that into lots of different industries, not just the tech industry.  We ran programmes to support people doing that.

"We also ran specific investments in areas such as multi-core processing. This was when quad-core chips were just being introduced.  We ran a series of investments to help people make the most of the capability. We did some KTPs helping to transfer people from universities to work in companies, and ran them as a cohort, so that people would get used to coding for multi-core processors and deploying multiple cores.

"We did a load of things around metadata for the movie industry.  We ran a number of process competitions where we tried to get the idea out that if you used the metadata associated with your edits it would help make your workflow more efficient.

"We ran a number of networking activities to bring the gaming and the movie industry together and we funded projects for them to work together. In those days, animation intensive movies, such as Avatar, needed to run many thousands of hours of compute processing to produce a minute of movie. Now, when you make an animation intensive movie, you can render what you shot that day very quickly. Building that sort of capability helped attract the film industry to the UK. It is one reason why the latest Star Wars movies were made here; Lucas films use Industrial Light & Magic (ILM) for their special effects. There are about two dozen inward investments or expansions planned on the back of that kind of technology with studios being set up in London and across the UK, which we helped to seed the excitement for.  Now with our Digital Catapult, the next generation of movie making techniques are being developed based on volumetric capture technologies."


Paul also highlights the investments made in the Internet of Things, comms technology, local area networks, 5G, and quantum technology. He points to the establishment of, and investment in, the National Quantum Technologies Programme, which Innovate UK built with EPSRC, NPL and DSTL, and adds: "This takes you into quantum computing, quantum secure communications, quantum imaging and gravity imaging.  The ability to see the world not on the basis of its reflected light, but on the shape of its gravitational field.

"We started investing in synthetic biology in 2009. That technology is really important. For example, it is the basis of the mRNA Covid vaccines. While the Pfizer vaccine uses technology from BioNTech, a German company, there are a number of other products coming forward in the UK based on that technology which are really good.  By the way, UKRI also funded the development of the first lateral flow Covid-19 test in the UK."

Innovate UK is also involved in the development of electric vehicles, in particular investing in battery technology development. This helps encourage industry to build giga factories in the UK.

Paul concludes: "One of the difficulties is that the world constantly changes. You have to keep looking at the horizon, and being alert to new opportunities as they present themselves".
Picking winners
Asked about picking winners when it comes to selecting investments to make and whether the Government performs well or not, Paul says: "When you attempt to pick winners, some of the things you pick aren't winners, and that's fine. That happens in industry too.  I worked in R&D in industry for ten years, in different manifestations, and we invested in some projects that went absolutely nowhere. It's R&D. If you knew exactly what would happen, then they'd be no need to do any R&D. I don't see why we should feel that if government sometimes gets it wrong that it's in some way weird. Of course they get it wrong sometimes, everybody else does, but if they get more right than they get wrong, that's fine. It's the same with venture capitalists (VC). They will invest in ten companies, they know they'll lose their shirt on six of them, they hope to break even on three and maybe one will return a really healthy return.  I think government should worry a bit less about picking winners and we should be more tolerant of things that don't work out.

"Secondly, you don't necessarily pick winners, you pick fights. We don't pick one company and put all our money into that one company, we chose a field of technology or a market where we think, on average, something good could happen in the UK. We don't necessarily know at that point who will win and who will come out on top. We find that out later."

Supporting industries in the UK
Asked if he feels that the UK has missed out on the gaming industry, Paul says: "If you look at games production, the UK is actually pretty strong.  If you look at games publishing, the UK isn't so strong.  The Japanese and American companies own most of that market.  But if you look at the games like, for example, Grand Theft Auto, it was created in the UK, coded in the UK and produced by a UK company.

"I think that's one of the perception problems if you're in B2B. Who would know that a UK company was providing the polymer that sits in the liquid crystal display in your laptop computer; the man in the street would not know that. Why should they? It's buried deep in some global supply chain.  But that's the sort of thing we worry about. We try to understand the trajectory of global supply chains. We try to work out where the UK can find a home in those trajectories; where the ship hasn't already sailed. We find out whether there are UK companies who could capitalise on the opportunity, and if they haven't thought about it, we ask if they want to consider it. We can help them to think about it and connect them to others with relevant expertise. And if they already care about it, we help them go a bit faster."
Doing things differently
Asked if he would do anything different in his career, he says: "I don't spend a lot of time regretting, it's not a question I dwell on. Nations have finite resources so there are quite a number of things that we could have done if we'd had a bigger budget, but we have to bear in mind that we're not the size of America or China and we've got to be realistic and deploy the resources that we have in a sensible way.

 "If I ask myself what could we have done more of, then I'd say, although we invest a certain amount in the early stage development of technologies or companies, we could do more.  Also, we worry too early about whether something has been a successful investment.  This is a national behaviour, I don't think it's limited to Innovate UK."

Paul continues: " I wonder if we in the UK don't take enough of a long-term view, not only in our thinking, but in our evaluation processes.  You can't evaluate whether a project has given you a return while the project is ongoing.  You can work out whether it's being well managed, you can work out whether the money's being well spent, you can work out whether the promise is still there, but, you don't get any orders until something exists."

Asked if he regrets not going into investment banking, Paul says: "I don't have regrets on having spent a career in technology in its broader sense. … It's been fantastic fun, it's been hugely mentally stimulating, I've met loads of lovely people.  It's contributed to national wealth. I definitely am poorer than I would have been, but I've probably had a more interesting career than I might have had. My number one requirement of any job I've ever had is not to be bored.  I'm not saying that every single moment is stimulating, but the number of days when I've felt bored, or under-occupied, or where there hasn't been something interesting and worthwhile to do, or to think about, or something new to learn …. well, in nearly forty years I can think of hardly any. What luck is that."
Introducing the PAS 440 standard
Asked about what might be ahead for us in terms of technology challenges and opportunities for the next decade, Paul says: "We've just supported the creation of a standard called PAS 440 for responsible innovation. The idea is to try and balance the good that technology does with its potential for harm. There's no such thing as a good or a bad technology, it just depends on what you do with it. We've got to get more mature about how we make those balances; weighing the forces in favour of using a particular technology, with the forces against using that technology. PAS 440 is intended to give companies a framework for thinking about that and doing it.

"I think that in ten years' time we need to be in a different place in respect of the relationships between what technology can create and the broader impacts of what we do with our technology and what the technology's capable of."

He goes on to suggest the different issues that need to be resolved across all technology, including protecting privacy, he adds: "However, there's a lot of really good stuff will come out of technology, for example, the capacity to cure diseases that at the moment we can only treat. In my lifetime, my life expectancy has grown by two and a half years for every decade I've been alive; the probability is I will live for fifteen years more than it was anticipated when I was born. That's astonishing. All of those things can come forward, but we have to balance wider societal impacts and I think society will be much more conscious, of the relationship between companies and society. This applies particularly to big business – which makes a great contribution to society and our world, but which sadly is a dirty word in some people's books. The digital and the privacy issue is going to be really quite important.

"The other really big issue will be about planetary stewardship. We absolutely have to get on top of CO2 emissions, and equivalents such as nitrous oxides and methane, quickly but it's about much more than that. It's about habitat loss, protecting biodiversity and ecosystems. We have to learn to live on this planet in a way that doesn't mess it up for future generations. We need to look at our environmental and wider societal impacts. We need better processes to bring through all the really good stuff that technology can deliver, without seeing any collateral damage. The onus is on companies, and that's why the PAS is so important and it's why things like sector groups and trade associations are so important. They can help show the big picture, make it visible and help people to organise around it. If we organise ourselves badly someone is going to drop the ball. We have to get smart on how we work."

PAS 440 is available for download from the BSI website for free.  It has been funded by Innovate UK. Paul adds: "We'll be reviewing it with BSI in the coming year and thinking about what to do with it next, whether to keep it as a PAS but update and reissue it based on what we've learned, or whether to take it into the ISO committee structure and or to turn it into a full BS number."
Careers Advice
In offering careers advice, Paul says to consider a triangle where one corner represents what you love doing, another is what you're good at, and the third is what someone will pay you for. He explains: "I'm reasonably good at playing the saxophone, I was relatively good compared to other people when I was sixteen, but it was quite clear to me that nobody was going to pay me any money for it, so that's not a good career option.  I like doing sport, and you can earn good money doing sport, but I'm basically rubbish at it, even though I enjoy it. I think you've got to find the bit in the triangle where you like what you do, you are good enough at it, and someone will pay you enough to meet your needs (either as an employer, or as a customer if you set up your own business). The sweet spot will be in a different place for different people."

He highlights the need to be pragmatic and that in every job there will be parts that you don't necessarily like, and be prepared to compromise between what you love and what someone will pay you to do.

He continues: "So my first piece of advice is to have realistic expectations.  My second bit of careers advice would be to give more to your employer than you take.  If you're somebody who an employer can rely on, they aren't going to want to fire you. Try to help other people succeed and try and be a net contributor.

"Find something that you like, that you know there's a market for, and there are companies to work for. Of course, you can start your own company, but then it's a different proposition, then you need paying customers."

Paul's final piece of advice is based on his own experience of not actually thinking much about his career. He says: "I've never really had a career goal or wanted to be at a particular career destination, but I've thought a lot about my job. I've thought a lot about am I doing a good job now? How do I get better at what I do? Are we going to get to where we need to be on this programme? Is it working?  I've thought a lot about whether the organisation I'm working for is worth serving. For me the rest has taken care of itself.

"So, maybe think about your job and worry a little bit less about the long-term trajectory, particularly when you consider that many of the jobs that you may be doing in twenty years' time don't yet exist. Be flexible, be aware that if you do a really good job today, tomorrow will probably take care of itself, within sensible limits of self-preservation."
Interview Data
Interviewed by Jane Bird
Transcribed by Susan Nicholls
Abstracted by Lynda Feeley
Register or login now to view a full transcript and access other associated audio and video files