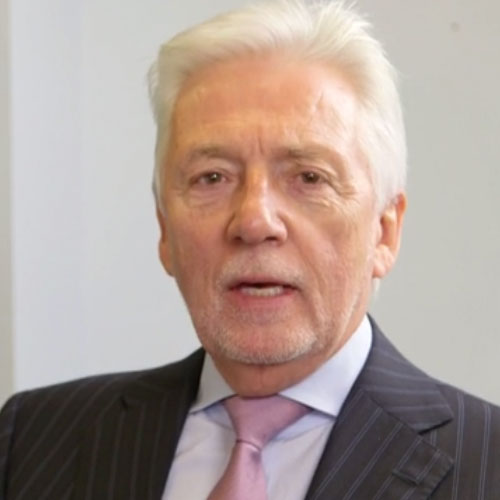 "I have been very fortunate because I have been in the business of semiconductors, computers and telecoms for more than 50 years.  I've seen some amazing changes and been really part of a revolution which has now touched in fact everybody's lives with over six or seven billion people having access to all manner of stuff on their mobile phones which 50 years ago was completely unimaginable.  And I think I've played my bit along the way."
Early Life
Sir Peter was born in 1944 in Letchworth, Hertfordshire.  His father was an early employee of Hollerith which ultimately became ICL; during the war he worked at the plant in Letchworth and was also assigned to Bletchley Park as an installation tech.  His mother was a nurse and the daughter of a coal miner.  He grew up in Hertfordshire with his two brothers.
Education
Peter's mother was determined that her children would get the best education possible. The best primary school in their town was a convent school, so they were taught by the nuns until they were eleven. Peter passed the Eleven Plus and went to grammar school in Hitchin.  He studied pure maths, applied maths and physics as well as playing rugby. His physics teacher suggested university and he was the first person in his family to go. He completed an engineering degree at Loughborough University.
Early Career
Sir Peter began his career in August 1966, joining Texas Instruments;  he believed the future of engineering technology would be in the United States.  He interviewed and received job offers from three American companies – Hewlett-Packard, IBM and Texas Instruments. He chose Texas Instruments as they promised to send him to Dallas.
Before heading to Dallas, he worked in Bedford for six months as a design engineer on the first high-speed wire bonder, called ABACUS.  In the mid-Sixties, semiconductors were made manually – stitched together with gold wires, under microscopes.  The company decided to build a machine that could do it automatically.  The directors decided that it was so important, that they moved it to the headquarters in Dallas.  Sir Peter went with it along with the chief designer, the chief electrical designer and the chief mechanical designer.  They still make high-speed wire bonders using the same principle.
At the age of 23 Sir Peter arrived in Dallas working at a company which was expanding rapidly.  Whilst his friends from the UK were largely working as apprentices in Plessey or Ferranti, he was a "proper" engineer in Dallas with people working for him.  After the bonder, the next project was the transition from two-inch wafers to three-inch wafers – now twelve-inch wafers.  He did some work at the universities and after two years was sent back to the UK to run the discrete business of Texas Instruments in Europe.
The Managing Director of Texas Instruments was Pat Haggerty, and he ran the business through product cost centres.  Sir Peter was in charge of the product cost centre of discretes, he had to develop the market and run the profit and loss of that business.  The company had many of these businesses.  He was in charge of engineering, the design and additionally, the marketing, manufacturing and the P&L.  He learned a great deal.
In 1974, he was sent back to the States, into the consumer products division.  There he was more involved with operations and marketing – the development of the singe-chip calculator.  he was then involved in the early stages of programmable calculators. He designed the calculators, manufactured them and sold them.  The programmable calculators had plug-in modules – essentially apps.  He holds the patent for the first app.  His final position at Texas Instruments was as Divisional Manager for all of the programmable calculator business, including the home computer.  The programmables were the TI-57s and TI-59s – single-chip, smaller calculators.  As well as Speak and Spell, the first voice-activated synthesis product. They designed the first home computer using the TI microprocessor, which was not a success – it worked, but was too expensive and too complicated.
Working at TI, Peter, says he learned that technology moves very rapidly, creating a need to be flexible and dynamic.  You can be "out-innovated" by someone else.  He says that "everybody overestimates it in the short term and underestimates it in the long term".
ICL
After 16 years at Texas Instruments, Sir Peter left in 1981 to join ICL – a change from calculators to mainframe computers.  ICL was heading for bankruptcy due to competition from the Japanese at a time when the pound was very high – putting UK manufacturing at at disadvantage.  The research needed to develop the next round of mainframes at ICL was eating up the company's cash flow.  It went from profit to loss and needed Government help. Chris Laidlaw came in as Chairman with Robb Wilmot as Managing Director.  Wilmot invited Bonfield to join them as operations manager. Sir Peter was attracted to the opportunity because he had never run a quoted company and would be barred from the top end of management of Texas Instruments because he was not a US citizen.
The challenge facing the new management was to optimise the R&D, and stabilise the balance sheet.  Chris Laidlaw approached Kenneth Baker, Minister for Information Technology,  who got the government to put a standby loan in place enabling the directors to do a rights issue.  In order to develop the next range of computers, they formed a technology link with Fujitsu, costing ICL $100 million.  With this in place, they were able to build the VME machines – Virtual Machine Environment.  They built the CM1 and the Estriel.
ICL's major competitors at the time were IBM and a group of companies known as the BUNCH which included Burroughs, UNIVAC, National Semiconductor, CDT and Honeywell.  They had to do a lot of restructuring, including closing down factories, including one that his father had previously worked in.  They had to reduce the number of employees form 30,000 to 24,000.  They did two rights issues, which stablised the cash flow.  Bonfield says Wilmot was a "very good sales guy" and Laidlaw had a lot of credibility as he had been Deputy Chairman of BP.  With Warburg's as their main bank, they were able to convince the market that the turnaround would be successful.
The link with Fujitsu had two parts, one was that they would use the same semiconductors and on the upper end machine, the central processor would be made in Japan.  They were the first air-cooled machines which was a major breakthrough at that stage. The IBM machines were water-cooled.  The ECL machines were comparable with the top end IBM machines.  They could be upgraded from a single node up to a four-node machines.  It was the first virtual machine that was robust and flexible – because in those days everyone had their own operating systems.  It was more advanced than the IBM product, but IBM had a bigger market presence.  It was challenging to convince the customers that they were not going broke. Sir Peter traveled around to all the major customers for the first twelve months, explaining to them that it was all going to be alright, and that they were doing the link with Fujitsu who were very highly regarded. ICL operated in 85 countries around the world.
He found the Fujitsu management excellent.  They were highly supportive, of the ICL product, which made the selling job much easier. Peter says he admires their unbelievable technology lead.  They had a great attention to detail due to sheer numbers of engineers and high integrity – always delivering on their promises.  Fujitsu wanted a view of where VME was heading.  ICL was developing integrated computers.  ICL believed that operating systems would become open standards which Fujitsu found intriguing.  They concentrated on distributed computing, coming up with smaller computers for small businesses – minicomputers.
They developed One Per Desk – an architecture which allowed computers to communicate with each other.  The first links were with Mitel and PERQ – an old scientific computer.  They sold some, but it was not a commercial success.  They made computers for Acorn as they had excess capacity – a good manufacturing operation in the Midlands.  They were willing and able to try new things.  He believes the One Per Desk concept was a bit too early for the market.   The network product line and the push on open systems allowed them to move forward as the business changed.
Between 1981 and 1984, the link with Fujitsu was cemented, as they developed new mainframes, the new network product line and moved into services rather than just hardware.  The company was doing well and the share price was up.  Michael Edwards had just become Chairman.
STC
In 1984, ICL was taken over by STC in a "dawn raid". Sir Peter became managing director.  The shareholders wanted to cash out, rather than receive shares in the new company this depleted the cash reserves, so nine months after the takeover, they needed a rights issue.  It caused huge disruption as Ken Corfield, architect of the merger, and Robb Wilmot were asked to leave.  Everyone had expected that STC would have been the bank for ICL, but it ended up being the other way round.
ICL was kept as separate operation within STC.  The vision was of convergence between computers and telecoms, which in those days was more of an idea than a reality.  At that stage ICL was producing 60 per cent of the revenue for the two companies.
In 1987, Sir Peter became Deputy Chief Executive of STC, and after that there was more convergence between the two companies. At that stage most of the telecommunications electronics worked on a completely different architecture from the computer technology.  It was unclear where the synergy between the two systems would come from.
Whilst STC was going through a difficult patch, ICL moved closer to Fujitsu who wanted to make sure ICL kept going.  Fujitsu made a minority investment in the company and then later, in 1990, when STC was approached by Northern Telecom, Fujitsu took over the ICL part, and the company was split back up. Sir Peter had excellent relationships with Fujitsu – total transparency. They had an exchange programme – transferring young engineers between the two companies, over the years involving over 100 young engineers.   At the end they had hoped they would be able to re-list ICL, but that did not work out – a disappointment to Peter.  They worked hard at building the services business.  They developed applications for local government – moving away from mainframe.
BT
In 1996 Sir Peter moved to BT. He had been courted for some time, but due to his three-year contract with Fujitsu, would not leave ICL.  At that stage BT was 170,000 people – a very large name in the market place.  He was recruited because of his international experience and engineering background as there were opportunities for BT to expand internationally.  When Bonfield took over, the BT share price was £3.50.  The problem with BT was that it was a huge organisation and not growing very fast.  The mobile business was complicated because the regulator insisted it was run completely separately and the technology was changing rapidly.
Sir Peter's first actions were to convince people that BT could grow and that it wasn't a utility. He believed they could create growth by providing more services to other people and that there would be a massive change as the convergence of computers and telecoms finally took off.  They overestimated the change in the short term and underestimated the long term.  Because the company was so large, they tried to divide it up into units with delegated authority.  It was the intention to move away from the culture of every pricing decision going to the full board.  It was further complicated by the fact that aspects of the business were closely observed by the regulator.  Sir Peter aimed to separate the regulated and non-regulated parts of the business.
At that stage it was not clear how important the mobile part of the business would become.  The internet was just starting to take off but nobody yet knew what the commercial implications would be.  The regulated environment was skewed towards consumer pricing – if you grew a bit, the regulator would put more pressure on the pricing.
MCI was an American telecoms company, the main competitor to AT&T.  Iain Vallance had bought a 25 per cent share – the maximum allowed. Peter believed acquiring the rest of it would be a good thing.  It proved a bridge too far.  After a year negotiating the approvals MCI sold themselves to World Com.  BT did well financially out of it. They received $8 billion in cash from WorldCom for their 25 per cent stake.  The company was set back as it turned people away from international expansion and it was damaging to Peter and Vallance's reputations.  In 2000 the BT share price hit £15 and then went up and down following the market.
In 2002 Sir Peter left BT.  The company came into difficulties when they bid for the 3G licences.  The balance sheet was sorted but there was discontent on the board.  Iain Vallance was replaced with Christopher Bland and Sir Peter felt it was time to go too.
After BT
Since leaving BT, Sir Peter has remained in the international technology business.  He is currently the Chairman of NXP Semiconductors – the largest semiconductor business in Europe with a market cap of about $30 billion and 42,000 people.  They produce semiconductors for the automotive industry and secure communications and he believes they are well positioned for driverless cars.  He's on the board of TSMC and on the board of Mentor Graphics, an electronics design automation company in Oregon.  He does consulting and mentors younger managers.  He is Chairman of Loughborough university.
Mistakes
Peter describes his biggest failure as allowing the Texas Instruments home computer to be made using their own microprocessor.  At ICL they should have been more aware of the financial situation in STC when they did the merger.   At BT he is disappointed that the MCI deal prevented them from being able to expand internationally when they probably should have done.
He believes ICL was too small to be a world player as a stand-alone business.
Mentors
Sir Peter's biggest mentor was Pat Haggerty, at the point of Peter's hiring in 1966, Haggerty was keen to make the company international and decided the best strategy was to hire engineers in Europe and give them free rein. Peter joined at the same time as Robb Wilmot, Eckhard Pfeiffer (who ended up running Compaq).  Haggerty believed in getting involved with younger people and stretch them to their limits through encouragement.  Haggerty had a high work ethic and ensured everything was done to the highest standard.
In addition to Pat Haggerty, Peter describes Yamamoto from Fujitsu as having a big influence on his life.  He describes him as having incredible ethics and basing his responsibilities around those ethics.  Another great influence is Dr Morris Chang, founder of TSMC.  Bonfield describes him as "my sort of role model of never give up".  He started TSMC aged 62 and is still running it aged 84 with a $120 billion market cap.
Reflections
Sir Peter is most proud that he stayed in the industry.  Many of his contemporaries moved into other areas including retail and banking.  He has stayed in the technology field for 50 years and has seen many developments unfold.  He has met many interesting people including Steve Jobs and Steve Wozniak in 1974 – before they started Apple.  He met Bill Gates when Gates was just 20 years old.  He has never thought of it as a job.  He does things that he enjoys and gets paid for it – a pretty good combination.  He still finds it absolutely fascinating.
Advice
Sir Peter's message is "Don't get obsolete".  The technology business is international and moves incredibly quickly.  You have to be moving forwards constantly or you will go under.  You have to keep trying as some things work and some don't.  He believes it's important to stick with what you know and stay current.  His work now is all interrelated.  He believes in taking risks.
External Resources
Interview Data
Interviewed By: Alan Cane at the WCIT Hall on the 26th April 2016
Transcribed By: Susan Hutton
Abstracted By: Annabel Davies
Register or login now to view a full transcript and access other associated audio and video files