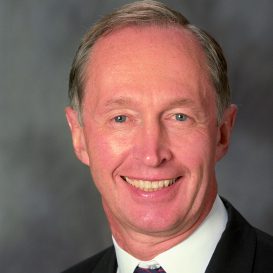 "Three things we were very successful at: one is forecasting the market, and not just for software, but for software and services and to a certain extent the use of technology broadly in the economy, the consumer level, the government level and the business level.
Secondly we were very successful at growing people; I think everybody that worked for us was more valuable when they left than when they came in.
The third thing that we are very successful at was in building perhaps what you're now call an ethical company. We had a very good balance of women executives and male executives and we didn't do it to be diverse, we did it because they were the right people for the job.  We were also integrated in terms of race, origin and sexual preference and it wasn't done because "it was the right thing to do" from a social thing, it was done because it was the right thing to do for the business environment."
Early Life
Peter Cunningham was born in Wales in 1941 while his father was in the RAF. From 1947 Peter grew up  in London with a Jewish family that his mother had worked for before the War.  He describes his father as "very Catholic", born in what was then British Guiana where Peter's great-great-great-grandfather emigrated to as a trader from Glasgow in about 1860. Peter accredits his upbringing for giving him an international, multicultural, and tolerant perspective on life with an attachment to the Caribbean.
Education
Peter went to the Jesuit grammar school, St Ignatius in Stamford Hill, London. He says: "The Jesuit education system is fantastic, because, logic is very important to them.  I always remember, one of the qualifications that one of our teachers had to pass was to argue in Latin about the atomic bomb."  Following on from school where from the age of fourteen he studied maths, physics and chemistry, Peter went to Imperial College to study physics. He studied under three Nobel Prize winners and describes his third year as doctoral level in most American universities. He graduated in 1964.
Early Career
Peter began his career with the British computer champion, ICT, based in Putney Bridge House South. He explains: "I'd read a couple of articles in the press about computers, and what the future might be, so I went for some interviews, and ICT offered me a job as a systems programmer. They were just getting into the third-generation computers with the ICT 1900; it was actually a Ferranti-Packard computer that they had picked up from Canada and had transferred over here."
 Peter's role was to write sort merge programs including the XSMN sort merge program.
Peter stayed at ICT for about eighteen months, before moving to McClintock Mann and Whinney Murray, the consultancy unit of accounting companies that had got together and as Peter describes it "said, we need a computer organisation".  Here Peter wrote software systems to process information and improve business efficiency primarily for the shipping industry. Programmes were written using Autocoder on IBM 1440s.
C-E-I-R
In 1967, Peter moved to the US as a programmer to join the Corporation for Economic and Industrial Research (C-E-I-R). C-E-I-R had been established by Dr Robinson, who was British and went to the United States during the war. Peter says: "My wife, Pat and I had this international view and wanted to travel. I decided that if I was going to be in the computer industry, it would be good to go to America."
While at C-E-I-R Peter worked on the IBM 7090s, before moving to the American Research Bureau, a subsidiary of C-E-I-R, that did radio and TV audience measurement research, (it became Arbitron, a New York Stock Exchange listed company that was eventually acquired by The Nielsen Company). Based in Beltsville, Maryland Peter became assistant manager for the programming department with25 analysts and programmers.
C-E-I-R was building a time-sharing system on the XDS-30 (a rival the PDP-10) that caught the attention of the Control Data Corporation which subsequently bought C-E-I-R. Following the buyout, the company moved away from IBM to CDC computers. Peter upgraded the 7090 and IBM 360 software to work on CDC computers. The software  managed databases that contained the data collected from millions of homes across the US about TV viewing and radio listening habits which was then used to sell advertising.
Redundancies, start-ups and consultancy
Peter left Control Data Corporation in 1969 to join Management Science America, which Peter describes as: "spending money like, you couldn't believe, with the idea that they would get up to $100 million and go public, and then they'd all make a fortune, and it would all be lovely."  However, the recession in the computer industry in 1970 ended that dream; MSA went bankrupt.
Peter and several colleagues from MSA took the opportunity to continue to work with their commercial clients and joined a time-sharing company, out of Los Angeles, that had set up a UNIVAC 1108 times-sharing service to rival Computer Sciences Corporation's Infonet.  Three months later this company also went bankrupt.
With these two bankruptcies under his belt, Peter and his colleagues decided to form their own company. Peter invested $1700 and received 17,000 shares while a couple of his colleagues were able to invest $4,000 each, gaining 40,000 shares which made them major shareholders with around 80 per cent of the company.
Peter was made president when the first president decided to return home to Atlanta. Peter ran the company successfully for a year before the two majority shareholders held a "palace revolution" while Peter was on vacation. Peter left and three to six months later the company went out of business.
Next Peter became a consultant in Washington D.C. One of his projects came as a result of call from Congressman Flood and his aide Steve Elko to work on Lyndon Johnson's Presidential Commission on Marijuana and Drug Abuse when the project stalled, having spent $2 million of its $3 million budget. Peter helped organise the research to complete the project using some colleagues from MSA who understood the health industry. The research went on to find that marijuana did not lead to any more crime than alcohol, the recidivism rate with marijuana was less than with alcoholics, and, compared with nicotine and alcohol, marijuana was technically not addictive because it doesn't change the blood chemistry.  The recommendation of the Commission was to decriminalise marijuana!
When they moved to the USA Peter and Pat planned to spend 3 to 5 years on the East Coast and then 3 -5 years on the West Coast. So, in late 1972, Peter and Pat decided to move to California. Peter got on a plane to San Francisco to seek work. He took on a project evaluating the California Medi-Cal system and another with the Quantum Science Corporation evaluating the market for software on behalf of its client, Comshare. He joined QSC in 1973 to run their software and services research department.
INPUT
After about 18 months, Peter decided to form his own company, something he says he always wanted to do.  He says: "I wanted to make money and be independent." He explains that money was not his driver but the chance to take advantage of an opportunity; "If there's something that should be done, you can do it, and, you can make money at it, then you should do it."
His plan for his company, INPUT, was to do market research and consulting for the software and services industry, which at the time worldwide was about a $10 billion industry. Computer Sciences Corporation, was INPUT's first customer.
The company set up against the background of a massive explosion in hardware and software technology including the development of minicomputers and microprocessors such as the 16-bit microprocessors from HP, Intel and National Semiconductor, Metcalfe's development of Ethernet, IBM's new database, System R, and SQL.  Most importantly, the '70s saw IBM start selling its software and many independent software companies were formed to compete in the new software market. Peter says: "In the seventies, things were dynamic.  For example, he whole relational database, RDB, market was developing. The interesting thing in RDB was that almost all the companies offering it were within 70 miles of Palo Alto."
Peter had to decide whether he wanted INPUT to be just a consulting company, or a market research company with recurring revenues. He decided on the latter. He says: "the original idea of INPUT was to service both the buyers of systems and the vendors.  That worked for the first few years, but then Gartner really took over the buyer market."
 INPUT's first multi-client study was on the impact of the recession in 1974 on data processing expenditures in 1975.  Peter got subscribers to it from companies he knew such as CSC, ADP, and very importantly, Ross Perot's company, EDS, and UCC in Dallas, Texas.
The study was published and it was picked up by the 'Heard in the Street' column in the Wall Street Journal . Peter adds: "Charles Elias picked up our little piece, which said, 'data processing expenditures were going to go down, because of the recession'.  We had the data.  Of course, this stirred up a hell of a row; IBM and other suppliers all came and said, 'No, no, no, it's not going down, it's got to go up.' Well actually, of course it did go down.  And, it affected stock prices."
 INPUT's second study was on the future of remote batch processing which was replacing the service bureau so that  instead of having to walk in to a computer center to run a program you could submit it remotely.
INPUT spent a lot of time on definitions of the market so that forecasts could be data based and consistent. We did a reconciliation every year comparing our forecasts with what actually happened. This added a lot of credibility to our forecasts.
INPUT  started a subscription service to look at the companies in the industry. Peter explains: "We would interview the companies, build a profile of them, and sell those profiles.  Then we started a market analysis program, which was to analyse and forecast the markets for software and services."  Our business grew rapidly and we were in the Inc 50 Fastest Growing Companies in the US
The '70s '80s and '90s- exciting times
Through its analytics, Peter and INPUT were able to foresee the arrival of the PC and forecast the future of hand-held devices.  He adds: "We had a guy from IBM that had joined us as an analyst and we had these discussions about what the future would be.  We had a classic chart which had the mainframe computer and its function, the minicomputer and its function what was then the microcomputer and its function, and then what we called the "nano-computer", which was going to be the simple, hand-held device.  Now at the time, we didn't know what it would be, because of course, there was no battery technology, and there was no screen technology.  The reasons we can have an iPhone today are not just the chips and the memory, it's the battery and display technologies."
While the microprocessor was changing the vendor landscape, Peter believes that the biggest impact was caused by the opportunities it offered the buyers, Peter explains: "The vendor side of the industry keeps fragmenting: there are more operating environments today than there ever have been, there are more communications environments than there ever have been, etc.  And they're all distributed in different ways. But the bigger change actually at that time was on the buyer side."
He cites VisiCalc as an example., It was thought at the time that its vendor, VisiCorp, would become the biggest software company in the world.  Peter explains: "The big change was that the central time-sharing group, whether they were buying outside services or they had their own computers such as the IBM 4300, were offering services such as spreadsheet construction and analysis entirely on a time-sharing basis.  As happened with the Internet initially, the departmental people started buying these systems themselves and offloading work from the time-sharing companies and central services using products such as VisiCalc.  To represent what was happening, we used a picture of the central data processing unit as a castle with a drawbridge that occasionally they would let down and they would let users come in.  However, departments started buying their own minicomputers and microcomputers and they shifted existing work from timesharing or central services but then started to actually create new systems.  The EDP managers would go, 'No, you can't do that.  You're not allowed to do that.' But they did it anyway".
Peter likened the minicomputers and then the microcomputers to guns shooting at the castle and breaking down the walls that protected the computers. He continues: "We thought, and I still believe in many ways, that eventually the central data processing department will cease to exist or have very reduced responsibilities.  We used the analogy of electricity.  When electricity first came out, big houses, factories, government units had their own generators. Then when the network spread and took over, those things just went out the window.  So, I say computing is just like electricity, right?  You should be able to plug in the wall, get what you want.  Who's providing it, well you know, who cares?"
During this period new architecture was  creating turbulence for the industry, especially central systems. Peter says: "but then you realise that at some point in time the mainframes were also servers." Peter takes a pragmatic view of changes as he explains: "People talk about a change as being a Boolean ''OR' situation, you know, you have this or that.  It's rarely an "OR" situation.  It's almost always an 'AND' situation.  You have this, and you have that. For example, look at how long it took punch cards to disappear.  They gradually slide down.  They don't suddenly go away. Some things do, but very rarely.  One of the reasons is of course, the software that runs this stuff, you can't suddenly change software, it just doesn't work.  Because the transition process that you've got to go through, the re-engineering of your customer interface, whether it's an internal customer or an external customer, the people issues that are involved, the organisational and structural issues that are involved in the changes, the human issues that are involved, always take much longer than people think.  And that's one of the big reasons why companies like Accenture have been so successful, because they can look at the impact on the business processes as well as the impact on the technology."
Accenture started as a unit of Andersen Consulting that did some of the first systems integration projects for the US Air Force. Peter commented: "In the late '70s I had to go to Chicago to make a presentation to the management committee of the accounting company to persuade them to let Andersen Consulting be formed as a separate organization because of the growth opportunities that would open up. The company was very innovative; for example, it set up technology demonstration centers including on Page Mill Road in Palo Alto where they could demonstrate CIM and other systems to prospects." Later, of course, it changed from a partnership to a limited company and Accenture was formed. Another presentation Peter made later to the global partner meeting related to the future prospects for operational markets including business process operations. For a long time, they had focussed on development contracts and were missing the opportunities in operational contracts.
The changing landscape proved to be exciting times for Peter and INPUT. He says: "It was a wonderful time for us, we enjoyed it, because, whenever there's change, there's opportunity. It's when things are static that it gets a bit boring.  But for us, when there was a lot of change, people would come and say, 'What do I do about the client/ server?' and, 'What's the impact going to be?'  Or, then, the microcomputer (that became the Personal System, then the Personal Computer and finally the PC), or, the Internet, in the early nineties, because that was the next generation of change that came through."
The changes in the '90s that built on the shift of power from central, Soviet computing structures to more democratic distributed and networked systems were the most significant of all. The growth of the Web and the Internet enabled real revolutions in our social, industrial, business and government activities. In the early '90s we forecast that there would be 200 million people connected to the Internet by 2000. At that time there were not that many computing devices in the World and many people thought we were crazy. In 1995 we revised that number upwards to 250 million that turned out to be about the right number.  We introduced the "Consumer' as an industry category in our forecast data base although we did not like the term as we as individuals do a lot more than just 'consume'.
Peter says; 'I remember making a speech in 1994 or 1995 at the annual conference IBM put on for its computer services customers where I said that the future would be based on the Internet and that no one owned it. Afterwards one of their planning executives came up to me and said that he would like us to do a study on how much hardware sales there would be in 2000 since the Management Committee would not listen to anything that did not have hardware sales in it. Shows the thinking at the highest levels in IBM at the time. We did the study and forecast a $200 Billion market for systems in 2000 to go with the 250 million users of the Internet, so about $1,000 per person for the servers, network equipment, user devices, etc.
A later forecast that we included in the book 'Electronic Business Revolution' (written with Friedrich Froeschl, the President of Siemens Business Services) was that 'Internet Data Centers' would be a $100 billion market. With companies like AWS, Google, IBM, Microsoft and others actively pursuing it we are there already.
Software development is biological
Talking about the issues arising in the late 1980s such as the productivity of software development and the development of CASE, computer-aided systems engineering, Peter believes this was an opportunity to make people think about the issues. He explains: "There's always been an issue about software development going back to the Brooks' The Mythical Man-Month book.  There's always been issues about software development; agile development today for example is a continuation of that discussion.
Fixed specifications are ridiculous because software, communications and hardware technology is constantly changing as is the environment for systems. Therefore, you don't know what you will be able to do.  For example, in 1999 nobody forecast that we could sit here now with a device that had what was the equivalent of supercomputing capability in your hand.  Yet people were signing fixed specification contracts for systems development where they didn't know what they were going to be operating on when the system was 'finished'.  I've always said that software is biological, it's not mechanical…… it's a living process, and if you try to take a snapshot of it and freeze it, it's impossible.  That's what has been happening all the time in software development."
Diversity in Tech
Peter is a great believer in diversity in technology, not for its own sake, but for the benefit of the business. When he started his work life, the male-female distribution of in the programming class, and subsequently also on the floor where he worked at ICT, was 50-50.  He says: "In my early days in the computer industry, we were 50-50 men and women in software development, 60 here 40 there, 40 here 60 there.  It's always amazed me how, as you went up the tiers in the industry, it became more and more male dominated.  It's a huge issue, ……It's always amazed me that that distribution did not continue up into the higher levels of the industry because the talent was and is there."
INPUT always had a balance of executives, Peter continues: "not because it chose to be diverse, but because they were simply the right people for the job.  On our last Board of Directors we had three women, four men.  It was  a natural thing to do.  Our senior management was balanced as well, with the women not just doing HR and Finance as happens in many companies but actually running key divisions or functions such as Sales or Customer Service. I don't believe in diversity for diversity's sake.  I think it's a total mistake.  What I believe in is, the advantages of diversity, you put together a team where you have different capabilities, and you meld those capabilities together to make the most effective team for the benefit of everybody that's involved."
Reflections
Y2K
Generally, it was greatly overblown led by companies like Gartner that made a fortune from the hype. However there was a positive outcome of Y2K, Peter says: "The unintended benefit of Y2K was that organizations built an inventory of what they had, and that enabled them in the 2000s to start to make some of the changes that were necessary in order to focus more on revenue generation and quality of service rather than just cost control."
Dot Com and the Dot Com Bubble
Peter says that for INPUT, the Dot Com bubble was irrelevant. He explains: "We were forecasting the market for this or that.  Who gets it is not our job, it's not our business.  The market might be, a billion dollars, and you'd have 20 companies saying, well, we are five million dollars now, but we're going to be a billion-dollar company, OK.  So, hold it, the market's a billion, and there are 20 of them saying they're going to be a billion.  It isn't going to work.  But that was not our job."
Biggest Mistakes
Peter believes his biggest mistake was driven by his own ego. Two employees suggested that he ought to be Chairman of INPUT because he was the external person going around making presentations and talking about the future of the industry, and a person who he'd hired to run operations, should be President. Peter didn't take the advice and looking back realises that "He would have been absolutely fantastic, and the company would have benefited hugely from his leadership while I would have been free to do what I did best that was talking about the future of the industry".
Peter's second mistake was based on not believing his own plan in the nineties when he wanted to move from the market research budget in vendors, into their marketing and then sales budget that were much bigger. That would change the whole company. He made a business plan that showed he needed three years and $3 million. However, instead he tried to do it on a $1 million investment; trouble came when the new business did not grow as fast as planned and the old business declined quicker than anticipated. However, there was a silver lining, Peter reduced the business and focused on government work that became the basis for a very successful company that was eventually sold in 2010.
Advice
Investing today
When asked what he would invest $1 million in today, Peter offered this advice: "I'd do something that's web-based, very focused, in an industry that I know.  Could be, watches, could be clothing, could be recorders.  I'd find a company in an industry that I knew, that was trying to do something innovative, but not too innovative.  There should already be companies in that space.  Because, catching a wave in the industry is like surfing in California:  if you get in front of the wave, it washes over you,  if you get behind the wave, you can never catch up."  In my case the company would probably be in the IT software and service industries.
Management
Peter says that he never really got to grips with being a good manager as he was always very clinical, analytical, objective. He says: "To be a really good manager, you need to be empathetic.  It doesn't mean sympathetic, but you need to be empathetic, in my opinion. so, it pays to learn how to do that. However good entrepreneurs are not always good managers and vice versa!"
Interview Data
Interviewed by: Richard Sharpe on the 25th October 2018 at the WCIT Hall
Transcribed by: Susan Hutton
Abstracted by: Lynda Feeley
Register or login now to view a full transcript and access other associated audio and video files