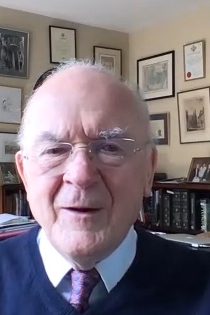 Peter Morgan MBE joined IBM as a new graduate in 1959, when transistors were just replacing vacuum tubes, and stayed for 30 years, leaving as Director of the UK subsidiary.  In this interview, he talks about the benefits the US company brought to British customers, IBM vs ICL and why the US is more successful at growing IT giants.  After leaving IBM, he became Director General of the Institute of Directors and has been chair of or a board member of many companies, six of which are in the IT sector.
He was a master of the Worshipful Company of Information Technologists. As a youth, he aspired to succeed and cites the Cambridge tutorial approach to studying History and National Service as key development activities.
Early Life and Education
Peter Morgan was born in May 1936 in a nursing home in Neath, Glamorgan. His parents lived in Ystalyfera. His mother had retired from teaching when she married  his father because married women were not allowed to teach. Peter's father was a bank clerk at the Midland Bank in Ystalyfera.
Peter was a bright child and with additional schooling from his mother, he was ready to take his Eleven Plus at the age of ten but was not allowed to. At the age of eleven he started at Swansea Grammar School and was then sent away to Llandovery College, he says: "I think everybody thought it was time I tried to do things for myself. I enjoyed school because it came easily to me. Once I had done something I tended to remember it, so, I didn't have big agonies about examinations."
Peter joined the Combined Cadet Force and became a prefect at school and adds that "those two things by themselves, virtually, got me a commission in National Service."
National Service
Peter was a 2nd Lieutenant in the Royal Corps of Signals. He says his service helped him "get used to being in charge and learned the way of the world." Peter ended up in  Y Station. He says: "The purpose of that service was to intercept signals traffic of the enemy and to send those signals were to GCHQ for interpretation.  In those days, signals traffic was largely morse code. I was sent initially to Austria, and then we moved into the American zone of Germany after the Austrian Peace Treaty. Our role in life was to listen to the Red Army in Hungary."
Trinty Hall, Cambridge
After completing his compulsory National Service, Peter went on to study for his degree at in History at Trinity Hall, Cambridge. He says: "I took the view subsequently that history was an excellent preparation for IBM and business in general because of the style of teaching." He goes on to explain that students were given a topic to research and write an essay about and then present to the tutor, being prepared to debate it. He adds: "You had to write it out in a coherent fashion, then you actually had to read it, present it and debate it, which is what Cambridge supervision is all about. I found when I got into IBM and I got into sales and the task was to show how IBM machines could solve the problems of a given company, then you were doing the same thing, you were analysing the problem, you were writing the report, you were presenting the results and making your recommendations. I still think that history is an excellent preparation for life."

In a discussion about future careers, Peter was offered a number of options from Welsh steel companies, ICL to IBM. He opted for IBM, had interviews, sat aptitude tests and was offered a role, he says: "I went to the Bristol branch manager and he said I would be earning £2000 a year in 2 to 3 years and he explained the whole system to me; compared with anything offered to me by British industry, it was just another planet. I'd had very little problem with accepting although my parents, particularly my mother, who thought that I should have entered a profession, had great difficulty accepting the fact that I was going to become a salesman."
IBM
In 1959, Peter joined IBM straight out of university and immediately started a period of 2-3 months training. He explains: "I started on the 31st of August 1959 and in early December I learned punch card accounting tabulators that were all controlled by panels where you connected the dots literally to make the machine do what you wanted with punch cards. We learned how to handle these control panels."

At the beginning of December Peter was then sent to South Wales assigned to a fellow salesman and to two of his accounts. He says: "One was British Nylon Spinners in Pontypool and the other one was Girling at Cwmbran; the great manufacturing part of the Lucas Group. Both had ordered IBM punch-card machines, and I assisted with the wiring of the panels."

In January, Peter returned to London for further training; this time on computers including the 650 and the newly introduced 1401. Having completed his training he was assigned to the Bristol branch on a 3-man project team with the objective of winning the business of the National Coal Board for IBM against competition from ICL and English Electric. Following this, he returned to South Wales and supported the installation of a 650 machine for the Steel Company of Wales.

Over time, Peter became a branch manager in Liverpool where he spent two years. He says: "Between our Manchester and Liverpool offices, we split the market so that they had retail and finance, and I had the process industries.  I had Shell at Stanlow, ICI at Mond Division, ICI in Manchester, Unilever at Lever Brother Associates on the Wirral, Lever Brother Research on the Wirral, the John Summers Steel Company in North Wales, to name a few. I also had local government."

In 1964, IBM introduced the 360; a compatible range of computers, with the same peripherals, and different sizes of processors and a complicated operating system.  Peter comments: "It all sounds wonderfully logical now. Within 10 days of the announcement and my wedding in April, we had sold our branch quota for the year.  But from then until I left Liverpool, we had the agony of getting these early ones installed.  The software was a real challenge and it took a lot of time.  … The 360 was a 5-billion-dollar gamble at the time and that's when a billion dollars was really money. IBM jettisoned the whole of its product range, most of which were not compatible with each other, and went for the single compatible range. This meant that nothing was upgradable, nothing was transferrable, everything had to be redone, it was unbelievable. A huge task." It was however successful and Peter adds: "It gave us a huge position in the market from there on, but it was a hell of a gamble when it happened."

IBM's branch managers were the eyes and ears of the customers and to a large extent drove not only sales success but also development, as Peter explains: "The one precept that the company followed to the letter was that you never lose an account without bringing the company down with you." He explains that whatever was needed was escalated and it was the branch manager's role to do this, adding: "You took it up the company until you got there. I remember quite a lot later, when I was probably the divisional director at that time, NCR, had some very good machines for desktop applications in banking and I had to take it to the top of IBM Europe and then to the design labs in the States and have boxes made for the Royal Bank, I think it was. We were not going to lose the account. We turned the company upside down to win it. At different degrees of intensity, that happened all through the company, but it was the branch manager who was the lynchpin, and of course he made the critical calls to customers to give them the undertakings that IBM would deliver and of course, they had to be credible in that respect."

 After two years in Liverpool branch manager, Peter was appointed administrative assistant to the head of IBM Europe, Jacques Maisonrouge, based in Paris. Jacques was replaced by Billy Christenson for whom Peter would develop a "complete management system structure". When he returned to the UK, Peter along with Jim Foster, were assigned the same task in the UK by the then chief Executive, Eddie Nixon. Peter says: "Jim and I were assigned the task of putting in place a management system for IBM UK including redefining executive roles and executive decisions.  We did that in the second half of 1969 before I went off to become a district manager and Jim went off to become the head of corporate activities."

Peter's next role as a district sales manager took him to Birmingham where he was responsible for the branches that had the primary manufacturing accounts, including British Leyland, Rolls Royce, Ford, and the aircraft industry among others. After success in this role, Peter was then appointed sale director for IBM UK. He says it was all relative: "The divisional director I think had a very bad car accident.  The sales director took his role and they had to look at the 5 regional sales directors to make an appointment and they chose me. I don't know whether it was my youth or whatever, but there was a chain of events that caused that to happen."

Peter's principal role was to deliver the country's quota. He had a team of 5 regional directors reporting into him who all focused on the industry sectors. He says: "My main role in life was to lead the sales effort.  I would visit every branch once or twice a year, visit some of their key customers, get a full presentation from the branch manager on how he was conducting his business and speak to all the branch people at an open meeting. I would get involved in key sales situations, especially with this business about bringing down the company; I was one of the first stops on that process."

The next stage of Peter's career saw him move into a role where he had 2000 people reporting to him as Group Director of marketing, IBM Europe. In 1980 he became Executive director at IBM UK, Portsmouth and London running all the data processing division business. Peter says: "In the UK we had 3 major units, one of which was the City and the South East which was the key business. I ran that for a couple of years, then I looked after business development for a couple of years where we were getting into things like robotics and telecommunications but not very full-heartedly, it must be said. Then I did a staff role for a period where I had really all the corporate staff functions reporting to me and I found myself becoming an advocate for, and knowledgeable about, the environment."

In 1987, Peter became Director of IBM UK Holdings Limited. He says: "This is when I had all the corporate functions from intellectual property to corporate affairs, sponsorship and everything like that, everything that wasn't mainstream business.  It was an interesting period because in our corporate affairs activities and our charitable activities we had quite a big programme and we spent a percentage of our revenue on it all." The work included involvement with a book by The Scandinavian prime minister, Mrs Brundtland, entitled 'Our Common Future', one of the early books on the topic of the environment. Peter continues: "We embraced this, and we decided that we wanted to give the United Nations Environment Programme a computer. To do this, I had to find out about the environment. I met everybody who was anybody, including the head of the Environment Agency, and the government's chief scientist, and Jonathon Porritt who was the big pundit at the time." IBM donated the computer and Peter was invited to a lunch at Highgrove where he sat next to the Prince of Wales. He also presented the environmental case on TV when he was working at the IOD.
Institute of Directors
Peter left IBM after a thirty year career when he was invited to join the Institute of Directors (IOD) as Director General.  During Peter's time with the IOD, membership rose to around 50,000 covering both large corporations and SMEs. The organisation was based in Pall Mall which acted as a function venue and offered members a place to stay, work and meet. The Institute also had several regional branches which provided meeting places for their members.

At the same time as acting as Director General at the IOD, Peter also started a portfolio career taking a number of directorships with various organisations.
UK and the entrepreneurial spirit
Asked why the UK can't create an Amazon, Microsoft or Apple, Peter says: "I've looked at America to try to understand what happens there and I think, apart from the scale of things there, it somehow seems to be in the blood. … Gates, Jobs and people like them, combined an entrepreneurial approach with a really great grasp of the technology and its capability. Stanford University obviously has a lot to do with it. There is an enterprise culture. We have Cambridge but it doesn't have the same effect at all as Stanford has. And of course, we haven't had venture capitalists operating in the same way."
Mistakes
Peter says: "I haven't dwelt on my mistakes very much. I would sum things up as 'the end justifies the means', by which I mean I am not dissatisfied with where I've arrived and therefore, if I've made mistakes they haven't really got in the way of getting to where I am now."
Interview Data
Interviewed by Richard Sharpe
Transcribed by T P Transcriptions Services
Abstracted by Lynda Feeley
Register or login now to view a full transcript and access other associated audio and video files