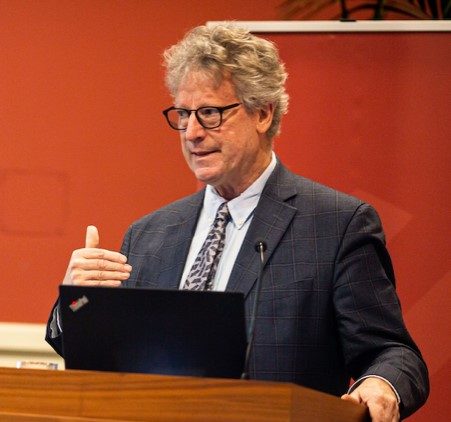 Professor Bill Dutton is an eminent authority on the role and impact of information and communications technology in society. He was the first Director of the Oxford Internet Institute, founded in 2001, with support from Dame Stephanie Shirley, to focus on the societal opportunities and challenges of the rapidly developing technology.
His graduate studies were in Political Science, since when Bill has held roles with many institutions, notably at the University of Southern California and at Oxford with Balliol College and the Oxford Martin School. Bill was also Professor of Media and Information Policy at the Quello Center and Professor at the Annenberg School for Communications.
He combines expertise in ICT and human behaviour to illuminate the interplay of technology with issues such as security, democracy, (dis)information and response to the pandemic.
Early Life
Professor Bill Dutton was born in August of 1947, in St Joseph Missouri. He says: "That's in the Western part of Missouri where the Pony Express began one of the first teleport (or telecommunications) projects, but which only lasted six months, I think. Many of the wagon trains to the West started from St Joe, creating a big industry, selling wagon wheels and all those things critical for the trip west. It was an agricultural town with major livestock markets."

Bill's mother's family were Ukrainian immigrants to the United States during the Russo-Japanese War and worked in the packing plants in St Joseph. His father's family moved to Missouri after losing their ranch in Kansas during the depression. His grandfather started a sheep commission company in St Joseph and his father transitioned to head the Dutton Sheep Commission Company as his grandfather stepped back. His mother was his grandfather's then father's secretary then headed the Company briefly after his father's death. Neither of his parents had experienced higher education but always encouraged Bill and his older sister at school, both of whom earned doctorates.
Education
Bill went to the local public elementary school, Noyes, where he enjoyed baseball and all sports.  He hung out at the public library, book mobile, and joined a science book club, but was not very academically orientated until he went to college. After a kidney injury in his 4th or 5th grade, he stopped playing contact sports and took up competitive swimming and diving at the local YMCA and won a medal for diving in the Junior Olympics in the Mid-West. He says: "I loved swimming and breaststroke was my stroke. I won quite a few medals in that area as well. I felt like an athlete.  I even took up surfing when I went to California and, partly because of my swimming background, found that to be one of the most wonderful sports in the world."

Bill attended the University of Missouri at Columbia, which was the main public university in Missouri.  He began as a pre-med student taking general science and chemistry, having exceled in chemistry in high school, rewarded with a flight in his chemistry teacher's homemade plane. His parents encouraged him to go into medicine or dentistry.  However, having worked nights in a local county hospital as an orderly through his sophomore to senior year, Bill realised he didn't want to be a doctor and started to focus more on his political science courses. He says: "I took several courses in political science that I found tremendously engaging and I got a lot of positive feedback from my faculty. So, I switched entirely. It was during my studies in political science that I started using computers (IBM mainframes) because I started doing quantitative analysis of voting behaviour in the French National Assembly and the US Congress and trying to compare voting patterns.  … That's when I started learning how to programme and develop programmes for doing that analysis."  Bill learned Fortran and mainly wrote programmes to analyse social data, such as creating indexes and scales.

Against the background threat of being drafted into the Vietnam War, Bill gained a scholarship for graduate studies in political science at the State University of New York, Buffalo (SUNY), with the aim of returning after his draft to law school. However, he failed his medical for the draft due to his earlier kidney injury and continued with his political science education graduating with his masters in 1971 and his PhD in political science at the same university in 1974.

He says of the experience: "It was a new university at that time, and Rockefeller was trying to create a university that could compete with the University of California system, so, they hired some really great professors. I had terrific, inspiring professors in political behaviour, like Les Milbrath, and political philosophy, like Paul Diesing, and others.  I studied urban politics, comparative politics, and research methods."

Bill was invited to stay on at SUNY to work with Les Milbrath, or go to Germany to work with Professor Rudolph Wildenmann, with whom he studied comparative politics. However, with encouragement from his wife, he took his first full-time teaching position at the University of South Florida as a political science professor teaching urban and American politics. He says: "I really enjoyed that, but it gave me my first sort of intensive focus on teaching."
Political science and IT
On the connection between political science and IT, Bill says: "I've never really taken a computer science course but that's actually never bothered me. I had never taken a communication course, but I went into a school of communication to teach. Most political scientists don't think that they ever have anything to do with IT either.  Today, the field of IT is becoming increasingly multi-disciplinary, but it wasn't that way.  The biggest struggles I've had in my career have always been people thinking that political scientists should not be interested in IT.  I've always thought actually there are some really interesting issues about the political implications of computing and that should be central to the field."
Annenberg School for Communications at the University of Southern California
In 1980, as the use of computers and multimedia started to transform all aspects of society, Bill moved to Annenberg School for Communication at the University of Southern California (USC). In 2002 he became Professor Emeritus.

Bill says: "I had never taken a course in communications and when I applied for this role at the Annenberg School and I told them. They said, 'we know, but you understand the use of computing'."

Students at the school studied film, public and commercial television, communication in organizations and society, but had no technical or user focus on computing. Bill adds: "This was a time in which people began to talk about the convergence of computing and telecommunications and broadcasting. What does this mean, what can we do and how will this change the way we get information. There was a move towards interactive cable television; the idea of cable enabling far more channels of television into the home but also two-way communication between the home and the local cable television station. This was a big deal. At the same time there was videotex, the idea of having a computer terminal that would be able to link through your telephone to get information and display it on your TV set.  In the early '80s, half the students that came to the Annenberg School wanted to design information for videotex systems and the question was whether videotex or interactive cable would be the future of media."

The students were also interested in the development of the internet. Bill adds: "It was a time of [wondering] how communications would evolve, and students were fascinated with it and wanted to get into the new industries that might form from that [convergence]"

Bill adds that the Annenberg School was considered, in the early 1980s, as being too ahead of its time in terms of its vision for what might happen through integrated communications and "being too enthusiastic about new technology."
Fulbright Scholar
Having been part of a comparative study of interactive cable television and 'wired city' projects in the US, France, Britain, Japan and Germany, Bill became connected with a number of academics in the UK who were also interested in the future of communication and information technology.

He won a Fulbright Scholarship to spend a year at Brunel in the UK in the mid 1980s. At the time, the university was developing a proposal to be part of a new ESRC funded centre in a national programme on information and communication technology (PICT), which Bill came back to the UK to direct over its last years.

He says of the time: "I think that the UK was experimenting with some of the same things but I think there was more technological scepticism in the UK than in the US, where there was much more optimism about technology.  On the flipside, in the UK there is much more of a sense of interest in the social implications of technology.  So, think about broadcasting and this debate over the BBC, or over public service broadcasting, and the same with cable television in the UK, there is much more of a receptivity to discussion about these technologies as not just technical advances, they actually may have real implications for society in what you can view, the choices of viewers, the social divides that might exist in society and their implications globally.  So, the UK was a very good place to study the social implications. It was one of the most major early programmes to study IT, in a multidisciplinary way, the social impacts of what we then retitled the information and communication technology (ICT)."
Oxford Internet Institute (OII)
In May 2001 the Oxford Internet Institute was founded. It is a research and teaching department of the University of Oxford, based in the social science division, and dedicated to study of the social implications of the Internet. Bill was appointed as its first Director in 2002.

Bill says of his role as Director: "It was a gift because this is what I was trying to do, I was trying to put together a centre or a unit that would look at the societal implications of the internet. The OII, not only is it a great name, but it was also a department that was anchored in the social sciences division of the university, not in engineering or computer science and that made it distinctive as well because I think it was the only major department at a major university that was anchored in the social sciences and focused on the internet. Even schools of communication and media studies were not looking at the internet at that time."

OII was founded as the result of interest from a number of different sources, including Government, on research into the effects of the internet. Bill says: "Derek Wyatt and other parliamentarians started coming to Oxford and saying "This (the internet) is a big deal coming through and Oxford should be doing something serious in this area. Andrew Graham, he was then the acting master at Balliol, he became interested in it having done a sabbatical at Harvard's information infrastructure project and having been exposed to people working on internet-related research at Harvard. Therefore he was receptive to this idea of something around the internet being done at Oxford. They put together a network of college masters, head of college and academics in the area who pulled together ideas for this. They were able to find philanthropic funding from Dame Stephanie Shirley, who was a pioneering woman in computing worldwide. She offered to help initially fund a new department if it got support from government."

Of the decision to concentrate on the internet rather than the world wide web, Bill says: "I think that how people define the internet — and how narrowly or broadly  — will be an eternal debate. I've always defined it as broadly as possible and I'm not interested in just simply looking at an internet protocol. I'm interested in the ability …  The internet was really a way of networking computers and therefore networking people and I think that everything is going to increasingly network in the future and therefore, the internet is probably the broadest way of thinking about this revolution.  The web, of course, is a way of facilitating the sharing of documents online and on the internet and so, I think it is an aspect of the internet, just like social media are."

Years after the OII was launched, there was an original plan and funding proposed to have a major world wide web institute to be part of OII, working with Tim Berners Lee, but a new government killed those plans.

As a result of its social agenda, which is unusual, and its worldwide visibility, OII has been able to attract internet pioneers, esteemed professors and some of the best students from across the globe. Bill adds: "We just had an embarrassing position of being able to bring in visiting faculty and visiting researchers who were absolutely outstanding from the day I landed almost. I was able to bring on visitors like Ted Nelson, who invented the concept of hypertext, the economist Paul David, from Stanford, spent a year or two with us, Richard Rose, a political scientist helped put together the Oxford Internet Surveys."

However, initially there was real scepticism about the future of the internet, Bill adds: "I must say that when I first got there, in 2002, some of my colleagues in social sciences in the UK said, 'Bill, what are you going to do in a couple of years when the internet is no longer? It's like CB radio. Or, it's a fad.' I replied I'll be right here because everything is going to be more and more networked – forever."

 Currently OII is focusing much of its work on the societal risks around the development of AI, the potential biases of algorithms and the inequalities in society tied to a lack of access to these technologies.

Bill adds: "I think the OII is rightly taking issue with an uncritical view about the internet, but also we have to be critical of negative as well as positive views; we can't take negative views about the internet for granted. For example, a lot of my research more recently, has questioned this notion of disinformation as it is really a technologically deterministic view. It doesn't stand up to empirical research. I think more and more people are realising that that's true, they just hadn't done research around these issues.  The job of social science is not to give a positive or a negative perspective on the technology but to question, challenge, conventional wisdom with empirical research and thoughtful analysis, otherwise we just bounce back and forth from these utopian and dystopian views about technology."

He says that his current work is around cybersecurity as well as what he has called the Fifth Estate. He adds:  "I think, if we can't solve some of the issues with cybersecurity, then this really threatens the vitality of the internet going forward."

Bill says the issues with cybersecurity are multifaceted, he adds: "It's technical issues in terms of having technology that is more secure but it's also having the laws in place, that correctly and appropriately regulate issues such as privacy. I've been writing about what I call a cybersecurity mindset." He goes on to compare it to the use of bicycles in Oxford where everyone has a security mindset around keeping their bikes safe, from buying second-hand bikes to automatically ensuring bikes are locked and in well lit public places to help reduce the opportunity for theft.   He adds: "It is just an ingrained routine about the security of their bicycle.  Why can't we have a cybersecurity mindset, where we don't have to think about it. We do things like use multifactor authentication, good passwords and so forth, as a matter of routine without even thinking about it. But again it's a technical issue too because people have to design systems that are easy for people to use securely.  You can't have 50 passwords that you change every month."
The Fifth Estate
Alongside cybersecurity, Bill's other main research interest is in the Fifth Estate; a long-term research project looking at the internet's role in enabling democratic accountability or bringing ordinary people into the democratic process. It is an interest that started early in his career. He explains: "I think it [the Fifth Estate] is the most important thing I've thought about and conceptualised as a political scientist. It came about actually from the very beginning, as a political scientist, when I graduated from SUNY. After I taught for a while at the University of South Florida, I was hired by a research project at the University of California Irvine and they had the first major NSF funded evaluation of the impacts of computers in government. They didn't have a social research methodologist on their core team. They had a senior statistician and people who understood management, political science, and computer science, but they had nobody who was focused on research methods. We had to study how computers were used in cities across the US. We also did intensive research in 40 US cities, and I pulled together the methods for that. That got me interested in the impacts of computing in government and because of my background in political science, my focus was naturally on whether and how computing and the introduction of computing might reconfigure power in organisations like governments."

"Most of my early work in political science in the area of government and politics, was talking about how generally we found in that research, and in follow-on research, that computing basically was used and implemented in ways that would reinforce existing power structures.  So, many thought that computing might empower the technocrats in organisations, or it would benefit top managers who would know what is going on in all aspects of their organisation that they could never know before computing because now they have all the information at their hands. They were deterministic views of the power shifts related to computing and we argue that if you have a very centrally-controlled local government, they will adopt computing and adapt it in ways that will reinforce that centralised control."

Bill goes on to say that the internet changed his thoughts on this. Adding: "It was the first time where I saw, that actually, there was a way in which the internet was enabling networked individuals to create their own information, to search and source their own information through search and social media and to aggregate what they know with other people in their social networks and that they were able to become a source of information, much like the press and they were actually able to hold other institutions accountable, including the press and government.  Individuals are not really an institution of government, they just vote, but they are becoming more and more of a force equivalent to the press in an earlier era, which we started to call the Fourth Estate. The press could reach so many people, they became an independent source of influence on politics.  Now, the internet is enabling so many networked individuals, who strategically use the internet, to have more informational or communicative power in relation to institutions, and they are becoming a new force in politics; a new power shift."

With the introduction of government services online for citizens, Bill says that there is a potential to see it as "maybe distancing citizens from direct involvement in government and if not used well, computing can be used in ways that distance government from the public. Part of what I talk about is the fact that computing doesn't have an inherent impact or role in government but in the early days, like the 1990s, early e-government work, even when we studied it, [computing] was mainly automating existing processes. As we began to understand more about the potential of computing, we were actually changing the way we do things."

Today, with the growth of home and mobile technology, there is an opportunity to "rethink how these things can be done in a way that ties people more closely to government.  We know more about what government is doing now and there is much more involvement of citizens online, through social media, and public opinion polls etc." He adds: "To a degree, people are now actually worried about popular opinion and populism and whatever, becoming too powerful.  It's scaring people." But it is not democracy versus the mob, as the Fifth Estate is no mob and it will complement and support traditional democratic institutions.
Politics, disinformation, and the internet
On the subject of disinformation on the internet, Bill says that his research suggests that "much of the hand-wringing over misinformation underestimates the user. Everybody thinks other people are fooled; they say: 'I'm okay, but other people are too dumb to realise that this is fake news or fake'. In 2016, after the Cambridge Analytica scandal and so forth, we surveyed people about how they get information about politics across 7 countries, the US, plus 6 of the largest EU countries including Britain. In every country, people who use the internet when they want information about politics tend to get information from more than 4 sources, the internet being only one of those sources. When they go online to get information, they get information from more than 4 sources online.

"So, this deterministic notion of people living in a filter bubble where Google or Facebook simply tweaks exactly what they know and see, and they continue to see what they want to see because it just reinforces their preferences, is naive about how users actually use the internet.  It makes logical sense from the technical features of search but it's naïve about how actually people use the internet and get information.  It's just like people who are interested in sports, they read everything they can about what's going on in sports and they don't necessarily trust or are not fooled by any one source or any one commentator.  That's the same in politics.

"While people will, and have always, tried to misinform and use propaganda and other things in politics, people who are interested in politics are end-users and have more and more capabilities of informing themselves and checking facts. So, I see a lot of promise and I think more emphasis should be placed on alerting the public to how they can be aware of issues … and not so much on regulating the tech companies to censor the internet."
Impact of the internet
Asked how the internet equates to the impact and evolution of communications over time from the written word, printing press, telegraph, radio, television, mobile phones etc, Bill says:

"I think its impact will be as significant. The Fifth Estate is something that would probably not exist without the internet.  But that doesn't mean that people could not witness developments and record things with photographs and so forth.

"I think it's equivalent to the printing press, to the telegraph, and so forth.  But again, that it's all been an evolution of the telegraph in terms of electronic communications, but it's an evolution that is qualitatively different. The telegraph is a little bit limiting compared to the internet in terms of ability for us to Zoom call with anybody in the world for example, things that you couldn't imagine doing. But there are some elements of this that are very similar to literacy, to the telegraph, to the book, to the printing press, in a way that the internet is all of those things, it can emulate all of these capabilities."
Force for good
On the subject of whether the internet is a force for the good, Bill adds: "Definitely, definitely, but I think we're in a major period of demonising the internet in terms of misinformation and harms that can be done online.  Then the pandemic happened and we find that the internet is almost a lifeline for societies around the world. … Maybe in the future we'll look back at the pandemic and say, the internet actually is not as bad as the demonisation of it would portray it.

"There are problems, and I think the biggest problem is that we will overreact to those problems and undermine the power of the internet to enable individuals to access information that they need. Just like they were afraid of books for a while and there were concerns of people getting access to books that would be harmful to society. We really are in a very early period of time in terms of developing the norms of how people should use certain things and developing the rules that people should use to regulate their own behaviour online and the behaviour of their friends and teach their children."
Interview Data
Interviewed by: Tom Abram
Transcribed by: TP Transcription
Abstracted by: Lynda Feeley