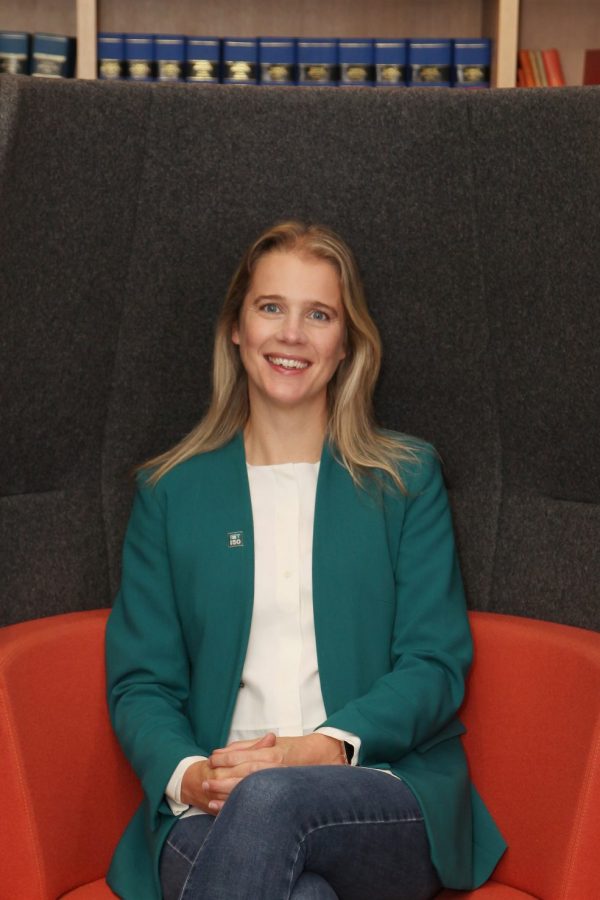 As a child, Professor Danielle George always loved asking "why?" and exploring how technology can deliver answers. On her Commodore 64 computer, she says, "I was much more a programmer than a gamer."
She was also fascinated by space, waking in the small hours to watch lunar eclipses with the telescope her parents gave her aged eight. A maths teacher at her comprehensive school provided further inspiration with his university astrophysics books. Reading them filled her with awe, she recalls.
At university, she shunned the data-driven world of traditional astrophysics, in favour of radio astronomy. "I had always preferred the practical side of maths and physics," she says, "and I felt I needed to use my hands." Her work on the unmanned satellite project at Jodrell Bank became her doctorate.
Now Professor of Radio Frequency Engineering and Associate Vice President at the University of Manchester, Professor George's research is dedicated to solving one the 14 world engineering grand challenges of the 21st century — engineering the tools of scientific discovery.
She loves teaching, which she says always brings "fire in my belly," although doesn't have much time for it with her present responsibilities. She is the current president of the Institute of Engineering and Technology — only the second woman to hold the post. An outstanding role model for women in science and technology, she is passionate about raising public awareness of the positive impact of STEM subjects on all aspects of our lives.
Early Life
Danielle George was born in Newcastle, in January 1976, she is the middle child of three sisters. Her father was a mechanic and her mother a special needs teacher. Danielle says family life was: "full of laughter and curiosity. I was always the child who was asking why all the time." Her parents and sisters were supportive of her curiosity and would explore the answer together.  She adds: "I got into astronomy at about eight years old when my parents bought me a telescope for Christmas and I used to love looking at the lunar eclipses. My family, including my two sisters, would wake up at 1 o'clock in the morning and we'd all go outside together and look at the moon and the planets. It was just such a such a supportive environment that we were all in, which was brilliant."

Both of her parents were very supportive of their children's education. Danielle also attributes her hands on learning to her dad who was a car mechanic with his own garage.



Education
Danielle and her sisters went to the local first, middle and then comprehensive school. She studied A Levels in maths, physics, and chemistry. She says: "We had really supportive teachers who didn't just focus on the students that maybe needed more help, they also focused on the higher end of student and really pushed us to achieve."

She adds: "It really helped because I had a maths teacher who had gone to university to study astrophysics. He knew that I was very much into astronomy as a sort of a hobby and I liked maths and physics. One day, he showed me his textbooks from university and I was just filled with awe about these amazing equations and that really inspired me to think that astrophysics was the subject for me at university."

After completing her A levels, Danielle went to Liverpool university to study Astrophysics. She then on to Jodrell Bank Observatory, part of the Victoria University at Manchester, to study radio astronomy for her masters degree.

She says: "There weren't that many places who were doing undergrad astrophysics at the time. I had unconditional offers from Edinburgh and Liverpool, and I chose Liverpool and never regretted it because it's taken me on the path that I am on now."
Jodrell Bank Observatory
Danielle did not have a career plan but followed what she loved; physics, mechanics and maths. She adds: "It was very much a data-driven environment when I was doing my MSc in radio astronomy.  I then realised this isn't for me, I can't just sit at a computer and just do it; I need to be doing something with my hands as well.

"I started working with the engineers at the university out at Jodrell Bank Observatory. We had to get a special dispensation for me to do my dissertation project with the engineers rather than with the academics.  I did that because I really wanted to be hands-on, and I carried on doing that hands-on. A job came up as a junior engineer, just as I was finishing my master's and I thought, I'm going to do that because I want to do more of the hands-on work."

Danielle worked her way up and became a senior engineer at Jodrell Bank Observatory and worked on an unmanned satellite spacecraft project.  While doing the project someone pointed out that it was engineering and she ought to consider writing it up as a PhD in electronic engineering. She adds: "I hadn't really thought about a PhD and writing all this up, I just loved doing my research, I love doing my work. So, that's what I did, I wrote it up as I was working and handed it in 2006."
University of Manchester
In 2006, after handing in her PhD, a lectureship position opened up in the Electrical and Electronic Engineering department at the University of Manchester and Danielle was encouraged to apply for it. She says: "I was looking for another role by then; a new challenge.  I was very lucky, I got the job and then started down the academic track, never having taught before. It was very interesting to be thrown into the teaching side, which I absolutely love, it gives you a different buzz. You get an amazing buzz from your research and a completely different amazing buzz from teaching, especially first years; teaching first-year undergrads is brilliant."

"What I love about my job is it just keeps changing all the time. Even though I'm still with the University of Manchester, my role changes, the challenges change, the research challenge changes, the teaching, the type of students you have, change. It's always changing and there is always something new and challenging so I don't feel like I've got the same job that I had in 2006."

Danielle's career at Manchester has seen her progress from lecturer, senior lecturer, Reader, to Professor. She is currently associate vice-president for blended and flexible learning.
Associate Vice-President for blended and flexible learning
Danielle is currently associate vice-president for blended and flexible learning and also President of the Institute of Engineering and Technology, and is therefore not currently teaching.  When she does teach, she teaches first-year electronic circuit design and at the master's level, first and fourth years. She says: "I do miss it. The challenge that you get from teaching is brilliant, it's such a wonderful experience.  I always get in a fire in my belly when I'm teaching.  … If I don't have that fire in my belly, I'd probably ask to stop teaching because I think it is really important to have that and to have that passion and that energy for your subject when your teaching students."

Danielle says of her current role: "The majority of my work is as associate vice-president for blended and flexible learning. As you can imagine the amount of more blended and flexible learning has increased in the past 14 months due to the Covid 19 pandemic. There is a lot of the digital technology side that sits in my remit now and making sure that we have the digital technology to be able to teach, to be able to make sure that, no matter where a student, or indeed a staff member, is in the world, they can access synchronous activities as well as asynchronous activities. Making sure that we've got platforms and people have the digital skills, all of that sits in my remit."
Challenges
Of the challenges she's faced she says: "There were challenges in terms of I was very young, a lot younger than most of my peers, and I was female. There weren't very many females in our department, certainly not in my area.  I was very, very lucky that I had some excellent peers and an excellent head of school at the time and he didn't see age or perhaps gender as a barrier. … I took on different roles, and then I got promoted. A lot of it was self-driven."

With fewer women working in engineering, there have been times when Danielle faced sexism while doing her job, for example, in meetings when people would look to the older male in the room when she asked a question, despite the fact that Danielle was the senior project engineer. She explains: "Thankfully, my colleague would always say, 'Well, Dan, what do you think because you're leading this project?' He would always bring it back to me."

Realising that this would continue throughout her career, Danielle decided that she could either continue to get angry about it or challenge it. She chose the latter option and asked the man who frequently did this, addressed her older male colleague instead of her, if he had realised what he was doing.

She explains: "I asked him if he realised that he was doing this and I walked through the scenarios of what he was saying. He said: 'Oh, my goodness, I'm so sorry I didn't realise that that's what I was doing.' It was really nice because we then talked about it and he said, 'Look, I work in this industry, it's still very much white male, generally middle-aged dominated environment and I'm just not used to a young female engineer leading a project and really, really sorry that I was like that to you'. I felt really good about it then because it was a positive thing and something that I kept in my head when it happened again and to be fair, it hasn't happened very much at all."
World engineering grand challenges
Danielle is also working on a research project solving one of the 14 world engineering grand challenges. She explains: "They are things like reverse engineering the brain, engineering better medicines, and the one that I work hard on is engineering the tools of scientific discovery.

"There are astronomers and astrophysicists around the world who want to study the universe more, they want to understand our universe. It tells us a lot about fundamental physics of the universe of our earth as well.

"I help to design the instrumentation that allows them to do that; engineering those tools for those big scientific discoveries.  I work on space and ground-based instrumentation.  I develop what is called the low-noise amplifiers. … This is pretty hard to do, it's not like you can get off-the-shelf amplifiers to do it, so, I and my team design amplifiers which are called monolithic microwave integrated circuits. They are between 1 and 2 millimetres square. As an amplifier they're tiny little things on different semi-conductor materials and we package them and then we cool them to about to about 20 Kelvin, (minus 253 degrees Celsius) and then we put that on a telescope. That allows that tiny cosmic signal to be captured and then amplified, so, that astronomers can then reduce all of their data and make their maps of the universe."

Danielle's team consist of an international group of research associates and PhD students.
Achievements
Asked about her proudest achievement to date, Danielle says: "From a research point of view, working on an unmanned spacecraft that went to Lagrange Point 2, which is twice the distance the earth is from the sun. The aim of the project was to study the remnants of the Big Bang, called the Cosmic Microwave Background.  That was special because it was one of the very first things that I worked on, and it was a huge, huge project between different space agencies around the world."

Danielle adds: "But, I suppose, your next challenge is always the interesting one. I'm working on two projects at the moment; one called ALMA, which is the Atacama Large Millimetre Array, a series of 66 dishes working at super-high frequencies for radio astronomy. We're into the hundreds of gigahertz, so my team are trying to push semiconductor technology in up to terahertz levels and still get that low-noise that astronomers need.

"There is another one called the Square Kilometre Array, which will be the largest radio facility ever built. It's in a remote area in South Africa and in Western Australia.  The idea is there are hundreds of thousands of these dishes or the old-fashioned sort of aerials, that you might have seen on top of roofs on houses. They're all connected across Western Australia and South Africa and they make a square kilometre's worth of collecting area.  … It's going to be 50 times more sensitive than any other radio instrument ever built. We're still building it, but it's already opening new windows to the universe and making new discoveries."
President of the Institution of Engineering and Technology
Danielle is enjoying her year as President of the Institution of Engineering and Technology; only the second woman in the institution's 150 year history. She says: "The big thing I wanted to do was inspire the next generation about engineering technology. I want to come out of the engineering bubble and show people that engineering is everywhere, in fashion and music, and food, etc., and have conversations about engineering and technology in unexpected places.

"What we're sometimes very good at is preaching to the converted, we talk to people who are already really interested in engineering and technology. That is really important because you need to make sure you keep people's interest and help them with their career paths or with their questions, but we also need to get out of that bubble and talk to people who have never even thought about engineering and technology as a possible career."
Role model
On the subject of the importance of role models, Danielle says: "There are loads of amazing role models out there and it's lovely to see more and more female role models which I think is really important for boys and girls. It's not just role models for girls, we need to have female role models for boys as well."

On being a role model for engineering, Danielle says that at first she found it difficult when people were critical of the work she did, who she was, or were just not very nice for whatever reason and trolled her on Twitter etc. Eventually, she realised that she needed to focus on the difference she makes to the people who are interested. She adds: "It is a continual battle for me, just to make sure that the trolls, which are definitely a minority, aren't the ones that stick in my head and make the nice ones stick in my head if I can.  I haven't quite mastered that yet though."
Impact of engineering and technology on society
Speaking about the impact of engineering and technology on society, Danielle says: "We all fall into this trap of taking for granted the great feats of engineering and technology that we all rely on every single day. It's ironic that engineering is everywhere but it's invisible because it is woven into the very fabric of everyday life. We need to make sure that we're celebrating the role of science and engineering, what that role is in society, and showcasing people through role models, showcasing the inventions etc."

Danielle highlights a few of the very things we all take for granted, electricity, AC power, and the fridge. She adds: "If you take fridge and electricity, now imagine the past year without those two things. You've got electricity, which we're all massively relying on, the AC power generation that allows us to all to be able to work from home and the fridge has played such an important role in the pandemic and the rollout of the vaccines as well."

In the field of radio astronomy, Danielle says that for her one of the greatest inventions has been the radio. She adds: "It's such a special and important invention and it was such a springboard for so much of our wireless communication. Imagine the world without wireless communication now.  Radio has transformed society a number of times and it gave birth to this massive field of electronics as well.  It's got this amazing chameleon-like ability to adapt to market changes and to the cutting-edge technology developments that makes it still so relevant globally today."
UK innovation
On the success of the UK as an innovator, Danielle says: "We're doing more and more innovation with an entrepreneurial spirit about it." However, she points to the need to be able to better utilise the research that is coming out of the UK's research facilities and universities by connecting it with industry. She adds: "We're not brilliant at putting those two things together and taking some ideas that are at the low technology readiness levels and pulling them up to a high readiness level, ready for a product in the market. We're doing a lot more of that, but we need to go a long way to compete with the US in that sort of entrepreneurial area."
Future breakthroughs
Asked what might be the breakthroughs of the next decade, Danielle says: "I think the world will change in really fascinating and very unexpected ways and we all need to be active participants in that to help shape the future for the good of humanity, for the good of our planet as well.

"One of the most important things that any engineer or scientist can do is to help the next generation play their part as well.  That starts with empowering our children to imagine a much bigger and brighter future and helping them understand that they are the ones that are going to be shaping this future and bringing it to reality as well.

"Personally, I think one of the most important technologies of the future is going to be Artificial Intelligence. AI is already radically changing our everyday lives.  It impacts the future of pretty much every industry and every human being on the planet and it will continue to act as a technological innovator for the foreseeable future."

Danielle believes that the potential of AI and human intelligence to combine in the future is a fascinating area which may see us evolve, especially in relation to space travel.

She explains: "As humans, we are not biologically set up to travel in space.  There is an awful lot of technology that has to go behind us to be able to travel in space.  Could we get to a point where we evolve and there's this morphing of humans and Artificial Intelligence, and it's that—that then does the space exploration and it is that—that colonises other planets if that is what we want to do, or explores other planets around the universe, not just in our solar system.  I think it's a fascinating area."

The whole area of how humans and technology combine however, requires an ethical approach. She adds: "In the past, we've kept ethics and politics and technology separate and they're coming together a bit more now, which is a good thing. Just because we can do something from a technology point of view, we do need to question is it the right thing ethically, morally, politically, financially, etc.  I think getting the younger generation to think about all of those on the whole is a fascinating time for them."
Advice
Danielle points to the many ways that engineering and technology are shaping our world and says: "there has never been a better time to join this profession and have a hugely rewarding career; there is a huge demand for your skills."

She also highlights the many routes into these kinds of roles whether that's studying traditional maths and science subjects or a much wider option. She says: "There are more diverse routes now which is great. People might want to study a language with a science, or music; all of these things can be engineering and technology.

"It's great that there are other pathways that people can take to become an engineer, a technologist, other than via university because I think it opens up the pool to a lot more people and that's what we need. There is an engineering skills shortage in the UK at the moment, and we know that there are not many women going into it. It's better than it used to be but it's still 12%, so, it's not huge.  So, diversifying hopefully, keeps more people in that pipeline and it's not as leaky because it's an extremely leaky pipeline at the moment."

To correct the balance, Danielle says: "I would like to see more engineers in politics, because I think it would be good to have scientists and engineers in the big roles in politics, people who actually understand engineering and science. I think that would be a very valuable thing for all of us."

 On the cause of lack of women in engineering, she says: "There isn't one thing.  we've been a society that for whatever reason hasn't attracted or allowed technology and engineering to be attractive to girls. Some of that still is the image problem of boiler suits, hard hats, the very heavy end, which some people do and that is great because that is part of engineering, but some people don't too.  There's much more focus to get people to think about the different areas of engineering and how diverse engineering is and linking it with the global grand challenges, linking it with the sustainable development goals, I think is a really good thing."

Danielle points to generation Z who want to make a difference whether that's climate change or sustainability and adds: "We, as engineers, have to get that message out that, if you want to do that, that's brilliant, here are all the jobs that you can do in the engineering profession that will fulfil that for you." To this end, Danielle does a lot of public engagements and talks and was asked to do the Royal Institution Christmas Lectures in 2014.

She says: "That was an amazing springboard. I did some before that but not to the same level and after that I got amazing chances to do some BBC documentaries, lots of public engagements. …  I've been very lucky to be given that original springboard; that's something that massively changed my life. I don't think there are many things on a personal and a professional level that can simultaneously change your life and doing the Royal Institution Christmas lectures definitely did that for me."
First Computer
"I was a Commodore 64 girl when I was young, that was my first major route into computing. I always have loved tinkering with computers from a hardware and software perspective.  Not as a gamer but much more of a programmer, but anything that involves tinkering, taking things apart, putting them back together, working out how things work, then, I'll be interested."
Interview Data
Interviewed by: Jane Bird
Transcribed by: TP Transcription
Abstracted by: Lynda Feeley
Register or login now to view a full transcript and access other associated audio and video files