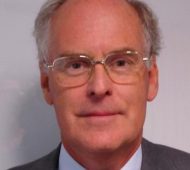 Michael Earl is Emeritus Professor of Information Management and Honorary Fellow of Green Templeton College and of Harris Manchester College.
Michael's expertise is in the management of IT and strategic management. His current and recent work has been on IT in post-merger integration and on rethinking information as a strategic resource.
Early Life
Professor Michael Earl was born on the 11th January 1944 in Cheadle, Cheshire.  He was the only child of a sales representative and a housewife.  As a war baby, his parents did their best for him in difficult times.  He describes his maternal grandparents as internationalist.  His grandfather was big in business and did a lot of travel in Europe, believing in the Whig-Liberal tradition of free trade.  He believes this has influenced him in many ways.
Education
Michael had a traditional education at the local primary school and believes he was taught a good sense of citizenship as well as the three Rs by teachers who taught beyond the curriculum. He passed the Eleven Plus and went on to Moseley Hall Grammar School in Cheadle in 1955.  He loved school; both the learning and the extracurricular, becoming heavily involved in sport, drama and sometimes the school choir.
He went on to Newcastle University in 1963 to study Geography.  He chose Newcastle because they offered the opportunity to specialise in polar studies and to go on a polar expedition in the Hindu Kush.  He says the experience opened his eyes to what he could do.
Early Career
Michael entered the computing industry as a systems analyst at United Steel in Sheffield in 1966.  Following the company's graduate training scheme, he joined the sales department and after trying and rejecting sales and personnel, he joined the data processing department.  It gave him an insight into all the aspects of the business, because you have to understand the functions in order to automate them.
The first system Michael was involved with was payroll and then inventory control.  He describes it as the "classic data processing era of automating standard processes, to do them better, to reduce the cost, to take some labour out…" It was a good way of learning the game.  There was a mentoring style of leadership, where Michael would be given a task and then tutored through it.  He learned the importance of asking why.  When the steel industry was nationalised, there was a lot of uncertainty.
Like many of his peers, Michael chose to go elsewhere, joining the Bowater Paper Corporation, in Kent, as a senior systems analyst.  He was now in charge of the computer room. He was working in the part of Bowater Corporation which dealt with packaging and newsprint and there was a recession.  The world of newsprint was cyclical because advertising volumes are dependent on the state of the economy.  Michael spent much of his time having to make people redundant, which he did not enjoy, so after a year with the company, he moved on.
Michael joined GEC Telecommunications  and then applied for a scholarship to business school and after getting his MBA at Manchester Business School, returned to the company for two years as Group Systems Manager.  The main application development was bill of materials processing – BOMP.  This then evolved into MRP (manufacturing resource planning).  Michael recalls leading the team on how to cope with VAT when it was introduced – all the financial systems had to be amended.  In the 1960s and early 1970s, there was no pre-packaged software, so organisations had to build their own.
Academia
Michael joined Manchester Business School as a lecturer in 1974.  He wanted to teach systems analysis – learning by doing with the user involved in the entire process.  In the early 1970s, prototyping was used in civil engineering, but had yet to be applied to the IT or data processing world.
In 1976, Michael moved to Oxford University as a Fellow.  It was the dawn of client-server and personal computing, when it was first realised that you could run an inventory control system on a personal computer.  This changed the vision of the industry.  Michael was teaching the syllabus on management information systems.  In 1981, when the first PCs were arriving in the UK, it was deemed that there might be a need for courses on managing IT.  Michael says there was a wider recognition that a more business-oriented approach to deciding what to invest.  IT could be used to support the current business strategy, and also might be changing what you did.  Though this Michael developed two models for IT strategy making.
The first part of the IT strategy was to look at the technology platform that was needed – the architecture, and the second part was an information systems strategy – what applications were needed, and what were the priorities.  Michael reflects that through his fieldwork and consulting in these areas, an important question was being missed, which was how to organise to deliver it.
In the early 1980s there were many questions that needed to be addressed in teaching for which there was not much research.  Michael founded a research centre, the Oxford Institute of Information Management.  They researched competitive advantage by looking at sectors where there seemed to be a lot of IT based competition. Airlines are a good example.  Frontier Airlines went out of business because they had no reservation system which meant they had no information about their customers, unlike American Airlines and British Airways who had been early adopters of an IT based reservation system.
In 1990, Michael moved on to London Business School as Professor of Information Management.  He joined the strategy department because at the time there was no IT group.  He started the Centre for Research and Information Management, CRIM in partnership with a similar outfit at MIT and mainly funded by corporations paying annual subscriptions.  This meant their work had to be focused on business and business requirements, so they sat down with the big companies each year to agree what the research programme should be.  They did a major project on outsourcing.  Michael wanted to research problems that mattered to business using fieldwork rather than surveys.
The 1990s marked the beginnings of e-commerce and e-business.  There were operations management questions, strategy questions and marketing questions.  The Centre for Research and Information Management became a centre for the network economy.  It was important to ensure that the different subjects being taught were recognising what was happening in the e-world. Michael's work was greatly affected by the dotcom boom and collapse as the Centre's two biggest sponsors were close to bust, halting their funding.
During his time at the London business School he became Chairman of the Strategy Group, Faculty Dean and then Deputy Principal. This led, in 2002, back to Oxford as Dean of Templeton College.  He was now involved in academic administration and part of the restructuring of business at Oxford, leading to Oxford's first ever college merger.  After six years in that role he became Pro-Vice-Chancellor of the university from 2008 until 2010.  With these roles, his research and teaching work were reduced as he focused on leadership and administration.
Mergers & Acquisitions
Michael had always been interested in mergers and acquisitions.  Financial economics demonstrate that 70 per cent of mergers fail, due to the post-merger integration and he was keen to find provide some solid advice on how to do it.  They looked at whether the synergy of the two businesses coming together was highly dependent on IT or not.  The other question to consider, is the state of the infrastructure.
Reflections
Michael's entire career was based around intellectual analysis and providing solutions from case studies.  He says the reason he did not turn this into a big business, as others have, was partly because of risk aversion, and partly because life was good.  He had set himself several goals of tasks to do following retirement, and regrets that he has not done them.  One was to learn a musical instrument, and another is to write a monograph about the Oxford college merger.
Interview Data
Interviewed by: Richard Sharpe on the 4th May 2017 at the Said Business School, Oxford.
Transcribed by: Susan Hutton
Abstracted by: Helen Carter
Register or login now to view a full transcript and access other associated audio and video files