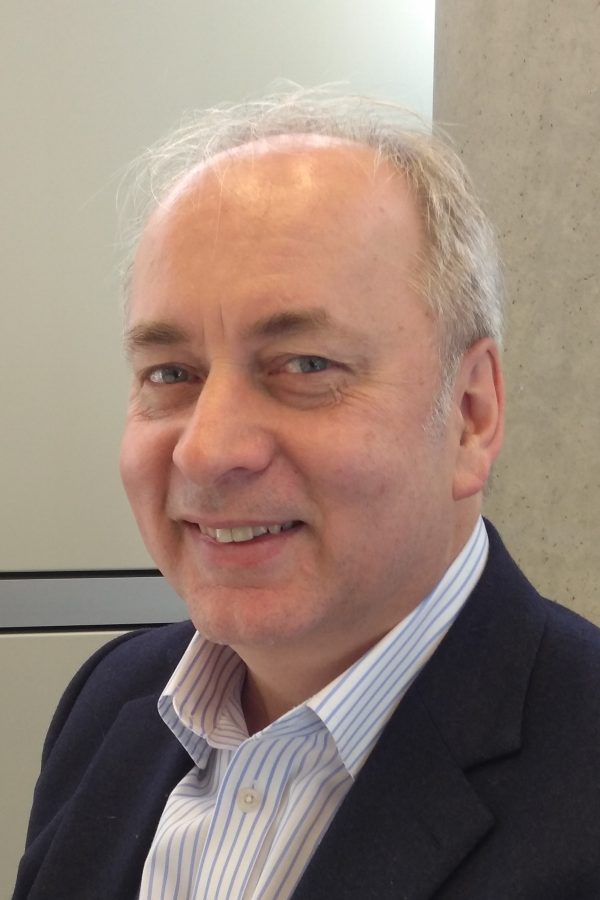 Professor Nick Jennings is an internationally recognised authority in the areas of artificial intelligence, autonomous systems, cybersecurity and agent-based computing.
He is the Vice-Provost for Research and Enterprise and Professor of Artificial Intelligence at Imperial College London. He was the UK's first Regius Professor of Computer Science (a post bestowed by the monarch to recognise exceptionally high quality research) at the University of Southampton and the UK Government's first Chief Scientific Advisor for National Security. 
Early Life
Professor Nick Jennings was born in London in December 1966; he grew up on the Isle of Portland in Dorset. His father was a prison officer and his mother worked in the prison service as an administrator, he has two younger sisters.
Education
Nick attended Weymouth Grammar School where he studied for his O and then A Levels in maths, physics and computer science.

As well as being keen on sports, Nick developed an interest in programming. His first computer was a BBC Micro and he bought himself a Dragon 32 computer on which he started to programme simple games.

In 1985, after completing his A levels, Nick went to the University of Exeter to study computer science. It was at Exeter that Nick first became involved with the field of artificial intelligence. He explains; "We came across basic introduction courses to AI in the second year of undergraduates and I was then fascinated by the idea and the concept of making machines do smart things.  That's really where my interest was piqued.  At that time, AI was quite a niche thing to be doing, it was very different to the wide recognition that it exhibits today."

While studying for his degree, Nick spent his summer holidays working for the Ministry of Defence on the Isle of Portland where he gained an insight into the practical applications of artificial intelligence.

Having gained his degree, Nick went onto to Queen Mary in 1988 to study for a PhD in artificial intelligence and at the same time worked part-time as a research assistant on a European grant (ESPRIT-2 grant), working on a project called ARCHON which was one of the first big projects in the area of multi-agent systems.  He says: "It was great in the sense I was doing a PhD, working on a project that had both industry and academia, and I think that really shaped a lot of my feelings and the way that I've worked since then." Working on the project which had partners spread across Europe also gave Nick his first real experience and love of international travel.

Nick also found the diversity of thought and effort on the project very stimulating, in particular the combination of academic thought and industry led practical application. He adds: "I found that combination of the different backgrounds and the different disciplines really interesting. … The fusion of how we could have interesting scientifically challenging, advanced ideas on one hand, and actually use them to solve real-world problem on the other hand was really a significant influence on me.  That combination of great basic science and using it for real, in the real world, to make a difference, is something that's shaped my whole career."
Queen Mary
Nick's PhD was also the start of his career. One that would see him rise quickly to become a full professor at the age of just 31. He explains: "It all did seem to happen quite quickly for me.  A year into my being a research assistant, a lecturer vacancy came up in the department and amazingly they asked me to apply for it. … It really was that opportunity to get on with that first academic post which many people find a really hard step, and often involves lots of studies, postdocs and all those things, and it kind of just fell into my lap, just because of circumstances, for whichI am very grateful."

He went on to finish his PhD in 1992 while working as a lecturer and believes that the ARCHON project, which was focused on a relatively niche area at that time, gave him a very good foundation and helped him to establish an international reputation.   He adds: "At that time, the size and makeup of the community meant that not many people were interested in real-world applications of multi-agent systems, so I got to build up an international reputation very quickly because the area was so small.  There wasn't lots of other people to compete with and to get your views out there.  The challenge for us as a community was actually being noticed as a very small bit of AI, which over time has been rectified, now it's a well-established area of AI, but when I started in it, it really was a niche part of a niche area."
University of Southampton




Having risen from PhD student to Professor at Queen Mary in ten years, in 1999 Nick moved to the Department of Electronics and Computer Science at the University of Southampton; a department made up of around 100 academics. He says: "I felt that I had done as much as I could do at Queen Mary at that time.  I wanted to move to a bigger stage, Southampton was a really exciting and emerging Department at that time.  There was a whole load of great hires that they made at that time and it really felt like a vibrant place to be.  I also wanted to go somewhere where the staff couldn't remember me as a PhD student and actually just go in as an established professor."

At Southampton Nick joined a group called Intelligence, Agents and Multimedia which was interested in AI, the Web and multimedia headed by Dame Wendy Hall. He took over the group when Wendy became Head of Department. He says: "That group was amazingly successful at the time." Professor Nigel Shadbolt was also a member of the group, Nick adds: "It was a really impressive period where there was lots of action.  I felt we were really at the centre and really driving what was going on in computer science in the UK and internationally."

As the group grew, they realised that it had become slightly unbalanced and eventually it split into two to better reflect the strengths of the whole department. The two groups that emerged were the World Wide Web-based group, and the Agents, Interaction and Complexity Group which included academics who were interested in complexity science and interacting systems.

As a result of the exciting work that was taking place, Nick was able to gain a series of grants to push the agenda forward. He explains: "The first big project that I led was Autonomous Learning Agents for Decentralised Data and Information systems (ALADDIN) which was a multimillion pound project funded by BAE Systems and the Engineering and Physical Sciences Research Council (EPSRC)." It looked at agents and involved machine learning and was a collaborative project with the University of Oxford and BAE Systems. Nick adds: "It was about fusing together different approaches and different methods to be able to build particular systems.  We chose to illustrate many of our concepts through the area of disaster response and disaster management because it's an important domain itself and it's indicative of the kinds of applications where BAE Systems could see themselves deploying these sorts of technologies."

A series of related projects flowed from ALADDIN including some focused on supply chain management, smart energy systems, and disaster management which Nick then brought together into a programme grant called ORCHID. The five year grant came from EPSRC, and again involved numerous partners.  He adds: "The thing that we did differently in ORCHID was to introduce some humans into our multiple-agent systems. Up until that point most of the systems I built, all the agents, all the actors, were bits of software.  So, it was a software representing a particular task, or particular function.  You can only go so far with that. What we found, as we wanted to deploy these applications, was that people didn't want to deploy them in a completely autonomous fashion; they wanted to have humans involved in that decision-making process.  So, in ORCHID, for the first time I started building systems that had users and people as part of the multi-agent system, and that involved bringing in the University of Nottingham and Professor Tom Rodden. ORCHID was the first project where I was interested in what we termed human-agent collectives at the time; people working together to solve particular problems. Our main application area that we worked on was in disaster response."

Nick also worked with the disaster response charity, Rescue Global, to deploy a system of machine learning, information fusion and coordination algorithms to inform their response to the 2015 Nepal earthquake. Nick explains: "Rescue Global were great collaborators with us. Their aim is to be some of the first boots on the ground when a disaster happens.  They fly in using their own jets, they help stabilise and help understand what is going on on the ground. They were willing to try out some of our prototypes and some of our methods alongside some of their traditional ones."

One of their first challenges was to work out where to deploy water filters to save as many lives as possible. Nick adds: "They had a particular process for doing it, they did some manual calculations, they took some maps, and in parallel, we ran some of the ORCHID technologies and we were able to more quickly identify a number of the areas that they identified, but we also identified some areas that they didn't. When they went there, they found that actually these were good areas to deploy in.  It was a great illustration of working closely with an industrial partner to take state-of-the-art research and to see it deployed for real-world benefit that helps save people's lives."

While in Southampton Nick was contacted by some people who looking to start up a company called Aerogility who were interested in his work on multi-agent systems. Their product is an agent-based simulation of aircraft and aircraft engines in order to try and optimise the repair processes.  Nick explains; "It was a real learning experience.  I had not particularly worked with start-ups before, but it was a very interesting pace of work, the things that they cared about, the speed with which they had to get things done, the focus on really getting customers and seeing your work deployed was really vital for them as they really sort of, lived from day to day and week to week and month to month." As a result of his experience Nick became very interested in technology start-ups.  He adds: "I've worked with them for nearly twenty years now and we're still working and refining our product.  They've got a range of good customers. They've gone through a whole evolution of the dotcom boom and the dotcom bust."

In 2004, Nick helped build a sensor network system to gather information on the impact of climate change in the Briksdalsbreen glacier in Norway.  He says of the project: "It was an interesting domain for me to be able to work in.  I had not particularly worked in the environmental space.  I had worked much more in the industrial space." The team at Southampton had created specialist sensors to track what was happening deep inside the glacier including velocities, temperatures and moisture. Nick says: "That created a sensor network, but they didn't quite know how to control all of those and coordinate their behaviour to can get maximal coverage of the glacier for as long as possible with the battery life in the sensors.  It was an optimisation problem. I came into the existing team that Kirk Martinez led and provided some algorithms that helped them do this coordination." The ten year project ran into problems when the glacier eroded much quicker than had been expected due to climate change.

In 2014 Nick became the UK's first Regius Professor of Computer Science at the University of Southampton.  A Regius Professor is a title created by the monarch with a history dating back many hundreds of years. The title is usually associated with more traditional subjects such as philosophy and theology, however in 2014, the Queen created several new ones to celebrate her Diamond Jubilee. Nick says: "It was great for my discipline, as a computer scientist, to have that recognised by a Regius Professorship. It was then fantastic that the University of Southampton was chosen to hold the Regius chair; it really brought home and endorsed many of the great things that had happened in Southampton over a twenty-year period, really building up computer science and recognising it as a top place to do it. Then to be chosen as the first one was a great personal honour for me."
Chief Scientific Adviser for National Security for the UK Government



Between 2010 and 2015 Nick became the first Chief Scientific Adviser for National Security for the UK Government. "This was a great job.  I really enjoyed it. … I really enjoyed working in national security. The science challenges of national security are many-fold, some of them were from my own areas of science that I understood well, such as cybersecurity, big data, and analytics to understand what's going on in a particular situation. I was on firm ground there.  Other areas of science that I had to understand and to grapple with were things like home-made explosives and how to try to mitigate them, human and behavioural sciences about what makes people do terrorist activity, why they behave in a particular way, what interventions can you make to try and stop those things.  My role was to come in and oversee that science.  There was some great science that went on, but it hadn't had a senior person leading it and coordinating it. … I set up a science function that helped us prepare for the longer-term perspectives."

He says: "I learnt that not everyone in the world has the same set of values and the same set of things that we do in universities.  Up till then I had worked solely in a university context, I had worked with businesses large and small, but I hadn't worked in a government organisation.  While understanding that science was an important aspect to it, it wasn't the only thing that was taken into account.  … They were all interested in what you can use science for and so, trying to influence and persuade people and get things done required a whole different set of values and arguments. The community were very receptive to it, but it took a while to figure out how to be effective and what to be effective about."

Nick worked alongside the network of chief scientific advisers under both Sir John Beddington, the Government Chief Scientific Adviser and Sir Mark Walport, his successor.  He concludes: "I learnt how government works, I learnt why government works; it really, helped my understanding of how the country is governed."
Imperial College

As a result of having enjoyed working strategically across a broad range of scientific disciplines in his role as Chief Scientific Adviser for National Security, Nick next looked for a university role which would give him similar challenges. In 2016, he took the role of Vice-Provost for Research and Enterprise and Professor of Artificial Intelligence at Imperial College, London.  The role allows him to have a strategic view over all the research that's going on in the university and the ability to influence and to lead it.

He explains: "At Imperial I look at multidisciplinary research that cuts across disciplines. … Many of today's big societal challenges are not within one discipline, or even within one group of disciplines; they really cut across those things and therefore transdisciplinary research is really important for the future.  For me, the role is very much about having an impact, doing some great science, bringing together different disciplines and seeing what difference it can make to the world."

Nick's role also includes enterprise, engagements with industry, spin-outs and start-ups by both staff and students. He adds: "This also plays to the experience I have in working with industry, something I've done throughout my career, and start-ups and spin-outs.  That connection from our research to our spin-outs and our corporate partners is really important and exciting for me."
Challenges and opportunities for AI in the future
Looking forward, Nick says: "AI at the moment is going through an amazing time of interest and I'm worried that we're going slightly over the top in terms of what AI can do for society.  My fear is that we're going to go down towards the trough of disillusionment in terms of it as a field and that people we will not be able to deliver everything that being promised at the moment in the time-frames that we think we will.  I see lots of naivety around AI. … I think the challenge is around managing expectations, about getting people to understand what AI is, and what it can do, and what it is not and what it can't do.  Much greater realism on AI is really important that we get right.  It's a powerful computing technology, but that's what it is; it is not magic.

"Having said all of that, I think, we really will see a number of transformative applications appearing in the coming ten years.  We'll see great applications of AI in healthcare, that's the most obvious place where we're going to see some of these things.  The future of energy and climate change is a really important area where we can use AI to help manage resources, to help us discover new science, new ways of doing things in the energy space.  Education is another area., The way that we educate people throughout their lifetimes, both when they're at school, at university and throughout their continuing professional development, I think all of those can use AI to really help tailor that learning experience to you."
AI and humans as partners
Nick's model of AI systems, and particularly multi-agent systems, was particularly shaped by the work in the ORCHID project which looked at how humans and software systems could work together.  He explains: "Humans are amazing problem-solvers, and, really good at certain things that machines are simply not good at and I am unconvinced will never be really good at, or as good as humans at.  Having said that, there are things that computers do where they are way better than us as humans.  … I think as AI progresses, some of the tasks that are better suited to computers and machines will be taken on by AI systems, but there will always be activities that are best done by humans.

Through his research and work with Global Rescue, Nick found that while automated solutions worked, humans wanted to tweak the solutions because of instinct, intuition or knowledge that was not part of the data. He continues: "That model of humans and machines working together as partners where some of the tasks are done by humans, some of the tasks are done by machines, and there's a flexible interplay between that, has really shaped my view of AI.  As AI has increasingly moved into the public consciousness, I think this mixed system of humans being in control and supported and augmented by smart computer systems is starting to gain prominence.  A lot of the early debates were about full automation where you take humans out of the loop, and you just automate everything. While that might work in some cases, I think the dominant paradigm for where we're going to see AI deployed in the future is in these mixed human AI partnerships."
Impact of AI on jobs
With the potential that AI will automate many jobs, Nick says: "There is a whole spectrum of thoughts in my field about what AI will mean for jobs.  I am an optimist, which means that I think that humans do have a unique place in society, and will always have a unique place in society.  I think there will be shifts of what people do and what machines do, and that some of the things that people do today I think will be automated away in the future, but I think there will be new jobs created and new opportunities created by AI systems.  I am confident that there will be significant employment for humans for the foreseeable future and that our jobs will be made better and easier by AI systems."
AI and decision making
I'm very much of the view that variety and heterogeneity in decision-making is a really good thing to be able to do.  I like to see AI systems as a challenger or as a checker for human decision-making.
Achievements
Nick says that some of the things he is most proud of are the people that he has worked with during his academic and government career. He says: "In terms of my university life, I have now graduated over 50 PhD students and I'm really proud of them as a group.  … I've also had the pleasure of having about 50-odd postdocs, so in total that's about 100 people I can claim some responsibility for in terms of their careers and contributions and some of those have really gone on to shape the field.  I left a great group of people when I moved from Southampton to Imperial, and they continue to flourish there.  The other thing I would highlight is the fact that you can do good basic research and do research that actually has an impact on the real world; they are not mutually exclusive. Many people tend to do one or they tend to do the other. I've always wanted to do both. What I'm proud of is that I've illustrated that kind of connection within the same team is entirely possible."
On the Alan Turing Institute
"The Turing Institute is really important.  It's great that we have a national institute for AI that really brings together some of the best researchers in the area, gives a concerted mass, and gives industry and government and society a single place where they can go and find out about what's real and what's not. The authority that comes from having a national institute is really important."
Advice
For those considering a role in AI today, Nick says: "I would say that you've made a good choice.  AI is a fantastically exciting area.  It really has opened up opportunities to work with a whole variety of people from a whole variety of areas of science and society that I would never have envisaged when I was training as a computer scientist.  It really is an underpinning technology that's really important and really impactful."
Honours and Awards
In 2016 Nick was awarded the Companion of the Order of the Bath, in the Queen's New Year's Honours List, for services to computer science and national security science.

Nick has received a number of international awards for his research including the Computers and Thought Award and the ACM Autonomous Agents Research Award.  He is a Fellow of the Association for the Advancement of Artificial Intelligence, the Institute of Electrical and Electronics Engineers, the Royal Academy of Engineering and a Member of the Academia Europaea.

With more than 80,000 citations, Nick is one of the world's most cited computer scientists.
Interview Data
Interviewed by: Elisabetta Mori on the 12th March 2020 at Imperial College London
Transcribed by: Susan Hutton
Abstracted by: Lynda Feeley
Register or login now to view a full transcript and access other associated audio and video files