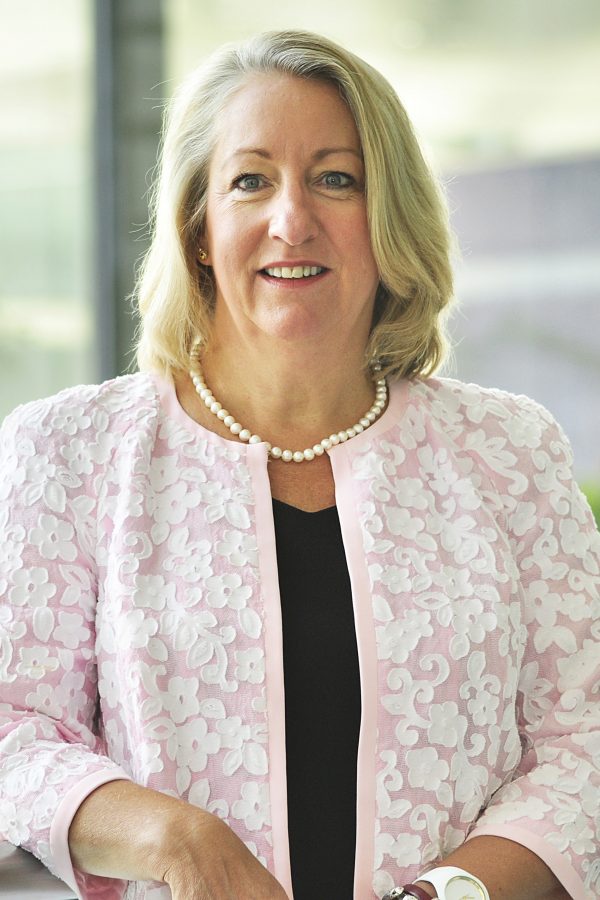 Rebecca George spent almost twenty years with IBM, as it transitioned from a hardware and software supplier to a services company. In 2006 she joined Deloitte and is now their lead partner for public sector. Rebecca received an OBE in 2006 for services to IT and for her work supporting the Egan Review on sustainable community skills
Early Life
Rebecca was born in Basingstoke in 1961. Her father was a nuclear physicist and had moved to the UK from South Africa after the war. Her mother had trained as a social worker but was a teacher, and later one of the first women to be ordained in the Church of England.  Both her parents were the first in their families to go to university and both valued education very highly: they were an important influence.  She has two younger brothers.  Domestic life was not luxurious but they had proper family discussions over dinner and they read a lot.
Music was always a major part of Rebecca's life and she started piano at seven and later took up the violin.  She played in orchestras throughout secondary school.  She found the commitment and enthusiasm of her music teachers particularly inspiring. 
Education
Rebecca went to Fairfields, a traditional co-ed primary school in Basingstoke and then to Harriet Costello, a comprehensive school that had recently converted from a girl's grammar school: her year was the first to have boys.  She got good O levels although she under-performed in maths.  She feels strongly that the way maths was taught at the time, through the School Maths Project, was unsuitable for girls.  The overly abstract approach possibly meant that a whole generation of women missed out on maths
Rebecca did A levels at sixth form college in history, English and music. She got an A in English but the distractions of music and a new boyfriend led to poor grades in the other two subjects.  While preparing for resits she continued with her application Oxford, and with individual support, coaching and encouragement from the deputy headmistress, was successful in getting a place at St Hugh's.
Rebecca had been surprised by the prejudice against female candidates and those from comprehensive schools at other colleges, but found the all-women St Hugh's a welcoming and supportive environment.  She thrived in the single sex environment.   As well as continuing with music, she ran the college drama society for three years and enjoyed the production side of things.  She emerged with a good 2:1 and gained some notoriety from her second year thesis on English swearwords. She also did a separate piece on the use of rhetoric in news scripts.
Introduction to Work
Meanwhile, the world of work was already very familiar to Rebecca.  She had part time jobs as a(very bad)  ballet accompanist and shop assistant at 15 then moved on to office work at 16, firstly doing medical records and then at the AA (Automobile Association), where she worked over several years during her holidays on a variety of projecs to computerise their systems, including training VDU operators.  That was the first time she became interested in computers.  While at St. Hugh's she also used the college Honeywell computer to type up theses for fine arts students. She became the college expert in using it and changing printer ribbons and enjoyed using it. She attributes some of the logical thinking that has helped her career to her classical music training.
Rotary Foundation Scholarship
Rebecca successfully applied for a Rotary Foundation Scholarship which funded a year's study abroad.  She chose Boston University for a Master of Science in broadcasting, specialising in cable television and satellite systems.  Having done little travel, moving to the US straight from Oxford was challenging but the pastoral care from the Rotary Club was excellent.  The subject matter was very varied, including sociology, microwave technology and the architecture of cable, microwave and satellite systems.  The course stimulated her interest in the potential of technology and understanding how different systems can work across different organisations, different applications and different populations successfully, has been one of her most important attributes ever since.
Early Career
While at Boston, Rebecca worked as an intern for a cable television company, which gave her a good overview of licensing, billing and operations.  She agreed to research the UK market for them, as they were keen to evaluate its potential.  She started immediately on her return in 1983 but it soon became apparent that the infrastructure was not developed enough and terrestrial TV was too dominant.   However, she got a job with Select TV, a cable television company owned by Robert Maxwell, and she was based in the Pergamon Press building. It was an instructive experience: she learned the importance of management by inspiration rather than intimidation, having vision and enabling people to succeed rather than just getting things done.  Concerned that this was a career cul-de-sac she moved to Spicer and Pegler, a chartered accountancy firm, where she joined their management consultancy arm. She worked on all sorts of projects, primarily relating to financial services, and this very varied experience gave her the confidence to know she could succeed in different environments provided her objectives were clear and she had some degree of support.
IBM Sales
A conversation with her mother made her consider a more structured career path and she decided on sales.  Having successfully applied to both IBM and Mars she opted for IBM – on the basis of their reputation and her interest in computers.  She started in 1988 as one of the very first people to sell services in IBM.  There was then no specialised training course so she had to complete the product-based graduate programme. Although she passed the exam, she did not fit the IBM sales profile and was told she would not do well.  Piqued, she became an extremely successful sales rep at IBM.
Despite the lack of formal services training Rebecca learned invaluable lessons from colleagues in other IBM divisions, especially the Federal System Division that developed huge government programmes for organisations like NASA.   She worked with staff from this unit developing a large customer accounting database for NatWest, providing technical input and facilitating regular review of requirements and progress between the customer and supplier.
Rebecca married in 1991 and shortly afterwards started a family.  IBM gave her accounts to look after in the South West so that she could be with her husband who was based in Taunton.  After she had her first child, they offered her a temporary role leading the UK division of a new global initiative to create a series of "professions" across IBM.  She started in 1992, reporting to the Board and they realised pretty soon that this was a major internal change management programme, would take far longer than the three months anticipated, and would have to involve HR.  So in 1992 Rebecca moved to HR as skills and professions leader at IBM.
In the US with IBM
Coincidentally IBM was experiencing its worst financial performance and numbers reduced from 470,000 to 270,000 in 18 months.  The company was restructured. One result was that much of the bureaucracy was removed and people were more independent and made their own decisions. Rebecca developed both technical and non-technical professions within the company.  Then, after a chance meeting, she was offered a senior, global, HR post in the US.  Although this ruffled feathers at the time because she did not have an HR background or in fact much relevant management experience, she moved to the US with her husband and two small children.  Rebecca spent two years in the US and learned how to manage and be managed, about HR and about consulting, in particular about knowledge management and proposition development.  She also met many senior women in a wide variety of roles.
In 2001 the family went back to the UK, and Rebecca worked initially in HR again and then on international assignment to Paris, in charge of recruitment and resources for EMEA.  She also managed some large internal change management HR/IT programmes, implementing large multilingual systems across lots of countries, which gave her invaluable operational experience in IT programmes.  However, despite being a top performer for the previous 13 years, she fell out with her very traditional Spanish boss, who tried to fire her.  Although technically he could not do so, three months without a job forced her to re-examine her career: she was not really an HR person and had no public profile outside the company.  With dependents and a large mortgage it was a difficult moment.
Director of UK Public Sector Business
Fortunately Rebecca was contacted by IBM's head of government business who needed someone who understood IBM to work with Sir Peter Gershon on public sector business.  This was a turning point and she moved quickly to a leadership position, running central government P&L.  She was fascinated by the challenges of this complex, important and difficult environment and was delighted to be working with Sir Peter Gershon as he transformed the public sector to behave like a market, manage its suppliers better and develop single cross-government contracts for digital services.  She also worked with the e-Envoy, Andrew Pinder, who was putting government services online.
Rebecca also became involved in local government work via the Deputy Prime Ministers' Office, especially in the John Egan review of sustainable community skills.   Her work on developing professions had given her expertise on leadership, especially the skills needed in complex environments.  As a result she did most of the work on leadership in sustainable communities for the review.  She was awarded an OBE in recognition of her work, which she still views as a huge honour – and, was, at the time, a surprise.
Deloitte
Rebecca was invited by Deloitte to help improve their relationship with central government and after much consideration, joined them about 19 months later, in 2006 as a partner. Her first few years were spent working with central government departments on IT strategy and online services. In 2010 John Suffolk became government CIO and she spent three months on secondment in Cabinet Office helping him develop a government ICT strategy.  She found the challenge of designing and building complex, robust, safe systems flexible enough to accommodate new users, services and technologies fascinating.   This new ICT strategy was not about monolithic contracts but about common standards and good IT practice that still allowed departments to make choices appropriate to their individual functions.
NHS IT
Rebecca was involved in NHS IT with IBM when companies were bidding for huge contracts, and later at Deloitte designing their global public sector health strategy.  She hugely admires the NHS, loves the complexity, the intellectual challenge and the need to connect different systems in different disciplines and make organisations and individuals communicate effectively.   She is very committed to using ICT to make health services safer, cheaper, and future proof despite the multiple challenges in areas like procurement, interoperability, financial challenge and overall digital capacity and capability in the NHS.
Leadership and Diversity
As a leader, Rebecca is consensual, collaborative and client-focused.  She gets great pleasure in supporting individuals in roles and watching them flourish.  She wants them to know that she will be there to defend them if things go wrong, as others were for her.
Rebecca joined the BCS, the Chartered Institute of IT, in 1997 and became involved in a range of Women into IT initiatives, especially those encouraging those without STEM degrees into the industry because there are multiple roles within the IT sector which particularly suit women.  She has also explored alternative working models to enable women to balance work and family life, including part time, flexible and remote working.  She has also promoted mentoring and sponsorship and coaching for women in presentation skills, salary negotiations and interviews.    For Rebecca, diversity is not just about gender and she is active in many other areas, for instance she is a mental health champion at Deloitte. She is also on the Court of the Worshipful Company of IT.
Reflections on role models, achievements and lessons learned
Rebecca considers that her early success in using computers to earn money was critical in giving her an interest in IT.  A comment from her mother on her lack of formal profession was the stimulus for her move into IBM, where she benefited from the company's strong investment in management training and leadership development.  Things that have stood her in good stead are taking opportunities when offered and not being afraid to try new things.  Mistakes are also an important part of the learning process.
Rebecca includes her mother and husband as role models but has also been lucky in the encouragement she received from colleagues who gave her opportunities to stretch herself and then supported her.  Outside work she also had wonderful support from individuals like Ken Olisa at the BCS and WCIT and Dame Sue Street.
Rebecca's proudest achievements are her two sons: family life is very important to her.  In business,  her OBE and her recent appointment to become a Managing Partner at Deloitte, responsible for Government and Public North South Europe.
On reflection, Rebecca wishes she had taken a finance qualification early on, which would have helped her interpret profit and loss and balance sheets.  She also wishes she had taken a formal course in IT architecture, another subject in which she is self-taught.
Her advice to young people in the industry is to take opportunities, seek out and enjoy new experiences but always remain focused on the problem you are trying to solve – getting to the right outcome is the important thing/
Outside work Rebecca sings in two choirs and plays fiddle for a folk band. She is a non-exec director for the City Mental Health Alliance which, although not clinician-based, helps people suffering mental health issues in the workplace.  She feels that mental health for menopausal women in the work place is under-addressed.
Challenges ahead for the sector
Rebecca thinks that the adoption of global standards, regulation and interoperability are major challenges for the industry and identifies personal data protection in an industry that moves faster than regulation, and cyber security across national boundaries, as particular issues.   Along with professionals being appropriately qualified and accredited to design, build and maintain IT systems.  Using technology to address other societal issues, like environment and how to support an aging population are other challenges where IT can add real value.
Interview Data
Interviewed by: Ian Symonds on the 5th February 2019 at the WCIT Hall
Transcribed by: Donna Coulon
Abstracted by: Emma Fryer
Register or login now to view a full transcript and access other associated audio and video files