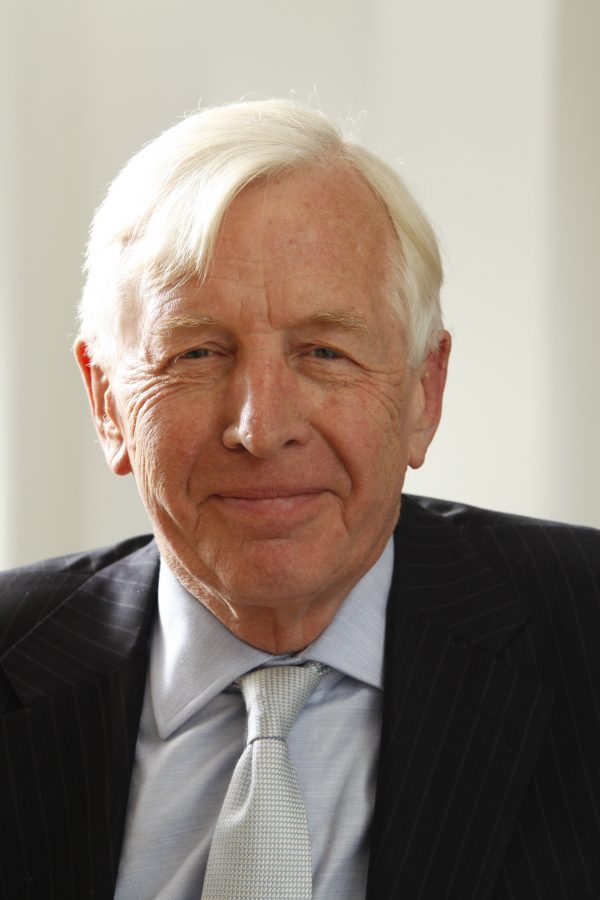 Richard Hooper studied Russian and German at Oxford and then joined the BBC. His passion for media technology was inspired when, as a Harkness scholar, he spent 21 months in the US looking at innovative educational technology projects.
Richard took on his first senior role in the UK IT industry in 1973 as Director of the National Development Programme in Computer Assisted Learning.
At BT during the early 1980s, he helped pioneer Prestel, the first version of the internet.  He also ran Yellow Pages when it was a FTSE100 company, and oversaw start-ups such as Telecom Gold, the UK's first public email service.
In 1987, as managing director of Super Channel, the ITV- and BBC-backed pan-European satellite channel, Margaret Thatcher asked him to give the introductory presentation at a Downing St seminar on broadcasting policy.
His wide-ranging career in communications also includes being founding deputy chairman of Ofcom, chairman of the Broadband Stakeholder Group and numerous advisory and consultancy roles. He has just published a book on the art of chairing called Making Meetings Work.
Early Life
Richard Hooper was born in September 1939. His father was killed in the war and Richard was sent to boarding school at the age of six. He says: "I had my sixth birthday at boarding school in Dorset and then I went to Sherbourne. I decided that I was sick of being a child in school and went into the army and did National Service for two years, I was the 7th Royal Tank Regiment. I met Elvis Presley while I was there, he was working with the next-door US tank battalion."
In 1959, after National Service, Richard went to Worcester College, Oxford where he gained a first-class degree in German and Russian.
BBC
While at Oxford, Richard made the decision to apply for a BBC traineeship which he started in 1963. His career with the BBC would see him go on to become a radio and television producer in education and a founder of the Open University. He says: "I didn't have any sense of what I wanted to do. I enjoyed my school life, my university life, I enjoyed time in the army, and then suddenly the BBC in September 1963, seemed like home. This was it; media. That then led to telecommunications and then technology. I've been so lucky, my life from 1963 to now spans the convergence of those three great industries."
While working at the BBC as a reporter on Radio Newsreel, the six thirty evening news show, Richard says he learned a key lesson. He explains how he was asked to read his story from his script while being recorded and then repeat the recording without his script. He explains: "There was no question which was the best, it was the talky one. I learnt from that moment that writing for reading is different from writing for talking – this was long before McLuhan,. Years later I had the great joy of seeing that work out in practice in terms of 'the medium is the message'.
It was Richard's ten years at the BBC and helping to working on the founding of the Open University which saw him become caught up in technology.
He adds: "The Open University's approach was extraordinary. They said let us use all the media that are available from boring old correspondence texts, which were of course the heart of the course and weren't at all boring, to television and radio with these strange people in the BBC and Alexandra Palace in north London. Combining them all together with summer schools and with some tutoring. Science students were sent portable laboratory kits through the post, and that worked rather well. In a sense that was the beginnings of being caught up with technology."
Harkness Fellowship
In 1967, Richard was awarded a Harkness Fellowship to study educational technology in the USA where he learnt such wonderful quips as: "Technology is the answer – but…what was the question?" which he believes still resonates firmly today.
In 1968 he became a Special Staff Consultant to President Lyndon Johnson's Commission on Instructional Technology.
The medium is the message
It was while he was travelling the US studying educational technology, that Richard became aware of Marshall McLuhan's work; 'the medium is the message', which echoed his own finding at the BBC. McLuhan's words would go on to influence his whole career.
Richard explains: "I was in New York City, in America, on a Harkness Fellowship, and met Father John Culkin who was a Jesuit priest, who was McLuhan's John the Baptist. He was McLuhan's great marketing person. Sadly, I never met McLuhan, but I had a wonderful time with John Culkin. He introduced me to the books and so on including 'the medium is the message'. For me, these five words proved, unexpectedly, to be the source and driving force for my career-long interest in the media.
"I took them to mean that each medium of communication has different characteristics specific to its architecture. Let's take television. Television is wonderful. It comes from that tower over there, it does not know or care how many television sets are connected and the cost of that tower is the same if ten million television sets are connected or ten are connected, because it's a one-way system. Then you come to the internet, which of course is two-way, and so the whole thing is totally different, you've got feedback, you've got email, etc, etc.
"In 1968, McLuhan was the first to talk of the "global village" that was being created by communications media. The internet today is a global communications system, care-less of territorial boundaries, creating McLuhan's global village."
Computer Assisted Learning
In 1973 Richard was asked to run a government research programme on computer-assisted learning, looking at uses of computers in teaching at school level, secondary level, and adult education. He would run the project until 1978.
He explains: "I ran this two and a half million-pound government research and development programme which was long before PCs and laptops so we were talking about rather large computers. In my time in Harkness, I had seen what the Americans call computer-assisted instruction in teaching nurses how to do breach delivery of babies and so that was in a sense an early meeting with it. I spent five years with computers, both computer-managed learning and computer-assisted learning. That was really my first significant meeting with technology."
Mills & Allen Communications
In 1978, Richard was invited by Clive Hollick, now Lord Hollick, to be managing director of Mills & Allen Communications, a new company and one of the first information providers on Prestel/Viewdata, the precursor to the internet. Richard says: "It's a lovely story, BT invented it and are very proud of having invented it, it showed how we could use a television set and a narrow band connection on telephone to a computer to provide an information service. Prestel was the first and we sold the software around the world to Australia and America, Canada."
"One thing that I criticise today's internet for is that it doesn't really have a good micro-payment system. I think this is staggering because I think while people don't mind advertising, quite a lot of people are happy to pay a few pence in order to read an article in The Times or whatever it is. With Prestel and Viewdata, we had the ability to place a price in the top right hand of the screen and you could choose to press one and go to a 50p page, or a 25p page, with the information. This allowed BT to collect the money and give it to the information providers, minus a small commission, and it worked really well.
Prestel was pretty clunky, but it did clever things. It also provided the first ever email and tele-software, so you could send rather bizarrely inadequate visuals of Christmas cards and so on."
BT
As a result of being involved his work with Mills & Allen Communications, Richard was invited to join BT in 1980 as Director of Prestel, the precursor of the Internet. In 1981, Richard became Chief Executive of Value Added Systems & Services where he was responsible for turning Yellow Pages into a highly profitable business, and overseeing new technology start-ups such as Telecom Gold, the first public email service in the UK, into profit.
Richard discusses whether BT missed the opportunity to create the modern day internet following its innovation with Prestel. He says: "Prestel Viewdata was always clunky. It was twenty-four lines of forty characters and the graphics weren't very good, but it showed the way brilliantly. I think BT felt that it had established a path, but really there was quite a gap; it was the mid to late nineties before the internet really got going in terms of value-added network services. It is interesting how telecoms companies have very rarely, in fact virtually never, made the sort of money that Google, Amazon and Facebook have made running on their carrier networks. It is interesting that telecoms networks have tried to get into content, they go into content, they come out of content, and there are people who say just stick to the knitting, provide good broadband and you'll have done us all a favour."
Richard also highlights BT's innovation in developing the hyperlink for Prestel adding: "It's something that BT's never managed to prove, but it developed the hyperlink, which of course is central to what we do on the internet today."
Richard also talks of Yellow Pages which was a FTSE 100 company in the analogue world. He says: "It was hugely undermined by that nasty little box on a Google page where you could put in 'Plumber north London' and up comes plumbers, north London. … That was another interesting example of seeing the innovation come and trying to work with it and live with it."
Super Channel

In 1986, Richard was invited to be Managing Director of Super Channel. He says: " I was asked by the ITV companies who were the shareholders to help launch Super Channel; one of the first satellite television channels. It had a pan-European footprint, and it was basically a pan-European service aimed at homes across the country, across Europe. It became clear that the central audience for television was not international, most great and successful television is national, it's aimed at national audiences. While I was running Super Channel for the ITV companies, Rupert Murdoch saw a moment when he could get a satellite spot that was aimed at the UK and that was the launch of pay television from Sky."
Portfolio Career
In 1988, Richard started his own consultancy, he says: "I started a career of being a pluralist, of having company directorships and doing consultancy as well. I've done that for the last thirty-odd years. Working with different companies, doing different things, always in the general area of technology, media and telecommunications, a mobile phone company, etc. That's always kept my interest and fascination with the sector."
Asked if would advise young people to adopt a portfolio career, Richard says: "A portfolio career is all about your network. It's all about the people you know. It's a wonderful career, but you have to keep your network warm and you have to remind people you're around, you have to market yourself. You can't do it from scratch. What is nice about it is that instead of having one client a year, you have five or eight clients a year and when you therefore come up against a problem on the board of a company, you can draw on that wider experience to offer solutions."
Changes in technology
Reviewing the changes in technology that he has seen over his career, Richard says:
"I joined the BBC and there was a thing called television and radio and media, which had virtually no connection to telecommunications or really to technology in any serious sense, although obviously television was itself a brilliant technology. … Then this extraordinary word 'convergence' began to appear and people began to realise that actually the media did have a relationship to telecommunications and did have a relationship to technology. Now we're sitting here on laptops and computers looking at screens with Google, with Netflix streaming and so on. It just is the most extraordinary period of thirty years.
"When I started my career I think there were four or five television channels, and I remember a wonderful meeting in 1987 at Number Ten Downing Street to look at broadcast policy, because of the arrival of satellite television, because satellites clearly changed the game. Mrs Thatcher asked me to give the opening spiel to senior broadcasting people so for my presentation, I decided to bring with me a piece of copper wire, a piece of coax cable and a piece of optic fibre. I then showed the copper and explained it is effectively the telephone, this is coax cable which is effectively cable television, and this is optic fibre, which is the future. I always remember Mrs Thatcher leant across and just took the piece of optic fibre and sat there cradling it in her hand for the rest of the meeting."
"I have been extremely fortunate to have been in a sector which has expanded in an extraordinary creative way and you almost don't know where the edge is. I heard the other day that someone reckoned that technology, media and telecommunications (TMT), was twenty per cent of GDP in the UK, and that now includes so many things, including film-making and everything."
Influences
Asked about people who have influenced him, Richard says: "I have to start with Marshall McLuhan and 'the medium is the message' which for me was in a way the driver of a lot of this." Richard also mentions
John Carrington
, adding: "I was very lucky at BT because John Carrington was my next-door neighbour in the value-added services. He ran mobile communications and he's a delightful and articulate man and you learn things from people like John."
He adds: Alex Reid and Buckminster Fuller, saying "these are wonderfully far-seeing, visionary people who you just learn things from them, it's marvellous."
Richard as Author

After 60 years of chairing meetings, Richard has used his experience to write Making Meetings Work: The Art of Chairing, published by Routledge, to help people understand how to not only chair meetings, but ensure they can get their message across effectively.
Challenges for technology
Asked about predictions and challenges for the future, Richard says: "I have to admit to being a total failure on forecasting. I did not see mobile telephony coming. The real serious issue that we face today is that the internet that we have unleashed around the world has such wonderful characteristics and has such terrible, terrible characteristics. We've got to somehow try to sort that out.
"The big challenge, which we all face and I don't think any government has yet really sorted it out, and I don't think Facebook and Google have sorted it out, is how do we get the greatness of the internet without this terrible online harm.
"I've done some advisory work in this area and there are two things we need to look at: one is that if you are owner of Facebook, you are really a publisher. I know the law says you're not and it's safe harbour, but the fact of the matter is you have a duty of care. If you were running Wembley Stadium you have a duty of care not just to the people playing football on the pitch, not just to the fans, but to the police, to the fire people and so on. You have a duty of care to people using your Wembley Stadium. I think that the Facebooks and so on, have got to have a really advanced duty of care to all the people and take more responsibility for it.
"The other thing is anonymity. … The fact of the matter is that a lot of crime is hiding behind anonymity or within anonymity and we've really got to get at it and try and sort it out. If people know that they can be tracked down then they are less likely to do this stuff."
Richard says an additional challenge for technology is to ensure that it is easy to use. He adds: "One of the things that we absolutely were convinced we had to do with Viewdata was to make it easy to use and it was easy to use. … I do think that where the technology's still failing is it's not easy to use for a lot of people and if it's not easy to use for me as, I hope, an educated, literate, numerate person, there must be a vast number of people who find it's very, very difficult to use."
Proudest Achievement
In looking at his career Richard highlights several achievements of which he is proud, including the Open University, Viewdata and Prestel, being at the launch of satellite television, and Yellow Pages.
He adds: "I'm terribly proud of my work at Ofcom. Ofcom was the first converged regulator. Before Ofcom we had the Radio Authority, which I chaired, we had the Independent Television Council, the telecoms regulator, the Broadcasting Standards Council and so on. We put them all together in one place in 2001/2 and it became a beacon for regulation across the world. Ofcom today is still considered the gold standard. I think it was because we'd put everything together and looked at it as a converged industry, or tried to, rather than treating it as a television and a radio, and over there spectrum management. … So, Ofcom was tremendously exciting for me and I just thoroughly enjoyed that time."
Advice

"My advice to young people is if you are interested in the technology, then you are lucky, work on it, but try to concentrate on the customer interface, customer service."
Interview Data
Interviewed by Jane Bird
Transcribed by Susan Nicholls
Abstracted by Lynda Feeley
Register or login now to view a full transcript and access other associated audio and video files