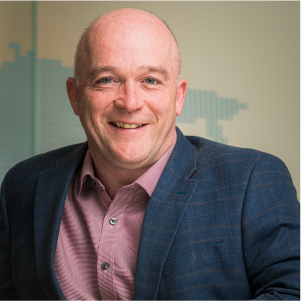 Richard Jeffery grew up on a farm, but broke with family tradition when he chose to work in software and services. Nevertheless, family discussions around the kitchen table about the farm's business challenges and opportunities, set him up well for entrepreneurship.
After studying "dull and formulaic" 'A' levels in maths, physics and chemistry, Richard loved the economics, philosophy, computing and general systems theory of his degree in systems and management degree.
Since then he has spent his career helping organisations improve operational efficiency while providing the best possible support for their staff. He worked for PA Consulting and Coopers & Lybrand, before joining Organisational Consulting Partnership, a small breakaway team from PAC.
In 2005, Richard co-founded ActiveOps, a company focused on Software As A Service and Management Process Automation. Earlier this year, ActiveOps launched on the London Stock  Exchange in an IPO valuing it at almost £120m.
The original flotation, scheduled for February 2020, was called off in the face of Covid-19. But by September of that year, it was apparent that the business was thriving. SaaS revenues were strong — turnover was £20m in 2020 — and the pandemic had focused minds on the importance of management information on operational activities. "It created a pain point and meant our products were hugely appreciated," says Richard, who is still CEO.
The fact that the IPO proved so popular with investors was a huge vote of confidence in the business, Richard says. Its software is well placed to help organisations cope with the challenges of flexible working.
"The biggest cause of stress is uncertainty. You need to create environment where people feel safe, and know what's expected of them and when they've done a good job." His mission is to provide a coherent and consistent framework for this to happen.
Early Life
Richard Jeffery was born in 1964, in Bath. He comes from a family of farmers in Dorset and has a younger brother. The farm he grew up on was remote, so he was sent to boarding school at the age of seven. Richard says that being brought up in a farming environment gave him an insight into entrepreneurship – running the business efficiently was the main focus, as the farm was rented.

He explains: "You had to make very careful decisions because there was never any spare money. Running the business was all about doing what needed to get done. On reflection, I think those kinds of circumstances create the environment where it's not so much about risk-taking, but more about effective issue management. There are a lot of echoes today in my work and it's what drove me in the days building my business.

"Growing up in an environment where you ultimately were responsible for its success or failure, you could not come home from work and detach from it, you were in the centre of it. So, from a very formative stage, I was taking part in the discussions around the kitchen table on the issues of the moment, the challenges around what was working, what got broken, what needs to be bought, what needs to be sold, and all the other things that you can imagine come with running a farming business. That does frame your perspective on both your personal ambitions, but also your propensity to take risk or not. A lot of people often ask me about starting your own business and the risk element, and for me it was never really an issue because that was what I had always known."
Education
At the age of seven, Richard went to prep school as a boarder. An experience he says was tough. He explains: "I was quite young, and, in that context, it felt quite aggressive. It wasn't a particularly special or posh school; it just was a place that I could go away and get educated. I did reasonably well, but I do remember it as being a tough place, and that was true through secondary education as well."
City University
Richard believes the boarding school experiences gave him the confidence to tackle things in later life. Having gained his O and A levels in Maths, Physics and Chemistry, Richard went on to City, University of London after a gap year travelling and working on the family farm.

Richard says: "My primary motive to go to university was to go somewhere, rather than do something. I wanted to go and live in London, having grown up on a farm it felt like a good thing to do. I then thought about what degree to pursue and I found a Systems and Management course at City University – which was fundamentally multidisciplinary, including Economics, Philosophy, Computing, and General Systems Theory. It was a great qualification and it suited me well after the constraints of A levels. Knowing a superficial amount about a lot of things was an ideal set up for my first job later as a management consultant."

During his third year, Richard did a computing project where he re-coded a program offered as a commercial service in management decision support by one of the university departments. This led to him remaining at City after graduating to take on a role as Unit Manager. He explains: "I re-coded this program as my third-year project, provided a much more user-friendly version, supporting the research work and some of the commercial activities of the department. When I graduated, I was invited to stay on and work as a Unit Manager assisting the professor to offer this decision support work, they were doing with companies, utilising this software. I won't say I built a business, but it was certainly commercially successful enough to continue and I did that for about eighteen months."
Mentors
In the early stage of his life up to and including university, Richard says role models had a bigger influence on him than mentors: "There are people that have a significant impact. You encounter people that become your role models, and also meet people you don't want to be like." He points to Ross James the Head of the Systems department at City who employed him as a Unit Manager and then Mike Thomas at PA consulting who gave him the opportunity there.
Early Career
Aged twenty-two, Richard joined PA Consulting as a Consultant working in the Organisation Group. He says: "I was really lucky. I had this portfolio of decision support ideas from working in the management department at the university. This gave me the opportunity to join PA Consulting Group in their Organisation Group.  The work was a fascinating blend of people, process and technology related improvement projects and it was just a great education for a new graduate into the world of work and large enterprises.

After two years Richard joined Coopers and Lybrand as a Senior Consultant, after being introduced by a colleague who had made the move from PA Consulting. Coopers and Lybrand had a very different culture to the one Richard had experienced at PA Consulting, he says: "PA was a co-operative to the benefit of the past and present company employees. In PA, and bear in mind this was my first real job, if you got through the gate and joined, you were treated by everyone with respect. Obviously experience and status to some extent mattered, but fundamentally you felt part of the team. As soon as I shifted to Coopers, what I appreciated, and not in a negative way, was that there was a hierarchy. If you're a peer group of ten, then two of you are going to make it, one of you is going to leave etc. You realise that there's a slightly more aggressive world out there."
Organisation Consulting Partnership
Richard was invited to join the Organisation Consulting Partnership, formed by some of his original team from PA Consulting. He says of the move: "That was just a springboard to everything that followed." It was at OCP where Richard and joint cofounder of ActiveOps, Neil Bentley, started working on operations management systems in the back offices of large financial organisations.

What Neil and I created was essentially a particular solution to problems relating to planning at work which were screaming out for replacing the spreadsheets and old tools we were using." Being a partner in a small partnership gave Neil and I the opportunity to create something which probably would never have happened in a larger firm.

Also key to the development on the product was a partnership with a friend from university and co-founder of a software engineering firm Iconics. OCP and Iconics created a JV whereby we provided the intellectual property and the sales capability. Iconics provided, at least initially, the technical capability to build it.

They called the solution Workware Business Systems with the first commercial client in 1995. "We very soon found tensions arising between the consulting ethos of OCP and the rapidly growing requirements of growing a software product firm."

Richard says: "There was a dynamic that just increasingly became difficult. It wasn't a personality clash or anything like that, but it was just one business model inside another which wasn't working."

Around 2000, Iconix ran into commercial challenges and OCP bought out their half of the venture. Richard continues: "As we sailed into 2003, 2004, Workware Business Systems was becoming a bigger business, we had some global opportunities, particularly through EDS, it became more and more of two separated universes, with WBS inside OCP."
Active Operations Management LLP (ActiveOps)
In 2005 as tensions reached a peak, Richard and Neil decided to breakaway and create Active Operations Management LLP (ActiveOps) with OCP as a corporate silent partner in the business.

This provided the platform for the next stage of growth, allowing WBS to employ people for the first time. Richard and Neil agreed a price with OCP for their share and put up the money for a phased buyout. Richard says: "So, the first phase of input funding was money that Neil and I found to put into the business to pay them out. OCP has always been supportive and part of that was a phased buyout which was within the range of affordability. I would not say it was all easy, trying to value something that somebody desperately wants to take, but equally is worth nothing if they don't do it. There's a razor bargain in there somewhere. That 2006-2008 period was probably the worst period of my entrepreneurial life."

"It was largely self-funding, and to pay off OCP, Neil and I had to put in a large amount of capital. Having to fund that out of personal means was a crunch point."

The business offered a SaaS model and was on the cloud in 2005, offering a pay as you go commercial model at the outset. Richard says: "Looking back, we were enlightened choosing a consumption-based model. We got some very good contracts with global companies, and suddenly we were all over the world. EDS took us to the US, to Australia, to a variety of other locations. We then started working with National Australia Bank, and they had a big footprint all over South-East Asia. And as a result of all, we won a Queen's Award for international trade in 2011."

 Richard describes the relationship with EDS, saying: "EDS used us to assure their customers that they had a system to successfully orchestrate and run their business for them. They weren't selling our software, they were using it to support their business process outsourcing. The EDS success propelled the business and helped us build momentum by landing several global customers. Barclays was another pivotal one." The Barclays relationship helped provide an opportunity for Richard and Neil to expand the business to South Africa, where Barclays had a joint venture that became Absa.

Richard and Neil also developed a franchise in Australia and North America through their contacts, building a wide global footprint.

The relationship with EDS ended when it was bought by Hewlett-Packard, Richard explains: "EDS bought software. When HP bought EDS, they came in with a clear perspective that all software was either going to be made by them, bought, or built. That was the end of that relationship, because they effectively decided that they didn't need us, and they were going to try and build it themselves."

While the move was a blow for ActiveOps, Richard says it was not a catastrophic drop due to the long-standing relationships with many customers. He adds: "There was one project with a UK Government department which was very disappointing, and it frustrates me to this day."

The contract was awarded in 2011 and was rolled out across a large part of the department over the next three years. Richard adds: "In hindsight, I hadn't appreciated that it was bought as a project. When it came to the end of the three-year project it stopped. I had not had the commercial nous to know that it had to be transitioned to a line of business budget to keep the relationship going. Something that we had spent three years working on together implementing and establishing, just got turned off in the blink of an eye."

He continues: "This was the moment in 2014 when we determined we needed to make a step-change to accelerate our growth, and that required capital. And more than that, we needed to bring in some fresh point of view. So, we went out to look for a minority investment, of 20-25 percent of the company. It wasn't like a private equity takeover or anything like that."

"We found investments through a fund called Calculus via the EIS, Enterprise Investment Scheme run by the Government. It made significant difference, and I'm deeply grateful for their investment."

The £5m capital injection from Calculus meant that ActiveOps grew from a partnership to a private company, starting the next level of expansion. From a small team to around 45 employees around the world, including new offices in South Africa, Australia, and India.

Speaking about their success overseas, Richard says: "We were lucky because really we were international already, doing overseas projects since 2003. It wasn't like a big leap of confidence to go abroad, that's just where we were taken, where our customers were. Working from anywhere was in our DNA, and that has been a real strength for the business. Fast forward to this last year. COVID-19 didn't fundamentally change very much, although I wouldn't say it didn't cause a hiccup or two."

Richard explains the EIS and Calculus exit strategy saying: "The EIS deal requires you to hold for at least three years to benefit from the tax-advantages. But Calculus' portfolio is a build-and-hold until it's the right time to sell. Their typical sell time is five to seven years. Calculus were really supportive every step of the way, and the individual who was on our board was a real help to me and Neil. But progressively, they have their responsibility and need to get their money back, which requires an exit. That became increasingly important for the IPO in March and it was ultimately the right answer, even though we tested a number of other options over the previous two years."

In searching for the right answers Richard and Neil were looking for something that was acceptable to all shareholders, including the options of private equity and whole selling. Richard says: "At that stage we were certainly not close to a trade sale. Over the years we had a number of enquiries which we've considered but did not materialise. I felt like I'm not done yet and there was still opportunity. You may say it came down to my ego."

Richard says he's enjoying the whole process adding: "I'm finding new things, enjoying different things. As I say to my team every day, I'm making this up as I go along, but let's make it a ride. It's a new amazing life experience. That's not to be selfish, it doesn't exist to my satisfaction, but it does make it interesting for all of us involved."

"So, the IPO was the logical move for us and it has worked really well. On top of giving us the opportunity to change our shareholder base, it's also a great way to test our proposition and be challenged. Having seen a few companies come and go, the investor funds bring this expertise."

"Going through the IPO – the audits, the verifications, the mechanics – as expensive and tedious as it is, it is reassuring that it has some integrity. It's an opportunity that others can subscribe to. Then also, there is this element that within the constraints of a public company your non-exec directors are there to support you and to represent the interests of the shareholder base, but fundamentally the business is still being driven by the people inside the business. Selfishly, at this stage, that feels to us like the right thing to do for us."

The IPO took place against the background of the COVID-19 pandemic. Richard says of the experience: "We were on the path. It's a bit of a conveyor belt with a series of stages. We did what they call pilot fishing, when you talk to a few funds to test, as an early qualifier. The plan was to do it last July, but of course by March it was pretty obvious that the world was shutting down for a while. We had no idea what impact it would have on our business, so we closed down the process. However, by the end of September it was clear to us that having a SaaS business model means that your revenues are still coming in. Your gross margins on your services may be lower, as the volume goes down, but fundamentally the revenue from the software is still there."

"The pandemic has clarified how important it is to have good data in order to make informed decisions, and that has helped us a lot. So many companies didn't realise it, but their operational situational awareness was built around having people in offices where supervisors and leaders could see and get a pulse of what was going on. Despite all the market intelligence in the world, I think it was a real wake-up call for a lot of companies when suddenly people rushed to their living rooms clutching laptops. Someone graphically described to me: 'It's like having a paper bag put on your head! Suddenly you have really lost any sense of perspective…"

"Our customers have appreciated even more the impact that our software and methodologies had on building their resilience, as they were able to bounce back faster and keep the business going in the face of an unexpected disruption of this magnitude. It put them on the winning side, unlike other companies which completely lost control and struggled to get back on track. And we were there to support every step of the way. Also, it gives a good opportunity for selling more and providing new solutions, as it put a spotlight on some problems or paint points that they may have not seen as priority before."

"So, in September when it was clear that the business itself was sound and we could see the pipeline building, we were again in the position to do the IPO. So, we put the conveyor belt back on, leading to the IPO in March."

Looking at their success in raising an IPO versus the experience of some other tech companies who did it around the same time, Richard says: "We were fortuitous because it was always part of our plan. It wasn't like we were suddenly rushing for capital. The interesting feature about our IPO was that we didn't need any capital. Many companies do it as a way of funding investment for growth, but that wasn't our case."

Two to three years prior to the IPO, ActiveOps had bought a US company called OpenConnect. Richard adds: "We sold part of the company for around three times what we had bought the whole of it for, which gave us a significant lump of capital. So, going into that IPO, having done that, we did not need to raise capital. That is important when you look at the context of some of the IPOs that didn't fail but didn't do very well."
How society has benefited from your work
Speaking about how ActiveOps work has helped the wider world, Richard highlights how bringing organisation and control within a company can help reduce people's stress and give them a better working experience. He says: "The biggest cause of stress is uncertainty and that manifests in different forms. In the context of work, the biggest cause of stress is very often a sense of a gap between people's understanding of what's required of them, and other people's expectation of them. It leads to underwork or overwork. So, if you can create an environment where people feel safe in the context of 'I know what's expected of me' and 'I know when I've done a good job,' then that is a good thing."

He highlights that what people most talk about are the backlogs they face, he adds: "That's unnecessary. There are ways that can be handled and managed better."

About the 'always on' work environment which has evolved with the ever-increasing access to technology and has been compounded by the pandemic, Richard says: "We are helping enterprises develop organisational systems, to give their people the guidelines and structures to feel in control of their operations, no matter the changes in circumstances or market shocks. We provide coherent and consistent frameworks, supported by the technology, to enable them to support their managers and staff in a more structured and more coherent way. Let's not wait for chaos and then sort the chaos. Let's avoid chaos and work from there."
Proudest achievement
"I thought the Queen's Award in 2011 was a real totem marker for us, and I was very proud of us as an organisation, which was still tiny really, to have got that."

"I'm proud of the fact that there are people who are doing things around the world for ActiveOps who would never have had that opportunity. I am proud of creating something that's provided a platform for people to do stuff that they wouldn't have."

"I'm also proud of our collective achievement of bringing this to the public market and getting to that stage as a British company. In our field, we are a global leader. Companies all over the world, including some of the biggest banks, are using our standards to measure and improve their performance and to be in control of their operations. That's something that's originated out of a bunch of people in Reading."
Opportunities and challenges of the next decade
Looking to the future, Richard says: "The world of work is at an inflection point, evolving. I think Covid-19 has unlocked a box. Even in our own business, people are never going to approach work in quite the same way. And that's a big statement!"

He points to some of the challenges and opportunities this brings including globalisation and recruitment. He concludes: "I think we have got to work hard and be astute. A lot of the things that have made the UK a good place to operate out of, with a skilled, competent workforce, can now be distributed to different parts of the globe, and that does expose us."
Advice
Asked what advice he would give to other tech entrepreneurs looking to set up, Richard says: "I would start with: do it for the right reasons. Know yourself enough to know why you are doing it. For me, it is the outcomes we achieve. The business is a platform for people. Financial success is the way society tends to measure how good things are, which is fine; but that's an outcome, not the end."

"You have to have a purpose, a mission, a problem that you need to resolve or an opportunity to take. Then, there's the risk appetite. It's about getting the right balance between the level of risk you're prepared to take, and not trying to be too far outside your envelope. That means different things to different people, but there's a fine line between feeling utterly terrified and finding the right level to be challenged, get outside of your comfort zone."
Interview Data
Interviewed by: Jane Bird
Transcribed by: Susan  Hutton
Abstracted by: Lynda Feeley
Register or login now to view a full transcript and access other associated audio and video files