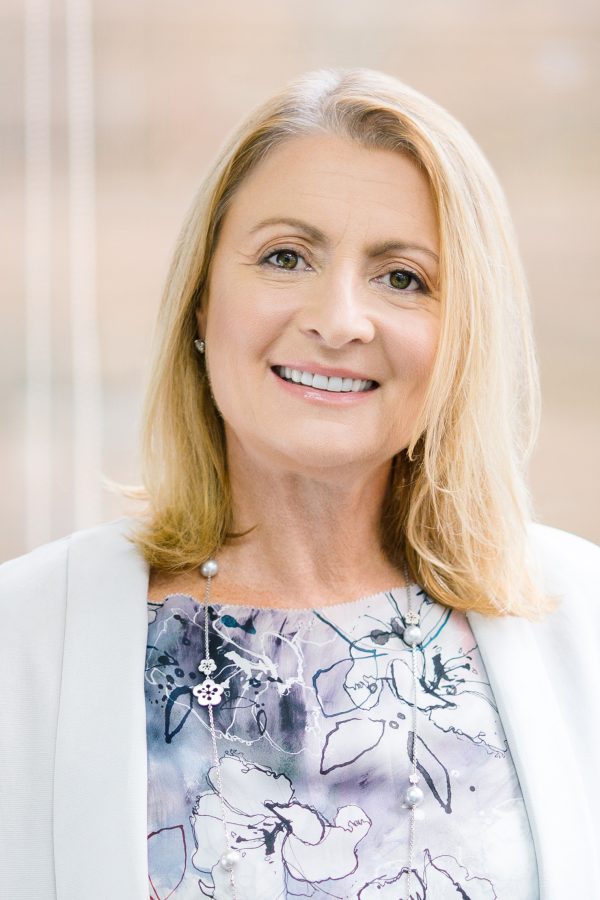 Woman of the Year at the Information Age Women in IT Awards 2018
One of the top 25 most influential women in North America's mid-market by CEO Connection (3 years in a row)
Lifetime achievement award by Scotland Women in Technology 2017
Computing's Woman of the Year 2017.
"There's never been a better time to enter a career in technology as there is today, because the opportunities for women are endless and you can really fast-track much, much quicker than you ever could in my day.  I think that being a woman is an advantage in today's tech world."
Early Life & Education
Sheila was brought up alongside her brother and sister in a very small mining village in Scotland where there wasn't much to do, and the children made their own entertainment. She describes her young self as a real tomboy with a passion for creating swings over trees and building rafts in the local loch.  She explains: 'my parents were very simple people, but we didn't want for anything, we were very fortunate'.
Sheila attended the local primary and then high school where she obtained her O levels and Highers before opting to go straight into the workplace.
Early Career
Having been very active, Sheila wanted to go to PE college but was too young, so deciding that she did not want an office job, in 1973, she applied to join the City of Glasgow police force as WPC247. As one of twelve women out of 90 recruits, Sheila joined a three-month course at the National Police College in Scotland. Her early experience of the force was before equal pay was introduced and the WPCs mainly dealt with things like sexual crimes, family crimes and things that entailed social services. As the force transitioned to equal pay, the women were required to walk the beat, Sheila's beat included patrolling the local fish market and the city mortuary. Sheila explains: "We were thrust out into the streets because the men wanted to make a point that we women weren't as good as the men and we shouldn't have equal pay, we weren't deserving of it."
Gulf Air
Having spent four years in the police force and having graduated to the theft squad, Sheila, aged twenty-one, applied to become a junior air stewardess with Gulf Air in Bahrain. She stayed with Gulf air for twelve years, flying for the first 5 years, then moving on to become a trainer, grooming instructor and finally as Chief Stewardess, responsible for 600 of the 2000 cabin staff. She was one of just two women to hold this senior position. Sheila explains how the experience helped shape her: "It was an exciting time, it helped me grow up, it taught me discipline and resilience and it was my first venture into management. But if I thought discrimination was rife in the police force, it was nothing to what I experienced in the Middle East."
In 1990, when the Gulf war started Sheila returned to England with her two children.
No longer wanting to fly, Sheila hoped to find a role as an HR manager, as she explains: "I thought I could just walk straight into a job, perhaps as an HR manager, because I didn't want to travel to Gatwick or Heathrow to work for an airline.  I went around a number of job agencies, and the best that could be offered to me was a waitress. It wasn't what I was looking for. It was as though I had 'useless mother' tattooed on my forehead."
FDM Group
Disappointed with not being able to find a role, Sheila was about to return to education when she met Rod Flavell at the school gates. He was launching a tech start-up; FDM and offered Sheila a job. This was Sheila's first venture in to tech. Unfortunately, as a start-up, there was little money to pay employees and with two children to look after, Sheila eventually left to find "a proper job".
After a few years, Sheila received a call from Rod who explained the company was getting a little bit bigger and that "it needed its mother back". This time Sheila negotiated a paying contract complete with a company car. With her return to FDM as UK Sales Manager, Sheila also decided to it was time finish her education. She enrolled in university and undertook an MA in Marketing followed by an MBA. During this busy time she juggled her career, studies and raised two small children.
FDM Group has grown to become a global FTSE 250 company that is leading the way in the Recruit Train and Deploy (RTD) sector.  It recruits around 1000 people per annum in the UK alone, including graduates, ex-service personnel and returners to work through the recent addition of its Getting Back to Business Programme. The company has won numerous awards in recognition of the work it does to create a culture that supports diversity. It has reported a 0% median gender pay gap (national average of 18%), 28% of its employees and circa 50% of its senior management team are female.
Sheila explains: "We have our graduates, we have our ex-forces, we have our returners, and we're always looking for people. What we're looking for are people who are enthusiastic and have a passion for technology; so what we say at FDM is we don't care where you come from, we're only interested in the journey you want to travel."
This attitude is the basis for FDM's success as a diverse company which started when Sheila was first recruited and created a 50:50 gender split. The company has continued to work towards diversity ever since.
Sheila's own experience of inequality has driven her own passion to create a balanced and diverse culture, she explains: "People often ask me, what's my interest in diversity and equality and jobs for women. I think you can see from my experience in the police force and working and living in the Middle East, how that all came around."
"You cannot be what you cannot see"
Sheila believes that you need to be able to see what you can become and that means creating role models and offering mentoring. As part of this belief, and to help create greater understanding of the opportunities for women in tech, Sheila established a Women in Tech initiative at FDM Group and has championed women in tech and greater diversity throughout her career.
Alongside this, FDM has a structured mentoring programme which involves hundreds of employees. Sheila explains: "It's run as a very formal part of our business.  We have young people who've just left education, left university, this is their first job, and they don't know what they want to do, they don't know what they're good at, they don't understand the challenges that are going to be ahead of them, and we try to align them with people who may be two years, three years further down the path than they are, so that they can see what's possible."
Sheila herself says she has never had a structured mentor but has learned from people she's met on her career journey, including Rod Flavell, who she has known and worked with for twenty-eight years, (they got married eleven years ago), FDM's Chairman and various people she's met.
Sheila mentors employees who are in middle and senior management, as well as people externally.
Institute of Coding
Alongside her work at FDM, Sheila also takes on various outside philanthropic projects. She has recently been appointed as Chair of the Industry Advisory Board for the Institute of Coding, an initiative that Theresa May announced at the Davos summit in January. The Government has granted a 20-million-pound budget to the programme which has been matched by funding of a further 20 million pounds. Sheila has invited and established a board of eighteen leaders of industry with the aim of making a huge difference within the UK in the educational market.
Encouraging the Next Generation
Being recognised as an award-winning industry leader and a champion of diversity and women in tech, sees Sheila taking her responsibility as a role model seriously. She is frequently asked to speak about diversity, tech as a career and its potential for women. She speaks to as many women as she can, attends and hosts events and sits on panels to get the message out.  She says: "I look forward to the day when we don't talk about diversity and we don't have women in tech initiatives, we just talk about tech initiatives and diversity becomes the norm."
 Apart from her family, Sheila finds great joy in seeing how the young people that come into FDM progress in their careers, watching as they enter the company as fresh faces, no preconceived ideas and sharing with them the opportunities that are available to them. She says: "I look forward to watching them and helping them progress in their own careers."
Future
Sheila is emphatic when it comes to the future that there is still a lot to achieve both professionally and personally. She explains: "I haven't finished.  Age is but a number.  I, Rod, my husband and I, we're still very driven, we're still, we're looking forward. We set goals, personal goals, business goals and then we work towards those goals.  What we're very bad at is actually when we achieve the goals is stopping for a few minutes to enjoy the moment.  And that's a failing and that's something that I would like to improve on."
For the business, the goal is to continue a steady and controlled expansion, aiming to achieve a workforce of 5,000 and further expansion in the group.  Outside of FDM, Sheila intends to continue her philanthropic work, expanding and developing it.  She says: "I have lots of dreams that I want to turn into goals and ambitions and that's not for today, but it's something that I would probably want to sing from the rooftops if I achieve these, and hopefully I will.  Not if, but when."
Reflections
Looking back over her career Sheila says made a number of risky decisions over her time, from leaving her home in Glasgow to travel and work overseas, returning to nothing, to finally making the best decision of her career to return to FDM. She says: "It was the best decision I've ever made, because I've now had twenty-odd years of working in a tech company and watching it grow, for it to become a FTSE 250 international company that it is today. The company's not about me or people of my level, it's about the next generation.  We are there not so much to lead the charge, but to get into a supporting position to support the charge. You can become a blocker if you stay in the same job for too long, you have to make way for future generations."
Recognition
Recent awards include:
Woman of the Year at the Information Age Women in IT Awards 2018
One of the top 25 most influential women in North America's mid-market by CEO Connection (3 years in a row)
Lifetime achievement award by Scotland Women in Technology 2017
Computing's Woman of the Year 2017.
In addition, Sheila has been presented with numerous awards for her services to both business and the tech industry including Leader of the Year at the everywoman in Technology Awards, one of the 100 Women Role Models in Tech by Business Cloud, one of Brummell Magazine's Top 30 Most Inspirational Female Entrepreneurs in the City, featuring in Computer Weekly's Influential Women in UK IT listings and being awarded the Editors' Choice Award at the Women in IT Awards.
She says: "The most poignant was probably the first one, because in 2012 someone in the business entered me for a Business Leader of the Year, the Everywoman of Technology Leader of the Year Award. I went along to the award ceremony and I didn't tell my husband, I didn't tell anybody in the family. I couldn't believe it when they called my name.  And of course, since then I've been very fortunate to receive many awards. I think the other one of note would be the Scottish Women in Tech in 2017, where they conferred me with a lifetime achievement award. And that was particularly poignant because of course it was back in Glasgow where I started my career as WPC247."
Interview Data
Interviewed by: Kerri Mansfield on the 23rd August 2018 at FDM Group Offices
Transcribed by: Susan Nicholls
Abstracted by: Lynda Feeley
Register or login now to view a full transcript and access other associated audio and video files