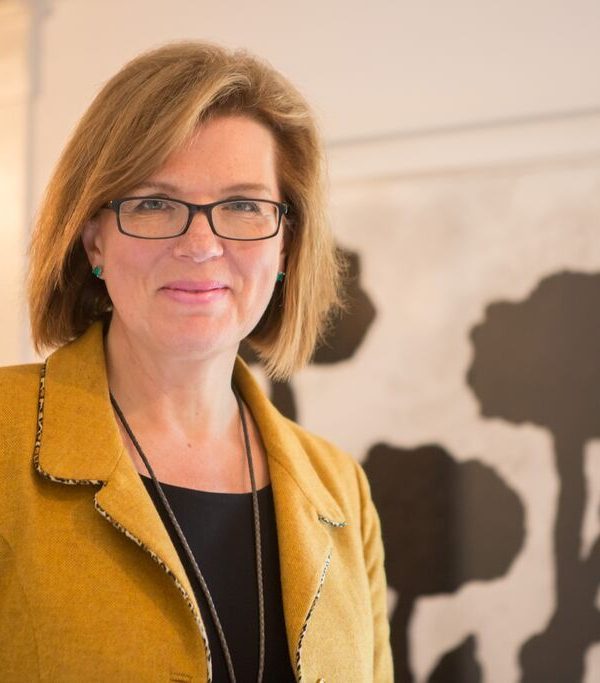 "If I had any advice to my younger self, it would be that it is worse to stay with something you're not thriving at than to move on. Of course, it may be frightening to move on because you're jumping into the unknown, but for me the unknown has always been pretty good." (WIRED UK, 2017)
Early Life
Sherry was born on the west coast of Canada, in New Westminster, Vancouver where she lived until she was thirteen. She and her parents then moved to Quesnel, which is a small lumber town, and then, after that they moved to Prince George, another small lumber town. She lived there until she was eighteen, when she went to UBC.  Sherry's grandparents moved to Canada from the UK at the turn of the century and Sherry spent much of her childhood speaking of England, where she would later study.
Education
At a young age Sherry was curious about, just about everything and liked all the subjects at school – there was nothing she especially liked or disliked. Sherry was inspired to apply to university by a family friend, Duane Rubado, as neither of her parents had attended themselves. Like Rubado, Sherry applied for and spent her first year studying psychology; however, after finding some volunteer work quite emotionally disturbing Sherry moved onto political science and economics which she found fascinating. Sherry's time at UBC spanned four years from 1982 to 1986, with her graduating with a First Class BA Honours Degree. Sherry describes a magical place overlooking the Pacific Ocean, where she met some life-long friends and partook in her first experience of mentoring as a residents' attendant in her third and fourth years of study.
London School of Economics (LSE)
Sherry was undecided on which subject to pursue next after graduating but was certain that she wanted to 'go international.' Sherry wanted to be in London rather than Oxford or Cambridge; having visited her cousin once during her time at UBC, she was drawn to the big city where she felt on fire. This, alongside her fascination with Ralf Dahrendorf who at the time was the Director-General of the London School of Economics, consolidated Sherry's decision to study at the LSE. With 78 people in her programme, drawn from 25 or 26 different countries, Sherry had never been in quite such a cosmopolitan atmosphere, ever.
It was at LSE Sherry met somebody who later on became an angel investor in her company: he was doing his PhD in mentoring at the time. Richard Caruso was the first person to tell Sherry that she was an entrepreneur: she hadn't heard the word before being told she was one.
Sherry was identified as an entrepreneur by Caruso in a matter of seconds, and has quoted this general point in several interviews. When discussing what she defines as the qualities of an entrepreneur Sherry speaks of the 'get up and go' attitude, a certain restlessness with the status quo or an irritation or frustration at things which don't work; people looking to build the future.
A figure who also shaped the direction in which Sherry took her career was a friend and mentor, Hermann Hauser. Hauser persuaded Sherry to become an angel investor. It was the natural move according to him, to sell and to become an angel investor.
Early Career & MBA
After graduating from LSE Sherry joined then Andersen Consulting, now Accenture, where she was programming in COBOL and RPG III. For about two years Sherry was involved in financial services, insurance, and working in a distillery before she was headhunted by Coopers & Lybrand. From 1988 to 1991 at Coopers & Lybrand Sherry worked in corporate finance and had a shareholder value analysis unit. Throughout this period Sherry was working with lots of people who had MBAs. This gave her an understanding of what an MBA was and why one might wish to go back to university and study again.
Sherry liked how having an MBA influenced the way people thought and the frameworks they used to approach business: this encouraged her to obtain one herself. Sherry was drawn to Harvard Business School (HBS) despite thinking it would be more difficult to get into: she was comfortable with the academic side but had little experience of the more practical case studies HBS were known for. She was curious to try out the case studies in the Socratic method. Sherry attended HBS from 1991 to 1993 where she was the Co-President of the European Club and later specialised in entrepreneurship. Sherry was fascinated with starting up companies and solving problems nobody has yet solved: she liked the creativity and jigsaw puzzle that comes along with entrepreneurship.
Although it was not always her intention to return to the UK, Sherry quickly decided London was home. Here Sherry worked at Videotron, which was part of Bell Cable Media, a Canadian telecoms company, for about a year as their Director of Strategy. She then moved to a start-up company started by her friend from HBS called ISI Emerging Markets. Sherry was one of the first people to join the company where she was involved in architecture, programming and sales for a year and a half before she left for her own adventure of Interactive Investor.
Interactive Investor
Sherry had the idea for Interactive Investor, the first company she founded, while working at ISI Emerging Markets and could not stop herself from pursuing it: she felt like it really needed to be done. Sherry started Interactive Investor in 1995 before floating it in 2000. The company's intention was to solve a problem familiar to Sherry, who was looking to buy a house at the time. The frustration of looking at obsolete, out of date pieces of paper to understand mortgages prompted Sherry to create an online service. It began on mutual funds but subsequently moved into equities, pensions and other financial services.
The company was small at first, when it was situated on St Helen's Place with just five or ten, but by the time the company was floated it had grown to north of 100. Sherry was always very hands on, rolling up her sleeves and getting her hands dirty with the product. Getting customers was easy, indeed there were millions of them: people loved the product and Sherry loved receiving feedback from the customers, listening to what they wanted, their aspirations and designing something her programmers would then make happen.
Initially Sherry struggled to keep up with the demand for her services. They took off very quickly and hiring people was difficult. Sherry found expanding her own leadership capacity and learning how to be a chief executive, a role very different to one she'd held before, tricky. Learning how to be a decision-maker was difficult at first, but Sherry maintains that you grow and challenge yourself in different ways. Finances were also tricky to manage with it being easy to run out of money if she didn't keep an eye on it, due to the accelerated expansion. Sherry may have over-delegated at this time, and at one point came very close to running out of money. Something she has vowed never to do again, and to this date has not.
Richard Caruso played a key role in the financing of Interactive Investors, without even reading Sherry's business plan he agreed to invest because he thought it would work, and indeed it did. Caruso, who was a serial entrepreneur, always knew the problems Sherry was about to run into before she ran into them herself. She found him tremendously helpful.
Floating and Selling Interactive Investor
Sherry's decision to float her company was influenced almost exclusively by its growth. Growing at hundreds or per cent per annum encouraged Sherry to consider whether she would do a trade sale or take venture capital money, or do a float. Flotation at the time seemed the best way of retaining independence and growing larger. Sherry claims she would always prefer a flotation over being a small part of something large. According to Sherry, there is more freedom in floating
The fluctuation in the value of shares has led Sherry to believe that the customers and the revenue you make from those customers is far more important than the valuation of your company. Sherry bemoans those who talk of measuring by valuations: in the Scale-Up Report she refers only to customers and profits, not valuations. The real fundamental value for the business, she says, is what it's delivering to its customers.
When one of the business's corporate investors wanted their money back Sherry sold Interactive Investors to AMP with relatively little choice. Sherry had been with Interactive Investor for seven years, people had made their returns, and a major investor vehemently wanted out: the timing was right and largely out of the entrepreneur's hands.
Angel Investment
The push to sell Interactive Investors is what started Sherry being an angel investor. The money she made from her investment, founding, and efforts enabled this career move: she emphasises that she didn't inherit her money. Herman Hauser, a friend, persuaded her to become an angel investor and she became one of the co-founders of the Cambridge Angels, investing in helping other people's companies rather than building her own. Sherry defines an angel investor as somebody who invests their funds in early stage companies, often at a pre-revenue stage; companies with a prototype but no customers. The role is to mentor such companies and help them learn how to make their product work. Angel investing is very different from investing in an ISA or venture capital trust: it is hands-on.
Sherry has invested in approximately 50 companies, some of which are household names. New Energy Finance, Lovefilm, and Zoopla are among them. Sherry also recalls a particularly exciting investment in Ieso (then called Psychology Online). It allows psychologists to consult with their patients online rather than having a physical interview. Sherry claims this process is far more efficient than traditional therapy, curing people in six sessions rather than ten. The negation of travel time also means higher levels of productivity and hence income, all of which impress her greatly.
Sherry's interests lie in double-sided marketplaces: she enjoys bringing buyers and sellers together under a theme of e-commerce. Sherry spends a great deal of time working on Founders4Schools which, like the listed investments, is also a double-sided marketplace getting students access to business owners who found their own firms. The platform Sherry has helped to create makes this process far easier than using the analogue world. The reason Sherry likes double-sided marketplaces is, it drives the costs down significantly of enabling transactions between people that want to do that transaction.
Silicon Valley Comes To The UK
Sherry is the co-founder of Silicon Valley Comes To The UK (SVC2UK) which came about when she was spending time both in Silicon Valley and London. Sherry saw that there were parts of the ecosystem in the UK that would benefit from having a Silicon Valley mindset. The scheme involves inviting iconic serial entrepreneurs over from the US to the UK, to mentor first-time CEOs, so that they can see their trajectory from first-time CEO to serial entrepreneur to angel investor to venture capitalist and then to philanthropist. Programmes were run in universities to highlight the extraordinariness of such a career and the wonders of being involved in a tech start-up. From her own experience, Sherry recognised the importance of providing mentors, peers, and role models. Now, they bring groups of people who are growing their business at  least 300 per cent per year; they come over to the Valley and are introduced to the network, so that they can feel clearer about some of the things that they need to do to continue to grow their business: the real impact comes from scaling it up
Founders4Schools & Workfinder
Founders4Schools was a spin-out of SVC2UK, because after the CEO mentoring, it became apparent that the classrooms should not be neglected.  At this point it changed to a model of tapping into Sherry's own business leader community to bring about the desired change. Founders4Schools provides a free service to enable educators to invite business leaders for encounters with students in their community.  They also run workshops and courses for teachers to help them adopt digital technologies so that they feel comfortable using them.  Currently, insufficient numbers of students are leaving school with STEM skills, and STEM skills are the most important.  Being able to do maths and engineering and tech, really helps get a job in a tech company and helps get a job in a large company.  But, students are still coming out without the right skill-set, according to the businesses.  However, after meeting people who are in business who are practitioners of academic skills, it triples the percentage of students that will choose a STEM subject, and the role model impact is really important.  If Founders4Schools can get people to speak in schools, and to host work experience placements, and they seem to be more than willing to do this, if asked, then, they will be able to change the culture to be far more entrepreneurial, within the next three to five years.  Something Sherry feels they should and must do.
https://www.founders4schools.org.uk/
Workfinder is a part of Founders4Schools, focussing on ages sixteen to twenty-four. With Workfinder, Sherry has created an app which allows young people to access volunteers from businesses who are happy to host work experience. This learning platform enables young people, using AI machine learning, coaching to find vibrant companies around them. Workfinder uses data to give young people coaches and mentors to increase their chances to get work experience. Sherry's goal is to get every child between sixteen and eighteen 140 hours of work experience over that three-year period, because there is a lot of research to show that their ambitions and attainment, and confidence, are all significantly boosted and transformed if they have work experience. Whilst the majority of placements are in the tech sector, Workfinder does have some people from DCMS who have signed up to host work experience placements over the site.
The Prince's Trust
Sherry was the Chairman for the East of England region for the Prince's Trust for around nine years and says she may not have seen how necessary Founders4Schools and Workfinder was if she hadn't had that experience. The use of volunteers at the Prince's Trust is something Sherry remarks upon: the Prince's Trust has influenced the way in which Sherry manages, trains and mentors her own volunteers. 2000 partners use Founders4Schools and Young Enterprise run their Tenner and Fiver programme over it. When they need a business leader to explain what you can do to turn a ten-pound note into more, they use the platform created by Sherry. The platform increases the success of charitable programmes by increasing access to the tech community. The Prince's Trust runs their Achieve programme, which is an afterschool club for children from disadvantaged backgrounds, and their volunteers use Sherry's platform to be able to source business leaders to come in and talk to their clubs.
Raspberry Pi
From 2012 Sherry was a non-exec director at Raspberry Pi, which was born out of the computer department at the University of Cambridge. Although Sherry notes the founders of Raspberry Pi understood the hardware far better than her, it was the unbridled enthusiasm and people whom she respected that she really reacted to. Despite some early hiccups, there are  now at least 70,000 children who are playing with Raspberry Pi's every week across the UK. Sherry has gained insight from the programmes they have for teachers to help them understand and teach the curriculum. Increasing dangers of being online have caused teachers to often be frightened of technology which the training aims to counteract. Raspberry Pi focusses on teachers and the classroom to help them understand how Raspberry Pi can help them bring the best out of the people they are responsible for. It now stands as the third largest IT platform behind Microsoft and Apple.
2014 Government Report
Sherry was asked to conduct an independent government report on UK economic growth.  Sherry recognised there had been a lot of research which showed a negative correlation between starting something up and economic growth, but there was a very high correlation between scaling something up and growth. Sherry posed the question: what is it about the ecosystem here that means that we can start things and not grow them?
One of the barriers observed was the access to talent: a lack of short-term executive ed. courses meant people leaving schools and universities without the correct skill-set to work for such companies. The recommendation was that large corporates should have fast-track programmes for start-ups and scale-ups, so that they were easier to deal with. Sherry speaks of the biggest, and the first thing that was asked for in the recommendations: for the Government to release data so that one can more easily find and detect scale-ups in your community. Sherry speaks of the benefits of GDP but, if you don't know the difference between a start-up and a scale-up, and you don't have policies that favour scale-ups, then you'll fail to have an ecosystem where those types of companies will flourish.
The ScaleUp Institute
After the report Sherry was approached by a number of private organisations who wanted something to ensure that the recommendations made were tracked and enforced.  Sherry was given a five-year commitment of a certain amount of funding to allow her to hire a chief executive and a small team to, to continue the work and monitor how they were doing. Sherry says they are making progress on the recommendations: the British Business Bank now has scale-up programmes and they have now run courses for most people who work in local enterprise partnerships which are the arm of the Government that delivers economic growth in local communities. A scale-up minister has been appointed in most of the local areas; as well as somebody to liaise and be accountable to that minister.
However, Sherry still notes there is a problem with the talent pool. In 2014 when Sherry first discussed the issues and worries of scale-up CEOs she found that the one thing that prevented them from scaling up further and accepting additional customer orders was talent. There are upward of a million vacancies in scale-up firms that they cannot fill because they cannot get the talent. Founders4Schools triples the percentage of students that will choose a STEM subject through encouraging people in tech business to speak in schools and host work experience placements. Sherry asks those in technology to encourage staff to speak in schools and share their enthusiasm placing a particular emphasis on work experience for disadvantaged students.
The Future
Sherry maintains the biggest challenge the IT industry faces is talent, and stresses again the importance of speaking in schools or hosting work experience or internships. The other issue she points out is globalisation. Sherry believes the best growth hat is to expand overseas and speaks of the enjoyment of getting your product into millions of people's hands in dozens, if not hundreds, of countries. A challenge to universities is so ensure that courses are available to cover international expansion, Sherry thinks it is essential for people to learn how easy it really is to expand overseas.
Advice
Sherry tells those just starting out in a career in information technology to pursue it with great enthusiasm because it is 'the best thing ever.'
One lesson Sherry emphasises is that if you are a first-time entrepreneur, find somebody who has been a serial entrepreneur to be your angel investor. She describes this as worth more than its weight in gold.
While Interactive Investor was successful for Sherry, there are some things she would have done differently. One of which is her decision to take a trade investor. If she were to do it again, Sherry would follow the path of angel investor, VC, float, rather than angel investor, VC, trade investor, float.  Sherry found it quite difficult reconciling the objectives of the trade investor against the venture capitalist: managing the different agendas became time consuming. The advice Sherry gives is to think hard about whether you want the corporate venture sort of funds in your company.
Interview Data
Interviewed by: Jonathan Sinfield on the 21st June 2018 at the WCIT Hall
Transcribed by: Susan Hutton
Abstracted by: Helen Carter
Register or login now to view a full transcript and access other associated audio and video files