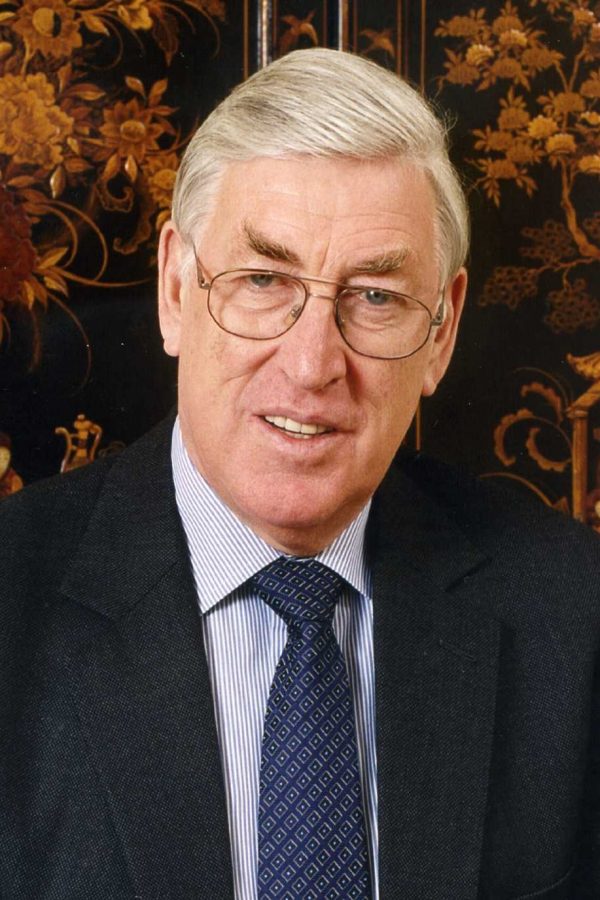 "I led the team that took the world's first online variable amount ATM from concept, through development, to first installation in the world"
Early Life
Sir Anthony was born in 1938 in Lambeth, his parents having grown up in the East End.  His mother was one of the first women to read maths at King's College London but before graduating she switched to train as a primary school teacher.  His father had a very varied career.  He was a violinist who by the time he was fourteen was playing in the pit in London theatres. However, he realised that he wasn't a Yehudi Menuhin, so he apprenticed himself to the Duo-Art piano company, who specialised in making player pianos.  He qualified doing that and then, when he was 21, decided with a friend to form their own business and build cinema organs.  With the arrival of the "talkies" and the slump, that business went bust and he ended up working for Lunn Travel, where he had worked his way up from Porter to Manager by the time Sir Anthony was born.  The family lived in Cricklewood until 1944, just after his sister was born, when they moved to Abbots Langley, which is just north of Watford.
Education
Sir Anthony went to the village school, which had a freedom that schools don't have now, in that, if you were bright, you could be moved up a year.  By the time he was eleven he was with the fourteen-year-olds, along with three others of the same age.
At the age of eleven he won an Eleven Plus scholarship, to Berkhamsted, which is a minor public school.  He found it tough for the first year because, out of his class of 22, only three hadn't gone to the prep school and therefore not done any Latin and French.  However, he worked hard and by the end of the year was top of everything.  He ended up really enjoying Latin and the Greek and was steered towards Classics for sixth form.  He studied for two years for A Level and got a State Scholarship, and an Open Scholarship to Trinity College Oxford.
He decided it would be better to do his National Service before going to university and was posted to the local infantry, which was the Beds and Herts.  After three weeks, he was sent off to Brigade Headquarters as a potential officer. Rather than wait to re-take the Selection Board, having written a highly critical essay the first time, he was transferred to the Intelligence Corps, who then sent him to GCHQ to be taught a bit of both Arabic and cryptography.  He was then sent to Cyprus to "listen to the Arabs".  The army did try and persuade him to stay on but he wanted to go to Oxford and left.
Sir Anthony studied Greats at Trinity College and managed to get a First in Honour Moderations after five terms.  After that his time at Oxford was more social and he loved it there.  At one point, he thought about staying on in academia but, having met his future wife in his fourth year, his outlook changed as he began to mix with people away from the college.
He was advised to go to the Vocational Guidance Association, and take their tests.  This involved answering a huge number of multiple choice questions, as fast as possible.  He went back after a week for the results and was told 'no question, you should go into computers.'  Since he really didn't know what a computer was, he went back to the Appointments Board, and got the names of all the significant companies in the UK and applied to them all.
IBM Early Years
Only two companies offered an interview, Burroughs and IBM, and Sir Anthony joined IBM in 1962, the start of what was to be a thirty-two-year career.
The personnel manager who interviewed him was concerned about his lack of commercial experience and persuaded him to join as a trainee instructor, which he still feels was, for him, the ideal start. From the outset Sir Anthony benefitted from the IBM approach to investing heavily in training its people when he attended the ten-week Basic School learning about IBM punch card machines.
Following Basic School he was posted to IBM Welwyn for a period of field training shadowing an IBM salesman. This also proved to be invaluable experience, his first opportunity to meet customers. For the next four years he taught on various IBM large systems, learning about operating systems and the high level languages, COBOL and FORTRAN. Before the announcement of System/360 in  April 1964,  Sir Anthony was one of the two instructors sent to the Hursley Laboratory to learn enough to be able to teach the new system from day one. As the first students were IBM's own staff, from the Managing Director down, this gave him valuable exposure while still very junior.
Sir Anthony then progressed to the role of Systems Engineer and by the end of 1969 he was the youngest Consulting Systems Engineer in the UK.  He was then given his first significant promotion – heading a marketing unit looking after the Lloyds Bank account – a role with about 100 reporting employees, appointed despite having no management, marketing or banking experience.
The next three years saw two major achievements. The first was the development of the world's first on-line, variable amount cash dispenser. Working with Lloyds Bank, Sir Anthony's team developed the detailed specification for the device but persuading IBM of the opportunity took a huge effort, only successful in the end when John Fairclough was sent to run the Raleigh Laboratory and built a prototype and Sir Anthony was summoned to New York to sell the idea to Jacques Maisonrouge, Head of IBM World Trade.  The second was the sale of two IBM systems to the Bank of England, previously an ICL customer. Such was the concern with this decision that it was reviewed at Cabinet level.
With the first Lloyds ATM successfully installed, Sir Anthony was posted to White Plains in New York state as Administrative Assistant to Ray Fentriss. Only two years older than Sir Anthony, Ray already had experience of running IBM' s business in two South American countries, a good example of the company's policy of backing talent regardless of age.  Sir Anthony was supposed to spend two years under Ray's tutorship but after five months Ray was chosen to lead IBM's move into Russia and Sir Anthony was called back to the UK by Peter Morgan, then the UK Sales Director, to lead IBM's Finance District..
Sir Anthony took over as the manager of IBM's Financial Services business in the UK at a time when it represented a quarter of the Company's UK revenues, with significant business in all the clearing Banks and the major supplier to 19 of the top 20 Insurance companies. By 1976 he was Sales Director for IBM United Kingdom for a year and then Director of the Data Processing division for the next three years.
In the 1980's Sir Anthony moved to IBM's European HQ in Paris and a role that didn't exist – charged with creating a new group to improve the complex logistics involved in supplying customers from 17 different manufacturing plants. Then, in1981, he was appointed Vice-President of Marketing for Europe, Middle East and Africa. No sooner had he been appointed than IBM decided to combine its two major organisations, DP and GBG.   This gave him a broader remit and the chance to learn how to navigate the politics of a multinational operation.
In 1982 Sir Anthony was recalled to the UK to become Assistant General Manager of IBM United Kingdom, his first challenge being to ensure the successful  launch of the IBM PC. He stayed in that role for just a year before becoming General Manager under the Chairmanship of Sir Eddie Nixon. Eddie retired three years later and Sir Anthony stepped up to the Chief Executive role.  By 1990 Sir Anthony was UK Chairman and Chief Executive. In 1992 Nick Temple assumed the Chief Executive position and Sir Anthony retired as Chairman in 1994
After IBM
In 1993 Sir Anthony was asked to become Chairman the United Kingdom Atomic Energy Authority. In the following three years he led the reorganisation which culminated in the last privatisation of the Conservative government and the flotation of AEA Technology, which he then chaired for five years.
This was the first of four flotations that Sir Anthony chaired, followed by General Cable, a cable television company, in 1998 and two start-ups, IX Europe, a datacentre company, and SThree, a recruitment company.
From 1991 Sir Anthony held a range of Government appointments as Chairman of the Government's Industry Development Advisory Board, the Medical Research Council, the Natural Environment Research Council and the Nuclear Decommissioning Authority.
His other main interests are in Academia, where he was Chairman of Governors of Birkbeck College for nine years and Music, as Vice-Chairman of ENO and Chairman of the Royal College of Music.
Achievements
During his early career  Sir Anthony taught business leaders at all levels on many new IBM systems and in a wide range of industries and sectors. This gave him immense experience and exposure that helped his later career.
By understanding the needs of his client and bringing together technical talent in IBM while winning senior leadership support he developed and sold the world's first variable amount cash dispensers to Lloyds Bank in 1972. This was evidence of what he believes IBM always excelled at – understanding the client, where they have come from, where they are today and where they need to go in the future.
Reflections
It wasn't until leaving IBM, after thirty-two years' service, that he realised how much he had taken for granted about the company's strong culture, its explicit definition of its business ethics, and especially the focus on its core values. Very simply stated – "The pursuit of Excellence, service to the customer and respect for the individual", adhering to these values meant that many of the issues he saw in other businesses did not occur in IBM, or had significantly lower impact.
Perhaps the most fundamental change in the IT industry over Sir Anthony's career was the reversal of the relative costs of people and technology. In 1960, people were relatively cheap and hardware was very expensive, so a supplier could afford to provide skilled manpower, paid for by the expensive hardware. This in turn was needed to optimise the use of, say, 16K of memory. Today the megabytes are cheap and such detailed optimisation is neither necessary or economically justified.
Advice
Sir Anthony believes that at the end of the day it is always the people that make the difference. In his time IBM had a very simple formula – hire the best people, invest heavily in training them every year, reward them well and demand the very highest performance from them. One specific piece of advice from his years as a Chairman. Always aim to get your Chief Executive on the Board of another company – only then will he or she understand how naked the non-executives can feel when all they have is the Board pack, while the executives have been full-time in the business.
Interview Data
Interviewed by: Richard Sharpe on the 26th August 2016 at BCS London
Transcribed by: Susan Hutton
Abstracted by: Helen Carter
Register or login now to view a full transcript and access other associated audio and video files