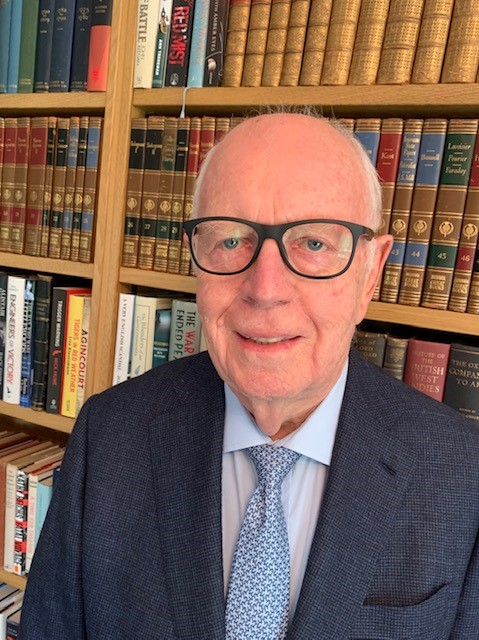 Sir Desmond Pitcher has worked on all sides of the IT industry.  He has implemented computer systems for Sperry Univac and became a senior executive.  In 1974/5 he delivered the Faraday lecture series for the Institute of Electrical and Electronic Engineers in which he predicted many of the developments of the IT industry. 
He ran the computerised switching systems for the telecommunications company Plessey when it was developing and building System X.  He introduced computerisation in large organisations including Littlewoods, the football pools and retailing companies based on Merseyside.  He later chaired the Merseyside Development Corporation.
Early Life
Sir Desmond Pitcher was born in Liverpool in 1935, his father, a Film Production Manager, left shortly after he was born and he was raised by his mother until the start of the war, when she was co-opted, and Desmond moved in with his grandmother near to Liverpool docks. He says: "My first impression of life was one of chaos and concern.  For instance, there were very few men around, you would see women crying on the street in a distressed situation due to losing a Son or Husband.  One week, a week I shall never forget was in May 1941,It was estimated 59,600 bombs were dropped on Liverpool, completely destroying  Liverpool One and 1,000 people died  on the streets"

As the Liverpool docks apart from their size were the only English port open with shipping access. The German of planes would fly from France to the lights of Dublin and then to Liverpool which is nearby.  The Port was a major target for the Germans as large numbers of Troops and goods were flowing in from what is now the Commonwealth countries.  The local resentment to the failure of the Government as to why it devoted all the Air defence protection to the South East and leave the North West totally exposed went on for years.
Education
As a result of the disruption, Desmond says that he never really had any proper schooling until he was eleven. He adds: "If I summarise one aspect of my own character; I've never been frightened of anything and I really put that down to those early years."

Having been evacuated to Llangollen in 1942, Desmond attended a school where lessons were given in Welsh. At the age of ten he returned to Liverpool to continue or really start his real education; he explains: "The implication of that (attending a Welsh speaking school) of course was that I never got a chance to go to a grammar school or any other kind of education like that, but I did win a scholarship to go to Liverpool Technical College, and that was a big breakthrough for me."

He went on to study at the Liverpool College of Law, Liverpool Commercial College, and at the Law Institute, and adds: "So I had a whole batch of examinations, but nothing to show for them but that was put right by Manchester University, because I also studied at Manchester, where they made me in later years an Honorary Professor for 20 years or so."
Early Career
AV Roe (now Avro)

One of Desmond's early and enduring interests was engineering which came out of his love of steam trains as a child. After college he became an electrical systems engineer at AV Roe (now Avro), a plane maker based in Manchester, where he worked on the electrical systems for the Vulcan bomber.

The Vulcan due to its load requirements could not fly with conventional Direct Current electricity and required higher volume Alternating Current. Desmond joined a team of four Engineers with the support of about 20 skilled staff.

The outcome of this is that all large aircraft except a Boeing aircraft which was not successful have used the AC system since.

 
Sperry Univac
In 1961, Desmond moved to Sperry Univac as a systems engineer having responded to an advert in the Times offering a scholarship to study in Switzerland computer development.

Univac had absorbed the Eckert-Mauchly computer company which created the ENIAC in the United States. Looking at the competitors at that time, Desmond says: "IBM dominated the commercial market.  They took their business out of a massive commercial base and brought it into computers.  The concept of Sperry Rand was to achieve the same thing, except that Sperry Rand had a different market offering high cost large scale systems with integrated communications capability to the Banking, Hospital, Manufacturing, Space programme, Government and various other sectors.

At Sperry Desmond says he experienced the difference between UK and US attitudes to challenges and progress. Sperry were appointed the Project Managers in the NASA race to get the first man on the moon supplying all of the Computers in the Control Centre.

Desmond talks about how this challenge demonstrates the difference, saying: "The difference between Britain and America is, we argue, we talk about the problems all the time.  Working in American industry, it's lovely.  Everybody talks, 'What can we do?  What can we do?  Looking to the future and particularly to the market opportunities.

He adds that he learned to "never get gloomy about the past.  Look for examples where it's gone wrong and put them right, but don't let it dominate your conversation."

In his time at Sperry, Desmond implanted the 1100 series with a number of customers including the RAF, Treasury, Royal Navy, Abbey National, Shell, BP, among others. He says: "The first company we took was Coutts Bank, oddly enough, because they wanted printed online printed statements.  Nobody else could give them that." This new range of computers offered customers real-time interactive communicating system which was years ahead of what was on offer from competitors such as ICL.

 Desmond was promoted by Paul Lyet, Sperry's Chairman, from Managing Director to Vice President International, after he made an impression at an annual young manager's conference. However, in order to progress further up the management chain, Desmond was aware that he would need to become an American, so at this point he elected to return to the UK.
Leyland
In 1976, Desmond returned to the UK and joined Leyland as Managing Director of the truck and bus division which he turned into a highly profitable area of the company.
Plessey
In 1978, Desmond moved to Plessey where, as Managing Director, he established a manufacturing site in his hometown of Liverpool, despite the numerous union issues, to make System X for BT. He says: "I brought the technology people in from Sperry to run the research side and they got System X up and running, which was exactly what BT needed to digitise their network and make it a voice and communications network.
Littlewoods
In 1983, Desmond was next headhunted to be Group Chief Executive of Littlewoods a Liverpool company owned by the Moores family.  The company comprised of six businesses including Littlewoods Pools, Littlewoods retailing with both shops, mail order, property, finance and transport. Desmond realised that it needed modernising and introduced computer systems and management training. In 1992, Desmond became non-executive vice-chairman of Littlewoods.
The Merseyside Development Corporation
In 1991, Desmond was made Chairman of the Merseyside Development Corporation which was established in 1981 by the Thatcher government to regenerate Merseyside He says of it: "I'm so proud of it.  When I went there in '83, Toxteth was dominating the city.

I mean it was a nightmare and when you go back now and see the regeneration vision being realised I feel so proud" Desmond made sure that there were three local councillors on the board, he adds; "I wanted to put the three leaders of the Council on board, because they've had far more influence than we would ever have. They came on the board and they were fantastic.  They supported us, we worked together."

The development work included the building of Liverpool One (L1), a shopping centre that retains the atmosphere of old Liverpool, plus the regeneration of the Albert Docks. Having rejected the use of European money to fund the project, because they wanted to spend the money on promotional programs and their financial offer was so inadequate we rejected their offer.

The Merseyside Development Corporation instead took the Liverpool Philharmonic on a tour the United States and raised substantial investment capital over the next four years. A further one billion was provided by the Duke of Westminster, plus money loaned from the Allied Irish Bank. The regeneration has seen 90,000 people move to Liverpool in recent years.
Influences
Desmond says that there have been four men in his life who have made a major difference to him because they took an interest in him. One was the Chairman of Sperry Corp; Paul Lyet. Desmond says: "He taught me how to communicate.  When you run big businesses, you've got to know how to communicate.  You must get around and meet every week without fail your executive directors.  Paul said that bosses are always unpopular, they're always criticised, but almost entirely by people who don't know who they are.  If they just see you walking around their place of work, you've got them on board."

Sir John Moores was another influence, Desmond says of him: "He was one of the finest men I ever met in my life; a brilliant man, who had very little education all his thinking was his original ideas.
Faraday lecture
In 1974 and 1975 while at Sperry Univac, Desmond was invited to give the Faraday lectures for the Institute of Electrical Engineers. He used the opportunity to make a number of predictions, one of which was that the computer, telephone and TV would connect together and develop information technology into 'teledata'. Desmond made the predictions based on his work in the product planning group at Sperry shared with  other members.

He explains: "We always worked towards convergence.  Our communications capability was far in excess of anybody else, particularly in high volume, which meant switching large quantities of data.  We of course were aware of micro processing taking place; indeed, we had our own micro processing company. So, you could see the potential of this.  It was enormous early on. … To me, it was obvious that if you could collect all this information together, you would have a fully integrated communications system.  Now the problem in Britain, although we solved it much quicker than any other country, was that everything was analogue."
Honours
Desmond is a Fellow of the Institute Electrical Engineers and was the Faraday lecturer in 1973-1974. He is a Fellow of the British Computer Society, Institute Design Engineers (honorary), Royal Society Arts and a member of the British Institute Management.

Desmond was knighted in 1992 for service to the Citizens of Liverpool
Interview Data
Interviewed by: Richard Sharpe on the 18th December 2019 at the London office of BCS
Transcribed by: Susan Hutton
Abstracted by Lynda Feeley
Register or login now to view a full transcript and access other associated audio and video files