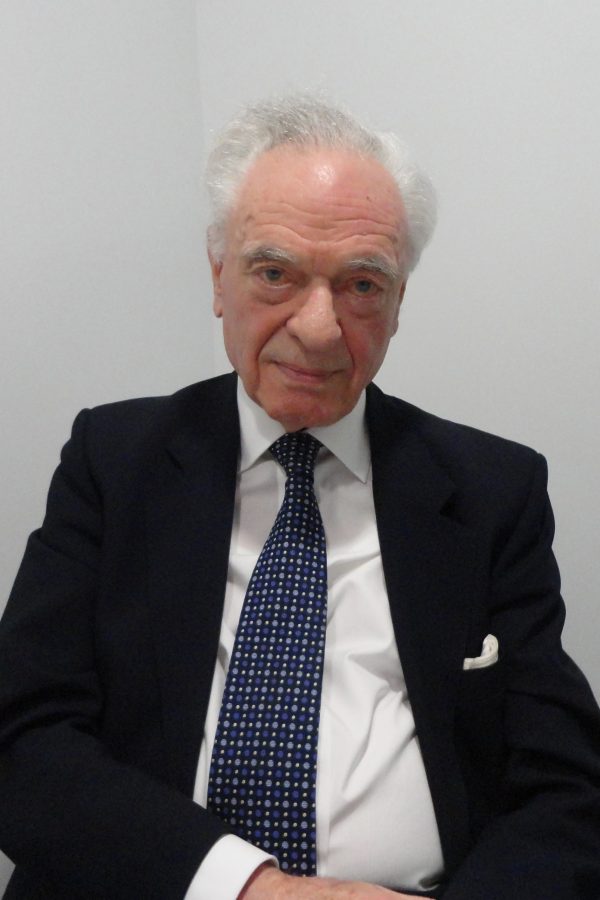 "I improved the fortunes of Aston from bottom of the league to bottom of the top third"
"I was involved in the creation of the Criminal Cases Review Commission (CCRC)"
"The maxim I have often given to people who ask me how I've done things is – never be seen to be moving!"
Early Life and Education
Sir Frederick Crawford (who will be referred to hereafter as 'F') was born in Birmingham in 1931, the youngest of four children. His father ran a small printing firm; his mother was a housewife. He did outstandingly well in the 11-plus examination and entered George Dixon Grammar School in 1942. At that time, he did not enjoy school very much: "I was clever enough to get away with very little work and played on that until I left school. A week or two afterwards, however, I realised how much time I had wasted. Most of my schoolfellows were either heading for universities or staying an extra year in the sixth form with their sights on Oxbridge."
Joseph Lucas Ltd. and University of London
Having left school in 1948 with no firm plans, F competed successfully for a four-year apprenticeship offered by a Birmingham firm, Joseph Lucas Ltd, manufacturers of electrical components for cars. He was attached to the Engineering and Designs Department and was expected to study for an external degree from the University of London. He chose engineering. He says: "They were pursuing the most modern electronics, far in advance of what was actually being used in cars. For example, in 1951 they were already interested in solid state devices, the transistor having been invented as recently as late-1947.  I was in at the beginning of some very interesting developments."

F studied for his engineering degree by day release and in the evenings, at Birmingham Central Technical College which later became successively Birmingham College of Technology, Birmingham College of Advanced Technology and finally Aston University.
Liverpool University
In 1952, F received a 1st class honours degree in engineering and immediately began working for a PhD.  He explains: "As soon as I had finished my apprenticeship and my bachelor's degree, I took up a research fellowship in electrical engineering at Liverpool University, related to work that I had been doing in industry on spark ignition of petrol-air mixtures. The laboratory in Liverpool specialised in gas discharges and sparks, so I chose that area for my PhD."

During his three years as a PhD student, F caught up with typical student activities that he had missed out on as an apprentice in industry, in particular debating. After completing his PhD in 1955, he took a Diploma in Education while serving as President of the student body. In 1956, he was elected to the Executive of the National Union of Students.
Birkbeck College and the National Coal Board
After completing his studies at Liverpool, F joined the research department of the National Coal Board at Isleworth, near London, and studied in the evenings for an MSc in mathematics at Birkbeck College.  He says: "The NCB had bought the old British Lion studios where parts of The Third Man and The African Queen had been filmed.  My instrumentation laboratory had been the No 1 star's dressing room, so my tiny office opening off it had been Orson Welles's, and Humphrey Bogart's lavatory."  While at Birkbeck, F was Treasurer of the National Union of Students and failed by only two votes (82/ 84) to become President.  This turned out to be a blessing in disguise:  he and a fellow student won the NUS-Observer National Student Debating Tournament and the pair were free to spend two months touring the USA and debating against numerous American universities.  He says: "After debating against Stanford University, I managed to talk my way into a postdoctoral fellowship."
Stanford University
That fellowship was supposed to be a one-year appointment, but F ended up staying at Stanford for twenty years. He started off as a researcher for five years and then progressed to a professorship in electrical engineering. He says: "In my research, I was actually moving towards applied physics, but I always had at the back of my mind that I would have preferred to work in applied mathematics."

 Of his time at Stanford, F says: "It was creative; it was wonderfully stimulating; the University seethed with knowledge and excitement.  There were, for example, a dozen Nobel Prize winners on campus and Stanford was classed in the top half dozen universities in the world. Today it is arguably No 1 and I count myself lucky to have been there during its extraordinary rise.  It is, incidentally, as remarkable for its sunny physical climate as for its intellectual climate"

 As well as teaching, F pursued research in plasma physics. He says: "In the laboratory where I worked, there were Nobel Prize winners William Shockley, who had invented the transistor, and Arthur Schawlow, who had invented the laser. In the physics laboratory next door, there was Nobel Prize winner Robert Hofstadter, whose two-mile long linear accelerator could easily be accommodated on Stanford's sixteen square mile campus.  Entrepreneurs and venture capital were attracted by such talents, and the space available, and Stanford became the nucleus for the hundreds of enterprises that are known today as Silicon Valley."

It was at Stanford that F came across his first digital computers and integrated them into his experimental work.  He says: "I got drawn into the computer sphere, not because I knew anything about computers, but because I and my research students used them to solve increasingly tricky problems. I became a user and proselyte for computer technology, rather than a specialist in the technology itself.  I've never designed or built a computer, but at whatever level they reached, I've always found ways of using them to benefit my research."
Aston University
After spending twenty years at Stanford University, F returned to the UK in 1980 as Vice-Chancellor of Aston University and served for sixteen years in that post. When he joined, Aston was near the bottom of the UK university league.  He says: "My job was to improve its position. When I arrived, it was in the bottom three or four within the published university league tables.  One year to the day later, the University Grants Committee (UGC) cut its funding by 20%.  Nevertheless, by the time I left, Aston had moved up to the top of the middle third of the league."

How was this accomplished?  F spent his first four years in office reducing and reshaping the staffing of the university. He offered to academic and non-academic staff, selectively, a generous voluntary 'mobility incentive scheme', reimbursed by the UGC, which also enabled him to recruit a few new members of staff.  He says: "I was extremely stringent on appointments; I don't think I ever appointed a young lecturer who hadn't got a 1st class degree." After four or five years at Aston, some of those whom F had talent-spotted were headhunted by Oxbridge, London and other leading universities, which made it progressively easier to recruit their replacements. Such positive feedback was strengthened further when some of them became heads of departments in their new universities.

In 1981, F established the Aston Science Park (ASP), with the support of the City Council; the first science park in Britain.   F says: "Lloyds Bank, which had been founded in Birmingham, generously contributed £1million in venture capital to encourage entrepreneurs to locate their start-ups there.  There were 30 acres of ground at the northern edge of the campus, accommodating a few factories but mainly derelict. That allowed the ASP to develop close to the city centre." In the first two or three years, it became home to about 100 small firms with around 1,400 employees.  The ASP was an idea whose time had come."

F is proud of his achievements at Aston and the knighthood conferred upon him in recognition of them in January 1986. He points to a difference between the USA and the UK in managing, rather than simply administering universities.  He explains: "There is an enormous difference between administering a university, and actually getting the best out of it by building, shaping and leading it.  I don't mind doing administration, but if a vice-chancellor thinks that the job is only to administer the university, then it should get a new vice-chancellor!"

"Somebody once asked me if I had a maxim to recommend to a prospective vice-chancellor. My reply was, 'Never be seen moving.'  It's as simple as that. You must have a strategy; you must plan, and you must carry people with you.  But, you can only do it incrementally.  Do it like the sweeper in curling, who scrapes away the ice in such a way that the stone goes where he wants it to, but he never touches it."

 
Criminal Cases Review Commission
In 1996, F was invited by Michael Howard, the then Home Secretary, to set up a legal commission — the CCRC– to review cases involving alleged or evident miscarriages of criminal justice. He explains: "I was to have no role in the reviewing of particular cases.  My job was to appoint suitable case workers, with appropriate skills, and to help in developing effective methods for dealing with cases, particularly using information technology. It was easier for me to do that from my scientific and managerial background than it would have been for a practising lawyer."

The CCRC reviewed about 1,000 cases per year during the seven-year period when F was Chairman.  He had been asked by the Home Secretary what he would regard as success in his appointment. F said, "If, at the end at the end of my term, no one in the UK, knows my name.", meaning that the CCRC had not attracted publicity.   He believes that that goal was achieved.
Retirement
Since retiring in 2003, F has been working on a wide portfolio of activities, including membership of the Royal Academy of Engineering, the Smeatonian Society and the Worshipful Companies of Information Technology and of Engineering, and writing three mathematical publications deriving from his 2015 MSc thesis.
Mistakes
Asked what was the biggest mistake he has made, F said, "A lot of things that you do that seem positive are actually mistakes, in the sense that you could have done better.  For example, you may take one appointment out of two on offer and do it well, but you might have done the other one much better.  Characteristically, I make the best of a bad job, so if I have a non-ideal situation, I try to turn it around before moving on to something else. There are very few things that I seriously regret"
Artificial Intelligence
On the subject of artificial intelligence (AI), F said: "I've lived through three phases of AI.  When I was first at Stanford, AI was a big thing, but it was being explored with very primitive, inadequate computers.  The typical gibe was that 'artificial intelligence' was just about equal to 'genuine stupidity'. The words 'artificial intelligence' were eclipsed for ten years or so in favour of 'knowledge-based computing'. When computers became much more powerful, the words 'AI 'came back into use again."
Interview Data
Interviewed By: Richard Sharpe on the 24th February 2020 at BCS London

Transcribed By: Susan Hutton

Abstracted By: lynda Feeley

Register or login now to view a full transcript and access other associated audio and video files