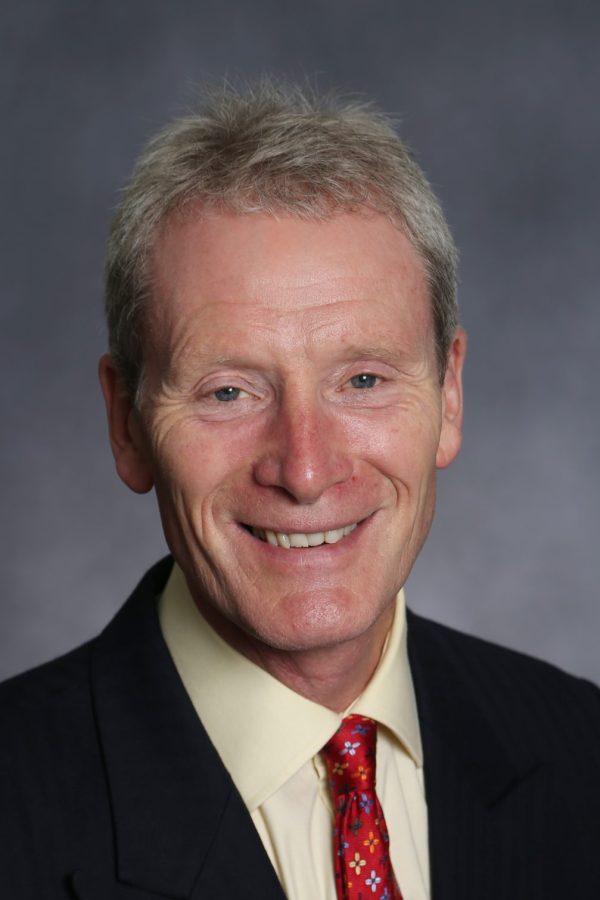 A delight in taking apart and rebuilding his bicycle highlighted Sir Julian Young's bent for engineering at an early age. "An engineer is someone who is perpetually restless and never content with how things are," he says. "You are always wanting to do better."
Would-be engineers also need to be competent at numbers, score good marks in science, and be prepared to keep up-to-date with technology. But as an engineer you have "a job with opportunities for life," Sir Julian says.  It has certainly proved that way for him. Money was tight when he wanted to study aircraft engineering at university, so he applied for and won sponsorship with the RAF.
Since then, he has enjoyed a 40-year career as an aircraft engineer with the RAF. His experience spans a huge range of aircraft and technology, from the Mk1 Chinook and 1980s' bombs dropped by gravity used to damage Port Stanley airfield in the Falkland Islands to today's leading-edge F-35 fighter jet, with its robotics, smart weapons and AI.  Most recently, he was Director General Air within the Defence Equipment & Support organisation in the Ministry of Defence and the RAF's Chief Engineer.
Sir Julian is a Fellow of the Royal Academy of Engineering, a Governor of Bath College and a Trustee of the RAF Charitable Trust. He was awarded a KBE in 2020, a CB in 2013 and an OBE in 2000.  In 2021, he became the 140th President of the Institution of Engineering and Technology. His ambition while in post is to push as hard as possible on addressing the challenges of sustainability and climate change.
Early Life
Sir Julian Young, KBE, was born in Cambridge in 1961.  He has a younger brother and sister.  His father joined the Royal Air Force (RAF) at the age of fifteen-years old as a Propulsion Apprentice and left in 1963.  Julian's mother and father split up when was around the age of nine or ten.  Both remarried and Julian has an extended family of half and step siblings.

 Julian says: "My brother and I lived with our grandparents for a number of years and then moved to live with my mother and her new husband, my stepfather."  The family lived in Steeple Claydon where Julian went to school for a few years before they moved to Buckingham.  He says of his childhood: "It was a bit of a mixed up childhood probably, in terms of several elements of family input, different family life that didn't always tie together smoothly."
Education
For Julian, school was a constant that contrasted with a disrupted home life.  He says: "We were never really sure quite where we were, where we were going to live the next year or so.  But we were happy, certainly, as children, but school was that great opportunity and a place where you could be someone different.  School was the one constant and I really enjoyed my time there, and I think put all of my energy into doing as well as I could."

Julian was influenced by one of his primary school teachers, Miss Davis, with whom he stayed in touch until she was into her nineties.  He says: "Miss Davis was a wonderful figure, inspiring; she saw something in me perhaps that maybe others didn't see and simply encouraged me to try much harder at school academically."  Her encouragement helped Julian to pass his twelve plus and gain a place in grammar school.  He adds: "I think myself lucky enough to move on to better education – at the Royal Latin School in Buckingham.  I was the first person in my family to stay for A levels, I was the first person in my family to go to university and many of those opportunities would not have been there, in some respects, if it hadn't have been for her."

 Julian's interest in engineering and technology grew from his grandfather's interest and skill at making things, his working alongside his stepfather to keep the car on the road, as well as tinkering with his bicycle.  He says: "I was always taking my bicycle apart and changing, swapping components, putting different wheels on it.  I used to mend bikes for my friends.  When I went to visit the career master at school, he asked what I wanted to do with my life, and having told him about the bikes, he suggested that I should be an engineer – so I did.

"I think I do have an engineer's mindset.  Once you're an engineer you're always an engineer in terms of how you go about things.  I like to think engineers as restless, in as far as we're never quite content with how things are, we're never quite content with the last time that we did something, even though others may have said jolly well done.  I think that we have a mindset around continual improvement, always wanting to do better than one did previously, with the experience that one has gained."

Julian studied A-level Physics, Maths and Design & Technology with the view of engineering as his future.  He adds: "I still didn't really know which field in engineering.  I had started to see my father again who was working for British Airways in propulsion, and I had half a day with him at Heathrow and had seen the then RB211 engines being tested on a testbed, and just the power, the size, the enormity, the complexity of it all.  I thought gosh, aircraft engineering is a wonderful field, this is what I'd like to do."
City University and the RAF
At the end of his sixth form, Julian applied to go to university, having first written to eleven companies to try to get sponsorship.  He says: "I got one reply from Rolls-Royce which said no; I didn't get a reply from most of the others, but luckily I was accepted by the RAF and by British Airways.  Both the organisations would have put me through the degree course that I did, which was Air Transport Engineering at The City University in London.  The course had been established by British Airways and then the Air Force caught on to this particular training scheme and thought it was a good way of training their own engineer officers.  I went through the selection process and I was offered a place with both of the organizations.  I can't tell you now why I chose the RAF, but I have never regretted a day of it."

The course was a four and a half-year 'thin sandwich' course.  Julian explains: "You spent six months at university and then you had a couple of weeks' leave, and then into an industrial placement, which for me was in the RAF.  I worked as a tradesman, working on aircraft, fixing them.  I worked on Phantom F-4 jets up at RAF Coningsby, strapping pilots in, doing operational turnrounds and so on.  Great experience just being within the Air Force and engineering environment, but actually hands-on.  Looking back, I caught up the eighteen months of loss of seniority against my peers who went to university and then hit the Air Force earlier.  Probably within less than five years I'd caught them up because I'd got so much more experience of having done the jobs as a mechanic.  It gave me an amazing insight into how the Air Force worked, what the jobs were, etc, that I would then go on to manage and not necessarily be hands-on on aircraft.  It was a great time.  I was young and thought nothing of getting up at four in the morning to service aircraft and tow them out on to the line ready to go, whatever the weather.  It was just an amazing opportunity, I just loved it.  I really enjoyed my time at university as well.  Having lived in a small village and relatively small town, I welcomed my time in London; a great opportunity, almost a rite of passage really to live in London."

Julian received a salary while at university from the RAF.  He adds: "I got paid the princely sum of ten pounds and a penny a day when I was at university.  It was in the early 1980s, so it was a pretty good wage.  I was able to afford a car, which I spent most of the week working on, keeping it on the road."

 Julian says that his head for facts and figures is all part of being an engineer, adding: "That's very typical for an engineer; we're not scared of numbers.  Our whole world really is made up of numbers, detail and problems to solve, and that's the way we work.  That lends itself to being pretty good with finance, risk, whether that's financial or safety risk; clearly safety being foremost in an engineer's mind, but actually this makes us extremely versatile."

Julian reflects on aspects of his career and says one of the best jobs ever he ever did was between the years of 1990 and 1993, as the Senior Engineer Officer on Number 18 Squadron Chinooks in RAF Germany.  It was a tour that saw him deployed on the First Gulf War.

He explains the RAF at that time was pulling out of Germany and condensing four main operating bases into two.  He adds: "I did most of the planning and the logistics about how as a squadron we were going to move from one base to another, and at the same time we also became a joint helicopter squadron."  This meant that the squadron's helicopter range expanded from Chinook only to include Puma and Gazelle helicopters.  He adds: "It was a real multi-helicopter force.  It was one squadron where there had been two in the past, and we were trying to do everything for the smaller British Army on the Rhine.  It provided wonderful opportunities of bringing about change and really influencing the outcome.  Most importantly, being the Senior Engineer Officer on a squadron was the highest job that I could possibly imagine ever doing when I first joined.  I felt I'd almost made it."

Julian elected to remain in the RAF after his initial period on the front line came to an end.  He says that he realised that for him rank advancement was about wanting to influence strategy, policy, training and the way things were done.  He adds: "You pick up a lot of baggage, particularly on the frontline as to how things don't go according to plan and sometimes they're outside of your control, they're with the resources or the constraints that you're being set.  So you're always wanting to try and push back on those things and make life easier for the next generation on the front-line, so that we can be as capable and as agile and adaptable as we possibly can be and perform our role to the best of our professional ability.  That's what's really driven me on."

In another role as Group Captain, where he was responsible for policy and strategy, Julian had the opportunity of introducing multi-skilling to the engineering technical workforce.  He explains: "In simple terms, we took five aircraft trades and boiled them down to three.  …. We took the advantage of mirroring the trades that were in the civilian aviation sector.  We went principally to two aircraft trades: mechanical and avionic, and mirrored very much the syllabuses and the type of technician that worked outside of the military.  And then of course we had weapon technicians, which clearly there isn't a parallel to them outside; so, they were the three aircraft trades. … When we look back, I can't imagine us living without that degree of flexibility that exists now after multi-skilling.  An important part for me was to replicate what was going on in the civil aviation world as everybody leaving aircraft engineering in the RAF is going to have to get another job.  I wanted our aircraft technicians to be able to transition more straightforwardly than they previously had into doing what they were good at and what the country needed, which was, and still is, aircraft technicians.

"I was very proud of the outcome, not only did it make us more flexible in the RAF, I believe it made us have much better throughput of people; it inspired people to join us.  We'd train them to something that equalled and, in some respects, surpassed the experience one could get outside of the military, but also hopefully opened up a pathway to them gaining aircraft licences when they leave and then continue doing what they were very good at doing in the Air Force."
First computer
Julian's first computer was an Amstrad 464 which he bought for himself while at university using his RAF pay.  He says: "I wanted to try and teach myself to programme.  Can't say I was ever great at programming, but I used to use the computer a lot, certainly a lot for word processing."

Julian also taught himself how to use spreadsheets and manipulate databases.  Julian says he wishes had kept up his coding skills and has set himself an ambition within the next year to learn the basics through Python.

Aircraft IT
During the latter end of his career, Julian says that technology played an increasingly larger part of his career and describes new aircraft as "nothing other than computer systems that just happen to fly; computer networks in themselves."  He adds: "You can't put a hydraulic valve onto an aircraft these days that's not actually governed and managed by software.  All RAF engineers end up learning more about software and digitization than perhaps we ever imagined that we might.  All of the safety cases and certification documentation about an aircraft post-modification, or indeed a new aircraft into service, is all about making sure that the software operating the aircraft flying control system keeping the aircraft stable is safe.  Software architecture is built to a particular standard, the coding is done to very, very particular standards which then allow that all to be verified so that aircraft can fly safely.  It's exactly the same in civil aviation.  The thing about the military is often one doesn't have quite as much duplication or triplication, so you don't have quite so much redundancy, and of course our aircraft are the Formula 1 cars compared to airlines' double-decker buses.  So they are whizzing round corners, pulling high levels of G, flying at low level in bad vibration zones.  These are not environments that would allow software errors to be anything other than disastrous."
AI
On the subject of artificial intelligence, Julian says: "For as much as we all think we know what AI is, I still think it's in its infancy in terms of what it can really do.  The easy part is to understand it as a principle, the most difficult part is to actually get it to work to its fullest possibilities, because it's almost beyond our own imagination at times, and the algorithms to ensure that AI works in the right way are hugely complicated.  It's a wonderful field in itself.  When I look back, if I had my time round again, I probably would not change anything, but I think for people coming into engineering these days, the world of robotics, automation and AI must really capture their imagination.  The possibilities are just endless as to what the future will hold.  If you're an engineer, and a half decent one, you've definitely got a job for life."

Julian continues to explain the need for everyone to maintain their skills to keep up with technology.  He adds: "One of the challenges is to keep up with technology, that's a real challenge for everybody, but in particular, a group of people that I have coined the phrase, 'the neglected middle'.  A lot of people traditionally get a big 'slug' of education at the beginning of their career whether that be at school, college or university.  Then they find themselves out in appointments learning experience on the job, gaining expertise, doing great things, delivering some great projects, but rarely do people really keep up with technology and get a regular routine injection of education.  Thus you can find yourself in your late-thirties, mid-forties with huge amounts of experience as being an amazingly competent engineer, but you don't actually keep up with the new skills needed."

Julian has regularly taken advantage of education courses throughout his own career, including a MBA for which he studied part-time, alongside two other post-graduate degrees.  He adds: "The lovely thing about the government, the public sector, the MOD, is that these opportunities are there and I have taken the most I can from the opportunities and I'd like to think that the MOD, Defence and the RAF has benefited from me doing it.  You become a more broader and a better person through education, more knowledgeable, and on a part-time course you can apply that knowledge straight back into work."
Mentors
Julian points to several people who have inspired him throughout his career, and believes that there is much we can learn from others and that mentoring is vital.

He believes that as well has having mentors it's also important to identify and help others develop.  He says: "I think it's important to inspire current air commanders to

learn what they've got to do to bring their people on.  Identify those people who are there making a difference now.  Find out who they are and help them and be their guide.  You can't do the job for them, but you can be their guide.  You've got to find them rather than they find you, and really help them."

He adds: "People say you make your own luck.  But, the luck that you have is who is your boss.  You cannot determine who your boss is.  If you have a boss that appreciates your hard work – they don't necessarily need to like you – and are prepared to write on your annual report, 'he/she has done a pretty good job, he's/she's done this, this and this', then that is what gets one promoted.  So the luck is having a good boss who appreciates you and can write."


 

Advice
Asked about advice for young people looking at future career options, Julian says: "Anyone who is good with numbers and can work hard enough to get a good mark in science, then engineering can offer the most rewarding career for people.  Engineers solve problems, that's what we do, and if one is excited by trying to improve and make things better, then engineering is for you.  There is a national shortfall of engineers, and in particular, IT ones.  We haven't even mentioned the word cyber, but people link ICT, IT and IS with cyber.

"If you can study engineering and get into the engineering profession, and most importantly, keep your skills up and remain current, you have got a career genuinely for life.  It's not just a job for life, the pay is good, the mortgage will get paid, you'll have a comfortable life, but you will have a really rewarding, satisfying career where your brain is being challenged all the time in terms of solving problems, matching resource to the task, whether that's in engineering project management or whether it truly is in research and development side of technology.  The opportunities are just truly wonderful."
Challenges for the future
Looking to the future challenges for engineering and technology, Julian says: "I think the greatest challenges for engineers in the future is to save our planet.  Engineering needs to be put in place to try and create greater sustainability, mitigate climate change and repair the planet.  Whether that's electrical power or cars, vehicles, aircraft, trains, everything, and not just bringing it into service but making it cheaper, better, faster, more effective.  All of those things will make the difference in the future."
President of IET
Julian says that during his period as President of the IET, he intends to "shine a spotlight on technicians.  I have worked alongside technicians all of my professional career and I think that they are a group of people that we have not always tried as hard to get them professionally registered.  … If we were able to get more of our technicians professionally registered I think that could be the start of the avalanche in terms of raising the overall status of our profession within this country."
He will also focus on embedding the IET Strategy for 2030, including addressing societal challenges such as sustainability and climate change, and seeking to embed digitization into everything we do in the future.  In addition, he is passionate about ensuring that there is a healthy module of software and digital architecture within all traditional engineering degrees to help futureproof skills.
Julian concludes: "If we can really push hard on embedding work on those societal challenges, I shall be very pleased.  More than this, I want us to keep driving STEM, operationalizing STEM, trying to secure the next generation of engineers for the future, and institutionalizing professionalization."
Interview Data
Interviewed by Jane Bird
Transcribed by Susan Nicholls
Abstracted by Lynda Feeley
Register or login now to view a full transcript and access other associated audio and video files