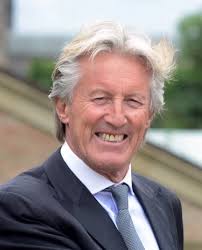 "There are many opportunities to become an entrepreneur and you don't necessarily  have to have all the qualifications, but my advice to anybody starting out on that path based on my life would be to have a good education before you start."
"Being an entrepreneur in many cases, not all cases, brings financial success, but financial success is only a way of counting, the most important thing is the journey itself and the fun you have doing it."
Early Life and Education
Sir Peter Ogden was born in 1947 in Rochdale, his father worked for the Rochdale Pioneer Society and his mother was a housewife. He says that he grew up in a "very normal, working-class northern family".  His mother believed that education was the key for her son and daughter to improve their lives. Peter's sister was the first in the family to go to university and he was the second.

Having passed his Eleven Plus, Peter went to Rochdale Grammar School and having gained O and A levels, in 1968 he progressed to read physics at Durham University. After gaining his degree, Peter remained at Durham to do a PhD in physics.

He says: "I got my PhD in particle physics which at that time it was very much working on CERN and different people's data and producing models basically."

In 1971, after gaining his PhD, Peter, with his wife, moved to Boston to pursue an MBA at Harvard.
Early Career
After Harvard Peter then went into finance in the City working for Merrill Lynch.  It was here that he used an Apple computer he'd brought back from the US to write a programme to enable traders to look up numbers to find out yield. He explains: "It turned out that it was quite trivial to write a four-line code that kind of did that for everybody. All of a sudden you could see how you could introduce a small computer onto trading desks and people got very excited.  They could do things they'd never done before."

After this Peter moved to Morgan Stanley, where he became managing director and a partner.  He adds: "Again, this was because I could do lots of things that nobody else could do mainly in the area of calculations. I understood that you could use a computer to calculate the value at all points of what were then called financial swaps (derivatives today) and then you could go out there and get issuers to issue them, and people would buy them. That was a very, very, very, lucrative business for the banks in those days.  Today they do them 1,000 a day, and they don't make much money on them at all, but, in the early days they were very lucrative. That was a skill that was based around being able to computerise them in machine code or FORTAN and it was how I started."

During his time as a partner at Morgan Stanley, which was a private bank at the time, Peter and his wife moved from London, to New York and Chicago. The bank went public in 1981 and Peter, as a partner, says; "the partners did very well out of it".
Computacenter
After the bank went public, Peter spent another year working with them and at the same time set up a new venture with Philip Hulme who was managing director of the London office of the Boston Consulting Group. The two had met while studying for their MBAs at Harvard. Philip was also from the UK. The new venture was the start of Computacenter which would open in Swindon, replacing a closing Apple distributor.
Peter says: "We didn't see this far forward, but personal computers would be an important, new technology for businesses, particularly the finance industry.  At that time, I had written some programs for floating rate notes and bond yields, so, there was this idea that you could do things on this that nobody else could do and financial institutions were very interested in this kind of technology.  So, we set up Computacenter.  Of course, then we had, we had to find somewhere to go.  We asked everybody where we could go.  IBM turned and said, 'No way, you don't have the credibility to do this.' We finished up getting an Apple dealership. … We had a shop in Swindon where we started Computacenter and we sold computers."
The focus initially was selling both application and computers. Peter explains: "The application was important in the early days to get people to listen to us. It was interesting and we could show people that you could do things with these computers that you couldn't really do with other things but obviously it didn't really help later on when we got into volume business."
Having started in Swindon, they opened an office in the City in order to be able to better serve the banks and financial district. Peter adds: "That's when we started to make great progress, because we then were going to see the banks every day, and they were quite interested in what we had to offer." With banks as customers, Peter and Philip started to sell in quantity to clients such as Morgan Stanley, Goldman Sachs, Bank of America.  Peter adds: "We built a very good financial business working in the City."
In 1982 as a result of their connections in the City, Peter and Philip got an IBM dealership.  Peter and Philip had big ambitions for the dealership and ultimately became the "biggest share of their business".
As a result of Computacentre's success, they were able to see off much of the competition of the time. Peter says that this was down to three things; firstly, a clear strategy that the personal compute would become a significant business machine. He continues: "We realised that these could be linked together.  Secondly, we had enough capital to grow quickly. Thirdly, we stuck to our knitting; we stayed very focused on what we were doing, which was to be in the large space of large corporations. We kept to that strategy.  So that's why all our customers became big name customers; that's what we, still today we focus on. … We never got caught up in all the side tracks which usually cause the demise of most people basically."
The first ten years of the company saw rapid organic growth with the company acting as a dealership with IBM as well as selling Hewlett Packard, Toshiba and Xerox among others.  In 1984, Computacentre started working with Compaq which had introduced a new machine which was completely compatible with the IBM PC AT and which became the PC AT architecture to take over. Peter adds: "Compaq thought we were great, because we had got 30 per cent of IBM's business. We built the business very, very, quickly on the back of Compaq." With the introduction of networking, Peter says that the business exploded.
In the mid-eighties, Computacentre did its first round of venture capital finances and realised that the software business they had for the financial services was a good business. Peter explains: "Apax Partners, Foreign & Colonial, and, another venture capital company came in, and raised something like, two or three million to grow the business. We had this software business in the negotiations, but they didn't really want it, so we decided we would keep it and then we had this idea. I met a guy called Simon Hessell who wrote game programs for computers.  I could write the hard code, he could do interfaces, so we recruited him, and we set up a company called Computasoft.
"We kept it and built it up. That was the best thing we ever did was keeping that company; Dealogic.  Every bank all over the world, uses Dealogic to do its financial analysis. Look at the FT most days, there'll be a graph, say, 'Source: Dealogic'.  It sells its data into all the banks. We sold the business to Carlyle three years ago; it was the saddest day of my life because I loved that business, but you can't own private companies forever if you have lots of 'children'." Peter says that his biggest weakness is that he doesn't sell things; he buys things.
 Peter has been a director of a number of companies including Biomini[?] which does business to business software using the Dealogic technology developed in Computasoft and Diamond Topco.
Together with his business partner Philip, Peter formed a group of companies that operated in Europe. The original company went bankrupt and Peter bought it for one franc, and it is now doing well. He says: "It's got a very good management team.  We integrated it into all our systems, so that all have common systems between us.  So that's totally absorbed into Computacenter France now."  He also bought a company from GE which operated in Germany which was bankrupt at the time and which Peter says is now the biggest contributor to the bottom line; bigger than the UK.
In 1990, Computacentre floated although Peter was against the idea initially. He says: "There's a lot of pain in being public, you have to have a board of directors, corporate governance, and so on. I thought it was nice to be private."
With the floatation came a change in the culture. Peter says: "I think it became a much more business culture than a sales culture. … The culture's changed for the better, but it has been a change of culture.  We're no longer quite so entrepreneurial as we'd like to be, we've lost a bit of that."
Looking to the future for Computacenter Peter says: "We look at competitor analysis quite a lot. It's competitive.  I think, the market has always moved in our favoured direction, in the sense that, anybody who thinks it's getting simpler is kidding themselves.  This is a complexifying industry.  You need a lot more skills in security, networking, all these technologies that you need to have specialist knowledge in. You can't just set up in a shop and say, 'Here you are, come and see me.'  It's an industry where I think a lot of people struggle with how to manage it, and that's why you have this growth in outsourcing."
He continues: "You see other players coming in and you see other players leaving.  I always say, it's like a hill, as you get to the top of the hill, you realise there's another hill. You never get to a position where you can sit back and say, 'Oh we're in charge now.'  It's very competitive at all levels.  And, as fast as people leave, other people arrive.  So, you get massive changes all the time."
Motivation
Peter says he gets most enjoyment out of business when it's in its early phases and there are just a few people around a table deciding what they're going to do and how to do it. He adds: "It's quite good fun when you sit down with people about creating a business and talk about it, and people have ideas. I always used to say, when we get an HR department, it's time I moved aside."
Risk taking
In his personal life Peter enjoys yacht and motor car racing but says that he doesn't take unnecessary risks, while in business he is more inclined to take a risk, but the important factor is working with great partners, such as Philip Hulme. He explains: "In all these businesses, I've always had somebody there who knew the business, and what I could bring was the experience, and, in many cases, the financing.  Having great partners makes life a lot easier; you can talk to them, you can argue with them, and they can temper your worst excesses."
Mentors
Peter says that he doesn't have formal mentors but talks and listens to good friends. He says: "I listen to a lot of people. … always go and ask people about businesses when I don't know what they're about basically."
On the public sector
Computacentre has several contracts with the public sector and Peter says that he thinks "they're not bad actually doing infrastructure technology.  Where they always come unstuck is on the applications software." He adds that law firms are the worst at this.
Advice on building a successful business
"The best thing in business is to have a business that's developed enough to take advantage of a rapidly growing sales curve.  We were just lucky. We arrived, recognised that this was going to be a growth curve."
The Ogden Trust
In 1999, after Computacentre went public, Peter set up The Ogden Trust to promote the teaching and learning of physics. Peter says: "They money I got from Computacenter when it went public was quite a lot of money.  I put it into a charity.  I had a tremendous enjoyment of building that organisation up over the years. It was focused on education, disadvantaged pupils." His eldest son, Cameron is now the Chairman. Peter adds: "It was a very emotional moment."

Donations by Peter have also helped establish The Ogden Centre, a centre of excellence in fundamental physics research at Durham University and he has sponsored 50 state schools to become specialist colleges providing physics education to post 16 year olds.
Honours and Awards
Peter was knighted in the 2005 New Year's Honours List for his services to education

Honorary Fellow of the Institute of Physics
Interview Data
Interviewed by: Richard Sharpe on the 24th September 2019 in London
Transcribed by: Susan Htton
Abstracted by: Lynda Feeley
Register or login now to view a full transcript and access other associated audio and video files