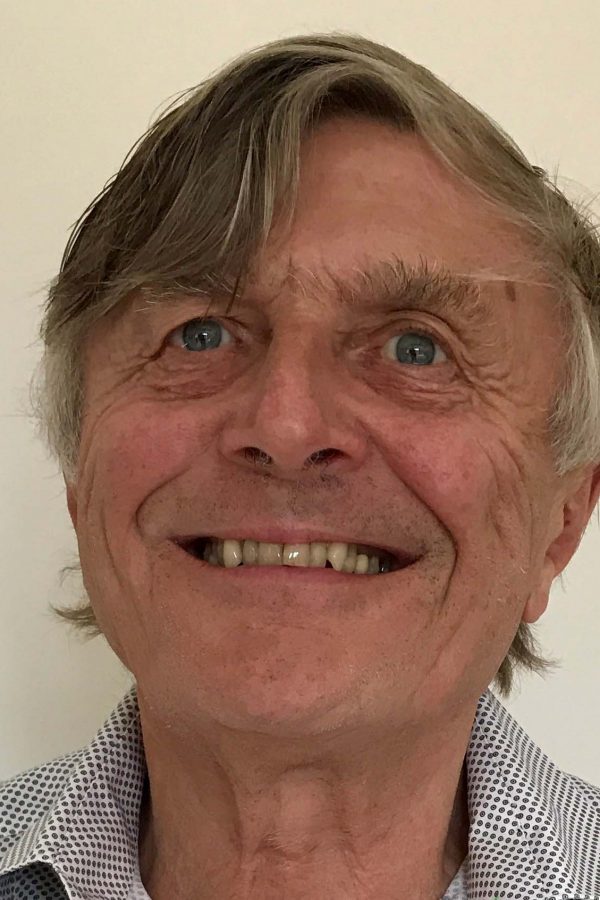 Sir Robin Saxby was brought in to run ARM in 1991 after it was spun out from Acorn Computers.   He devised the business plan which grew the company from a handful of people into an enterprise sold for £24 billion in 2016.  ARM only designed Reduced Instruction Set Computers (RISC) and licences out the manufacture and use of the designs to others.  ARM processors power the mobile world.  One of the first customers was Apple Computers swiftly followed by Nokia.
His advice is to hire people who have an emotional and a logical side.  He advises the young entrepreneurs he now mentors to expect their first product to be a failure.
Early Life
Sir Robin was born in 1947 in Chesterfield, Derbyshire. His parents were ordinary working people.  His dad worked in a hardware factory and things like that and his last job was as a security officer.  His mum was a housewife.   He was brought up such that the mum looked after the kids and the dad went to work.  His dad also had his male life which was to go down the pub, the Queens Park Hotel, and play nine-card brag with his friends.  When Robin was old enough to drink, he could join my dad and play nine-card brag.
His parents were very supportive, very loving, very caring.  His dad was more the sportsman, so he threw hard balls at him and toughened him up with his cricket.  His mum was really the supportive one, almost, anything he did was OK.   With Sir Robin's radio and TV repair business at thirteen, his dad got the purchase orders from his mates in the pub, and his mum acted as the technician and held the chassis while he was soldering. His parents were both the youngest of seven, so he had a lot of aunties and uncles.  It was a warm, loving family that didn't have much money but were very fair and very kind.
Education
Robin passed his Eleven Plus and went to Chesterfield Grammar School.  It turned out to be great.  He feels he was very fortunate and that the grammar schools were fantastic because, they were structured on public school lines, discipline, sport, debating societies, art, everything.  And, that really helped him, not just in passing his A Levels to go to university, but the school societies, he was Deputy Secretary of the Senior Literary and Debating Society, and had to debate alongside Stephen Wakelam, who was the Secretary, and he went on to be a great playwright.  So what the school gave him was putting him with the best of the best.  The school motto was 'Non Quo Sed Quomodo', 'Not What But How'.  Robin thinks that's very true and has written a song, Non Quo Sed Quomodo.  It's not what we do, but how we do it.  How we apply ourselves.  He thinks that's another message to kids.  Think about the how at least as much as about the what.
He moved to the University of Liverpool which was his first choice, so he was very happy to go there.  He picked it because it was on the coast, and it was the city, and it was a swinging city, the Beatles music, he has always loved music
Early Career
After university, Robin's first job was as a design engineer with Rank Bush Murphy, based in Chiswick, West London. He turned down a job offer from the BBC as he wanted to make products, not programmes.   Robin describes Rank Bush Murphy as probably the most entrepreneurial electronics company in the UK of its time.  Robin was part of the team that designed the UK's first solid state colour television receiver.  He was working with fantastic engineers from whom he learned a great deal.  He believes practical experience is more important than passing exams.
After four years at Rank Bush Murphy, Robin moved to Pye, in Kent, to broaden his experience.  He had been designing state of the art chips with Rank Bush Murphy and wanted to explore the digital pulse-code modulators that Pye was working on.  He had thought that Pye's professional electronics would be more advanced than the consumer electronics of Rank Bush Murphy, but in fact the opposite was true.  He stayed with the company for about a year.
Motorola
Robin says that Motorola was run by sales and marketing people who wanted to hire engineers.  They offered him a job heading their applications laboratory, but had no equipment or other engineers.  At the time, he was newly married with a large mortgage, so Motorola offered him a £1,000 pay rise and a company car with a job as a sales applications engineer, selling Motorola integrated circuits, whilst helping his customers learn how to use them. He was selling to people who had done similar jobs to him and during the big recession of 1974, whilst purchase orders were being cancelled and companies going bankrupt, he more than doubled his turnover.
To begin with, Robin found the negotiation side of the business difficult.  He was comfortable in the labs talking about bits and bytes and circuits, but found there was a steep learning curve with the commercial side. He discovered that customer pull is much more important than technology push.  If you meet the needs of a customer, and fit your product to those needs, you will succeed. The other thing he learned was that it is all about marketing – anticipating the need of the customer, before the customer.  There was a strong focus on teamwork and building synergy.  The idea being that in a team, everyone is good at something and everyone is rubbish about something, and in a crisis situation you want the best person to take charge.   The training at Motorola was fantastic. The company focus was on the quality of people and teams and getting the best out of them.  He was taught business skills and finance. After eleven years with Motorola, Robin realised it was time to leave.  He had ambitions of becoming a chief executive, and knew that would never happen at Motorola as he was not part of the founding family.
Henderson Garage Doors
Robin was head-hunted for the mechanical garage door company who were the UK market leaders with 70 per cent of the market share.  Through buying an access control company they had got themselves into electronics and were having some problems.   Robin had a difficult period with the company because his boss was culturally, the complete opposite of him.  His team player spirit from Motorola butted up against; the more negative style of his boss.
European Silicon Structures
European Silicon Structures was the first funded semiconductor company to do full custom ASIC chips.  Robin was invited to join as marketing director of the UK with a view to becoming CEO. The company raised $100 million of seed capital from top European companies including Philips, Saab and Olivetti.  The idea was that they could make full customer silicon more cost effectively than using photomass, designing their own chips and writing directly on the silicon with e-beam machines.  It was a fantastic vision, but failed because the e-beam machine didn't work properly.  Even though it was not a success, his experience as ES2 gave him exposure to Japan and the US.
ARM
In 1991, Acorn created a new company from their twelve-man design team.  The idea in the business plan was to make the best RISC (reduced instruction set computing) chips.  They designed the first of these low cost chips, made by VLSI Technology to be used in their Acorn Archimedes computers.  Along with the low cost a further big benefit was lower power consumption.  The first company brochure stated their chips would have the best millions of instructions per second per watt, and per dollar. They invented Thumb – a 16-bit implementation of a 32-bit ARM which turned a conventional RISC chip into a competitor of the high-volume Japanese and American CISC (complex instruction set computing) chips – technology to fit the market's need.
One of their first customers was Apple – a chip for the Newton PDA which was a failure, but evolved into the iPhone. Another was the 3DO Multiplayer – a games player that also failed.   With no royalties, there was a danger of bankruptcy.  The first products with an ARM chip to take off in volume were dial-up modems.  This was followed by the Nokia 6110 mobile phone.  They designed the Thumb architecture to meet Nokia's requirements.
It was Robin's idea, having worked in the semiconductor industry, to get lots of semiconductor partners, targeting different end customers.  This would enable them to become a global success.  Plessey and VLSI got them into Apple, Sharp introduced Nintendo for the Game Boy Advance – the first colour Game Boy and Texas Instruments was their link to Nokia.
The challenge with these large scale projects was cashflow.  In order to "keep the lights on" they had to license their products to lots of people and sell design consulting.  The big win on licensing was Samsung  The Koreans did not understand microprocessors very well.  Robin managed to persuade them that they could have more successful products if they designed their own chips using ARM processors.  Robin quoted them a large price for their license fee and this was a game changer, as they signed the purchase order and wired the cash immediately.  The company doubled in size, going from 30 to 60. Robin says this was the toughest period because the original 30 were having to do the work whilst training the new recruits.
Robin says deal making is not just about business and money, it's about getting the job done and teamwork.  He believes in brutal honesty and openness at all levels. The employee share option scheme was a key part of ARM's success, because it gave everyone a vested interest in the company's success.
When it was time to take ARM public in 1998, their relationship with Nokia was very helpful in talking to shareholders, as the Nokia 6110 had been launched a year earlier.  ARM was floated in Europe and the United States because valuations of technology companies were much higher in America than in the UK.
Robin retired from ARM in 2007 having helped build the company into a $10 billion operation.  The company still designs the best digital engines and has shipped 100 billion chips. It has become the most popular microprocessor architecture on the planet.  ARM is being sold to Japanese SoftBank.  Robin believes this will be either great or terrible for ARM, as ARM is all about the quality of the engineers and the people.
Advice
Since retiring from ARM, Robin has been supporting and developing a number of ventures and mentoring young engineers. He says to them, they should expect their first product to be a failure. When you're growing your company, make sure you recruit the best people.  As a non-executive director his job is to advise – whether the new company accepts or rejects the advice is their choice.
He says a human being has two sides – an emotional, and a logical side.  He believes it is important to hire people with an equal dose of both.  He wants to know what they really love doing, their biggest achievements and failures.  Are they doing what they want to do, or what their parents want them to do? He advises being surrounded by people who you trust and love; as it's all about the team.
Write a one-year plan, followed by a monthly report of achievements, problems and plans, keep referring back to it and adjusting.  Startups also need a 10 or 20 year strategic plan.  Robin's was to be the global RISC standard – which required short-term hits to the P&L, buying patents.  Without the patents the long-term plan would not have been realised
Robin's final piece of advice, is that you can do anything that you want, just work out what it is you want to do.
Interview Data
Interviewed by: Richard Sharpe on the 10th May 2017 at the WCIT Hall
Transcribed by: Susan Hutton
Abstracted by: Helen Carter
Register or login now to view a full transcript and access other associated audio and video files