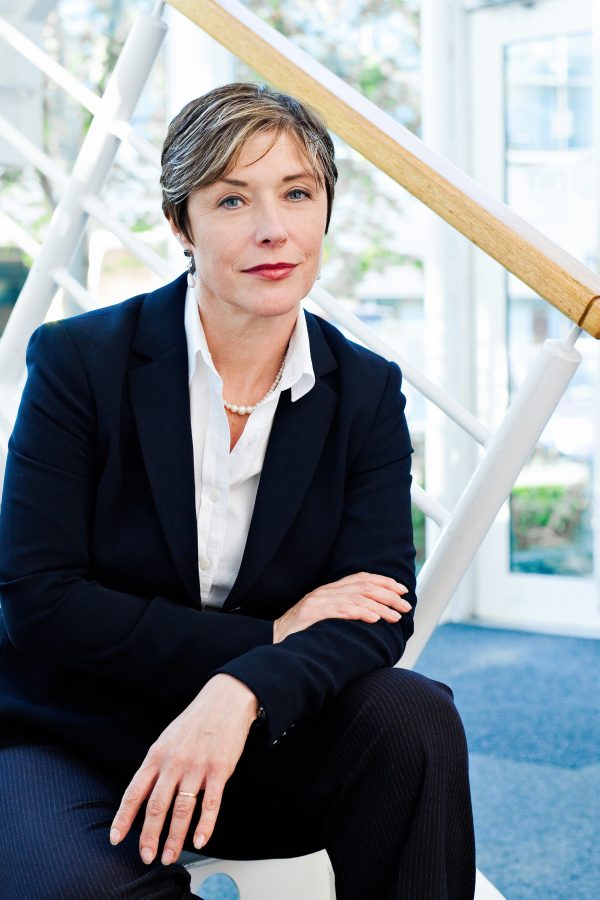 "I am exceptionally proud that under my leadership, with the team we have made the UK one of the most hostile territories in the world to host child sexual abuse.  Less than 0.2% of known abuse is hosted in the UK."
"I am very proud that under my leadership the IWF has really helped to bring more women into the industry and helped to address the gender imbalance in the IT industry."
"I have initiated a programme of reporting portals in countries that have nowhere to report online child sexual abuse, and I am really proud that we now have 22 around the world in many of the least developed countries in the world."
Early Life and Family
Susie Hargreaves was born in 1962 in York and remains proud of her Yorkshire roots. Susie was one of nine children with an active and involved stay-at-home mother. She is the sixth eldest and notes the practical skills she learnt from cooking and cleaning for her younger siblings. Her father was originally trained as an architect but then became an educationalist being a pioneer for polytechnic education. He was the Director of Leeds Polytechnic as well as an architectural historian writing many books and presenting TV programmes about the history of architecture. Susie found her father incredibly inspiring: he had polio at the age of twelve and spent two years in hospital, but his disability never held him back. His determination and ambition meant he was a great role model for Susie amongst many. Susie's large family means she has an amazingly diverse group of relatives, one of her brothers is disabled as well as a whole range of people and their partners from different backgrounds. Susie also has a huge extended family counting 42 first cousins and recounts an upbringing rooted in Catholicism.
While Susie's father was an obvious influence on her early life she says the main influence on her has always been her mum. Susie admires her personality and the love and affection she has always encouraged. Her elder brothers, whose careers range from a BT programmer to director of photography, also had a great influence on her. The diversity of her siblings' careers is striking: three of them work in the film & television industry, one in teaching, one is a programmer, and one of her brothers is a gardener.
Education
Susie went to a local Catholic primary school and then passed the eleven-plus exam and attended school called Bar Convent in York as a weekly boarder. However, Susie was so desperately unhappy here that after a year her parents removed her from the school and she attended a local comprehensive in Harrogate. Susie was the first year of comprehensive education and believes she suffered academically because of this. Expectations of the school were quite low, but, regardless, Susie wasn't actually a good pupil. Susie wasn't perceived as particularly academic and recalls consistently bunking off and behaving badly.
Susie describes almost living in the shadow of her elder brothers. Due to their academic successes Susie was placed in the top group for all subjects which made her feel as though she was constantly struggling. This impacted her work ethic and general attitude. Susie compares her experience to that of her children, her son who loved school, and her daughter who just wanted to get through it. Despite not excelling academically, Susie was very sociable: her best friend to this day is someone she went to school with when she was 11.
Susie scraped through some O levels and then attended a boys' grammar school in Leeds for sixth form. Susie reflects on this as a mistake and describes being one of only five girls at a boys' sixth form as alienating. Here she failed her A-Levels and retook them at a night school in Harrogate. After this, Susie attended Leeds Polytechnic and did an HND in hotel catering and institutional management. Susie had always liked cooking and recalls her family as earmarking people as academic and/or practical. Susie was always 'very practical' and often says that she thinks she's been able to achieve a lot within her family because the expectations were really low, so there was no pressure on her. She also remarks upon how lucky she is to have grown up in an age where a lack of impressive qualifications has certainly not held her back. As part of her HND Susie had a placement in the catering departments of Harrogate Hospitals. From this placement, Susie was offered a job as their assistant catering manager and joined them in her final year of study for her HND.
Susie imagines it is unlikely she would have gotten that job if she had applied outside of the placement and that her success is a series of lucky coincidences or introductions. With her own children, Susie is keen for them to have good careers and have good qualifications and that they do have that level of support.
Early Influences
When Susie was sixteen she met her first husband who was a musician. Hanging around with his band and with him and his friends was the biggest influence on her, especially considering he was much older than her. Going to concerts, , skipping school to see bands, and getting served underage are what Susie describes as big early influences. Susie moved in with him at a young age, they got married young, and sadly he also passed away very young. Of all the influencing factors in her life the biggest to Susie is the death of her husband at 28, when she was 23. His death made her determined to be totally self-sufficient, sometimes not to a necessarily good extent. Susie knew no one who had been through something similar which made it tougher. His death certainly shaped and determined who Susie became, both good and bad.
Early Career
During her first job at the hospital as assistant catering manager, Susie realised her skill at organising and administration and potentially managing people. Although she didn't have any major qualifications or particular skills she realised she had common sense and practical skills, things she didn't realise were skills until she put them to use in a work environment.
Susie then worked as an administrator in a number of theatre companies and then at Watermans Arts Centre in London, ending up running as Deputy Chief Executive there. She was CEO of an audience development agency working with major theatres and opera companies and various other organisations in Yorkshire. While she was working in a range of arts organisations it was very much in the admin side and with each job she would move up a rung in the ladder. The most important job Susie had was at Red Ladder where she worked for six years. Here she was general manager and it was working, touring nationally to youth clubs and focusing on disenfranchised young people. Red Ladder was famous in theatre for being a socialist theatre company, prior to Susie's joining Red Ladder it was known as an agitative propaganda theatre company. It was a feminist company and had a strong focus on a feminist empowerment style of management. Susie's boss there facilitated her first experience of challenging management styles and looking at different ways to work with people to get the most out of them.
Susie also worked for a company called Pilot Theatre where she met her husband, Marcus Romer. Besides her personal life, this relationship was to impact Susie's career and is one of the reasons why she now works in technology. Marcus was very much at the forefront of using technology in creativity, meaning technology always played a prominent role in their lives. Susie says this technology influence at home meant it was inevitably going to impact her career. In some ways.
 Susie looks to Marcus Romer who has always used multimedia and technology in his shows, as he's now a Theatre Director,  and uses a lot of live streaming for different companies. He was the first person to do a podcast in the arts and was one of the first to do live streaming. Susie and Marcus have been together for 32 years and she recalls him being the first person she saw with a mobile phone. Their house has always been full of innovative technology. Susie has been influenced by early adopters in terms of social media and how she has used technology in the organisations she has worked with, using technology to make life easier in an organisational way.
Subsequent to a push from organisations to try and develop and diversify their audiences, Audiences Yorkshire was very much about audience development. Susie built the agency up from an 18-month pilot project into a permanent organisation and under her it grew from a Leeds-wide organisation to a Yorkshire-wide one. Susie is particularly proud that every organisation she has worked for has grown substantially under her leadership. Towards the end of her time at Audiences Yorkshire Susie was freelance for a number of years. In this consulting role she did lots of work with lots of different organisations before going on to do the Clore Leadership Fellowship.
The Clore Leadership Fellowship
Susie describes the fellowship as something that really changed her life. The Clore Leadership Fellowship is given to 25 people a year and includes a major grant of £20,000 to support yourself as well as £10,000 to spend on your personal development. You were attached to a particular university, Susie's was the University of York, to write a dissertation and you were mentored by a high-profile figure. Susie's mentor was Sir Ken Robinson who is a world leader in terms of education and creativity, his TED talk is one of the most listened to TED talks of all time. The fellowship also included a placement; Susie was attached to the senior management team of the Royal Armouries for four months. This developed the international work Susie was doing. She went to Harvard Business School and did a course called Women in Power: here she was with 50 women from all sectors, from the US Navy to NBC Television.
Susie applied for the fellowship when she was at a crossroads and was unsure as to whether the arts were really empowering people. When Susie was freelancing she organised the World Summit on Arts and Culture and when she was on her placement at the Royal Armouries she received a call from the Salzburg Global Seminar Programme. From this, Susie went on to co-chair a week long international seminar on culture where she obtained many great contacts and networks.  Through doing the Clore Leadership Fellowship Susie realised she really needed to leave the arts.
Sir Ken Robinson was Susie's official mentor during her Clore Leadership programme. He helped her see things differently because the one aspect of the Clore Leadership she didn't want to do was the research bit. Robinson encouraged her to turn this on its head and realise that the research would open the doorways to meet lots of really interesting people. Susie ended up loving the research and it became the best part of the entire fellowship.
The Society of Dyers and Colourists
Susie was headhunted for a job running the Society of Dyers and Colourists, which she admits was thought a weird route by most people. The chartered organisation had members all around the wold on the science of colouration, it also has a keen focus on good practice in environmental dyeing and finishing. As well as bringing Susie onto the world stage it also took her into working more with industry: the dyeing and finishing industry, the manufacturing industry, and the use of technology within that whole industry. The skills Susie had already developed were transferrable and she recalls being very lucky that people recognised that she could transfer those skills. Susie had to learn the industry, but she says it is quite small and you can learn it quite quickly.
When Susie began at the Society of Dyers and Colourists it was an organisation that needed turning around. It had a board of 52 people, and Susie had a very tough couple of years.  They were reworking governance: it had a very strange structure in that it was 125 years old. The old guard of members who were all the dyers and finishers from the UK essentially struggled with the fact that industry had moved out to India and Pakistan and Bangladesh and China and yet the growing membership was in India, Pakistan and China.  Susie loved all the international development side, but it was a difficult place to work it was a place of conflict. After two and a half years and Susie had turned it around and after doing so knew it was time to move on.
The Internet Watch Foundation
Susie took over from Peter Robbins as Chief Executive in 2011. She had been looking for another job and the single theme she could identify in her work was that she had always had an element of working with young people. Susie rang up the recruitment consultants and, despite not having any specific experience in the IT industry, believed she could do everything on the job specification. This time Susie wasn't inheriting a broken organisation: Robbins had laid sound foundations over his eleven years of leadership. The organisation wanted to move it more out of the police-y type organisation and more into an organisation that was going to fly and develop and was able to take some new risks.
IWF was a steep learning curve for Susie and she still has a technical team who are the experts. Susie had also never done any public affairs before and she was suddenly catapulted into working with Ministers and Secretary of States. Having to raise every aspect of her game to work with DCMS, Home Office, and Number 10 was really challenging but exciting. The people at IWF were completely different to the people with whom Susie had previously worked, people who were quite averse to change. Susie describes the members as engaged, bright and challenging in an area where everybody believes we need to bring about change. The organisation is ever-changing: when it started there was no Facebook or Google or Twitter, new companies come in every day that radically changed the ecosystem.
Keeping up with this is difficult. They have 140 members and suffer from mergers and acquisitions the whole time. Keeping up with the technology is also difficult: IWF have to be at the cutting edge of technology and invest accordingly, because so are the people who are trying to perpetrate this heinous crime of making and distributing online sexual abuse.
Building a team is one of Susie's greatest achievements. She has grown a team of fourteen to forty, and she believes developing and investing in the team and the technology they use is essential to the success of the IWF. Susie describes her deputy CEO as a sort of technical genius and that they've built the team under his expertise.  Susie never loses sight of the fact that the hotline is the core business. The IWF's   mission is the elimination of online child sexual abuse and they can only do that by being at the absolute forefront of using technology to fight the problem.
The Image Hash List and Innovation
Nobody knows how many images or videos of child sexual abuse exist but what is known is that there are a large number of duplicates. The issue is not just trying to get the original image removed but rather dealing with the hundreds and thousands of duplicates, Susie recalls an eighteen-year-old woman she met in the States whose image had been shared 70,000 times. The tool the IWF use is able to take a digital fingerprint of images: the algorithm is used to hash all the unique images and this Hash List is used to proactively search for duplicates. Susie is very proud of the Hash List and it was named Innovation of the Year at the Cloud Hosting Awards 2016.
One of the issues Susie notes is that people believe technology companies have a magic switch that they just don't bother turning on to find child sexual abuse. She has instead found that big companies do work with companies such as IWF because they don't want child sexual abuse on their networks. There is also a misunderstanding that everything can be automated when it simply cannot. There isn't any facial recognition technology or classifiers that can hundred per cent accurately age a child in a picture – you need human moderators to look at this content, and they need looking after.
The best moment at the IWF is always when they help rescue a child. Susie believes that you take one image down of a child being sexually abused, as far as she is concerned, they have done their job that day. However, they usually take down about a thousand a day. Travelling the world and meeting victims is humbling for Susie who is desperately proud of the team at the IWF. A low point of the IWF is the unique position it holds between industry, law enforcement, and government meaning they are often pulled in all directions. To deal with this it is essential that Susie has an independent board because their mission is the elimination of online child sexual abuse, it's not the business objectives of this company and it's not the law enforcement objectives.
Opportunities and Risks for the IWF
Susie identifies a risk of applying a sweeping technology or sweeping legislation to try and bring about change without recognising that there's some really excellent areas of work. This is due to the different levels of legislation. The IWF is the most successful hotline in the world but they are at risk of being swept into the perception that internet companies are not doing enough in other areas of internet harm. In terms of opportunity, in an ideal world the IWF would work themselves out of business, but unfortunately, the problem is only getting bigger and on a more global front. This means the IWF are increasingly working outside of the UK. The primary objective is to find a way to ensure that where the internet is developing, and where fighting child sexual abuse is not the top of their list of priorities, the IWF bring this to the forefront. An opportunity the technology provides them with also is just connect and apply global solutions.
Women in Industry
As a very successful woman Susie notes that it is harder and rather different for women than it is for men and that in some areas you are aware that you have been treated slightly differently or have had to fight your corner a little bit harder. Having children and working fulltime has been difficult and Susie hopes that it is getting easier for women. She has received a number of awards for her success: in 2015 Susie was awarded an OBE for her work in internet safety. The policy area in which the IWF work is predominantly women but the STEM aspects is rather male dominated. In the IWF two technical projects officers are women, and Susie recognises the phenomenally talented young women coming through. Susie quotes Madeleine Albright when she says there's a special place in hell reserved for women who don't help other women.  Susie is frequently the only woman at the table, particularly in India where she has had work in her last two jobs. Susie has experienced people often directing things to her deputy rather than herself, but she maintains that the role she holds and the many women in business are acting as role models for girls such as her daughter.
Reflections
Successes
Susie has held three Chief Executive positions and has never left a company worse off. Every company she has left has grown, has been in much stronger financial position. The energy and commitment she has brought to each of these companies has encouraged their growth, one of Susie's key successes has been her ability to identify where the problems are and very practically apply solutions.
What would you do differently?
Susie has had a lot of training and has done a lot of work in coaching and so has spent a lot of time on introspection meaning she is pretty aware of the mistakes she made earlier on. When she was young she would often employ people in the image of herself and it took time to learn that you need a diverse team, the more talented and different the better. Learning to delegate effectively and learning about accountability was a struggle but the truth is that you learn from your mistakes. For Susie, a red line in the sand is taking responsibility and being accountable for what you do, and making mistakes is fine, but it's what you do about it.
Developing Colleagues
The organisations Susie has worked with have always had very strong training and personal development and she has always believed you should invest in people and giving back and the greater good. The problem with a small organisation is often there's not much chance of promotion and it's quite hard for people to progress. Susie has always tried to put in place really clear systems of proper training, proper support, one-to-ones, proper management procedures, proper appraisals, and proper inductions.
The Future
Susie is a keen believer in the power of the internet as a force for good, there is so much opportunity and every opportunity in the internet is a challenge as well.  The use of artificial intelligence and such are going to be ground-breaking and change our lives but they're going to bring a whole range of challenges too. The question Susie raises is how we step up as a society and tackle the opportunities and the challenges these pose.  The internet is borderless, and it is a challenge how you make that work in terms of different legislation around the world. There is also a challenge in terms of the internet generation and the fact that they have been exposed to a huge amount of content which will impact on their lives, whether it's mainly inappropriate content, pornography that children have looked at, or cyber bullying, or the effect on young women's images of themselves.  The challenge is discovering the impact on communities working together and society and relationships.
Advice
Susie advises getting as much experience as possible. So many internships are unpaid creating an unfair opportunity for some people to get into the industry. The competition now is so fierce in terms of qualifications and Susie tells those starting out to never give up no matter how many jobs they have applied for.
Everybody works in IT now, according to Susie, all young people are IT savvy and use technology the whole time. The industry is a fantastic industry to be in as it impacts every single industry across the board. Susie encourages women and especially young women to go for it, the IT industry is exciting as it changes all the time. You can be a part of that change, and there are not many industries where you can say that.
Susie maintains the belief that the key to leadership or running an organisation is the ability to make decisions. Utterly pursuing a decision is Susie's key to leadership, but also having the confidence if it's not right to know when to say, "this isn't working," and learn from that experience. When Susie sees people who are incapable of making a decision, she tells them, "it's not life and death, it's just A or B."
Interview Data
Interviewed by: Ian Symonds on the 3rd August 2018 at the WCIT Hall
Transcribed by: Susan Nicholls
Abstracted by: Helen Carter
Register or login now to view a full transcript and access other associated audio and video files