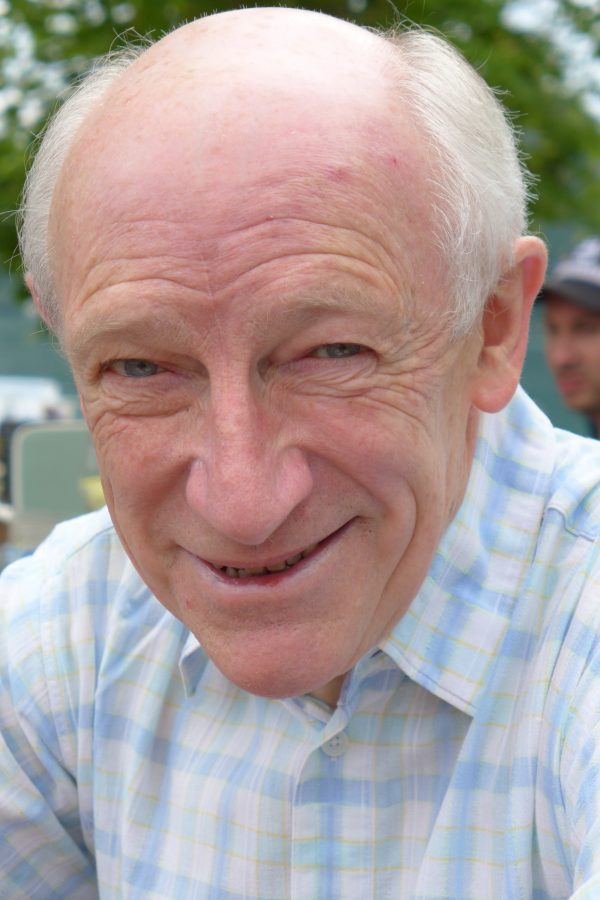 David Mann, is a former Master of the Worshipful Company, a past President of the British Computer Society, and was the fourth employee of Logica, where he went on to become its Managing Director and Deputy Chairman. From 1995 David has held non-exec roles in the capacity of chairman or director for a number of diverse organisations operating worldwide.
Early Life
David Mann was born in Suffolk, in a little village called Trimley St Mary in 1944 where he lived in a cottage opposite the local village school.  Both his parents came from agricultural backgrounds.  His mother's family had always worked on farms in the middle of Suffolk, an area called Bedfield, where they'd been for generations.  His father's family also had a sort of agricultural background.  His father was manager of a large nursery in Felixstowe and from that David inherited a love of gardens and the outdoors.
Education
David started school just across the road, at the little primary school.  The headmistress there was the wife of the local vicar, and it was almost inevitable therefore that one also became involved in singing in the local choir.  He also developed a love of maypole dancing, taking pride in getting all the ribbons lined up properly down the pole, as a result of having to dance at local fetes.
He moved on to Felixstowe County Grammar School where he developed a love of mathematics and the sciences, and did very well in those at O Level, and therefore they seemed the obvious choice for him as A Levels.  He took pure maths, applied maths, physics and chemistry, with two of those at scholarship level.  It was the results of those examinations that gave David a place at Cambridge.  He was awarded a state scholarship because of his A and S Levels and because it was very rare for someone from his school to get a state scholarship, having only happened once before, the headmaster gave the school a holiday.  Whilst there David was head boy in the second year of the sixth form and active socially with the Young Liberals.
David went to Jesus College at Cambridge, in 1963 where he started off with maths, did Part I in Mathematics.  By the time he got to the end of that year, they had started a new degree in Theoretical Physics as part of the Part II of Natural Sciences and he moved on to that for the second and third year.
David feels that his educational achievements were extremely influential in his career.  It didn't occur to him to go in a direction for employment that wouldn't involve some sort of use of his academic knowledge.  He also feels that one of the main life lessons he learnt was that you have to work hard.
Early Career
David's first job, in 1966, was with an organisation called CEIR, the Corporation for Economic and Industrial Research.  He had initially thought about going into academic roles, or into research establishments.  But the term 'operations research' had become fashionable, and so he applied to two or three organisations who were involved in operational research.  CEIR came to his attention as they were tackling business problems, and scientific problems, using computers, but also requiring people who had a real interest in mathematics and science.  At CEIR, all his time was spent in designing and developing scientific and mathematical programs.
Logica
In 1969 it was announced to people in CEIR that Len Taylor and Philip Hughes were leaving to set up Logica.  Three other people were going with them and as Len Taylor was David's manager he thought it would be interesting to see if he could go and join them and ended up as the fourth employee in Logica, working initially from Philip Hughes' home in Camden Town.
Initially his role was a continuation of what he had been doing at CEIR but he started spending more time managing projects with other people working on them and finding that he really liked the management aspects.  He was involved in acquiring Logica's first defence client RARDE which had been a client of theirs at CEIR (subsequently Scicon) on their war gaming.  After three years, he was promoted to the role of manager of the Advanced Systems Division and it was very much part of his remit to focus on communications projects as well as scientific ones.  He feels they were lucky in focusing on packet switching networks, which were becoming of serious interest at that time.  They bid for the implementation of the European Informatics Network and won that contract.  David also worked with the European Space Agency, for example on Meteosat contracts whereby Logica had quite a big involvement in the launch of the first meteorological satellite in Europe on both ground control and satellite-based systems.
The finance sector was very important for Logica, not just in the UK but internationally.  Probably the most important contract they got early on was to work on the preliminary design studies for SWIFT working in many international banks.  That really put Logica's name on the map, and moved them from being a small unknown company to one which was very well known internationally.  The other one that was just as important was CHAPS, the same-day clearing system – they did work on two generations of CHAPS.
By 1979 David had become MD of Logica Limited and was very much responsible for the UK operations, and the bottom line of the company at that time.
In '83 Logica were floated. which was very exciting because it was very early days of software companies coming to the market, and although they weren't the first it was still very much pioneering.  It was a real learning curve for the board of Logica, and as Deputy Managing Director at that time David was heavily involved in that, making sure that all the projects they were involved in, were correctly reported.
Even though Logica had become quite a substantial company by that time, it did have its ups and downs, and so it was quite a challenge to deal with some of those.  The biggest upset at that time was that they had gone into office automation with the National Enterprise Board in a different part of the company which caused them to have some disappointing results, and then have to recover from that.
The areas that David liked best, and probably therefore contributed best on, were the management of the relationships with some key clients.  The areas that he probably enjoyed less were, acquisitions and mergers.  He had always been heavily involved in the graduate recruitment, which he did right from the early days.  Initially it was a question of recruiting a few graduates each year but as time went on their graduate recruitment programme grew such that they were recruiting over 200 graduates a year
The company was formed in 1969, at the time of the float in '83 its value was up to about 42 million, and by 1994 they had grown to have a turnover of about 220 million and employ three and a half thousand staff.  They had handled projects in over 50 different countries and had offices in UK, Belgium, Italy, Germany, the Netherlands, Sweden, United States, Australia, Hong Kong, Singapore, Malaysia and Saudi Arabia.
Non-Executive Roles
Charteris 1966
This was rather different from the non-executive appointments David had with other companies, because he was involved in setting up the company, and had a major shareholding in it.  It was a business that employed a high standard of professionals, top level project managers and systems designers, who could work as management consultants with organisations in helping them to plan their overall IT strategies, helping to organise big projects and so on.
The company was set up in 1996, and then in 2000 floated on AIM.   After the flotation, the company grew and developed and was eventually sold to the Sword Group.  David left in 2014
AVEVA Group
AVEVA is based in Cambridge and is one of the oldest software companies in the UK.  It started as the CAD Centre, coming out of Cambridge University, and had already been going many years by the time David joined it.  It had been floated in 1996 and, even at that stage, it was a world leader in the development and supply of software for the efficient design and operation of complex engineering projects.
David's approach to being a non-exec was different to many others he worked with.  He always wanted to get to understand the people in the company and ideally would have them take him along to have some meetings with clients so he could understand more about the relationships they had with those clients.  During his tenure there from 1999 to 2010, the company turnover grew from eighteen million to 148 million.
Flomerics Group
David became involved in the Flomerics Group in 1995 when it was planning to come onto AIM, and they were looking for a non-exec chairman.  The nature of their business is very specialised and very international; they had already got offices in Austin, San Jose, Stuttgart and Paris when their turnover was only a few million.  However, if you wanted to be operating in that niche as a world leader, then you had to be international.  So they developed Samsung as a distributor in Korea, and K2 in Tokyo.  David found them a very interesting little niche company to join, the frustration with Flomerics was always trying to find a way where it could grow more rapidly.
Velti Plc
David got involved with Velti because they were being brought onto the AIM market by the same brokers who he had worked with for some time in Flomerics.  They were a very interesting company, founded in 2000 by Greek people, who had not only spent quite a bit of time in Greece, but had also been to universities in America and had a very international and incredibly ambitious outlook.  So by the time they came onto AIM they were already growing, very fast.  We had this listing and placing in 2006.  David was with the company a period of eight years. When he joined them, he thinks their turnover in the year was about ten million euros; in 2008 it went up to about €52 million; 2010, €116 million; 2012, €270 million.  It was, David says "the most exciting ride I've had in my life".  Having come onto AIM in 2006, with Velti Plc as a UK company, with all this tremendous international expansion, it then changed in 2009 to having a Jersey-based holding company with tax residence in Ireland.  And then, floated on Nasdaq in 2010.  And had a secondary offering in Nasdaq in 2011.  It had some significant issues later, but from 2006 through to 2012 this company was "going like a train."
Druid
David was appointed in 1996, prior to its flotation in November that year.  A bit like Velti, it was operating in a very hot space in the market, which was to do with enterprise relationship management and e-business.  It specialised in helping people install SAP and there was enormous demand for people with skills in that field.
Druid grew very rapidly; in 1996 its turnover was about twelve million; and in '97, 22 million; '98, 40 million; and 1999 it was 60 million.  In 1999 the head count in the company increased by 68 per cent to 691 people.
ROOM Solutions
This was a different scenario for David in that most of his time as a non-exec has been spent in the boards of publicly quoted companies on AIM and on the full list.  In this case, ROOM was a private company, and he was introduced to it by a man called John Buxton, who he had known from CEIR days.  He took a small shareholding in the company, and became a non-exec director
NATS 2010
NATS were going through an exercise where they were planning for the implementation of the Single European Sky programme, which is a programme going over some 20 year-span, to change the whole way in which air traffic control works across Europe.  They wanted to appoint two special advisers to the technical review committee of the board and David was selected alongside Roger Graham.
Cambridge Display Technology
Light-emitting polymers had been discovered in the Cavendish Laboratories in Cambridge, and they had spun out this company to exploit that technology, with shareholdings from the university and the colleges.  David joined them when they were still very young and were looking for a non-exec chairman to help take that forward.  He really enjoyed almost starting again from first principles, helping them to develop the business plans and making sure they had management accounts in place.  The one thing he found there was that he increasingly realised that, not having a background in the development of these sort of electronic devices, was a weakness for him.  He had never been involved in trying to bring hardware of that nature to the market and felt that it was quite clear the company needed to move on to different shareholders who would bring more funds in.
Ansbacher
Ansbacher was very different in that they had been acquired by FirstRand, a South African company.  Their business was in handling trusts, particularly offshore trusts, and they were keen to go more into investment management.  FirstRand had a good corporate governance approach and, although they had 100 per cent ownership of Ansbacher, they wanted non-execs to be there in the same way as they would be with a publicly quoted company.
BCS
David first became a member in 1981, and then a Fellow in 1982, and in the first few years after that wasn't a very active member.  Later Logica reached the point of needing standards and approaches to career development   In the early days of Logica, there weren't really any standard approaches for systems engineering.  Quite often they started on a project, and, if someone asked for an estimate of how long it would take to finish it, they would almost have to say, 'Wait and see.'  Increasingly they got into a situation where people expected fixed prices for some projects.  And so they had to work very hard to develop standards and methodologies for an engineering approach in software.  This was when David started to take much more interest in what the BCS was doing in that area and encouraged stronger links between Logica and the BCS.
His relationship there developed and led on to his becoming a Vice-President.  He tried to get people in Logica to develop their careers through these standards but wasn't always successful.  The membership of the BCS was never as great as he would have liked to see it.  But equally he thinks, with the rapidly changing industry, it was incredibly difficult for the BCS or any other body to come up with a set of standards and approaches to career development that would be generally applicable across the industry.   For him it was a very important area to continue to work on.
David became BCS President in 1994 and had four themes which were: electronic communication(the society was in the process of launching a thing called BCS Net; secondly, continuous professional development; thirdly, strengthening links with the industry; and then, getting ready for a revised grade structure and a chartered title.  The one he felt most attached to was the one about strengthening relationships with the industry, having previously been Vice-President of External Relations and that's where he spent a lot of his time.
BCS were also generally trying to get more attention via newsworthy events just outside the profession.  David helped to get some distinguished presenters and speakers which resulted in more coverage and was involved in giving a couple of distinguished fellowships, one of which was to Bill Gates.
WCIT
David got involved in the Information Technologists Company when he was approached by Barney Gibbens and Alan Benjamin in the early Eighties.  They told him that they were setting about forming this City company, and they needed 100 people to get together to get it going, and would he become one?  He knew very little about the livery companies but started to learn, rapidly, and thoroughly enjoyed the meetings he got involved in. As he was retiring from executive work, it seemed to him that the livery company offered a very interesting vehicle for "putting something back".  David was eventually Master, 1997 to 1998.
Advice
To Companies
David thinks the secret is, even more now, finding those niches which are really in good places in the market, and then finding the right support in helping an organisation to grow rapidly enough to benefit from that.  Because, often those markets don't stay the same for very long, so if you don't reap the benefits while they're there, then you maybe will miss the opportunities.  Remembering always that, sometimes you can run a bit too fast and be a bit like Icarus and go too near the Sun.  So, it's still finding those hotspots, being very ambitious, but equally trying to make sure you've got the support in place to have a viable business, if it is growing very fast.
To Individuals Entering IT
David would ask people first what they mean by the IT industry.  Because, it's become so large and varied, that there are people with all sorts of roles in it.  So, someone should start by knowing what kind of role they are interested in?  And of course, often people don't know.  They start off in one role and then go on to another.  Some people do mean systems engineering, computing science, and the like, and if someone wants to do that, he thinks a very good approach is to go to a university that does have courses in that field.
He also thinks quite often people developing more general management experience can be just as important.  There are some people who have an accounting background, or an MBA type background, who can often contribute as much as if not more to the development in IT as some people with detailed technical knowledge.  So he doesn't think there's a single answer but that it really depends what kind of role you want to have in this huge and exciting industry – we've got it all.
Interview Data
Interviewed by: Jonathan Sinfield on the 25th September 2017 at the WCIT Hall
Transcribed by:
Register or login now to view a full transcript and access other associated audio and video files