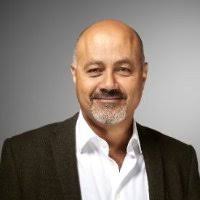 Victor Basta is a maestro of mergers and acquisitions in the IT sector.  He says he is somebody who helps other people through deals rather than doing deals himself.  He believes that the best businesses are boring businesses who manage to change the routines of business with IT.  He became Managing Director of Magister, a boutique investment bank based in London and San Francisco.  His first deal was selling LoveFilm to Amazon for around $350 million, now Amazon Prime Video.  He describes his largest mistake is turning down a billion dollars, twice.
Early Life
Victor Basta was born in Cairo in 1963.  His parents were both doctors, his father a cardiologist and his mother an ophthalmologist.  He has a younger brother and sister.  The family moved from Egypt to London when Victor was 9 years old because of religious persecution.  They were Christians in a 90% Sunni Muslim country. For about a year they lived in a flat above Queensway, while his father went to the United States.  Together with his mother, brother and sister, Victor joined his father in Iowa – going from "living the high life… in Cairo" to "grovelling for work in the middle of the United States".   From Iowa they moved to Oklahoma. By the age of sixteen, he had lived in 12 houses.
Education
Victor went into the American school system and found it to be much less hierarchical than in Egypt.  Between 1980 and 1983, Victor Basta went to Columbia University in New York City, studying Poltical Economy.  He stayed on to do a Master's degree in Economics and International Development and then an MBA  in Accounting and Finance.
Academia
In September 2002 Victor Basta became Adjunct Professor at INSEAD. He thoroughly enjoyed teaching and found himself analysing his own practises in order to explain them to the students.  He found them highly engaged and motivated.
Early Career
In 1986, Victor Basta came across the IT industry through his activities in mergers and acquisitions working in New York for the General Motors Treasurer's Office.  General Motors was keen to bring new technology into cars, and believed it would be faster to buy into companies that were technology based, rather than to develop the technologies themselves. The companies GM invested in included, early stage GPS companies, where the mapping was done by hand and then digitised.  Other technologies included early stage robotics.  Some of the companies were destroyed as a result of GM's involvement because they made the agenda for these small enterprises, rather than allowing the founders to find their own way.  Other companies thrived with the improved efficiency that GM brought to them.
In 1988 the head of business development at General Motors, Paul Stern was headhunted by Deutsche Bank.  He was Victor's boss and mentor and asked Victor to join him at the German bank.  Victor's role was to help open the London M&A activity for Deutsche Bank.  They wanted to advise European companies who were interested in acquiring US technology companies. Victor describes himself as going from an inexperienced, but very active investor to a reasonably inexperienced, very active advisor.
Broadview International
Between September 1989 and November 2001 Victor Basta worked at Broadview International, as Co-President of Worldwide Advisory Business with 500 staff and 300 million dollars in revenue.  Broadview is the number one advisory firm in the United States and Europe for technology M&A.  Victor believes that when you acquire a business, if you want to be successful, you have to gradually align the cultures over a period of time.  They will always have cultural differences to start with.  The single most important part of the alignment process is focussing on who to fire, and why, as it sends a message to the other people working at the company.  He believes thorough due diligence is crucial and that the information given needs to be specified by the acquirer.  He says 75% of companies don't do it properly because human beings are lazy.
Victor's  deals include selling Blue Mountain Arts, an online greetings company to Excite@home – the search engine before Google, and merging QXL, a competitor of eBay, with the German company, Ricardo, aiming to create an international eBay competitor.  Neither company exists any more.   The shelf life of a public technology company is very short.   Following the 2000 technology bubble, Broadview was cut from 500 or 600 people to 150.  For two years it was Victor's job to fire people but it was not a job he wished to continue, so he decided to take some time off and do something different.  Between 1995 and 2000, the size of the companies they were working with had gone down, in spite of the values remaining similar.
Arma Partners
Whilst at INSEAD, Victor founded and became Managing Partner in Arma.  The new company offered advisory services.  They won international deal of the year, when SUSE Linux was acquired by Novell for around $500 million.  Arma functioned as a "high-class estate agent" charging a percentage of the transaction.  After 5 years and 9 months, Victor left Arma and took nearly two years off.  He had built up Broadview from ten people to 500 or 600, and then Arma had gone from 10 people to 30 and he found it less interesting.  A business grows in three distinct phases.  At start-up when there's up to 20 people, it's manageable and everyone works as a team.  After that, during the "teenage years" of the company, Victor says it becomes dysfunctional, making less money and being less successful, but he says this is a crucial stage that you have to go through in order to get to the 100-plus people where you can direct teams and have resources.
Magister
After his break, Victor Basta became Managing Director of Magister, based in London and San Francisco, in April 2010.  His first deal was selling LoveFilm to Amazon for around $350 million, now Amazon Prime Video.  Magister is described as a boutique investment bank.  In the Bay area of San Francisco, people work at a pace that very few other places match.  The hours worked are almost unmatched anywhere else.  There is an intensity of competition that does not exist in many other places.  The turnover is high, as people get burned out and jump to different companies.
ictor believes the best businesses are boring businesses.  If he were to set up a company now it would be a company that makes invoicing electronic, between large companies and their suppliers.  Mostly this is currently done by email, and is highly inefficient.  The data gleaned from this operation would enable the management of flows between companies and restore efficiency to the process.
Victor Basta sees himself as not someone who does the deals, but someone who helps people through deals.  He considers it a privilege to be involved in "somebody's transformational life experience".
Mistakes
Victor Basta believes he has learned from his mistakes.  He says you can work six days a eek, but it can't be ever-present with you all of the time.  It's vital to be able to switch off from it. He describes his biggest failure as turning down a billion dollars, twice.  Goldman Sachs and later Merrill Lynch wanted to acquire Broadview, as it was the only independent company in its market, and the banks wanted to transform themselves into technology institutions. Two years later the company was sold for around ten percent of that figure having been decimated by the technology bubble.
Mentors
Victor Basta says his clients often became mentors, because for you build a career working for people who are much older than you, and you have to quickly develop maturity or else you don't get a seat at the table. These senior executives also realise that they have experience that you lack, and so they guide you through the process.
Future
Victor Basta believes that in 50 years time, all apps will be made by robots.  Humans will be replaced by machines, including software developers.
External Resources
Interview Data
Interviewed By: Richard Sharpe at the WCIT on the 16th November 2016
Transcribed By: Susan Hutton
Abstracted By: Annabel Davies
Register or login now to view a full transcript and access other associated audio and video files