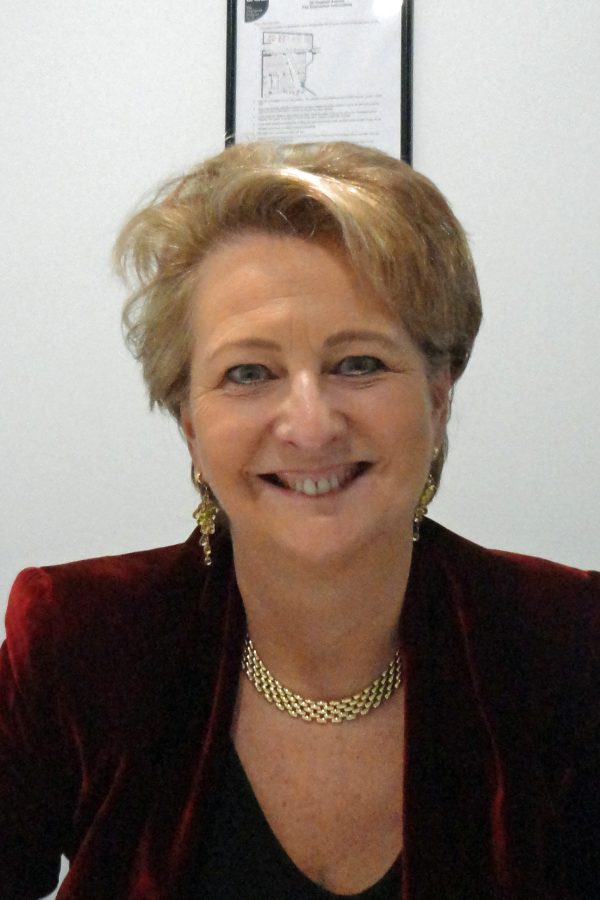 "I pioneered Tesco Clubcard, the first and largest loyalty card, making Tesco the number one retailer in the UK and doubling its market share in just three years"
"I built a global business with my husband and sold it to Tesco for £92 million"
"My female lead educational charity is now active and vibrant in thousands of UK and US schools and universities helping girls to build confidence and build leadership skills"
Early Life
Edwina Dunn, OBE, was born in Buxton, Derbyshire in 1958. She was the middle of three children and the only one to have been born in the UK while the family were on leave from Brazil where they lived for seven years for her father's job of building power stations.  Her mother was a housewife and looked after the children.
Education
The family returned to the UK and Edwina went to Surbiton High School. While Edwina enjoyed her friends at school, but she never really enjoyed school and was quite lazy. She says: "I remember my headmistress saying to me that I didn't take school seriously.  And I didn't really understand what that meant at the time.  I think, I hadn't really awoken to the importance of, qualifications." Despite Edwina's laid-back approach to school she achieved A levels in French, English and Geography.

She adds: "I did French, English and geography.  Not the sciences, which I've loved ever since actually. I love geography and have since become part of the Geospatial Commission, which is a government body looking at the importance of geography in the future of our digital world. I'm excited about that."

Edwina went to Bournemouth University; she says of the experience: "I had hoped for a slightly more, what I would call academic set of subjects, but because I behaved badly during my A Levels, I adapted.  I absolutely loved Bournemouth.  I had the best fun ever.  60 nightclubs in Bournemouth, and I loved all the socialising, met some fantastic people and managed to, to get a reasonable degree at the end of it."

Having completed her degree, Edwina's parents insisted that she should do a postgraduate personal assistant diploma at Brooklands, as a backup plan. However, Edwina had no problem finding a job; she says: "I went job hunting and these were the glory days; this was when you went for a job as a graduate and you literally were offered almost all of them. I sometimes fear for young people today who don't have that luxury. So, I went for five jobs, I got five jobs, and it was choosing which one that ultimately determined my career path. It was really, really exciting and I didn't think at the time I really understood the import of it."
CACI
In 1980, Edwina joined the American software consultancy company; California Analysis Centers Incorporated (CACI). It employed two and half thousand people with headquarters in Washington DC and a small British outpost in London. Edwina describes it as "phenomenally entrepreneurial, and a fantastic meritocracy".  She adds: "Everything I learnt, I really learnt there, and I am so grateful that I joined that company.  It was so progressive."

It was at CACI that Edwina encountered her first computer; it was a DEC, VAX 11/78, an interactive machine with terminals. She says of it: "We had one of the only big computers for private business outside of defence. … It was amazing. We were the envy of many, many, other businesses.

Tony Bickford, Richard Webber, and Clive Humby used the technology to manage what today would be called big data. Edwina explains: "They created a combination of classifying people with computer programs that aggregated census data. It was a really fantastic and very pioneering application of early technology.  It was big data and spatial data, so, it goes back to geography.  So effectively the census was collected on, you know, 130 magnetic tapes.  It had never been aggregated.  And the software they wrote, not only aggregated the 130 separate local authorities and parliamentary constituencies, but actually then worked out catchment areas and drivetime zones. We then overlaid Acorn, which was A Classification of Residential Neighbourhoods.  It was classifying people by their neighbourhood – birds of a feather flock together – and it became a really powerful way of understanding that, if you are a bank, or a retailer, that your local population, your local catchment area, really determines the success or failure of that branch, or that retailer."

The company's customers included retailers like Marks & Spencer but many banks and building societies used the data to determine which branches to open, close, how to locate new technology such as ATMs. Edwina adds: "It was really at the centre of a lot of strategies."

Edwina became the youngest female vice-president at CACI. She says: "I really thrived in that, I absolutely loved it.  I loved everything about it.  I learnt so much, I grew, I grew a team, I was passionate about the work I did.  It was truly inspiring and exciting. It was where I discovered my love for work."

Edwina also met and married her husband, Clive Humby, while working at CACI. After nine years together, the pair left CACI to form their own company.
Dunnhumby
Edwina and Clive formed Dunnhumby and applied science and technology to customer data.  Edwina explains: "CACI was really analysing census data, which was third party data. The idea that we had was that customer data, which at the time people were throwing away because it was too expensive and too big to hold, we thought, if you analyse customer data, you might find out more that is current than you can with ten-year-old census data."

The couple tried to persuade CACI to move into this field but they were reluctant to invest and so they decided to set up on their own. She continues: "One of the toughest moments in my career was when Clive said, 'I just can't stick it.  I'm going to have to leave.'  Because at this time he was CEO running the UK business. They tried to persuade him to stay, but he had set his heart on this new path, so he left.  They accepted his resignation and the part that hurt me the most was, they literally fired me ten minutes later. They said, 'Because you're his wife, you will end up competing and therefore your role here is unsustainable.'  It was brutal, and I learnt from that that the sense of unfairness can turn to positive motivation. My immediate thought was, well I will show you what you've missed, and that fuelled my career for quite a long time afterwards."

Having left and been pursued in the courts by CACI (a case the couple won), they were 'broke and burning money fast' as Edwina describes it. They quickly pulled together a business plan and looked for an angel investor.  In 1990, Geoff Squire, whom they'd met in the eighties when he used CACI's computers to test Oracle to which he had just acquired the rights, became their angel investor. He invested a quarter of a million pounds in their fledgling idea. Edwina adds: "He showed phenomenal faith, and I'm very delighted to say that he more than made his money back subsequently, and I could not be happier that he did."

The couple started working with companies such as Cable & Wireless, Mercury Communications, BMW, as well as Lotus 123, which subsequently was acquired by IBM.  Edwina explains: "We were really using customer data to tell them more about who their customers were, how often they bought, how much they spent. This was all a completely new science. No one had really understood who their customer base was, until that time. The language we now take as completely normal, just had not been invented at that stage.  The idea of customer profiles and targeting, and all of that, was just, not yet invented."

The term Customer Relationship Management (CRM) had not been invented and Edwina says: "It was the technology companies I think who capitalised on the value of all of this probably better than anybody else.  The SAPs, Teradatas, call centres; these are the people who invented the term CRM."

The company recruited technologists including Helen Crooks and Paul Springfield, who came from the school of deep technology and Oracle, to help design their platform and database.  Edwina adds: "They were the most important architects of the first customer database which was really the vision and the platform we used from there on in to bring people's different transaction data into the business.  We actually designed it to be efficient right from the beginning.  We had learnt don't just build it on the fly, build something that is generic, and tailor a small part. … One of the most exciting technologies we used was a little-known Canadian one called SAND Technology. I believe it was a massively parallel processing type technology. It gave us tremendous scalability and speed and so that was one of our secret weapons I recall."

 The company worked on the basis that you only need some of the data some of the time and this approach allowed them to conquer the very biggest data by not needing to put it all in at once.  Edwina says: "We did this because the cost of doing it all at once was out of all proportion to the value it would create. The idea of summaries and aggregating data, so that reporting and analysis could be swift and not right in the granularity, that is what gave us the edge." She adds: "What worries me a little about the climate today, is that people seem to have the opinion that all data is valuable, all data can be monetised.  Actually, the truth is that a lot of data is not interesting, not valuable. You have to know what you are trying to create. … Knowing it is interesting, but it's not important until you actually do something different because of it."

Edwina credits their business model as key to the success of the company, she explains: "We created joint ventures with the retailers; we owned half of the pie with every retailer. My philosophy was that half of something bigger that the retailer was excited about was better than the whole that they slightly resented.  We were never a consultancy; we were always a joint venture partnership and that bonded us to them. It meant we didn't fail in any market, because they wouldn't let us fail.  They helped us with everything."

In the mid-nineties, the company was approached by Tesco which had started a trial of an early form of Clubcard in a small number of stores to thank their customers. However, Tesco couldn't work out if it had a net positive impact and it certainly didn't have the capacity to analyse the vast amount of data that came in, even from that handful of stores, so Dunnhumby was invited to do the work and present a report to the board. Their findings showed that recognising and rewarding customers drove customer loyalty and they spent more. Edwina explains: "We proved it unequivocally and the leadership heard it clearly."   Ian MacLaurin, now Lord MacLaurin told Edwina and Clive: 'I am amazed.  You know more about my customers in three months than I know after 30 years.' Edwina says: "We were over the moon. So much was conveyed in those few words.  The modesty of someone who was a lifelong retailer, who could have said, 'My instincts would have known that.  I knew better.  I know better.'  So many retailers, even today, will take that stance.  He said, 'Yes, I know a lot, but you know more.' He was so respectful of the data."

As a result, in 1995, Dunnhumby was given the remit to provide Tesco's insight and strategy and within three years the supermarket had outstripped Sainsburys, its nearest rival.  Dunnhumby were then approached by US supermarket Kroger and helped them regain their share of the business in the US.  Edwina adds: "I think that surprised people even more, that actually, it wasn't a one-off; it wasn't just the fact that Tesco were brilliant as a grocer, and they are, the science and technology made a huge difference.  It was data-led decision-making."

Edwina and Clive went on to work across Europe; in total they were working across 25 countries, employing 1500 people of which 50% were female. They also developed "The Shop" where consumer product goods companies could pay to access anonymised customer. Edwina explains: "We re-purposed the data, we made it available in a new tool technology which we called The Shop, and they were able to access all of this rich, beautiful Clubcard customer data, anonymised, for their brand. It changed their fortunes too."

In 2011, Edwina and Clive sold Dunnhumby to Tesco. Edwina explains: "We always intended to sell; that was part of the fun of building a business.  We didn't build it to keep it.  We built it for it to fly and for someone to love it so much that they bought it and that's what Tesco did, they loved it so much that they bought it."

 After selling the company, the couple took time out to write a book: The Old Rectory Gardens at Doynton, which followed the transformation of their garden; a project they took as an antidote to their long working hours.
H&D Ventures
In 2013, Edwina and Clive set up H&D Ventures, a business and data science team exploring the possibilities of telecoms and financial services data.  Edwina explains their vision: "Clive and I still have a vision that there are a number of data sources that are really truly exciting and potentially transformative.  The obvious ones are Google and Facebook, but that's never going to happen because they're never going to open up the data for Clive and I to play with, but the people who do have interesting and important data are the telcos, banks, with particularly credit card data. We also think social media data is incredibly rich and interesting.  So those three data sources are as potentially game-changing as the grocer and Tesco was, and that we still have an ambition for that to be the next generation."
Centre for Data Ethics and Innovation (CDEI)
Edwina is on the board of the Centre for Data Ethics and Innovation (CDEI) which

provides expert insight and counsel to Government on the ethics of everything to do with artificial intelligence, the use of data, and the way in which that is applied to targeting, selection, or, availability.

On the subject of Cambridge Analytica, Edwina says: "Good idea, done in completely the wrong way by breaking all the rules.  There's a good way of doing things and a bad way; it's all in the intention and the ethics which is a fundamental part of the way we all need to move forward, because, we are no longer constrained by what we can do; we must be constrained by what we should and shouldn't do."
The Power of Two
When Edwina set up her business with her husband, she developed her philosophy which she called the Power of Two. It is a philosophy of not trying to work on the things that you are naturally not very good at.  She explains: "I think you waste a lot of energy and time trying to do things that are not easy, not natural, you're just really going to struggle to do. My philosophy has always been, work with someone who is your polar opposite in their skills and abilities, trust them.  You don't have to be best friends; you certainly don't have to marry them, but they are your natural opposite.  Actually, there's quite often a little bit of friction with someone who thinks differently, says things differently, does things completely differently, and it's healthy. I think that for me enabled me to grow a global business in the end; I could not have done in any other way."

Edwina also talks about her rational approach to life and the two dimensions which have inspired her. She says: "I've had a lifetime of seeing the power of data and the facts.  The thing I would say that has inspired me most is that there are two dimensions to me that matter most in business, maybe in life, are courage and honesty.  When I say honesty, it is the honesty of looking at a fact and finding it unpalatable, and then the courage to do something about it.  I find those actually quite rare qualities, but they are ones that I hold most dear, because, I've seen the power of accepting what is true because only then can you do something about it."
Women in IT
Edwina has also researched a global collection of women's voices, based around 1,500 women, looking at how they perceive themselves and where they've got to. The interviews were the precursor to the book and campaign Edwina subsequently launched: The Female Lead: Women Who Shape Our World which she has donated a copy of to every school and university in the UK in an effort to help change mindsets towards what a woman can achieve, including technology.

Edwina says on the issue of getting women in IT and retaining them that this is an issue that will take time to solve. She says that many women are programmed not speak about their success: "I find women unwilling to be filmed, held up as role models, unwilling to speak out about their success. It takes time and I think the more we normalise it, if we can get a critical mass of success, of stories of role models out there, it might begin to change. We also need boys and men to admire girls and women, and until that happens, we're kind of just talking to ourselves. There are so many stories of diverse achievement but the truth is that there isn't a single reason, or a single solution to success.  What I've tried to do is to bring out all the living, wonderful role models that exist in diverse sectors.  Schools are still teaching us to admire and respect women who are long dead and actually, what we have to start celebrating is people like Steve Shirley who are alive and vibrant, and to whom they can still turn to and see and hear."
Register or login now to view a full transcript and access other associated audio and video files