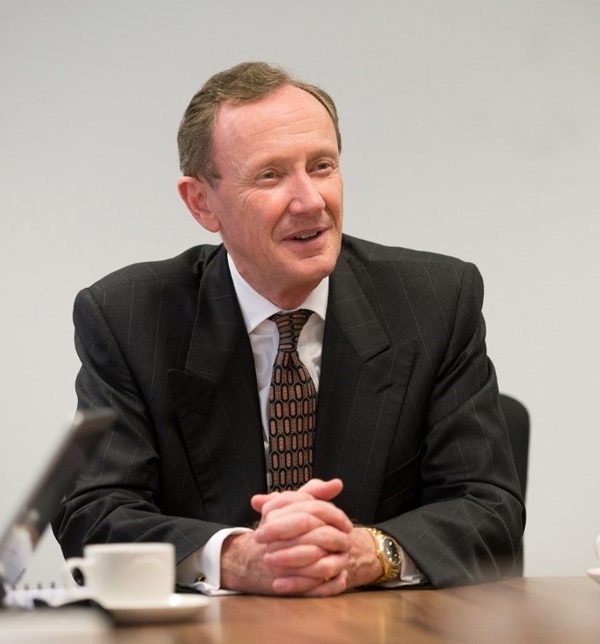 Bill Halbert joined the computer industry as an ICL technology graduate in 1969.   He was the MD and CEO of three software and services companies before setting up Syntegra for BT as a systems integration start up.  Over 13 years he built it up to a $1 billion global business with 5,500 employees.  He saved Kingston Communications, the telephone company for Kingston in 2008 and built it from having a negative value to having market capitalisation of £500 million.  
Early Life & Education
Bill was born on the Lincolnshire coast, into a largely maritime community.  His father was a marine engineer and his mother a housewife.  He had two older brothers and a younger sister.  He has always enjoyed problem solving and understanding how things work, which was encouraged by his father.  He also inherited his parent's religious principles and love of music.
Bill attended the local village primary school in Waltham, passed the 11 plus and followed his elder brother to Humberstone Foundation School, a part funded grammar school.   He did well at school although he did not like exams.  He obtained a full spread of O levels  and was good at languages but opted for science at A level, where he took double maths and physics at both A and S level, and then on to University to read electronics., most probably inspired by the sixth form electronics society, and his elder brother who had studied electronics and gone on to work at IBM.  During this time he became interested in motor racing and rebuilt an MGA with his father, for which he developed a rev counter.
Bill went on to Salford University which had recently been established and was the best place in Europe to study electronics – and it was a very challenging course with the additional benefit of excellent links to ICL and with other universities in Manchester which also tended to be science and engineering based. At university Bill considered lots of careers, though his lack of chemistry A level ruled out medicine.  He started programming whilst at Salford, using languages like ALGOL and FORTRAN on a Ferranti Argus. Outside his coursework Bill was very engaged in sport and this, together with his coursework left no time for interests like politics.   He graduated in 1969, BA Honours in Electronics.
ICL
Bill was already aware that ICL had been formed the previous year from a merger. He joined the company as a technical graduate and became expert in GEORGE3, the operating system of their 1900 series mainframe computer.  He had applied to several IT companies but chose ICL over IBM because his brother was at IBM.  He moved south to work in their London office because he wanted a route into sales and marketing rather than a role as a development engineer – he felt he had seen enough oscilloscopes by then and also was more interested in what IT could do than the technology per se.  ICL had an excellent graduate training programme and he still remembers his initial eight-week residential course at Cookham.  He was told that he was likely to rise quickly within the organisation so expected to be moved about.
He soon became a GEORGE 3 expert and provided technical support to sales teams on the 1900 series, where he really got to know the machine and was assigned to some demanding customers, including the Operational Analysis Establishment who tested the system by repeatedly breaking it.
ICL had a number of incompatible models and needed to develop a single range – the 2900.  Bill had been involved in the concept development work while at Salford and was given the opportunity to work on this project and create some of the presentation material.
Bill learned to code in PLAN which was used to try and squeeze software into machines with very limited memory.  Performance was often an issue and he was involved in developing the sizing model for the 2900 mainframe with Conway Berners-Lee who was a mathematician and expert in queueing theory, which helped overcome the problem of paging.  Together they succeeded and one of the first major sales was a huge system for Royal Army Ordnance Corps at Bicester which needed correct configuration of processing power, storage, I/O channels and everything else. Their sizing model was subsequently used by all the sales teams for the 2900 series.  Bill has enormous respect for Conway whose mathematical brilliance made it a success.  He also recollects the sales presentations which he felt were too focused on technical detail and he became preoccupied with the need to explain the technology clearly, in real world terms.
After four years or so, Bill started moving into sales which brought him into direct contact with the customer and he won a series of major public sector contracts. The first was for repair and engineering with REME, Royal Electrical and Mechanical Engineers in Woolwich.  The existing contract was under dispute and likely to run to litigation, but because of his technical support experience he was able to identify a system that he thought would work, persuade ICL to release it and REME to accept it and as a result he achieved 1000% of his sales target, which set him up as a high achiever but also attracted some rather jaundiced comments from the sales director, who was not prepared to pay the full commission.
His other large contract was the FCO, the Foreign and Commonwealth Office, and related to diplomatic messaging. He had already provided technical support before, and he impressed the FCO by using a flipchart to explain how their system worked, which eventually led to a sale. In reality Bill was doing their operational research for them: at the time ICL provided the hardware and operating system and customers developed the applications internally.   Unbundling was followed by the development of system houses and Bill became more interested in the applications than the hardware, understanding what the customer wanted to do and why, and how a system could be developed to enhance that.
In 1977 Bill moved into a management position in sales. Initially he was anxious about his relative youth and lack of experience: at 29 he was managing successful people in their mid to late thirties.  However he could help with customer relationships and technical knowledge of the systems. The team also benefited from ICL's excellent training and acted as a test bed to develop sales training.  They were very successful which ultimately led to his membership of the Diamond Club.
Bill then became an area general manager but his "area" was public sector (non-military), rather than a geographical region. This was a huge market for ICL but at this time EEC procurement rules opened the market to competition.  IBM was a major threat because they were manufacturing on a larger scale so could be cheaper.  ICL managed to compete by reminding customers to factor in the cost of switching supplier, which added to TCO.  Provided customers were happy this worked, but there were technical problems with ICL's 2900 Series, from the disks and the operating system right to the seating mechanism. They had to build a new operating system, which was a drain on resources. It was a difficult period.
At the time, ICL had some exceptional technology but its home market was not big enough to allow it to compete globally and because of EU rules it could no longer be a preferred supplier for domestic government business, unlike IBM in the US.  It was taken over by Fujitsu in 1979.  IBM then introduced the 4300, reducing price and increasing performance further.  At the same time, the personal computer started emerging.  Having been concerned about these threats for some time, Bill left ICL in 1980.
Computer Sciences Centre
Bill was headhunted to lead an ICL bureau service, providing mainframe time-sharing for smaller companies that could not afford their own computers. This market was subject to erosion by the new PCs and new applications needed to be developed that could work on these new devices.  When he took over it was a start up with three staff based in Acton – a big change from the 50,000 at ICL.  Fortunately his ICL training and his area manager role had given him P&L experience.   The technology worked really well so his challenge was to sell it.  They developed demonstrations and it worked.  Their first customers were other bureau companies because they serviced the ultimate customers: small businesses. This approach allowed them to build up a distribution network in Europe and also in Africa.   Unfortunately at this time CSC ran into difficulties due to an issue with its founder and had to be sold. Bill tried to buy the company with the help of Sir Peter Rigby, but they were outbid.
Leasco and Software Sciences
Bill was then approached by Saul Steinberg to join Leasco Software as CEO.  Steinberg had pioneered leasing of IBM mainframes in the 1960s but the objective at Leasco was large scale systems implementation for clients including Mirror Group Newspapers.  When Maxwell took over at the Mirror Group, this valuable contract appeared to be under threat, but Bill made a point of meeting Maxwell at a conference and retained the business.  He remembers him as a very clever man, charming but unscrupulous.
Steinberg wanted to sell Leasco so Bill moved on again, this time to Software Sciences which bought part of the business.  Here he worked with Mike Shone to build up a central government market.   At the time BT was being privatised which was significant because of the way IT and communications systems interacted.  Bill's technology background and his understanding of big control systems stood him in good stead. However, for contracts like air traffic control, the real difficulty was the acceptance certification.   By the end of the first year they had won the new passport system and had £20m of new orders. He quadrupled the size of the operation in five years.  Things were going well.
Syntegra
At this point, led by Iain Vallance (a prescient individual who wanted to ensure that telecoms companies were not disintermediated by IT companies) BT entered this new systems integration market with Syntegra.  Bill was headhunted and although he had no intention of leaving Software Systems and even less desire to work for BT, he met Ian and learned that the company was an arm's length subsidiary, effectively a start-up.  Bill joined in 1990 and built the company up to a successful business employing over 5,000 people, competing against companies like IBM, Logica, and Cap Gemini for major operational systems in places like trading rooms.  Peter Bonfield was also a major contributor to the success of the business.  The BT connection was helpful in in its own right but also had the capability to make acquisitions to aid entry to overseas markets.  They bought systems companies in the US, France, Australia and elsewhere.  Bill is candid about acquisition: remaining focused on the key objective (market penetration), not getting egos involved, and being disciplined enough to cut out what is not needed are essential.  Syntegra became one of the two major players in trading room systems, a billion-dollar global business.
In 2001, with business issues troubling the parent company BT, the new management planned to sell the business but in the end decided to integrate it.   Bill was not keen but stayed for two years to help with the integration and negotiate with HP, which he found fascinating.
Sprint
After an introduction by Bruce Bond, BT's CTO, Bill was then approached by Sprint, a US telecoms provider competing with AT&T with a long-haul fibre network.  His job was to help them build market share and develop a management team.  He did this successfully but did not want to move to the US so commuted monthly.  In 2006 he arrived at Heathrow the morning a plot was discovered to blow up airlines.  This made his commute impossible, so he came back to the UK to take up a portfolio of non-executive directorships for companies including AT Communications, Jade Solutions, Tacit Connexions and Kingston Communications.
Kingston Communications
Kingston was the only remaining local authority telecommunication company not absorbed into BT.  The company wanted to expand into the value-added space and made lots of acquisitions, but the process wasn't working.  Bill moved from a non-exec to an executive role in 2008 after an emergency meeting where the shareholders wanted to sell odd all the acquisitions.  There was no market and the enterprise value was negative, so he proposed an alternative strategy. He refocused the company on investing in core infrastructure, putting fibre to the property, and built the value-added services from this base.  They funded this from the sale of the base layer of the network to City Fibre for £100m.  He helped the company grow from a market capitalisation of £40m to around £500m.  The company suffered a brief share price wobble due to a software services dispute with a customer.  Bill thinks this was avoidable and on reflection wishes he had been more robust about it.  However, the company is now being acquired by the Universities Superannuation Scheme and he has stepped down. He views it as an excellent infrastructure investment.
Interview Data
Interviewed by: Richard Sharpe on the 20th May 2019 at the WCIT Hall
Transcribed by: Susan Hutton
Abstracted by: Emma Fryer
Register or login now to view a full transcript and access other associated audio and video files