by Dr Tom Abram

January 2022
January tends to be time for looking back, and the material on the AIT website from Butler Cox here and Richard Holway's System House here,  makes great reading.
For those of us of a certain age, the big story was the dotcom boom and bust of 2000, of which System House said, in January 2001, "2000 has been the most incredible year. The changes in just twelve short months outdo anything we have witnessed in the previous 30 years."  Since it was Richard Holway's newsletter and he is renowned for having a song for every occasion, I was tempted to offer something appropriate.  Mike and the Mechanics seems about right: "Looking back over my shoulder, I can see that look in your eye, I never dreamed it could be over …"  I wonder how many information technologists were thinking that in 2001.
However, that song was not written in January 1992, when the headline in System House was "1991 was the worst year ever for the IT industry worldwide and for UK CSI companies in particular."
Where were you in 1991 and was it a harrowing year?  It has a special place in my history because EDS acquired SD-Scicon, where I was working (might I say, running a very profitable chunk of the business!) but System House reported some damning indictments:
''SD-Scicon retains its ability to astound the City …latest provisions stunned even seasoned SD -Scicon followers'. The Times 29th Mar. 91 commenting on SD-Scicon's £19.8m loss in 1990.
'SD-Scicon has no management, no strategy and no profits'. Cray Electronics in May 91 when launching their bid at 37p per share.
'EDS should be congratulated on having purchased the (BAe) 25% at only 45p: they must be very happy'. John Jackson, SD-Scicon's Chairman on 4th July 91.
On 31st July, EDS raised their bid to 60p and won control of SD-Scicon and System House observed that …
Logica is now the only large system house in UK ownership.
It is an apocryphal story: a sad indictment of a large part of the UK computer services industry – and remember that SD-Scicon resulted from Systems Designers' 1988 acquisition of Scicon (again, where I was working!), who had their own troubles at the time.
However, getting hold of SD-Scicon launched EDS into a very successful period in the UK, especially in Government, including the outsource of the Inland Revenue, described here by John Yard, Director of IT.
As far as Logica was concerned, things changed dramatically the following year, when Martin Read was headhunted to take over and transform the company.  You can read all about that here and he summed up some of the issues and opportunities of the UK industry in this short video clip:

Anyway, getting back to the bigger picture, another seven troubled companies are mentioned in January 1992 – and IBM and DEC (remember the iconic DEC and their ground-breaking machines?) were struggling too.
However, one company that bucked the trend was Sage, which was destined to receive a Holway "Boring Award" a few years later.  If you don't know about them, a "Boring Award" was the ultimate accolade of consistent and progressive performance and you can see who else won these awards here.
What happened next? Well, this chart from the January 1999 edition of System House gives a clue.  But bear in mind the headline quoted at the start of this article, from January 2001…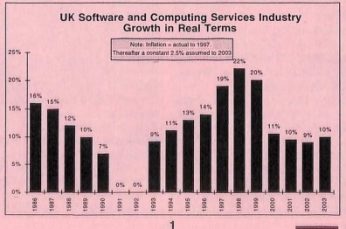 With grateful thanks to Richard Holway for the donation and digitisation of the System House archive